Miami Heat Index:

Jerry Stackhouse
July, 7, 2011
7/07/11
10:56
AM ET

By Tom Haberstroh
ESPN.com
Archive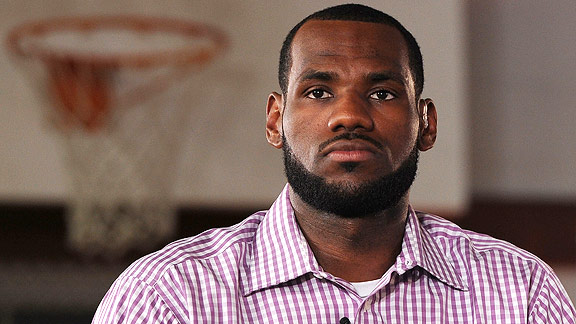 Larry Busacca/Getty Images
On the morning of July 7, 2010, the NBA world as we knew it was about to change.
This time last year, few knew where LeBron James was going to sign.
This time last year, the famous "We are all witnesses" Nike billboard still dressed the side of that building in Cleveland.
This time last year, Mike Miller had two working thumbs.
This time last year, Erick Dampier was a 34-year-old member of the Dallas Mavericks, looking for his first title ring.
This time last year, Udonis Haslem was about to receive an offer to play for the Mavericks.
This time last year, James Jones had never been invited to participate in the 3-point shooting contest at All-Star Weekend.
This time last year, Jose Juan Barea was not a household name.
This time last year, we hadn't been introduced yet to this
brilliant LeBron image
from Trey Kerby, then at Yahoo! Sports.
This time last year, "BumpGate" and "CryGate" weren't a part of the basketball lexicon.
This time last year, Michael Beasley wasn't a redundant scoring forward on a roster.
This time last year, Comic Sans was just another font.
This time last year, Erik Spoelstra and Chris Bosh had never led their teams past the first round of the NBA playoffs.
This time last year, Joel Anthony had never signed a multiyear deal.
This time last year, the Big Three in Boston was the only Big Three.
This time last year, Rick Mahorn's 4.4 playoff player efficiency rating in 1987-88 was the worst of all time, but
that's no longer the case
, thanks to Mike Bibby.
This time last year, Dirk Nowitzki was a free agent.
This time last year, Mario Chalmers and Michael Beasley were the only Miami players under contract for 2010-11.
This time last year, Bosh said goodbye to his dreads.
This time last year, the Cleveland Cavaliers had lost fewer than 20 games in a season just once in the modern era -- the season before they drafted LeBron No.1 overall.
This time last year, Jerry Stackhouse had never played or started for the Miami Heat.
This time last year, Dexter Pittman weighed well more than 300 pounds.
This time last year, LeBron and Dwyane Wade had recently woken up thinking they would
join the Chicago Bulls
.
This time last year, Wade had never played in the All-Star Game with a teammate not named Shaquille O'Neal.
This time last year, LeBron had never won a Finals game.
This time last year, I sat in my apartment in Wethersfield, Conn., thinking that LeBron's decision would shake up the lives of many writers around the world, but never suspected I would somehow be part of that equation.
How has your life changed since this time last year?
January, 6, 2011
1/06/11
1:38
PM ET

By Brian Windhorst
ESPN.com
Archive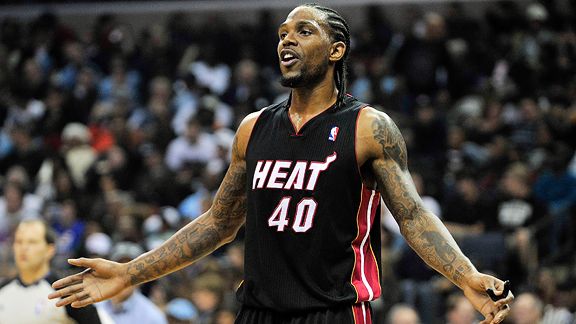 Grant Halverson/Getty Images Sport
The Heat have decided to let their injury exception for Udonis Haslem expire.
MIAMI -- Things looked uncertain 45 days ago when it was granted, but now the Heat will let their Udonis Haslem injury exception expire.
The Heat could have used the $1.85 million exception to sign or trade for a player before Thursday's deadline, which marked 45 days since Haslem went down with a torn ligament in his foot. Winners of 19 of their last 20 games, the team opted instead to leave for a five-game road trip confident it didn't need to make any additions.
"Pat (Riley) and I talked about it," Heat coach Erik Spoelstra said. "We feel like getting Mike Miller back (from his own injury) is like adding a player we needed."
With a full 15-man roster, the Heat would've had to waive a player to add another. In the wake of losing Haslem they also made another move, cutting Jerry Stackhouse and signing veteran center Erick Dampier, which made using the exception less pressing.
Spoelstra also said that Haslem's progress in his recovery -- the forward got his cast off this week and is still on track to return near the end of the regular season -- helped convince the team to stand pat for now.
November, 23, 2010
11/23/10
12:49
PM ET

By Kevin Arnovitz
ESPN.com
Archive
ESPN.com's Chris Broussard tweets that
the Heat have waived Jerry Stackhouse
to make room on their roster for the arrival of Erick Dampier, who signed a 1-year deal with the team on Tuesday.
The Heat signed Stackhouse on October 23 to fill the void left by Mike Miller, who was sidelined with an injured thumb. Although he got the call to start in place of an ailing Dwyane Wade on Saturday night in Memphis, the 36-year-0ld guard had seen only 50 minutes of playing time this season, logging seven DNP-CDs in the Heat's 14 games.
A genial presence in the locker room, Stackhouse had spent recent days trying to condition himself for the grind of the season. Last week, he assumed the role of Wade's sparring partner, as the Heat's superstar shooting guard tries to hone his post game.
With Stackhouse's departure, the Heat become a bit thinner on the wings. In addition to starters Wade and LeBron James, the Heat feature James Jones and Eddie House as reserve swingmen -- a relatively small corps, at least until Miller's return.
November, 23, 2010
11/23/10
1:36
AM ET

By Tom Haberstroh
ESPN.com
Archive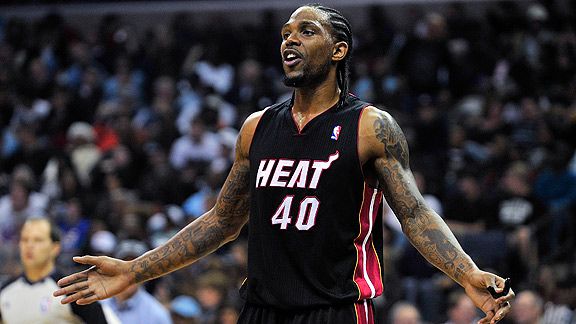 Grant Halverson/Getty Images Sport
Without this guy, the Heat bench was a nonentity on Monday.
We knew the Heat bench would look thin when Udonis Haslem went down with a torn ligament on Saturday night. But after the Heat's 16-point embarrassing loss to the Indiana Pacers on Monday night, describing the Heat bench as transparent may not fully capture its thinness.
It's hard to find a worse bench in the NBA than the current one in Miami.
On a night when the Heat were suffering through an injured Haslem and a hindered Dwyane Wade, the Heat needed their reserves to pick up the slack against the Indiana Pacers. But instead, the bench answered the call with one of the most unproductive performances in Heat history.
Look at the box score and a number of Heat factoids immediately jump out from the page, but few pack a punch quite like this one:
The Heat bench played a total of 74 minutes on Monday night and scored a whopping 4 points. The last time they did that? Nearly a decade ago, when the Heat bench mustered only two points in a January 2001 loss against -- guess who -- the Indiana Pacers.
"At times, the guys on the bench competed and gave us energy defensively," Heat head coach Erik Spoelstra said after the game. "But offensively, there's not too many things I can point to that we did well."
Oh, it gets worse. Spoelstra exhibited so little confidence in backup shooting guard Jerry Stackhouse that the 36 year old didn't even get off the bench, despite Dwyane Wade's injured wrist and appalling shooting display. If there was a situation dire enough to give Stackhouse some run, this was it. Keep in mind, Stackhouse started for the Heat just two days ago in Wade's absence.
And Joel Anthony? He didn't play either. Anthony has fallen so far down the Heat depth chart that he's battling for minutes with Rony Seikaly. Yes, this is the same Anthony whom the Heat were so eager to lock up that they handed him a five-year deal over the summer.
It was a cold shooting night for players who can ill-afford to go cold. As long-range specialists, Heat reserves James Jones and Eddie House offer such narrow skill sets that they instantly become liabilities if their shots don't fall. And tonight was one of those nights -- the pair went 0-for-7 from the field and earned zero free throws. All in all, House and Jones combined for two rebounds, an assist, a block, and two turnovers in 44 minutes of playing time.
Above all else, the Heat severely lack a shot creator outside the Big 3. No one can provide instant offense if Wade, LeBron and Chris Bosh aren't running on all cylinders. Stackhouse was supposed to be that presence but he's shown his age so far, shooting just 25 percent in limited minutes.Wade and James have shouldered much of the blame for the offense's stagnation but the roster is so dependent on them to penetrate and draw defenses that standing around becomes inevitable. The only bucket the bench made tonight was a tip-in from Jamaal Magloire.
But maybe we should have seen the lack of depth coming. When Pat Riley gutted the roster to pave the way for the Big 3 to sign in Miami, it was well-understood that there would be only a few pennies left over to fill out the rest of the 15 slots. A sliver of cap space went to Anthony, Mike Miller and Udonis Haslem. The rest? Nothing but veteran minimum contracts to the game's seniors. Carlos Arroyo, Zydrunas Ilgauskas, House, Magloire, Stackhouse, Juwan Howard, and Jones were all signed for the bare minimum. As a veteran minimum player, Erick Dampier should fit right in when he's expected to sign on Tuesday.
The Heat had to be aware that they were two injuries away from featuring the Big 3 and a collection of players picked off the scrap heap. This was a distinct possibility. And now that dreaded scenario has become a painful reality with Miller and Haslem each sidelined for months in the early going.
Wade, LeBron and Bosh will receive the brunt of the criticism following a listless performance at home against the Pacers. After all, they made this bed with all the summer's pyrotechnics, flexing and championship guarantees -- and now they have to sleep in it.
But this is a team game. No matter how much blame is placed on the Big 3 receive for tonight's loss, the truth is that the roster remains emaciated without Haslem and Miller healthy.
And it won't get better any time soon.
November, 17, 2010
11/17/10
3:46
PM ET

By Kevin Arnovitz
ESPN.com
Archive
Raul Takahashi of Hot Hot Hoops, with video aids, documents a beautiful set from the Heat's Saturday night win over Toronto: "Using two of the best athletes in the world, Lebron James starts by using a screen from Ilgauskas and drives right. Simultaneously, Haslem sets a screen for Wade who begins his journey to Lebron in the opposite direction. Lebron then hands off the ball to the full-speed Flash who leaves the defense paralyzed in the cosmic moment. As a bonus, Ilgauskas positions himself in the paint to serve as a linebacker on intruders and James Jones stands comfortably in the corner as insurance. Wade ultimately finishes the play with a thunderous dunk which undermines the beauty of the basketball ballet that just occurred."
Terrific stuff from Chris Perkins of Fox Sports Florida on Jerry Stackhouse tutoring Dwyane Wade in the craft of post play.
Thanks to Skeets and Tas, "Bosh" is now a descriptor for inanimate objects like office supplies.
From Elias Sports Bureau on the most dominant Big 3 of the NBA thus far: "Which NBA team has the biggest 'Big Three' in the NBA, the Heat or the Celtics? It depends on your definition, but could that team actually be the Oklahoma City Thunder? Dwyane Wade, LeBron James, and Chris Bosh have accounted for 60 percent of Miami's scoring so far this season. That's a higher percentage than Pierce, Garnett, and Allen have scored for Boston (55%). But Kevin Durant, Russell Westbrook, and Serge Ibaka have produced 62 percent of the Thunder's points."
Dwyane Wade to Scott Raab of Esquire: "If I come back, in my next life I'd like to be a trust-fund baby, where my parents made a lot of money and I could just fly under the radar."
According to SeatGeek, the secondary market for Heat tickets remains hot for marquee games like Orlando and Boston, but has settled down considerably for garden variety matchups.
Israel Gutierrez of the Miami Herald makes the case for starting Udonis Haslem against Phoenix on Wednesday: "Start Udonis Haslem on Wednesday. Make him the big man that defends Frye and makes sure the Suns don't run up the score. Make the adjustment to go small before it's too late and you're struggling to come from behind. It's not as if it's a lineup that has not worked well together. In fact, after that embarrassing between-the-legs pass James threw to Haslem in the second game against the Sixers, those two have developed quite the healthy chemistry. Sure, that doesn't leave the Heat with much in terms of forwards on the bench, but when the Suns go to their bench, they get a tad more conventional, with Hakim Warrick, a big man who actually does his work in the paint. That leaves the Heat open to coming back with one of its true big men."
How will the Heat and Lakers each deal with the pressure and scrutiny of the national microscope? Brian Windhorst responds: "They have attempted to take a guarded approach to the media and present a united front, even when it hasn't been the reality behind the scenes. None of the issues they are battling -- matchup problems, lineup changes and on-court chemistry -- are surprising at all for a team that has undergone as much change as they have. But the Heat default to a defensive posture as they go through their struggles and that is a direct result of feeling those expectations."
Michael Wilbon on Scott Raab (audio)