Miami Heat Index:

John Wall
December, 3, 2011
12/03/11
2:33
PM ET

By Tom Haberstroh
ESPN.com
Archive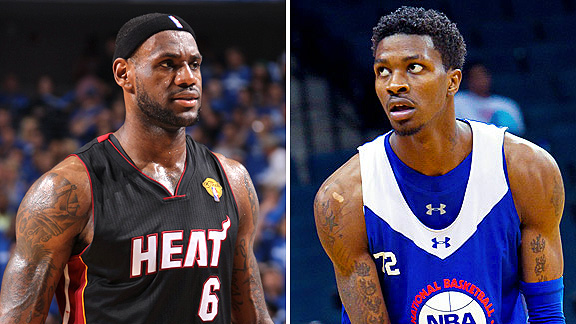 Getty Images/Davide De Pas
You are a top high school basketball recruit.
You have a menu of colleges that are hot on your tail, but you can't seem to pick which one to attend. You need some help deciding. So what do you do?
You ask LeBron James to make the decision for you.
Or at least that's what Chris Walker did. And he did it on Twitter. Our own Brian Windhorst has the
story
for ESPNHS:
Walker is a 6-10 junior forward at Holmes County High School in Bonifay, Fla. He's one of the top recruits in the 2013 class – currently ranked No. 5 in the ESPNU60 -- with interest from many of the programs in the nation. He's also a big James fan and thinks so much of him that Walker sent James a message on Twitter asking where he should go to college.

Apparently, it was a serious question.

"I'm a top 5 player in the country in class of 2013. Where should I go to college Mr. James?" Walker asked James on Twitter.

"If LeBron hits me back and tells me where he thinks I should go, I'd do it," Walker told ESPN's Jason Jordan in an interview this week. "In my opinion, he's the best player in the league and I really look up to him. Plus, he's the King. Gotta listen to the King, right?"

When James heard about the request he offered some advice, and a few school suggestions.

"The advice I would give Chris Walker is to follow his heart and go where he believes he can help the program and they can give him a great education," James told ESPN.com.

"Of course Ohio State and Kentucky are my two favorite programs for many reasons. They have great basketball programs, great coaches, players and are two of the best colleges in America. But with that said, Chris you will know where you want to go when the time comes. I'm looking forward to seeing you make the decision and take your talents to that program and shine."
Even though LeBron never attended college -- much less either school -- it's no surprise that LeBron chose to push Ohio State and Kentucky to the youngster. The Buckeyes were LeBron's favorite college team as a kid growing up in Akron, OH., and he still maintains close ties with Ohio State big man Jared Sullinger.
The Kentucky allegiance is a fairly new development, which is spurred by his respect for Kentucky's coach John Calipari. (If you watched closely, you noticed
LeBron wore Kentucky's road shorts
during his recent workout with Kevin Durant). LeBron (
@KingJames
) doesn't hide his affection for Kentucky, having tweeted about their talent this season on several occasions, including last Thursday.
As Windhorst notes, LeBron consulted Tyreke Evans, John Wall and Sullinger before they chose their collegiate destination. Interestingly enough, Evans and Wall went to play for Calipari before jumping to the NBA. Also of note? Buckeyes coach Thad Matta has made LeBron an honorary alum.
To borrow a line from LeBron:
What should Chris Walker do?
November, 6, 2010
11/06/10
12:21
AM ET
By ESPN Stats & Information
ESPN.com
Archive
In the
Miami Heat
's first loss of the season, the
Boston Celtics
'
Rajon Rondo
had 17 assists. On Friday,
Chris Paul
had 19 assists, just the fifth player with at least 19 assists against the Heat, and the first since
Andre Miller
had 20 on Dec. 8, 2006.
Dwyane Wade
committed a season-high seven turnovers, and much of the credit goes to
Marco Belinelli
. The offseason acquisition forced five of Wade's seven turnovers and did his best to keep Wade off the free throw line, where he scored 13 of his game-high 28 points.
The Heat still have not allowed 100 points in a game this season, but on Friday the
New Orleans Hornets
shot 49.4 percent from the floor and scored 50 of their 96 points in the paint. Both were season-highs against the Heat in their first six games.
The Heat have been at their best when they have been efficient in the half-court. In four wins, Miami has shot 47.9 percent from the floor and scored 87.8 points in its half-court offense. In two losses, the Heat have shot just 36.7 percent from the floor, scoring 71.0 points.
Emeka Okafor
's 92.3 field goal percent (12-13 FG) is the highest in Hornets' franchise history for a player who took at least 13 shots.
Elsewhere in the NBA:
Anderson Varejao
joins
Zydrunas Ilgauskas
(2007-08) as the second Cleveland Cavalier in the last 25 seasons to go 10-for-10 from the floor.

The Cavaliers have won eight straight road games against the
Philadelphia 76ers
. That's tied for the fourth-longest road win streak any team has ever had against the 76ers. However, that's not even the Cavs longest road win streak against Philadelphia. From 1991-97, Cleveland won 12 straight games in Philadelphia.
Dwight Howard
(30 points, 16 rebounds) now has 23, 30-15 games since his rookie season in 2004-05. That's by far the most in the NBA during that span. Next on the list are
Yao Ming
and
Zach Randolph
, each with 12.
From the Elias Sports Bureau:
With seven assists on Friday,
John Wall
has 38 in his first four games, only Oscar Robertson had more (40) in his first four games. However, Wall has committed 17 turnovers in the last two games after turning it over just three times in each of his first two games.