Miami Heat Index:

Josh Harrellson
December, 1, 2012
12/01/12
2:31
PM ET
Mike Ehrmann/Getty Images
Will the Heat and the Nets take the top two spots in the East?
In another installment of the Heat Index's 3-on-3 series, our writers give their takes on the storylines before the Heat host the Nets on Saturday and aim to improve to 12-3.
1. Fact or Fiction: This is a matchup of the top two seeds in the East.
Tom Haberstroh:
Fiction. As impressed as I am with how the Nets have played this season, I'm not ready to sign off on a No. 2 seed for them quite yet. Not with Brook Lopez already dealing with foot problems. Boston is only 2.5 games behind the Nets and Knicks, which is practically nothing this early in the season. Don't count out Atlanta, either.

Michael Wallace:
Fiction. The standings right now might reflect that to be the case, but once Boston hits its stride, I think the Celtics will be the team occupying that spot directly behind the Heat in the East.
Brian Windhorst:
Fiction. Not ready to give that to the Nets yet. They still have to prove consistency. Also, I expect both the Knicks and Celtics to improve as players get healthy and the season goes on. But Mikhail Prokhorov has said he expects conference finals, and he might be on to something.
---
2. Fact or Fiction: The Heat should have signed Andray Blatche on a flier.
Haberstroh:
Fact. I keep going back and forth on this one. Blatche might not have been a good fit with the locker room in Miami, but you can overlook that when he's averaging 18.9 points and 11.4 rebounds every 36 minutes. His scoring potential is well-documented, but his rebounding numbers would easily lead the Heat, and it's not like Erik Spoelstra has shown any interest in Dexter Pittman and Josh Harrellson. This isn't an Eddy Curry situation; Blatche is much further along physically.
Wallace:
Fiction. The phrase "should have" seems to be a bit too strong. Miami was coming off a title with a certain roster personality. Pat Riley certainly didn't need to get desperate with anyone. Blatche would be a perfect backup for Chris Bosh from a playing-style standpoint. But just as vital to the Heat is the chemistry in the locker room.
Windhorst:
Fact. I know Blatche's makeup doesn't fit in with the Heat's preferred profile. But he was ready to sign for the minimum and is way more talented than the reserve big men the Heat had on the roster or in training camp. The Heat also like cheap reclamation projects, and Blatche fit that for sure.
---
3. Fact or Fiction: Joe Johnson has had a more disappointing start than Dwyane Wade.
Haberstroh:
Fact. Wade has had a rough start to the season by his standards, but that's what happens after knee surgery and foot problems. Johnson, though? That's a bigger mystery. Friday night was just the third time this season he's scored more than 20 points. If there are no injury concerns, he's declining way earlier than he should. Money is of no concern to Prokhorov, but there's $89 million left on Johnson's deal. That's a whole lot of cap space for a guy who trails Wesley Matthews in the scoring column.
Wallace:
Fiction. For some reason, Johnson has always avoided the mega scrutiny endured by others who have underperformed from that 2010 summer free-agency crop. But Wade would be the first to tell you he's not pleased with the way his season has started. He's still dealing with nagging knee and foot recovery issues, and he's been absolutely horrible at finishing at the rim. His numbers will improve as he rounds into condition. On the other hand, no one know what to expect from Johnson -- even when healthy.
Windhorst:
Fact. Wade is coming off knee surgery, and the Heat don't need high scoring from him anymore. Johnson has one of the biggest contracts in the league, and the Nets are paying for a leading scorer. He is averaging the fewest points since the 2002-03 season and so far is shooting a career-low 41 percent.
October, 18, 2012
10/18/12
9:59
AM ET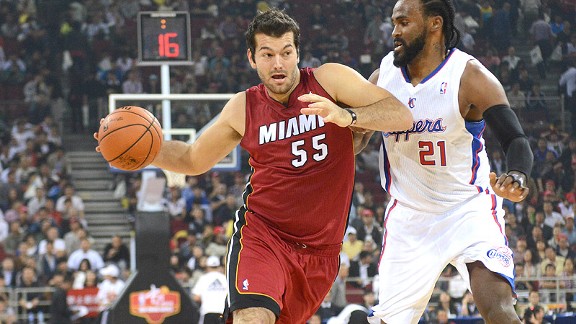 Ed Jones/AFP/Getty Images
Josh Harrellson has taken an unlikely road to the NBA, but can he stay on with the Miami Heat?
MIAMI -- The man they call "Jorts" was in Beijing, cleaning up after LeBron James.
The reigning MVP missed a turnaround jumper off the left elbow in a preseason game last week against the Los Angeles Clippers, and Josh Harrellson -- the man who famously earned the "Jorts" nickname for his affinity for jean shorts -- caught James' ricochet off the rim and put it back in for a bucket.
These are moments when Harrellson, a 23-year-old from St. Charles, Mo., has to pinch himself. Not just because he's sharing the court with the likes of James, Dwyane Wade and Chris Bosh. That's pretty special for any young basketball player trying to land a spot on an NBA roster.
But Harrellson pinches himself more because of this fact:
He played his first 5-on-5 basketball game as a freshman in high school. Now he's flying around the globe and catching passes from some of the best players of this generation. And they demand to see the 270-pounder shoot.
"There's a lot of pressure on me," Harrellson said this preseason. "Everybody is like, 'Oh, he's a shooter. Let's see him shoot.'"
Oh, Harrellson can shoot. Shooting is his ticket to the NBA, but you wouldn't know it by looking at his country-strong frame. He's listed at 6-foot-10, but isn't as, let's say, chiseled as his fellow professional basketball counterparts. He came into Heat tryouts last month weighing 292 pounds but through a rigorous training camp, he's now down to 270.
"When I saw it on the scale how much weight I put on over the summer, it felt like a ton of bricks landed on me," Harrellson said after Wednesday's practice. "I had to get off that weight real quick. I'm still busting my butt off, so hopefully I can lose about 10 more."
Harrellson works hard because he knows his spot on the team is not secure. He's fighting for one of the last two spots on the 15-man roster, along with several other big men in training camp. But he possesses something most players of his size, never mind his training camp competitors, don't: a reliable 3-point stroke. He flaunted his long-distance range last season for the New York Knicks, shooting 34 percent from downtown, playing next to Carmelo Anthony, Jeremy Lin and Amare Stoudemire.
Rarely do players at Harrellson's point in their career get to play alongside offensive talents like Anthony and James. But in the short time in training camp, Harrellson has already noticed the stark differences between the two Olympians.
"They're both superstars, but their games are totally opposite of each other," Harrellson said. "Carmelo's one of the best scorers in the game, but LeBron does everything. He's a great passer, a great scorer, a great defender."
A 3-point shooting talent like Harrellson could thrive next to Miami's star trio, and he knows it. That's why, before and after every practice, Harrellson makes a habit of firing up 100 3-pointers to maintain his competitive edge. He says he usually hits around 70 of those shots, which is a pretty good sign according to his math.
"Seventy percent in practice usually translates to 35 or 40 percent in games," Harrellson said, who shot just 29 percent from beyond the arc following a fractured wrist suffered in January. "If I didn't hurt my wrist, I would've ended up at 40 percent last year."
The results are mixed so far. Harrellson had a relatively quiet preseason until Sunday's game in Shanghai when he tallied 9 points, 6 boards, 2 steals and 2 blocks in 21 minutes. The odd thing? He only took one 3-pointer and he missed it. Though the coaches and his teammates have encouraged him to shoot at almost every opportunity, Harrellson has only taken four 3-pointers in about 42 minutes of action this preseason.
He could force his way onto the team if he displays his unlikely 3-point shooting prowess. But considering he's played basketball for less than a decade, he's still something of a raw talent, especially on the defensive end, where he's trying to improve his pick-and-roll defense.
"I haven't even reached 70 percent of my potential," Harrellson said. "The game comes natural to me; every day I'm still improving. Coaches see me keep doing things that they didn't think I could do. I think it amazes them."
Harrellson has shown a wider skill set than many imagined from his days as a Kentucky Wildcat. He played almost exclusively around the rim under coach John Calipari.
"I've always been able to shoot the ball, but I really didn't showcase it at Kentucky because I always played with a lot of great shooters around me," Harrellson said. "Primarily, I played my role as a 5, but coming into the league, they like guys that space the floor. And that's my specialty."
It's been a winding road for Harrellson the past few months. He was traded by the Knicks to the Houston Rockets in a deal for Marcus Camby, and then the Rockets cut him almost immediately upon arrival. That's when the Heat, looking for a big man to help back up Chris Bosh, decided to bring the former Knicks reserve in for a tryout.
Harrellson insists he doesn't feel any ill will toward the Knicks organization. After all, they gave him his first real shot in the NBA -- but the trade still surprised him.
"When I got traded, it definitely caught me off guard," he said. "I thought I was set in New York for one more year. Houston wanted me in the trade, they wouldn't not trade Camby without getting me because they were trying to add pieces to the puzzle for a Dwight Howard trade."
Howard ended up in Los Angeles, while Harrellson might land in Miami. Despite the nickname, he hasn't busted out his jean shorts out in South Beach yet.
"Nah, not yet," Harrellson laughed. "I mean, I could wear them every day if I wanted to, it's hot enough. It's definitely a culture shock. You go to one place and nobody speaks English. Definitely not what I'm used to."
The 23-year-old from a town outside St. Louis has enjoyed his time in Miami thus far, tweeting photos of the downtown nightlife and shoreline. Ahead of his first game in front of Miami fans on Thursday night, Harrellson hopes he can make it his home for the long haul.
But he has to stick out on the court like a pair of jean shorts in a South Beach nightclub.
"Right now it's up to the coaches," Harrellson said. "But I'm going to do whatever I have to do to make them notice me."
October, 15, 2012
10/15/12
11:33
AM ET

By Michael Wallace
ESPN.com
Archive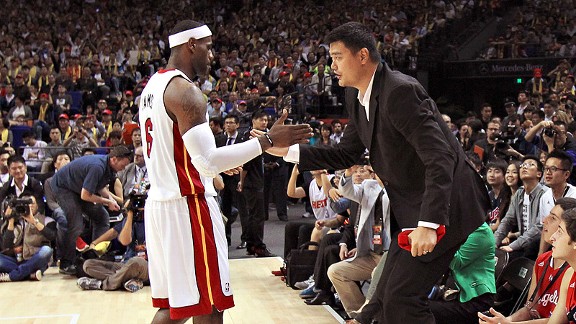 Nathaniel S. Butler/NBAE/Getty Images
LeBron James checked in with
Yao Ming
in Shanghai. Let's check in with Miami after its China trip.
MIAMI -- After splitting a pair of exhibition games against the
Los Angeles Clippers
in China and enduring a week of promotional appearances, the
Miami Heat
returned home Sunday night to cope with their biggest obstacle of the preseason: jet lag.
LeBron James and his teammates logged more than 35 hours of total flight time since they departed Miami for their Oct. 7 preseason opener in Atlanta, a trip that was immediately followed by a seven-day journey through Beijing and Shanghai.
On Monday, the Heat hit the midway point of their training camp and preseason preparation with a much-needed day of rest and recovery. Practice is scheduled to resume Tuesday morning, and the challenge for the Heat will be to get their body clocks reset and their legs restored in advance of home preseason games Thursday against Detroit and Saturday against San Antonio.
In our second installment of the Heat's Monday Progress Report, we break down Miami's primary roster as the team prepares for the Oct. 30 season opener against Boston.
PROJECTED STARTERS
PG: Mario Chalmers:
There's still no real way to gauge where the Heat's returning starter stands because he has missed all three of their preseason games with a strained muscle in his leg. Because it's only the preseason, the Heat can afford to take their time to get him healthy. But it's safe to say this has been more than just a precaution; it seems to be a legit concern.
SG: Dwyane Wade:
After suggesting he'd try to play in one of the two games in China, Wade pushed through both exhibitions -- and looked surprisingly active and athletic in both, especially on the defensive side of the ball. Wade missed 11 of the 16 shots he attempted in the two games, so his offense is rusty, which is understandable after offseason knee surgery. But he also had 5 rebounds, 5 assists, 4 steals and 2 blocks in what amounted to about three quarters of total court time in two games. Wade certainly had a business incentive to perform in China after launching his new shoe deal with the Asia-based sportswear company Li-Ning. It will be interesting to see how he approaches this week's schedule.
SF: LeBron James:
As expected, James put on a show, particularly in the first of the two games in China, when he dazzled the capacity crowd with ferocious dunks and highlight plays on the way to 20 points, 5 assists and 5 steals. In the second game, James basically had it on cruise control and still contributed across the stat sheet. For someone who's played so much the past 10 months, it has to be tough to get up for these preseason games. Complacency will set in for James at some point soon. It is against his nature to want to skip games to rest, so he's likely to play at least some this week. But the more rest coach Erik Spoelstra gives his catalyst now, the better off the Heat will be in the long run.
PF: Shane Battier:
Through three preseason games, Battier is shooting an amazing 60 percent from 3-point range on limited attempts. He embodies the definition of hitting the ground running. And it appears Spoelstra will keep Battier in his role from the championship run as the starting power forward to maintain that unconventional look. But the Heat can't hide their struggles to defend and rebound in the lane forever. The Clippers outrebounded the Heat by 31 in two games, with Blake Griffin and DeAndre Jordan combining to shoot 60 percent against Miami's front line. The good news for Battier: He won't have to see players like Griffin and Jordan every night.
C: Chris Bosh:
If you're still waiting and hoping for Bosh to be a bruiser who hoards rebounds and forces the action inside the paint when he touches the ball, you should stop wasting your time. Bosh is what he is. Accept it. Just hope for the best -- a few key rebounds here and there and a big shot when James and Wade look his way in the clutch. What we saw from Bosh in China were a lot of fouls defensively and very few paint touches on the offensive end. The Heat should find a way in these preseason games to keep Bosh active and engaged. Otherwise, he's the floating, forgotten man.
KEY RESERVES
G: Ray Allen:
It's just a matter of time before the most productive 3-point shooter in NBA history eventually works out the kinks in his transition from Boston. Allen is just 4-of-14 from beyond the arc this preseason. Battier had similar growing pains when he arrived in Miami. But the threat of Allen knocking down a big shot is almost as lethal as making one -- for now. The open looks and spacing are there for him to do his job. At some point, the ball and rim will cooperate.
F: Mike Miller:
Perhaps Pat Riley wasn't joking after all. Maybe the Heat will find a way to simply keep Miller on ice until the playoffs and hope he can put together a few of those explosive shooting nights like he had in the Game 5 title clincher against Oklahoma City. In reality, Miller seems to be a charter member of this season's "maintenance" program. Spoelstra has vowed to bring Miller along gradually from offseason back rehab, so the 32-year-old forward was limited to sightseeing in China.
F/C: Udonis Haslem:
Another member of the team's preseason M.A.S.H. unit. Haslem has yet to play because of a leg strain, which is a surprise considering he came into camp saying he was in the best shape he's been in three years. Haslem will have to play catch-up in the position-less system when he's healthy. But there should be a place in the rotation for the team's best rebounder.
ROTATION BUBBLE
PG: Norris Cole:
Obviously, Cole brought back more into his second NBA season than the high-top fade and pork chop sideburns that have him looking like a young Artis Gilmore. He's also developed a solid stroke from 3-point range to better his chances of getting -- and staying -- on the court this season. Cole was perfect in China from 3-point range on his four attempts. But he has more than twice as many turnovers as assists this preseason starting in place of the injured Chalmers, which is a major problem.
F: Rashard Lewis:
On the heels of the failed
Eddy Curry
experiment, the Heat seem determined to give Lewis every chance imaginable to make this latest reclamation project work in Miami. So far, the rust is overwhelming just about everything Lewis is trying to do on the court. Lewis' potential is promising, because of the skill set he's shown in his career. But it's going to require plenty of time and patience for this to work for the Heat.
LONG SHOT TO WATCH
F/C: Josh Harrellson
: After lobbying for a shot with the Heat and landing two extensive offseason workouts, Harrellson finally got a chance to prove what he can do Sunday in Shanghai. In just more than 20 minutes off the bench, Harrellson had 9 points, 6 rebounds, 2 blocks and 2 steals -- and held his own against veterans
Lamar Odom
and
Ryan Hollins
. Harrellson, who spent last season with the Knicks, likely is competing with
Mickell Gladness
,
Dexter Pittman
and
Robert Dozier
for one of the Heat's final two roster spots. That potentially makes this a huge week for Harrellson.
October, 14, 2012
10/14/12
2:57
AM ET
While most people were sound asleep stateside early Sunday morning, the Miami Heat were busy playing the Los Angeles Clippers in Shanghai. With Miami's Big Three on the floor together only for a few minutes, the Heat
lost 99-89
as Chris Paul made his preseason debut.
Here are five takeaways from the post-midnight madness:
1. LeBron James took the night off.
Well, not really. James played, but not up to his standards. It's hard to imagine a Heat game where James is reduced to an afterthought, but that was mostly the case in this preseason affair. Aside from an early fast-break lob to Dwyane Wade, James played on the periphery and let others do the talking.
James had a series of athletic steals on the defensive end, including an interception of a Blake Griffin alley-oop, but James wasn't as assertive on offense. That's not a bad thing for the Heat, considering he's probably the team's purest point guard. If this were a regular-season game, we'd probably see a different James. And perhaps a different outcome.
Also, this tweet, from the night before, might have something to do with his occasional deferential play.
Just posted a photo instagr.am/p/QsiEZdCTNX/

— LeBron James (@KingJames) October 12, 2012
2. Up-and-down night for Bosh
Chris Bosh opened the game at his best, with a patented 18-foot jumper that splashed through the net. This has been a common sight over the past few days: Bosh setting up for a jumper while his defender, DeAndre Jordan, frantically flies out to the perimeter. Stretching the floor remains one of Bosh's biggest responsibilities for this team, but that's not the only place the Heat will need him this season.
They need him to play bigger in the paint than he did on Sunday. While Bosh certainly did his job to drag Jordan out of the paint on offense, Jordan had a field day in the paint on the other end. Jordan was a perfect eight for eight from the floor in the game and routinely had his way underneath the rim against Bosh. Jordan can scrape the arena ceiling, but Bosh has to make it tougher for bigs to get inside position.
3. Dwyane Wade looks to be just fine
In his second preseason action because of offseason knee surgery, Wade showed that he can still get up. First, he caught a lob from Wade in transition from James and flushed it down with two hands. Then another dunk shortly thereafter.
And that was it. Wade only played eight minutes in this game, but his night wasn't cut off because of injury. After playing 25 minutes on Wednesday, Wade probably could have used an abbreviated outing this time around. The Heat have two weeks before the season opener so there's no reason to push things now. Two dunks in eight minutes is a good ratio.
4. Ray Allen missed all five of his 3-point tries
Stock up on canned goods, folks. The Mayans may have been onto something.
5. Josh Harrellson or Mickell Gladness? That's the big question.
The Heat have a handful of big men vying for two open roster spots, maybe three if you count Dexter Pittman's slot. Mickell Gladness was the first big off the bench to replace Chris Bosh (it's a sign!), but Josh Harrellson delivered the most memorable performance. It didn't help when Gladness was blocked by 39-year-old Grant Hill underneath the basket in the second quarter. Harrellson replaced him shortly thereafter and filled up the box score.
We saw a new side of Harrellson in this one. He caught a great feed from Allen and finished on the move in traffic. Then, the rarest of Harrellson sights: a post-up move. He caught the ball on the right block, shook right and Odom inexplicably decided to wrap his arm around Harrellson's barrel waist while Harrellson dropped a turnaround hook shot. And-one. To rub salt in the wound, Odom tried to take Harrellson off the dribble on the other end, but Harrellson swatted his shot into the first row.
It wasn't all good things for Harrellson, though. He tried to dunk on a fast break late in the fourth quarter, but Ryan Hollins literally pinned the ball to the backboard. The ball got stuck between the rim and the backboard. Harrellson lost the resulting jump ball to Hollins.
Preseason basketball, everyone.
October, 8, 2012
10/08/12
11:07
AM ET

By Michael Wallace
ESPN.com
Archive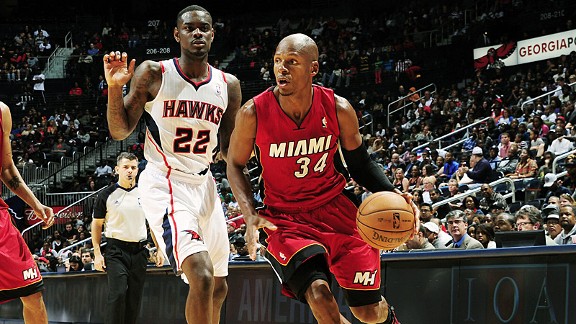 Scott Cunningham/NBAE/Getty Images
In Sunday's preseason opener in Atlanta, Ray Allen showed that he's ready after training camp week.
MIAMI -- With their first preseason test behind them and a case of jet lag looming after a 14-hour flight, LeBron James and the Miami Heat arrived in China on Monday morning for a weeklong stay for two games against the Los Angeles Clippers.
A string of minor injuries to some, coupled with continued rehab for others from offseason procedures, has made it difficult for the defending NBA champions to establish much continuity so far. The Heat hope to jump-start that process overseas.
"Only thing that matters is we want to continue to get better," James said before the preseason slate got underway. "A trip like this will definitely help. We're not going to waste the opportunity."
So where do the Heat stand after a full week of camp? Let's break down the roster in Monday's Progress Report.
PROJECTED STARTERS
PG: Mario Chalmers: As hard is it might be to fathom, the fifth-year guard and returning starter absolutely should be considered an NBA veteran. Still, Chalmers hasn't been able to gain much traction in camp because of a thigh bruise he sustained during last week's initial workouts. Unless the injury is more serious than indicated, it's hard to imagine him missing both games in China. So he should be in the flow soon.
SG: Dwyane Wade: Still in the final, methodical stages of rehab from offseason arthroscopic knee surgery, Wade missed Sunday's game in Atlanta but is almost certain to get in at least one of the two games in China. It's a business trip for Wade on multiple fronts, as he is expected to launch his new shoe endorsement deal with a China-based brand this week after splitting from Nike's Jordan Brand. One sign that Wade is physically back to his explosive ways came last week during a post-practice workout, when he caught a ball in the paint, spun toward the basket and rose for a vicious dunk without much momentum.
SF: LeBron James: The league's reigning regular-season and Finals MVP hasn't missed a beat despite playing nonstop basketball since December, when the lockout-shortened 2011-12 season commenced on Christmas Day. LeBron was on his usual triple-double pace Sunday in Atlanta, when he had 10 points, six rebounds and six assists in a little more than 20 minutes. Chances are the trip to China might do more to bore than to buoy him as he awaits a more meaningful portion of the season.
PF: Shane Battier: After laboring through the lockout and free agency last offseason, Battier arrived to camp a year ago out of shape and rhythm. It led to a slow start to the season. That's far from the case this time around for Battier, who is the physical embodiment of coach Erik Spoelstra's "position-less basketball" scheme. Battier is back at the starting power forward spot, where he was most effective in the Finals victory against Oklahoma City. Much like James, Battier seems in midseason form.
C: Chris Bosh: Reluctant about the full-time move to center? Sure, that was the case initially. But is it a regrettable change for Bosh? That hardly seems to be the case so far. Just because Bosh is officially listed at center, it doesn't necessarily mean he'll be forced into the paint to bang bodies with opposing bigs. With a team-high 22 points, including 15 in the third quarter Sunday, Bosh showed the potential that he can work this assignment to his advantage on most nights. He seems as comfortable and confident now than he's been at any time since he arrived in Miami.
KEY RESERVES
G: Ray Allen: Maybe it's just me, but there's still something that just doesn't look right about Allen being in a Heat uniform. But Allen is already making the adjustment process appear as silky smooth as the stroke on his lethal jumper. The league's career leader in made 3-point baskets is setting out to prove at age 37 he's more than simply a long-range threat. He made his case in Atlanta when he only attempted one trey, but had five assists, three steals and three boards off the bench. If he stays healthy, this could be a Sixth Man of the Year situation.
F: Mike Miller: For the first time since he signed in the summer of 2010, Miller is visibly free of pain. No bandages. No braces. No bending over and laboring up and down the court. But it's still early. So Heat fans might want to search for the nearest wood structure and commence knocking on it. This might finally be the season the Heat get to unwrap all those intangible gifts they expected when he signed in the summer of 2010.
F/C: Udonis Haslem: The proverbial chip on the shoulder is still there with Haslem. Last season, the Heat added Battier and moved him to power forward. This season, Miami is hoping to resurrect the player formally known as All-Star Rashard Lewis. Presumably, there could be backup minutes at center, but Haslem, who sat out Sunday with minor soreness, is going to have to fight to remain relevant in the Heat's primary rotation. His rebounding will certainly be valuable.
ROTATION BUBBLE
PG: Norris Cole: There has been ample opportunity for Cole to showcase his improvement from last season, mainly because the quad injury has kept Chalmers off the court the past week. Cole spent the entire summer working to gain more control of the offense. Although he struggled with five turnovers and just two assists on Sunday, Spoelstra considers him the most improved player in camp so far.
F/C: Joel Anthony/Rashard Lewis: Anthony has been sidelined and Lewis has been laboring through the early stages of training camp while trying to regain his rhythm after two seasons of leg injuries. Ultimately, this could be a situational process for the Heat. They will lean on Anthony for shot-blocking and defensive needs and turn to Lewis for offense and floor-spacing purposes.
LONG SHOT TO WATCH
F: Robert Dozier: Stashed overseas for the two years since he was drafted in the second round by the Heat, Dozier is working his way into the good graces of the coaching staff. He can play up to three positions in the Heat's system and has enough length, athleticism and offensive skills to potentially separate himself from other camp hopefuls such as Jarvis Varnado and Josh Harrellson.
September, 18, 2012
9/18/12
11:27
AM ET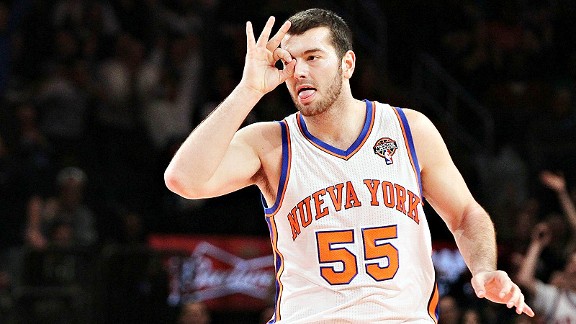 Jim McIsaac/Getty ImagesA center who can shoot 3s? The Heat may have found a diamond in the rough for their new attack.
If Pat Riley asked the basketball gods to construct a flier for the Heat to sign for training camp, that flier would probably play a lot like former Knicks center Josh Harrellson.
On Monday night, the Heat announced that they signed Harrellson to what's believed to be a nonguaranteed deal and will be bringing him to training camp along with 17 others. There's a chance that Harrellson doesn't make the regular season roster when the Heat are forced to trim down to 15 players next month. The 23-year-old will be presumably battling with invitees Mickell Gladness, Terrel Harris, Dexter Pittman and Garrett Temple for two spots on the team.
But judging from what Harrellson's done in the league so far, the Heat inking Harrellson to a non-binding deal makes all the sense in the world, especially for what Erik Spoelstra is setting out to do this upcoming season.
The road to Miami
Harrellson, who goes by the name of "Jorts" for his taste in jean shorts, achieved near cult status in New York last season. If you want an idea of what he meant to Knicks fans, browse their reaction to Monday's news
on
Twitter
. Hard to argue when he sports a mustache like
that
.
But Harrellson is much more than a novelty. The guy can play.
What Harrellson brings to the table is something that the Heat have highly-coveted for a couple years now: 3-point shooting, 3-point shooting and more 3-point shooting. The 6-foot-10, 275-pound Kentucky product shot 33.9 percent from beyond the arc in his rookie campaign, a shade under the league average last season but stellar for a guy who can play center. (It's worth noting that Harrellson shot better from downtown last season than Carmelo Anthony, Kobe Bryant and stretch-4 Antawn Jamison.)
The pursuit of Harrellson has been weeks in the making. When the Heat brought Harrellson to Miami for his first workout this offseason, the coaching staff came away impressed by his shooting display, enough to bring him in for a second workout for Riley to see (Riley had been away from the AmericanAirlines Arena for the first time around).
But after a second look at the burly big man, soon enough Harrellson was inked to a deal.
How he fits in with the Heat
It's easy to see why the Heat are intrigued by Harrellson's talents. Even if his 3-point tries don't go in, he'll be useful for the Heat offense that puts a premium on spacing. Under then-coach Mike D'Antoni's lead last season, Harrellson wasn't shy about setting up around the perimeter and shooting to his heart's content. As our own John Hollinger
points out
in his Heat player profiles, no center took a higher proportion of his shots from downtown than Harrellson.
Pulling up Harrellson's game film reveals why he's going to be a fascinating player to watch as he tries to cement his spot on the roster. Simply by camping out in the corners, Harrellson presented his big man defender with the following dilemma: should he sag into the paint and prevent Carmelo Anthony or Jeremy Lin's penetration and risk a kickout, or should he stick to Harrellson and leave the driving player unattended?
That's a tricky proposition made nearly impossible if Harrellson's even an average 3-point shooter and LeBron James is barreling down the lane. Remember, if you're willing to leave a 33.9 percent 3-point shooter open, you'd better be willing to leave a 50.9 percent two-point shooter open. Statistically speaking, the payoff is exactly the same. It's why 3-point shooters are deadly when handcuffed to elite dribble-penetrators.
This confirms what our eyes told us when we watched the Thunder frantically try to defend the Heat in the Finals when Miami spaced the floor with Chris Bosh, Shane Battier and Mike Miller. Dealing with those shooters, James posting up and Dwyane Wade slashing through the paint? Good luck.
Pursuing Harrellson was a logical step for the Heat as they try to see how much extra space they can create for James, Wade and Bosh to do their thing. With Bosh penciled in at starting center, the Heat could use an unconventional backup who reinforces their "pace-and-space" attack and to pull opposing centers out of the paint. Resident backup Joel Anthony is the anti-Harrellson in this sense. Harrellson's range extends 25 feet; Anthony's range extends 2.5 feet. Harrellson rebounds like a center; Anthony rebounds like a small forward. Then again, Harrellson moves laterally like a full shopping cart; Anthony moves laterally like a 6-foot-8 crab.
The hard numbers
Floor-spacing has been a buzzword for coaches for decades now, but it's hard to see its benefits simply by looking at the box score. But a recent statistical study by Kevin Pelton of Basketball Prospectus shed some light on its hidden value. He correlated his box-score-fueled player metric with how the scoreboard changed when a player was on the floor. What he found was that sharpshooters tend to have a more positive impact on the score than we'd expect given their box score stats alone. In other words, floor-spacers are more essential than we might have thought. (If you're cool with a dizzying avalanche of numbers, you can read more about Pelton's findings
here
and
here
.)
Now Harrellson can shoot, but he's not a one-dimensional player by any means. He's a wide body and, unlike Dexter Pittman, he leveraged his size into rebounds last season, especially on the offensive end. For the 2011-12 campaign, Harrellson pulled down 9.6 rebounds per 36 minutes, which is on par with other centers such as Chris Kaman, Kevin Garnett and Nene. This is a guy that
once prompted
D'Antoni to quip last season: "He is strong, he is dirt strong ... he's got a little pop to his game that people didn't know about."
That dual skill-set of rebounding and shooting is the pop that D'Antoni might be referencing. It's been mentioned in this space before, but it bears repeating that Harrellson joined Minnesota Timberwolves forward Kevin Love and Milwaukee Bucks forward Ersan Ilyasova as the only qualified players last season to average over nine rebounds and make at least one 3-pointer per 36 minutes on the floor. Not bad company.
The cost-benefit of Jorts
Of course, Harrellson struggled to find a guaranteed deal for a reason (or a few). He has only one season of solid 3-point shooting under his belt (he didn't shoot 3s at Kentucky). It sometimes appears like the soles of his shoes are laced with Elmer's glue and he has almost no post-up game to speak of.
But you can expect Spoelstra to test Harrellson in the preseason, not only to see his game but also his conditioning. The Heat are notorious for their rigorous training camps and the word is that Harrellson wasn't nearly in game shape when they worked him out a few weeks ago. Pittman and Harrellson certainly have that in common.
At best, the Heat found their backup center on the cheap, one that fits perfectly within their already scary offense. At worst, they burned a few dollars to discover that Harrellson's shooting display last season was a fluke. Harrellson's 13.7 player efficiency rating last season put him above Aaron Gray, Greg Stiemsma and Kwame Brown on the PER leaderboard. Those three centers netted multi-year deals this summer; Miami managed to bring in Harrellson on a training camp invite.
That kind of upside is worth a flier for the defending champs. And then some.
August, 23, 2012
8/23/12
12:45
PM ET
MIAMI -- Looking to fill their final spot on the roster, the Miami Heat hosted a workout for free agent center Josh Harrellson on Thursday morning, a league source told ESPN.com. The 6-foot-10 big man was waived last week by the Houston Rockets in order to make room for newly signed guard Carlos Delfino.

Harrellson averaged 4.4 points and 3.9 rebounds while shooting 33.9 percent from downtown last season as a reserve big man for the Knicks before being traded this offseason to the Rockets in a package for center Marcus Camby.

A rare rebounding big man who can stretch the floor, Harrellson joined Minnesota Timberwolves forward Kevin Love and Milwaukee Bucks forward Ersan Ilyasova as the only qualified players last season to average over nine rebounds and make at least one 3-pointer per 36 minutes on the floor. Though he lacked the height of a traditional center, Harrellson primarily backed up Knicks center Tyson Chandler last season.

After signing 3-point shooting wings Ray Allen and Rashard Lewis, Miami is aiming to fortify its front line that consists of Chris Bosh, Joel Anthony, Dexter Pittman and Udonis Haslem. With 14 players signed for next season, there is one spot remaining to complete the 15-man roster. Harrellson started four games last season for the Knicks, but the rookie played only 25 minutes in four postseason games against Miami.

Because the Heat have already used the taxpayer's mid-level exception to sign Allen, Miami would only be able to offer Harrellson a minimum contract for 2012-13. Under the new collective bargaining agreement, the Knicks would have to wait until July in order to sign fan favorite Harrellson.