Miami Heat Index:

Kevin Durant
February, 14, 2014
2/14/14
7:55
PM ET

By Michael Wallace
ESPN.com
Archive
NEW ORLEANS -- As the NBA's leading scorer,
Kevin Durant
doesn't hesitate to take any shot on the court. But off it, he wouldn't mind taking a few less questions about rival
LeBron James
.
Asked during Friday's All-Star media day session to gauge on a scale of one to 10 how tired he is of having to face comparisons to James, the Oklahoma City star ventured well off the charts.
"Um, about a 25," Durant fired back. "It's every day, I mean. You should really focus on how good LeBron James is. I think people should appreciate that more than always comparing guys. In our world, you want to compare everything. You judge everything. That's just how we are."
Durant was asked at least 10 questions about either LeBron or the
Miami Heat
during his 30-minute session with reporters in advance of Sunday's All-Star Game. At one point before responding to a question, Durant asked the inquiring reporter if he was from Miami.
Durant has emerged as the clear frontrunner to potentially unseat James as the league's Most Valuable Player this season. Durant has led the Thunder to the league's best record entering the break at 43-12, and is in the midst of the most prolific all-around season of his career.
Averaging career highs in points (31.5) assists (5.5), steals (1.5), shooting percentage (51) and both field goals attempted and made, Durant has been on one of the most remarkable runs in recent years. Seemingly every step of the way, he's either been directly asked about James or sees himself compared to the four-time league MVP and two-time NBA champion.
Even James has spent much of the season publicly marveling at Durant's exploits on the court, which included leading the Thunder past the Heat in Miami during the first of their two regular-season showdowns. Durant is equally complimentary of James' exploits this season. While Durant has played his best stretch in the past six weeks since
Russell Westbrook
has been sidelined with a knee injury, James has also delivered some of his biggest performances in games
Dwyane Wade
has missed.
James has scored at least 30 points in 11 games since Jan. 1 and is averaging 26.5 points, 7.0 rebounds and 6.7 assists this season while shooting a career-high 57.1 percent from the field. Although both James and Durant traded highlight performances while leading their respective teams to consecutive wins on the road leading into the break, Durant insists it's OK to appreciate them individually.
"Let's just sit back and judge basketball as we play it; not just LeBron and myself, but other guys in the league, too," Durant said. "Just enjoy it, because it's here today and gone tomorrow. A lot of people take it for granted."
Durant likely won't be able to avoid the LeBron subject anytime soon. He has finished second in MVP voting to James on three occasions and also lost to James and the Heat in five games in the 2012 Finals. James and Durant are likely to be among the players in the mix for MVP of Sunday's All-Star game. And when regular-season play resumes next week, one of the first marquee matchups on the schedule is Thursday's nationally broadcasted meeting between the Heat and Thunder in Oklahoma City.
James said Friday he has no problems addressing questions about Durant, his workout partner in the offseason. It was mentioned to James that Durant is having his best season coming off a summer during which the two weren't able to spend time together working on their respective games.
"It just happened that way -- what a coincidence," James said. "When we both worked out a few times, we came into the season better prepared, better trained, better mentally. I don't mind [Durant questions] at all. I'm a truthful guy. I don't sugarcoat nothing."
September, 25, 2013
9/25/13
11:25
AM ET
Dwyane Wade and Kevin Durant got into a war of words on Twitter after Durant said he'd put James Harden in the NBA's top 10 players over Wade. Stephen A. Smith and Skip Bayless debate the feud on "First Take."
June, 12, 2012
6/12/12
3:07
PM ET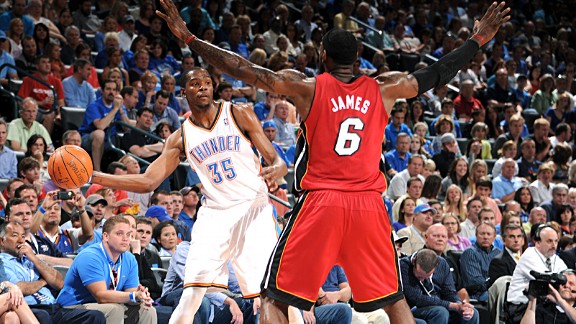 Garrett W. Ellwood/NBAE/Getty Images
Dwyane Wade believes LeBron James will benefit from having to guard Kevin Durant.
OKLAHOMA CITY -- Fans, journalists and historians have spent the last few days getting excited about the LeBron James-Kevin Durant Finals matchup. In short, such a marquee head-to-head battle between players at the same position at the Finals is exceedingly rare.
Among all the commentary offered in the standard build-up, one observation stuck out. It came from Dwyane Wade about his teammate, and what the challenge of covering Durant will mean to James. It wasn't something you'd expect to hear, which made the remark so interestinog.
"I'd rather for him to be guarding Kevin Durant than to have to guard DeShawn Stevenson or Shawn Marion like last year where he wasn't as involved," Wade said. "With Kevin Durant, you've got to have your antennas up at all times. I think that's going to bring out the best out of both of them."
References to last year's Finals often make the Heat a little nervous and James a bit short. Without totally retracing old ground, it was clearly the worst series in James' career and that was a major reason the Mavericks won the title. James' play was the target of much criticism, specifically that he didn't exhibit his normal aggressiveness and, at times, looked detached from the moment.
As James said Monday in a mildly curt and certainly once-and-for-all way: "I didn't play well. I said that a hundred times this year."
Heat players don't often speak of last year's Finals and, for obvious reasons, don't often elaborate when asked -- all of which made Wade's comments on the value of having Durant to engage James more intriguing. Facing Durant, Wade seems to believe, will force James to stay locked into the action.
"I'm glad that (James) has that challenge because it's going to make him focus more," Wade said. "It's going to make him play a little different."
Just how much time James will spend guarding Durant is yet to be seen. Thunder coach Scott Brooks seems prepared to use Durant on James nearly exclusively, and is not worried about foul trouble or fatigue on his star.
"Kevin's job is to play whoever we have him guard; he's not one to hide," Brooks said. "You can't be a good defensive team when you have one guy not playing defense and he has to be able to commit to that end."
When the teams last met in a wonderfully played game in Miami in April, James and Durant put on a show during the second half. They guarded one another exclusively, each striking blows on the other, like boxers working the jab and trying to set up the hook. James ended up with 34 points, Durant with 30 as the Heat won by five points.
Heat coach Erik Spoelstra, though, isn't so willing to say he'll have James dedicated to defending Durant. With James logging heavy minutes -- he averaged 46 a night in the conference finals against the Celtics -- Spoelstra hinted he may look, at times, to other players to handle Durant in order to ease the burden on James.
"That's part of the versatility we have with our roster," Spoelstra said. "We have some proven wing defenders and we were tested with that in the last two series. (James) did the bulk of the work on (Danny) Granger and (Paul) Pierce, but Shane (Battier), Dwyane and even (Udonis Haslem) and Chris (Bosh) were able to help. I anticipate that a lot in this series."
April, 4, 2012
4/04/12
10:58
AM ET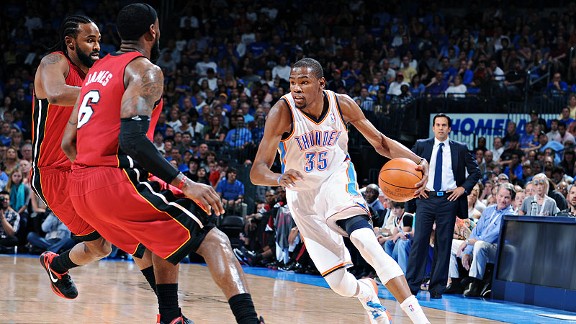 Garrett W. Ellwood/NBAE/Getty Images
Has Kevin Durant driven past LeBron James in the MVP race? We debate.
In another installment of the Heat Index's 3-on-3 series, our writers give their takes on the storylines before the Heat host the Thunder (40-13).
1. Fact or Fiction: The Heat have upgraded the starting lineup with Turiaf.
Tom Haberstroh:
Fact. Honestly, when Turiaf got signed off the scrap heap, I had no idea that Turiaf was able to play at this level this quickly. The notoriously pungent veteran (
just ask Amare Stoudemire
) has been a breath of fresh air on offense. It might be best to put the guys in a platoon according to the opposing defense. Against a team like Boston and Chicago, playing the offensively-skilled Turiaf makes more sense. But against teams like Oklahoma City, Anthony's defense will be valuable.

Michael Wallace:
Fact. To a degree. Turiaf is not as big a threat to block or alter shots as Joel Anthony. But he's a more consistent rebounder and is leaps and bounds ahead of Joel at passing, catching and finishing around the rim. Bottom line is this: Opponents have to at least account for Turiaf on both ends.
Brian Windhorst:
Fact. It sort of sums up the Heat's situation at center by saying a guy that another playoff team jettisoned as an unwanted spare part a couple weeks ago is an upgrade. Joel Anthony plays hard and does what the Heat pay him to do, he rebounds and challenges shots. But when he's out there, it's 4-on-5 offensively and that limits the entire team. Turiaf is no Kareem but you can actually run a pick-and-roll with him and know that he'll catch the ball. Also, if the defense leaves him alone he can make a basket.
---
2. Fact or Fiction: You'd be surprised if this isn't the Finals matchup.
Haberstroh:
Fiction. The Bulls and the Spurs may not be favorites to win their respective conferences, but they've been good enough to use light pencil for a OKC-Miami prediction. Do I think it's the most likely matchup? Yes. Do I think it has a better than 50-50 chance of happening? No. History tells me that quirky things happen in the playoffs.
Wallace:
Fact. Although I wouldn't suggest that either team is a flat-out lock. I do believe the Thunder could potentially have a far more difficult path to the Finals in the West, with the L.A. squads, the Spurs, Mavericks and even Memphis capable of doing damage. In the East, it appears to be a two-team race between the Heat and Bulls - the favorite being the one that avoids Rajon Rondo and the Celtics, who could be dangerous if relatively healthy.
Windhorst:
Fiction. Nothing would surprise me in these playoffs. The season is bizarre and so the seeds don't matter as much. I think there's really four teams -- OKC, Dallas, Lakers and Spurs -- that could win the West. I do believe the Heat, despite their blase last five weeks, are still the favorite in the East. But I wouldn't lay down hard-earned cash that these teams would play again this year.
---
3. Fact or Fiction: The MVP is LeBron's to lose.
Haberstroh:
Fact. LeBron has been the best and most valuable player this season on both ends of the floor. Enough with the narrative construction; this isn't a popularity contest.
Wallace:
Fact. But I do think the combination of LeBron's recent slump, by his lofty standards, and OKC's recent impressive run has put Kevin Durant well within striking distance. Voters might also be swayed by how some elite players have come out to stump for Durant in recent days, including reigning MVP Derrick Rose. Still, I think LeBron has had the better overall season so far.
Windhorst:
Fiction. I know what the stats say but you have to consider the voters and history here. The MVP has a political layer to it. The voters want the best story and they consider outside influences. Unless LeBron just has a massive April and the Thunder falter, Durant is going to win this thing. When you are deciding on the most valuable guy in the league, it is impossible not to consider the last two playoffs. I know it's supposed to be a 2011-12 award but that isn't real. Voters have to seriously consider if they want to make James a 3-time MVP when they're not sure he belongs in that category. Durant, in addition to having a great year, doesn't have such baggage.
March, 25, 2012
3/25/12
9:29
AM ET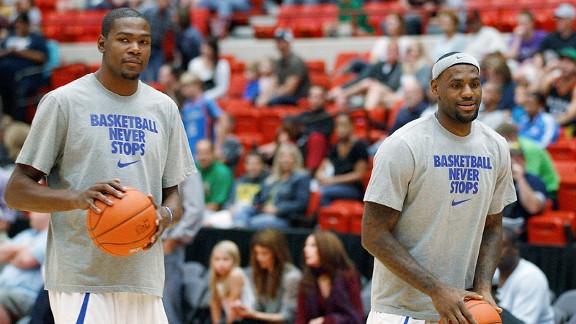 AP Photo/Sue Ogrocki
Kevin Durant and LeBron James may not be best friends, but they came together to lift their games.
OKLAHOMA CITY – They called it hell week.
At the end of the summer with the NBA still in its lockout phase, LeBron James invited Kevin Durant to stay with him at his home in Akron, Ohio, for a series of workouts. The two stars had known each other for years but became closer when both went part of a series of charity games held across the country. They wanted to extend that to preparation for the season.
Durant ended up staying two weeks, which is noteworthy, because getting through the first seven days was a challenge. It one of the most intense series of workouts either had ever been through with two-a-day sessions with James' trainers and workout coaches that the two All-Stars ending up branding "hell week."
Durant later came back to Ohio for more workouts in November when they also staged a flag football game with teams they had formed.
"We pushed each other, not to show up any one, but we competed every single day in our training," James said Saturday after practice at Chesapeake Energy Arena, where James' Heat will face off with Durant's Thunder for the first time this season Sunday at 8 p.m. on ESPN.
"Those workouts helped us, arguably we're having the best seasons we've both had in our careers."
There may be something to do that. James, despite a recent shooting slump over the last three games, is averaging a career-best 8.4 rebounds a game and shooting a career-best 54 percent shooting while being third in the league in scoring. Durant is also averaging career-highs in rebounds (8.1) and shooting (50 percent) and is second in the league in scoring.
The Heat and Thunder, not ironically, are in a virtual tie for the second-best record in the league, adding some extra drama to the team's first meeting of the season. They meet again next month in Miami and those games could end up determining homecourt advantage in a potential Finals matchup.
Getting past the statistics, though, James said those workouts set the stage for both to come into the late-starting season in the best shape they've been in their careers. With others in the league having to play their way into shape as a result of the lockout, James said he and Durant were ahead of many of their peers and it has continued to pay off during this season.
"It was like we didn't miss a beat," James said. "I'm not saying we were in game shape because you have to play in games to get there. But we were above the curve to start the season and it had a lot to do with offseason training."
The workouts were spread out across facilities all across James' hometown. They did work with weights and other strength training at the University of Akron. Then they used the school's indoor football field to do sprinting work. They also did several workouts in a pool near James' home and had court workouts and ball-handling drills at James' high school. Then, in the evenings, they would play in pickup games that he organized.
James released
several
videos
featuring their workouts on his website.
"You never want to waste the opportunity to get better over the summer," James said. "It was really just the two of us wanting to get better."
James and Durant aren't the closest of friends, their time together was more about that work than anything else. They will probably be spending more time together this summer as members of Team USA plus there's a re-match of the flag football game scheduled after James' team pulled out a narrow win last year.
Whether or not their workout sessions become an annual tradition is yet to be seen. If they do indeed end up facing each other in the Finals they may end up sick of seeing each other. But they did both seem to benefit from their lockout sessions.
"He's a guy who has improved every year he's been in the NBA and we've all seen it," James said. "I'm always up for a good workout and trying to improve in the offseasons. It was a great way for us to come together."
November, 16, 2011
11/16/11
11:22
AM ET

By Tom Haberstroh
ESPN.com
Archive
LeBron James and Kevin Durant worked out together in LeBron's hometown of Akron last month, a development that has generated polarizing opinions.
Some think these rivals shouldn't be so darn friendly. Some think it's great that the best in the game are pushing each other to new heights.
Whatever your opinion, it's clear that your workouts are nothing like the workouts of professional basketball players.
LeBron (
@KingJames
) and Durant (
@KDtrey5
) shot video of their training sessions and published the
first day of workouts
on YouTube for their fans last week. The video above is Day 2 courtesy of
@lebronjamescom
.
Average Joe and Average Jane swim laps in the background while these 6-foot-9 world-class athletes pretend to dribble a basketball underwater with styrofoam pom-poms. And then after that, they went and put up a gazillion shots on the hardwood.
A day in the life...
February, 8, 2011
2/08/11
8:07
AM ET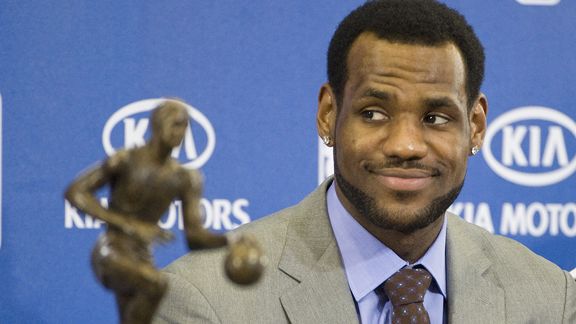 AP Photo/Phil Long
LeBron James has said he doesn't expect a third MVP award, but his recent play says something else.
MIAMI -- LeBron James is in the midst of putting Most Valuable Player voters in an awkward position.
On Monday, the league named James its Eastern Conference Player of the Week for the fourth time this season. James has already won two Player of the Month Awards, racking up another one last week for his play in January.
In and of itself, this is unremarkable. The awards get attention for a day or two on broadcasts and at the bottom of beat writers' notebooks. Perhaps some more hard-core fans may make an issue of it. But those honors, which are decided by the league's public relations staff, often serve as an unofficial tally of the season-long MVP race.
Every year the MVP conversation starts to get serious around All-Star Weekend. With that event on the horizon, it seems reasonable to ask: Can James really win the MVP again?
The instant answer from many voters and even James himself would be no. When asked about this last month, James admitted voters might not give him as much consideration because of teammates Chris Bosh and Dwyane Wade.
"When we decided to come together our Most Valuable Player chances kind of went out the window," James said. "I think [voters] classify it as an individual award. They look at it like the less help you have, the more numbers you have, then the better chance for you to win that award."
This was a sound opinion but it isn't playing out so simply.
Most of the time, the man who hoists the Maurice Podoloff Trophy in May picked up a significant number of those weekly and monthly nods along the way. Why is this so? Because the league's PR staff uses roughly the same criteria to pick its winners as voters do when they chose an MVP. It isn't just the statistics -- the team has to have a good week or month, as well.
This has long been an unwritten rule for MVP candidates. There hasn't been an MVP from a team that's won fewer than 50 games since Moses Malone took home the award in 1982. If you're not on an elite team, it is nearly impossible to win. As an aside, that's the central reason why Amare Stoudemire would be considered a long shot at this point in the season unless the Knicks have a huge second half.
James won four Player of the Month Awards in each of the past two seasons before winning the MVP in both. The Cavs averaged 63 wins over those seasons, which meant they had a lot of winning weeks and months that added to James' résumé.
Last season, James won six Player of the Week Awards. He's just picked up his fourth of 2010-11, which includes his miserable November, when both he and the Heat were in the midst of an unexpected slump.
But what of James' belief that his supporting cast may be deemed too strong to get him the award again? Before this season, James never had a teammate average more than 17 points a game. Right now he's got two -- Bosh is at 18.2 points per game and Wade is fifth in the league in scoring at 25.4. So there's truth to that changing circumstance.
But there's something else that James didn't say. The voters are probably going to have a hard time putting James at the top of their ballot when he has still not won a title.
Only three players in history have won three consecutive MVPs: Larry Bird, Wilt Chamberlain and Bill Russell. All three had at least one ring by the time they were given their third consecutive MVP.
Other greats and multi-time champions like Michael Jordan, Magic Johnson, Kareem Abdul-Jabbar and, more recently, Tim Duncan, were limited to back-to-back MVPs. It's very hard to win that third consecutive award because there's some inherent voter fatigue and because the standard to win again becomes so high.
James, meanwhile, is coming off an underwhelming performance in the playoffs. Though he was battling an elbow injury and ran into a Celtics team playing inspired basketball, James simply did not play like an MVP as he and the Cavs quietly bowed out earlier than expected last May.
Indeed, the MVP is a regular-season award, but there is simply no way James' limping and still largely unexplained finish to his career with the Cavs can or will be discounted by the 122 media members who will decide the MVP.
So James, despite his status as one of the greatest players of this generation, entered this season as an underdog to win the MVP again no matter what he accomplished between October and April.
But as all these Player of the Week and Player of the Month awards are showing, James is still routinely beating his competition for these individual honors. His stats are slightly down, but he's been second or third in scoring for most of the past two months, and his December, January and February results are becoming impossible to ignore.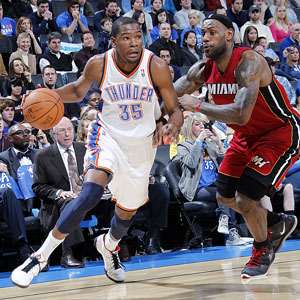 Layne Murdoch/NBAE/Getty
Kevin Durant is sure to factor in the MVP voting.
Over the past 15 games, he's averaging 29 points, eight rebounds and seven assists a game. The Heat have the third-best record in the league currently, and they appear to be in for a battle with the Celtics and Bulls for the top spot in the East.
In a vacuum, James would have to be considered a serious MVP candidate if not the front-runner at the moment. But, of course, there's a political element to who goes on that top line. Since last summer, James has become a polarizing figure. There seems to be a love-him-or-hate-him line that fans have established and the media has fostered.
It is hard to gauge what impact James' infamous "Decision" could possibly have on the people who ultimately select the MVP. Though it must be said that the majority of those with votes are beat writers and local broadcasters spread across the NBA's 30 cities and not to pundits on talk shows or national columnists.
Though it can sometimes feel like it, the MVP is not a populist award. But not factoring a player's popularity would be a mistake as well. The voters are human and deal with the players in question on a regular basis.
There are other fine candidates, of course. Kevin Durant is on his way to a second consecutive scoring title. Dirk Nowitzki has recovered from a knee injury and is back leading the Mavericks to wins and putting up big numbers.
Derrick Rose is having the best year of his career and has carried the Bulls through injuries to Carlos Boozer and Joakim Noah. Based on James' idea of who should win, the fact that Rose doesn't have another All-Star on the Bulls with him might make him the favorite right now.
Wade, who has successfully battled a string of nagging injuries to put up impressive numbers next to James -- including a career high in rebounding -- will be considered. Then there's always Kobe Bryant. Even with his stats taking a bit of a dip so far this season, he is a permanent option.
Any of these stars could end up being an easier vote than James for numerous reasons. But will it be right? That is an answer that may or may not become clear over the final two months of the season.
Last week when James put up 51 points in a statement game in Orlando, he certainly had the appearance of an MVP. He's had that look for weeks now as the Heat have started to live up to their promise, at least in the regular season.
If he and the Heat keep it up, it could lead to one of the most controversial and complex MVP races in memory.