Miami Heat Index:

Lamar Odom
July, 1, 2013
7/01/13
2:52
PM ET

By Tom Haberstroh
ESPN.com
Archive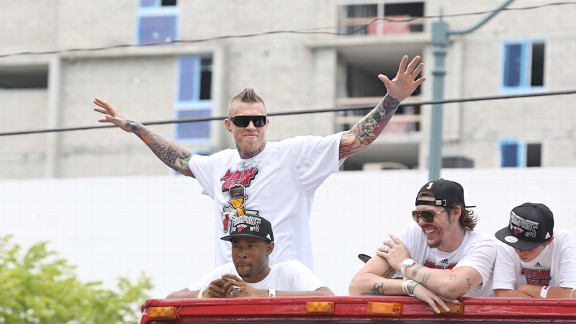 Aaron Davidson/WireImageChris Andersen was a key cog in Miami's run to a second straight title. Will he be back for more?
For Pat Riley, most of the work is already done.
While the rest of the NBA jumps into the free-agency frenzy that began at midnight Sunday night, the Heat figure to spend most of their time watching from afar. With
Ray Allen
opting in on Friday, the Heat already have 13 spots on their roster filled for next season (if you include Jarvis Varnado's nonguaranteed contract).
To recap:
LeBron James
,
Dwyane Wade
and
Chris Bosh
are locked in for 2013-14 (did you hear they could be free agents next summer?); the Heat employ a quintet of veteran sharpshooters in Allen,
Shane Battier
,
Mike Miller
,
Rashard Lewis
and
James Jones
;
Udonis Haslem
,
Joel Anthony
and Varnado will bolster the front line;
Mario Chalmers
and
Norris Cole
will hold down point guard duties.
That's 13 there. Only two spots remain to fill the 15-man roster next season.
What will they do with those two spots? Here are three things to know about the Heat in free agency.
1. The Bird is the word.
Riley has made it clear that
Chris Andersen
, who is an unrestricted free agent, is the Heat's No. 1 priority in free agency. Andersen finds himself in a unique position this offseason because he's still collecting a $4.8 million check from the
Denver Nuggets
next season. Considering he'll be paid handsomely no matter what next season, the 34-year-old will probably prefer familiarity, winning potential and team fit more than your typical free agent.
So what can the Heat offer Andersen? As taxpayers, the Heat can only offer two carrots: a raise on his veteran minimum contract worth a total of $1.7 million or the taxpayer's midlevel exception (commonly known as the "mini" midlevel) which can be up to three years starting at $3.2 million per year.
The Heat went from good to historically good when Andersen came on board, and his camp knows that. The likely scenario is that Andersen pushes for the mini midlevel seeing as though the Heat went 54-8 in games that Andersen played, thanks to his 17.4 player efficiency rating off the bench and a ridiculous 81 percent field goal percentage in the postseason. Expect the Heat to bring him in on a multiyear deal even though he will turn 35 next week. Other teams will be interested, but money might not matter; Andersen could earn $8 million next season if he signs in Miami.
2. Mike Miller has a $23.1 million price tag next season.
Miller is a prime candidate to be waived under the amnesty provision for three reasons:
• He is the highest-paid player outside Miami's star trio.
• The Heat have a fleet of sharpshooters to replace him.
• At 33, Miller has been as durable as a wet paper towel.
Still, Riley has insisted that he
won't use the amnesty provision on Miller this offseason
because the Heat "don't like change."
That's a big commitment from Riley because -- warning: collective bargaining agreement math ahead -- according to our own CBA expert Larry Coon, the Heat would save an estimated $16.9 million in tax penalties next season if they use the amnesty provision to release Miller. (That's using the safe assumption that the tax line remains at the latest projected figure of $71.6 million, Andersen is brought back at the mini midlevel and the Heat sign someone to replace Miller in addition to another free agent at the veteran minimum.)
A sum of $16.9 million is a lot of cash, even for billionaire Heat owner Micky Arison. To clarify, if the Heat were to use the amnesty clause on Miller, they would still have to pay his remaining contract worth $6.2 million, but his contract wouldn't count against the cap or be subject to tax penalties.
Combining his $6.2 million salary and the $16.9 million tax hit, Miller would, in essence, cost the Heat $23.1 million next season to keep him around.
And that's before we discuss the "repeater" tax sledgehammer that comes in 2014-15. The accelerated tax rate could potentially turn Miller's $6.6 million salary for 2014-15 into more than $25 million of additional tax dollars if the Heat keep him on the books and maintain a similar payroll. Cut bait now and the Heat could save more than $40 million over the next two seasons in tax penalties.
The Heat could also use the amnesty provision on Anthony, the seldom-used backup center who is due $3.8 million next season. But the Heat aren't as deep in the frontcourt and the potential savings may not be worth the liability underneath, especially with Haslem needing offseason knee surgery. The Heat would hate to cut either player, but sentiment has no place in this new CBA. The two spots could turn into three.
3. Keep an eye on Greg Oden, Elton Brand, Lamar Odom and Chauncey Billups.
Assuming the Heat bring back Andersen and keep Varnado around, that would leave one roster spot for the Heat to sign a free agent. The Heat will likely be on the lookout for another
Rashard Lewis
type -- a veteran at the end of his career looking to play for a championship contender at a steep discount.
Who are those players? Money talks for most players, but like Lewis, there are plenty of over-the-hill free agents who have secured more than $100 million in their careers and could be looking for more than just a big payday (like, say, a chance to be part of a three-peat). Some names that could fit the bill: Brand, Odom and Billups.
Of course, the Heat would be thrilled to land any of the three with a veteran minimum contract, but they remain long shots because, unlike Lewis, neither of them will be receiving an amnesty paycheck to supplement their Heat income.
Even if the Heat don't strike out on those veterans, they'd be wise to turn their attention to Oden, who is an unrestricted free agent. Oden has been on the
Heat's radar ever since James, Wade and Bosh joined forces
. Bringing in Oden along with another veteran would likely mean Varnado's departure, but that's a small price to pay. Furthermore, the Heat could also bring in their
2013 draft pick
,
James Ennis
, to fill out the roster, though he might be better suited in the D-League or overseas.
Other free-agent names to watch:
Samuel Dalembert
,
Lou Amundson
,
Nazr Mohammed
,
Chris Wilcox
and
Jason Collins
.
December, 24, 2010
12/24/10
1:50
PM ET

By Michael Wallace
ESPN.com
Archive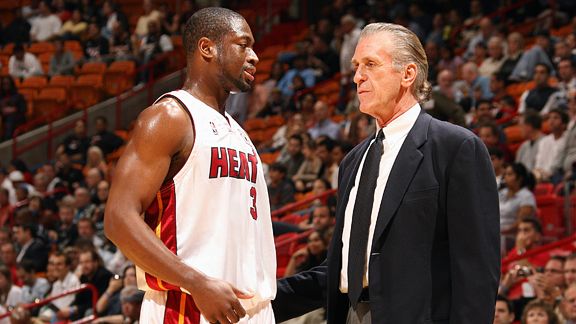 Victor Baldizon/NBAE/Getty Images
Free agency rejection in 2009 was the best thing that ever happened to Dwyane Wade and Pat Riley.
Was it more about Khloe or Kobe?
Even now, the mystery remains unclear when attempting to dissect one of the most critical free agency failures of Pat Riley's administration with the Miami Heat.
The offseason target was Lamar Odom.
The mission was to appease increasingly impatient Heat star Dwyane Wade, who was reluctant to even consider a contract extension unless there was clear evidence of a roster upgrade.
The result was a huge whiff. Odom never arrived. Wade didn't sign. And in hindsight, it was the best thing that could have ever happened to Riley, Wade and the Heat.
The NBA delivers a Christmas Day present at the Staples Center with Saturday's star-studded showdown between the Los Angeles Lakers and Heat. But one team should be thankful for an even bigger gift.
The gift of rejection.
Two summers ago, Odom and, to a lesser extent, Ron Artest, spurned free agency offers from the Heat to sign with the Lakers. Had either ended up in South Beach instead of Southern California in 2009, it could have ultimately knocked the Heat out of play to hit their jackpot last summer when LeBron James and Chris Bosh joined Wade in Miami to form arguably the league's most dynamic trio today.
Miami's big miss in 2009 produced 2010's great catch.
But the transaction that never took place for the Heat two summers ago turned out to be a win-win for both organizations. Odom flirted with the idea of returning to the Heat, where he played during the 2003-04 season. But on the verge of getting married, Odom instead chose to maintain his Los Angeles lifestyle with bride Khloe Kardashian. He also couldn't walk away from bonds with Kobe Bryant and Phil Jackson that produced champagne toasts after championships each of the previous two seasons.
With James, Bosh and Wade all locked into contracts with Miami for at least four seasons, the Heat's present and future are both promising as they try to deliver on vows to win multiple championships. But Riley was in a tough spot not too long ago.
The Heat's architect had been working since 2007 to position the team with enough salary cap space to cultivate the Summer of 2010 coup. But just prior to the summer that was, there were a couple of factors that made for some uncomfortable moments during the summer that wasn't.
Wade was two full seasons removed from leading the Heat to a championship in 2006, and was growing impatient with first-round playoff ousters and a roster youth movement that wasn't really going anywhere with Michael Beasley as the team's second-best player.
Wade, the league's scoring champion in 2008-09, was coming off the most statistically productive season of his career. He saw Cleveland, Orlando, Los Angeles and Denver making bold moves. He bought into the hope that Riley was selling for a 2010 roster revival. But Wade also wanted help in 2009, and didn't like the idea of toiling through another fruitless season.
What followed was the first -- and only -- public sparring session between Wade and Riley over the direction of the franchise. It was a fragile moment. Riley wanted Wade to sign a long-term contract extension and show potential free agents that he was committed to staying with the Heat. Wade wanted Riley to make a bold move to shore up the roster before he would think about offering his signature.
They met halfway. Armed with only the midlevel exception worth about $34 million over five seasons, Riley seriously pursued only three free agents that summer: Odom, Artest and Hedo Turkoglu.
Artest was off the market in a matter of hours into free agency, giving the Lakers a deep discount for his services. Turkoglu was priced out of the Heat's range, and took a $54 million deal with Toronto. Odom was there for the taking. Or at least that's the way it seemed amid tenuous contract negotiations with the Lakers. Wade jumped in on the recruiting, and there were reports he and Riley flew to Los Angeles to personally lobby Odom -- with the Heat's plane in place to immediately return to Miami.
But what could have been never came to be. And it was a blessing in disguise for the Heat. Patience proved to be a virtue for the Heat. Rejection was a gift.
Miami could have had Odom or Artest as Wade's sidekick.
Instead, they've got James and Bosh. Sometimes, the best moves you make are the ones you don't.
Regardless of the outcome of Saturday's game, it's a trade-off the Heat can live with for the long term.
Considering the rings he's since shared with Khloe and Kobe, Odom doesn't have any regrets, either.
December, 23, 2010
12/23/10
6:37
PM ET
By Beckley Mason and Ethan Sherwood Strauss
ESPN.com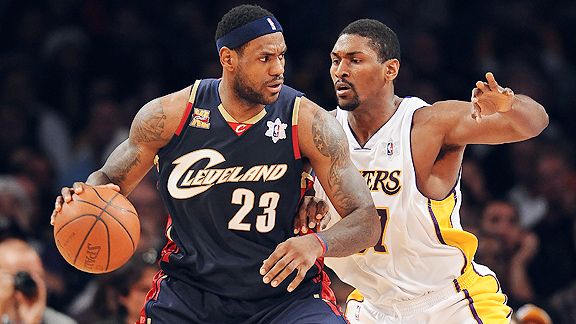 Lisa Blumenfeld/Getty Images Sport
Remember Christmas Day 2009 in Los Angeles? Didn't think so.
"Mama there goes that Meme!" is a
HoopSpeak.com
feature in which Beckley Mason and Ethan Sherwood Strauss, like curious extraterrestrials, probe, abuse and ultimately learn from a popular media meme. In this special Christmas edition, the guys examine why it is we're so drawn to this Christmas Day matchup.
Ethan
: On Christmas, millions will bask in a Heat-Lakers game so hyped, it's hard to fathom how basketball will still exist in its aftermath. While Saturday's Miami-Los Angeles mega-battle probably won't implode the sport, it will decide how we go back and frame our preconceived notions about both teams:
The media after a Lakers loss:
"The Lakers win in the playoffs, the regular season means nothing. I now smugly chuckle at your silly, naive overreactions"
The media after a Heat loss:
"This shows that Miami doesn't have what it takes to win like the Lakers do. Perhaps LeBron lacks that brutal killer instinct -- you know, the one displayed by flicking your wrist under a ball."
With apologies to the Heat Index: The game does not matter. In fact, it sort of mirrors Christmas itself. We build up the moment, then quickly flee like Harold Hill exiting River City. I vaguely recall the last LeBron-Kobe Christmas game. The ascendant Cavs stepped into Staples and stepped over the Lakers. Five months later, confetti and champagne rained, decking the halls of that same arena. The Lakers had won yet another title. The Cavs weren't even in the building.
That 2009 match was not predictive or important. So Beckley, why do we watch this upcoming Christmas litmus?
Beckley
: Your math is correct. For these teams this game means no more nor less than any other nonconference game on the schedule. And you're right, no game played in December necessarily gives either team a discernible advantage going into future matchups. Hindsight may inform significance, but for now, all we have are two elite teams playing a game worth one win.
But I think you overlook a crucial element, and that is that this game will feature five of the top fifteen players on the planet in one 94-by-50 foot space.
This in itself demands celebration.
Drawing consequence from 1/82 of a season can be absurd, but what about the inherent meaning of seeing the three best wing players of the past decade on the court at one time? How about the worth of being privileged to a contest of styles between the fury of the Heat fast break against the mature elegance of the Lakers' Triangle?
This meeting is a basketball eclipse. So what if the dulling glare of the 82-game grind returns December 26th? The spectacle of this regular season ritual is worth taking in.
Ethan
: Okay, you're cluing me into a love of this Heat-Lakers game, my heart's growing three sizes, fit me for the magnum pacemaker. I'm reminded of how we can appreciate this sport, divorced from standings. A short time ago, I saw Blake Griffin play in a totally meaningless NBA preseason game. His dunks threw people from their seats, sent them talking in tongues. Griffin brandished athleticism that we could hardly absorb or process. The night was special because of what we saw combined with the visceral impact of such a sight. Time flew faster than frightened bats, an alley-oop validated my existence on the planet. Basketball doesn't need stakes, the talent exhibition is enough. I'm watching Lakers-Heat for the sheer joy of watching Lakers-Heat.
Wait, why haven't I brought up Dwyane Wade? What about Pau Gasol? Lamar Odom exists, right?
Beckley
: Odom … who? You know that when it comes to hype memes, Pau and Dwyane are two warm-up acts who deserve top billing. Each has been the best player in an NBA Finals series, and both have played better than their overshadowing counterpart for chunks of this season. But neither Wade nor Gasol seems to swell with the all-consuming hero narrative like LeBron or Kobe.
That's too bad for Gasol, who is uniquely equipped to control this game by dominating the pivot on both ends. On Saturday, I believe Pau and Odom's ability to pass over and around the Heat's quick hands and length and preserve the flow of the triangle will be more important than whether Kobe can personally out duel Wade. But even that story line has gone largely untold. And what's really interesting about the lack of meme wattage devoted to the Wade-Bryant match-up is that these two will actually be, you know, guarding each other. While the legends of LeBron and Kobe are battling it out in blogs and message boards around the country, Wade and Bryant will be making their arguments in person on Saturday.
So fill the narrative void, Ethan, and tell me who you would take between Wade and Kobe.
Ethan
: We've historically photoshopped LeBron against Kobe--lacking a single shared playoff series, the two are existential enemies at most. This Cold War came at the expense of what should have been a bigger national Wade vs. Bryant fight. So let's wage it right here on these pages.
Kobe has the bigger market, better team success and this season's statistical edge. Dwyane has dusted KB individually over the long haul. Also -- as you alluded to -- Bryant never owned a Finals quite like Wade did. And yes, I know that many fans attribute the Dallas-Heat series to the surreal renderings of Salvatore Dali.
It's Dwyane over Kobe in career Player Efficiency Rating (PER), Win Shares, and Wins Produced. Plus, if we subtracted Wade's injury-torn 2007 campaign, he would dominate the advanced stat alphabet soup insofar as a man can dominate a soup. Since any rational Bryant critique gets dismissed as "hating," here's some hate: In my personal opinion, Dwyane claims a better career than Kobe. December 25th, 2010, should be hyped as Wade's chance to show why -- especially since Bryant is playing so well right now.
What's funny is how so many pundits favor the Lakers for reasons unrelated to LeBron, Kobe, or Dwyane. I keep reading, "The Lakers will win with their size." Beckley, why is size mattering more than ever before?
Beckley
: You'll have to ask Jimmy Johnson for that answer. But I can tell you that I recently watched Miami nab seven offensive rebounds in one possession against the purportedly larger Mavericks. Maybe we need to re-imagine the conventional size versus speed narrative. The Heat have actually accumulated a greater total rebound differential (the difference between a team's rebounds and their opponents' rebounds) than the Lakers. And what's this? The Lakers are averaging greater than one steal per game more than the fleet footed Heat. Clearly, appearances can be deceiving.
Well, maybe not appearances, strictly speaking. It seems strange to focus on how the two teams would literally stack up when the Heat's starting five is collectively listed as being three inches taller than that of the Lakers. The Heat's problem isn't that their centers aren't big enough -- they're actually quite large -- it's that they aren't nearly as central to their team's success as Gasol and Bynum.
I can see this game playing out like a castle siege, with Gasol and Bynum acting as the ramparts in the paint. The charging Heat wings will try to raise the citadel with driving offensive assaults and quick-strike weakside blocks and steals on defense. This isn't about size versus speed, it's about flow versus disruption. If the Gasol et al hold down the fort, only an epic 3-point barrage from the Heat will win the day.
Ethan
: The size fixation is really more about "size that's good" than "size." Odom, Gasol and Andrew Bynum deservedly own greater star power than fading giants like Dampier and Illgauskus. The Heat don't lack literal height, like pre-Gortat Phoenix. Their height is just aging and wrinkled. In the spirit of Monty Python, I'd shout, "Illgauskus and Dampier aren't quite dead yet!" As for Juwan Howard … the reaper is fondling what's left of his skills.
In reference to your strategy breakdown, what's your actual basketball prediction here? I'd go with the Lakers just because Kobe is really motivated. He just wants it so badly and he really, really loves basketball.
Just kidding, I'd favor the Lakers because the game is at Staples.
Beckley
: I'm glad we got through this without mentioning Bosh. I guess I'll take the Heat because they seem to play Thrice As Nice as the alpha dog villains with a target on their backs who have more to prove to Charles Barkley. Plus, they'll be festively dressed in their Christmas reds.
You can follow Beckley Mason (@BeckleyMason) and Ethan Sherwood Strauss (@SherwoodStrauss) on Twitter.