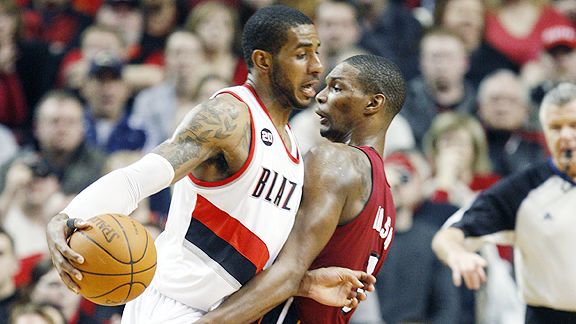 AP Photo/Rick Bowmer
Chris Bosh is facing one tough matchup after another this week at the power forward slot.
LOS ANGELES -- Chris Bosh may be in for a tough and tiring week, and he knows it.
Bosh is in the midst of a string during which he's facing some of the most talented and rugged offensive power forwards in the league. It started Sunday in Portland, where he had a fairly intense battle with LaMarcus Aldridge, an old friend from Texas.
Tonight Bosh gets his first look at Blake Griffin when the Heat take on the Clippers. And Saturday, the Heat will face the Bulls and Carlos Boozer for the first time. In between, there's a game at Denver, where Carmelo Anthony sometimes spends time at power forward.
"Oh, I know, I noticed," Bosh said. "I took a month off. With all due respect to everyone else, I didn't have many matchups where the ball was going to many guys I was guarding. Eventually we all have to deal with that and I've got my work cut out for me."
Aldridge scored 31 points with 14 rebounds in the Heat's 107-100 overtime win over the Trail Blazers. He and Bosh, who had 18 points and eight rebounds, were engaged in an ongoing battle late in the fourth quarter and overtime.
Aldridge had some moments, including a dunk and a nice turnaround in overtime. But Bosh was able to play the matchup to a relative draw when playing one-on-one late in the game. That allowed the Heat to shut down the rest of the Trail Blazers and hold them to 2-of-7 shooting in overtime. During that period, LeBron James was playing center for the Heat as they went to a small lineup.
The suggestion came from Bosh himself, who told teammates during a timeout not to give him as much double-team help on Aldridge because it was enabling the Trail Blazers to get open jumpers.
"I want my teammates to have trust in me and let me battle," Bosh said. "When somebody really challenges you it can be good because that is what happens in the playoffs. I have to do my best to make it tough on them."
One of the Heat's general weaknesses is post defense, one reason they have no fewer than four different center options on the roster with coach Erik Spoelstra regularly trying to find a formula that works on a certain night. In addition to Bosh's main backup, Juwan Howard, Joel Anthony has spent time guarding power forwards.
When the playoffs come, it is safe to assume teams will often look to attack that area, especially in late-game situations as the Trail Blazers did on Sunday.
That is why there is such a focus on how Bosh can handle tough individual matchups like the ones he'll be dealing with this week.
"It is a challenge but to get to where we want to go you have to do it," Bosh said. "Winning a championship isn't easy. From what I hear it is the hardest thing to do. But playing games like this will make you stronger and make us stronger as a team."