Miami Heat Index:

Los Angeles Lakers
January, 20, 2012
1/20/12
12:09
PM ET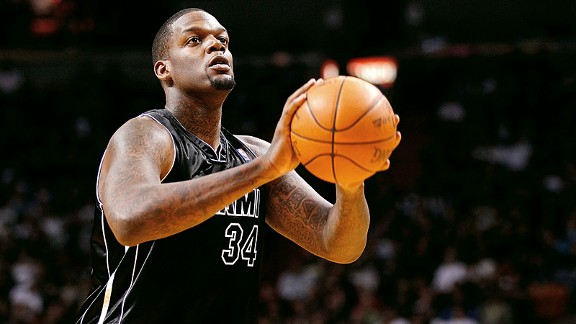 Mike Ehrmann/Getty Images
After many trials on and off the court, Eddy Curry finally returned to the floor.
MIAMI - Soaking wet and emotionally drained an hour after his long-awaited return to the relevance of an NBA game, Miami Heat center Eddy Curry cut through a crowd of reporters waiting for him with a towel around his neck.
This was long after Chris Bosh, Curry's immediate neighbor in the Heat's locker room at AmericanAirlines Arena, had already dressed and left Thursday night.
Long after LeBron James dissected a performance in which he slammed Kobe Bryant and the Los Angeles Lakers and stuffed the stat sheet with 31 points, eight rebounds, eight assists, four steals and three blocks.
Even long after Dwyane Wade popped into the room and hopped up onto his seat to retrieve a few items in his locker stall, as if to let everyone know he's recovering nicely from an ankle injury that's sidelined him the past two games.
Curry was trying to dry himself off, but it wasn't because he had just left the showers like the rest of his Miami teammates. Instead, he entered the room from another door -- the one that leads to the Heat's training facility.
"I felt like I needed some more work," Curry said after a 20-minute cardio workout that followed his six-minute playing stint against the Lakers. "Just trying to put my body through what a normal game situation would have felt like."
If you're searching for the most meaningful difference between the underachieving and vastly overweight Eddy Curry you thought you knew from his days with the Chicago Bulls and New York Knicks, and the version of him you saw in his Heat debut, it requires looking beyond the Jennifer Hudson-style physical makeover.
As much as Curry has impressed the Heat's players, coaches and front office by dropping somewhere between 60 and 75 pounds in the past 18 months, it was the initiative he took after crossing the finish line Thursday to run another lap that has instilled confidence within the Heat that this project might actually work out.
Having last played an NBA game on Dec. 17, 2009, Curry received a standing ovation from many fans in the arena when he checked into the game with 2 minutes, 20 seconds left in the first quarter against the Lakers. He promptly scored his first basket on his first touch and finished with six points and three rebounds in just more than six minutes.
Coach Erik Spoelstra's plan was to limit Curry to three-minute playing intervals in his first game back until he adjusts to the adrenaline and conditioning demands needed to play longer stretches in his role off the bench. But Curry's build-up leading into the game and the work ethic he showed afterward appear to count more than anything he contributed to the box score Thursday night.
"None of us know what he has been through these past few years," James said of Curry, who has battled weight problems, injuries, legal issues and family tragedies since 2009. "To see him come all the way back, to put on a uniform and get out there and make some plays ... it is a testament to him."
Moving forward, this process will continue to be a series of small steps. Even as a team with one of the smallest frontlines in the league and essentially no experienced depth at center, the Heat aren't asking much of Curry.
If Spoelstra eventually gets a handful of points off post-up relief baskets, along with a few rebounds and two or three aggressive fouls from Curry over 10-to-12 minutes a night, it'll be considered a bonus.
"He has a long way to go," Spoelstra said, before acknowledging the strides Curry has already made. "He has put in a lot of work, the majority of it on his own. During the lockout, he worked in solitude to get into condition. Since then, we have put him into our full conditioning, weight and running program. He has passed every test and he's come a long way."
If team president Pat Riley gets Curry to avoid the off-court distractions and personal demons that once derailed the career of the No. 4 overall pick from the 2001 draft, the investment of a non-guaranteed, veteran's minimum contract Miami offered will be money well spent.
"All this is," Riley has said of the gamble Miami has taken with Curry, "is an opportunity. What he does with it is up to him. We know what kind of (impact) player he can be."
If Curry, 29, can get himself to comprehend that this might be his best -- and last -- shot to resurrect a potentially promising career that's been more painful than productive through his first 11 seasons, then his future might eventually overshadow his past.
But those remain three big, Curry-sized "ifs" for now.
Part of his past caught up with Curry in a positive way after Thursday's game, when he finished his workout and reached for his cell phone. It was flooded with texts and voicemail messages from former teammates and coaches who had just watched him on national television.
Some even joked that they saw a player in Curry they didn't recognize. Now that the weight is off, the wait is over for Curry to rescue his career.
"I know I've been working hard for this moment," Curry said. "This is only the beginning. I was extremely nervous. I don't remember feeling like that in a long, long time. I've been away from it for a little bit for one reason or another. But now I'm back and I'm going to have some fun."
January, 20, 2012

1/20/12

3:08

AM ET



There were plenty of storylines from the Heat's victory Thursday against Kobe Bryant and the Los Angeles Lakers. In our first installment of Heat Index's Postgame Temperature Check, we take the pulse of the Heat and NBA fans by addressing your questions, concerns and observations after select home games. We also provide the forecast for Saturday's home game against the surprising Philadelphia 76ers.


January, 19, 2012

1/19/12

8:53

PM ET



MIAMI - Turns out, Shane Battier will have a bit more help than it first appeared in his defensive assignment Thursday night against the league's leading scorer.

Even though he had been coming off the Miami Heat bench, Battier was a late addition to the starting lineup Thursday and will be the primary defender on Los Angeles Lakers guard Kobe Bryant. With LeBron James now set to play after missing shootaround with flu-like symptoms, Battier will have some assistance.

Bryant enters the game averaging 30.8 points per game, and recently had a string of four consecutive 40-point games. Battier has been regarded as one of the league's better perimeter defenders throughout his career.

Before the game, Battier talked about the challenge he faces in his attempt to keep Bryant from erupting for a monster game. That process, Battier joked earlier today, would start with sending up a few Hail Marys and visiting a Hindu temple for divine intervention.
January, 19, 2012

1/19/12

3:13

PM ET



MIAMI - Although he has yet to even put on a game uniform this season, center Eddy Curry has already been worth his weight in one area for the Heat: Entertainment value.

On Thursday night, Curry might just finally start to become a much-needed, productive load on the court. The veteran center was in a joking mood when he spoke with reporters after Thursday's shootaround in preparation for the Heat's game against the visiting Los Angeles Lakers.

But Curry was all business when he talked about the impact he expects to have whenever he's activated by the Heat. After losing significant weight, improving his condition and recovering from a training camp hip injury, Curry offered his official pitch Thursday to make his season debut against the Lakers.

"I submitted a letter of recommendation," a smiling Curry said when asked if he approached coach Erik Spoelstra about playing. "I'm looking forward to the opportunity to be activated tonight. I'm just trying to get a uniform right now. I ain't talking about minutes (expected playing time)."

Curry might finally be granted his wish out of necessity. An undersized Heat team faces one of the league's biggest frontcourts in the Lakers' tandem of 7-footers Andrew Bynum and Pau Gasol. Miami will be without star shooting guard Dwyane Wade (ankle), and forward LeBron James (flu) is considered questionable after he was sent home from the team's morning shootaround for treatment and rest.

The same bug that affected James the past few days also forced reserve center Dexter Pittman to spend time away from the team recently to recover. Pittman was not with the team for Tuesday's game against San Antonio, but did practice Wednesday and should be available against the Lakers.

Spoelstra reiterated Thursday he hasn't decided whether to activate Curry against the Lakers or possibly wait for the weekend games Saturday against Philadelphia and Sunday against Milwaukee.

For Curry, it's been a long journey back to the cusp of playing an actual NBA game. A combination of conditioning issues, injuries and philosophical differences with previous coaching staffs limited Curry to just 10 games over the past three seasons. He hasn't played since 2009 when he was with the New York Knicks.

Now noticeably trimmer and healthy, Curry is hungry for a shot to help the Heat. He spent extra time working out with assistant coaches the past few days after practice and declared himself ready if needed.

"I was just trying to put my body through what they were going through," Curry said of the post-practice conditioning sessions. "No setbacks. So that was a positive thing."
January, 19, 2012

1/19/12

2:13

PM ET



MIAMI - The last time Heat forward Chris Bosh was forced into the role of leading man with LeBron James and Dwyane Wade sidelined with injuries, he responded by guiding Miami to arguably it's most thrilling victory of the season.

Bosh could again face that challenge Thursday night with two-thirds of the Heat's Big 3 ailing as the Los Angeles Lakers visit AmericanAirlines Arena.

James was sent home by the team during the morning shootaround because of flu-like symptoms and is questionable for the game. The Heat will be without Wade for the second consecutive game, and fifth time this season, as he continues to recover from a slew of lower-leg injuries that include a sprained right ankle.

James has been under the weather since the Heat returned from a five-game road trip last week that ended in Denver. Despite the illness, James shook off a sluggish start in Tuesday's win against San Antonio and finished with 33 points in 35 minutes.

Bosh is prepared to carry the additional load if James either can't play or is limited against the Lakers.

"The show still goes on," Bosh said after Miami's shootaround. "We've been in this situation before, and we won the next game. We just have to do our job and do what we're supposed to do."

When Wade and James sat out Jan. 5 to start that five-game trip against the Atlanta Hawks, Bosh stepped to the forefront with 33 points, 14 rebounds, five assists and two blocks to lead the Heat to a 116-109 victory in triple overtime.

With 7-footers Andrew Bynum and Pau Gasol, the Lakers present an even bigger challenge - literally - against a Heat team that is undersized in the front court. But Bosh could have help down low to neutralize some of the Lakers' size advantage, considering the possibility that Heat center Eddy Curry could make his season debut.

"We're still going to expect to win," Bosh said. "We had a good shootaround and prepared well this morning."