Miami Heat Index:

Michael Jordan
November, 13, 2013
11/13/13
8:16
PM ET

By Michael Wallace
ESPN.com
Archive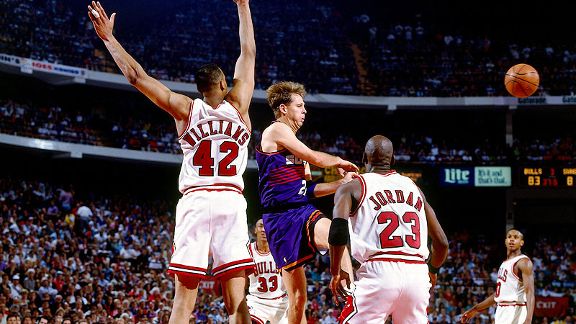 Nathaniel S. Butler/NBAE/Getty ImagesScott Williams and Michael Jordan stood shoulder to shoulder during their NBA Finals win in 1993.
MIAMI -- Very few on the planet can offer the kind of unique perspective Scott Williams holds in comparing the greatness of
Michael Jordan
and
LeBron James
.
As one of only three players in NBA history to spend a season as a teammate of Jordan and James at one point during their respective careers, Williams carries a bit of credibility when he suggests the
Miami Heat
star forward is on the cusp of matching Jordan's run of three straight titles.
"The aspect of LeBron that's similar to Michael is that he will carry this team," Williams said of James' chances of leading the Heat to a third consecutive championship this season. "I expect big things from them this year."
Coincidentally, the Heat's next challenge comes Friday against the last team to beat them in a playoff series: the Dallas Mavericks. Miami has won eight consecutive postseason series since losing to Dallas in the 2010-11 Finals during James' first season with the Heat.
In an interview with ESPN.com, Williams said James is armed with just as much skill as Jordan had and is surrounded by the same level of talent and coaching leadership the Bulls had during their dynasty in the 1990s.
Williams, now an assistant coach with the
Milwaukee Bucks
, was a reserve center with Jordan's Bulls during their first run of three straight titles, from 1991-93. Williams then spent the final season of his 15-year career in Cleveland in 2004-05, which was James' second year in the league.
[+] Enlarge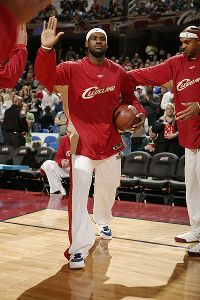 Garrett Ellwood/NBAE/Getty ImagesLeBron James in 2004, when Scott Williams was capping off his career in Cleveland.
Jerry Stackhouse and
Larry Hughes
were the only two other players to have appeared in games as teammates of Jordan and James, but they partnered with Jordan when he was well past his prime with the
Washington Wizards
.
Williams' comments came after James scored 33 points in just three quarters of play during the Heat's 118-95 victory over the Bucks on Tuesday at AmericanAirlines Arena. James has long been compared to Jordan by NBA players, coaches and league analysts. Those debates will gain even more steam this season as the Heat try to become just the fourth franchise in NBA history to win three titles in a row.
The Heat are off to a sluggish start at 5-3 and have played with inconsistent effort defensively despite also possessing the most efficient offense in the league through two weeks. James has also been slowed by recurring back spasms since the middle of the Heat's training camp last month.
Williams said James has developed the kind of will and determination he saw Jordan display after tasting a title. Williams' best season with the Bulls came during their third championship season, in 1992-93, when he played in 71 games, made five starts and averaged 5.9 points and 6.4 rebounds the year Chicago defeated Phoenix in the Finals.
"I played with both of those guys, and they're very competitive people, on and off the court," Williams said of James and Jordan. "They have a passion and desire that a lot of superstars have, but theirs is at a level that separates them from the rest of the greats you've seen in the game."
That's enough, Williams said, for James to drive the Heat through stretches of lethargic and inconsistent play that hit successful teams, which know the ultimate judgment doesn't come until the survive-and-advance point of the season.
"It's just a long grind, and you have to be able to understand that and manage that, mentally and physically," Williams said. "It takes a toll on the body and the mind. It's hard to ramp it back up at the start. [The Heat] will fight some of that, but they're a good squad and well coached."
While Heat coach Erik Spoelstra has aggressively challenged his players to show more effort and energy, Williams said he remembers times in Chicago when master motivator Phil Jackson also had to dig deep for inspiration.
But Williams said Jackson's voice never really grew stale.
"I won't say that, because he had veteran coaches with him -- Jim Cleamons, Johnny Bach and Tex Winter," Williams said. "And he knew how to rely on those guys to let them do a fair amount of coaching, so his voice would stay fresh. Plus, there were veterans like
John Paxson
, Jordan and
Bill Cartwright
. So it was really kind of the perfect blend."
The Heat's balance around James is also similar to Jordan's cast. An established rotation and defined roles allowed the Bulls to navigate through the dog days of the regular season.
"I think there was always a part of us that knew we could turn it up when it really mattered," Williams said. "So, yeah, teams go through that, fall victim to a little bit of human nature. We were battled tested and knew we played playoff basketball better than everybody else. Everyone knew their role and everyone had a part to play for us."
The Bulls team that chased their first three-peat had a 10-game drop-off from their second championship season and won just 57 games. They also watched a determined Knicks team, then coached by Pat Riley, run through the East during the regular season. Meanwhile, the Heat have seen the point-to-prove
Indiana Pacers
jump out to an 8-0 start with sights set on the No. 1 seed after losing Game 7 of the conference finals last season in Miami.
Eventually, the ultimate success comes down to finding that spark at the right moment, staying relatively healthy and following the lead of the greatest player in the game.
And then trusting his talent and instincts.
Then, it was Jordan.
Now, it's James.
"He's at the top of his game right now, and he's got guys around him like
Chris Bosh
and
Dwyane Wade
, [Shane] Battier, who are multitalented," Williams said. "They spread the floor, move the ball and play the right way. And, really, that's how you get it done. That's how we did it."
June, 9, 2011
6/09/11
2:33
PM ET

By Tom Haberstroh
ESPN.com
Archive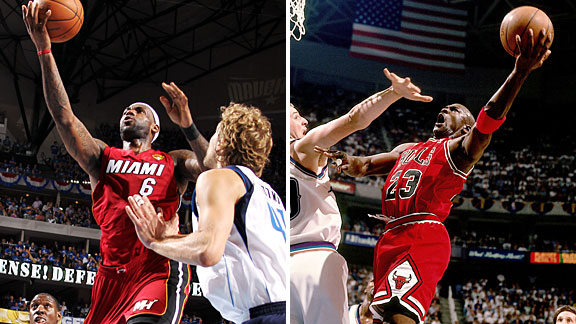 Getty Images
Comparing LeBron James and Michael Jordan in the Finals may not be an honest exercise.
One of the most prevalent statements we've heard in the wake of LeBron James's Game 4 stinkbomb is this:
Michael Jordan would have never done that.
It's been thrown around as a declarative statement of fact, that His Airness would have never scored just eight points in a Finals game.
And it's true, Jordan has never scored just eight points in a Finals game.
But to say that Jordan wasn't vulnerable to a stinkbomb like James' performance is classic revisionist history. As surprising as it is to some, Jordan failed. Many times. He had imperfections on the basketball court, because he is human. He lost 11 Finals games in his career, but judging from the conversation over the past few days, Jordan never let someone beat him. That, of course, is a false narrative.
Jordan has played in 35 Finals games. Here are his averages during those games: 33.6 points, 6.0 rebounds, 6.0 assists, 2.8 turnovers, and 48.1 percent shooting. Those are, without a doubt, monster numbers. He scored more than 40 points six times. He scored fewer than 25 points four times. And amazingly, he scored fewer than 22 points zero times.
That's right, Jordan's lowest scoring output in the Finals is 22 points. Looking strictly at the scoring column, Jordan never suffered a game quite like James' Game 4.
But Jordan did endure some bad games -- you just have to look past the scoring column to see it. Here are Jordan's five worst shooting games of his Finals career (keep in mind LeBron shot 3-for-11 [27 percent] in Game 4).
What we see here is that even at Jordan's worst, he still managed to score 22 points. But look at those shot totals.
19. 19. 26. 28. 27.
When Jordan didn't have it going, that didn't stop him from shooting the ball. In fact, Jordan averaged 26.4 field goal attempts per game in the Finals. That's an incredible figure by an incredible player. And James? He has shot more than 26 times in a game just once in this
entire playoffs
. James is averaging 14 field goal attempts in this Finals. You know what Jordan's career-low field goal attempts were in a Finals game? Fourteen -- that's his lowest.
Every time we compare this James to that Jordan, we're reminded of an essential detail:
Jordan had the license, ability and desire to shoot 26 times per game; James does not.
And this is the big elephant in the room. James and Jordan are different players playing in very different situations in very different eras. They are both great -- both all-time greats. But Jordan didn't have Dwyane Wade and Chris Bosh on his team, begging for 32 shots every game. And Jordan will probably maintain that he wouldn't want them anyway. He wanted the ball every time down the court and we have deified him for that. That's part of made him the best basketball player to ever play the game.
There is no denying that James stunk up the joint in Game 4 when he shot just 3-for-11. But the real reason Jordan would have never scored just eight points in a Finals game is because he would have never taken just 11 shots from the floor like James did.
Why?
Because Jordan is not James, and James is not Jordan.
May, 27, 2011
5/27/11
1:12
PM ET

By Tom Haberstroh
ESPN.com
Archive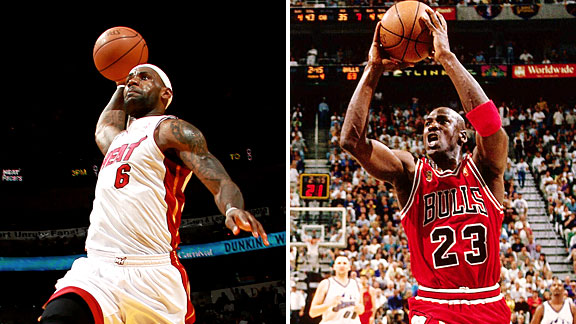 Getty Images
How does the 26-year-old LeBron James stack up with the 26-year-old Michael Jordan?
Scottie Pippen joined ESPN's "Mike & Mike in the Morning" on Friday and did what has been done a million times since LeBron James graced the cover of Sports Illustrated as "The Chosen One" back in 2002:
He compared LeBron to Michael.
But Pippen also did what has been done maybe only once: he said LeBron may be better.
Key word:
may
.
The exact quote:
Michael Jordan is probably the greatest scorer to ever play in the game, but I may go as far as to say that LeBron James may be the greatest player to ever play the game because he's so potent offensively that not only can he score at will, but he keeps everybody involved and you have to be on your P's and Q's on defense because no guy on the basketball court is not a threat to score when LeBron James is out there.
It's interesting to hear Jordan's longtime teammate say that the reason LeBron may be superior is that "he keeps everybody involved."
Is Pippen right?
Is Jordan a better scorer than LeBron? Probably. Is LeBron a better distributor? Probably. Does that make LeBron a better player than Jordan?
Now, that's where we need some help.
Let's put Pippen's assertion to the test.
If we're doing an honest evaluation, we need to grade LeBron and Jordan on the same age curve. Let's compare LeBron's statistical profile to Jordan's statistical profile through their age-26 season.
Here, we see that LeBron and Jordan are similar ballplayers in the sense that they score a lot points, they grab rebounds and distribute the ball. Jordan looks to be the superior scorer. He scores more points per game and scores more efficiently, with 3-pointers being the only shooting area in which Jordan doesn't have a leg up on James.
And depending on how you look at it, Jordan was the better shot creator, or he was a bigger ball hog. Jordan shot 23.4 field goal attempts per game and used more possessions while on the floor (USG tells us his usage rate, which is the estimated percentage of team possessions used either via field goal attempt, free throw attempt or turnover).
In the playoffs, Jordan asserted himself more than LeBron. Jordan raised his usage rate to 35.5 percent while LeBron's role grew only marginally in the playoffs (from 31.8 percent to 32.1 percent). But the fact Jordan remained efficient while taking more responsibility indicates that he was creating good shots as opposed to hijacking the offense for himself.
But if we use assists as a measuring stick, LeBron is the better passer at this point. Both LeBron's assists per game and his assist rate (as a percentage of total possessions) rank superior to Jordan's. That's not a total surprise, but the gap is smaller than one might think in the playoffs on a per-game level (7.0 to 6.7).
Overall? Looks like Jordan has him beat through age-26. While it's not the end-all-be-all, Jordan's player efficiency rating (PER) is decidedly better. Using other all-in-one metrics like win shares, we find a similar story: Jordan was overall more valuable according to these catch-all measures.
Forget earlier in their career, is LeBron better than Jordan was at 26 years old?
Let's take a look:
Here, we see a similar story: Jordan's better, and more of a scorer. Statistically, it's worth noting that LeBron's numbers are warped because of his star teammates this season. If, for example, we use LeBron's 2009-10 season as a comparison, it actually looks quite favorable compared to Jordan. But then we're just jumping around all over the place.
One of the big takeaways here is that Jordan did not have to share the ball with Pippen. Or at least, not nearly to the same degree that James has to share with Dwyane Wade ... and then add Chris Bosh to that mix.
When Jordan was in the playoffs during his age-26 season in 1989-1990, he took
26.6 field goal attempts per game
. Scottie Pippen that playoffs? 14.0 shots per game. Horace Grant didn't take even 10 shots per game. By comparison, Wade and Bosh have taken 17.7 and 13.3 shots per game, respectively.
So when we compare Jordan and James at age 26, we have to be cognizant of their surroundings and contexts. Additionally, Jordan played in a time when it was more physical for perimeter players because there was no hand-checking rule. So there's that, too, and it's no small thing.
When we look at the assists, Jordan actually has the upper hand when he was in the playoffs. So at this moment, after watching LeBron here in the playoffs, Scottie Pippen is claiming that LeBron may be the better distributor and a better creator for his teammates when, in fact, Jordan at this age was dropping more dimes than LeBron in the playoffs. Of course, James was tallying more assists in Cleveland during the playoffs when he had the ball in his hands almost exclusively. So that's worth keeping in mind.
Another way to look at this would be to compare how LeBron's teammates fare on and off the court with LeBron, and then see what Jordan's teammates looked like. If Jordan racked up assists and made his teammates play better, then he has a solid case that he was just as good of a distributor as LeBron is right now. Unfortunately, we don't have that data at the moment, but the stat geeks out there would love to get their hands on some on-court/off-court data to tease out some of the subtle aspects of the game.
In the end, Pippen's right: LeBron may be the greatest player ever to play the game. His story isn't over yet. He has the size, the athleticism and the tools to get there. But statistically, Jordan is the better scorer and the passing gap isn't great enough to say that LeBron matches Jordan at this juncture in their basketball lifetimes.
They're both great.
The thing is, LeBron has completely overhauled his reputation in a matter of weeks.
We're learning now that as soon as we think we have a handle on James, he decides to write his own chapter in history.
It's worth keeping in mind that Jordan didn't win his first title until his was 28 years old.
LeBron is 26 years old now.
What will be his next chapter?
March, 16, 2011
3/16/11
4:52
PM ET

By Kevin Arnovitz
ESPN.com
Archive
Professor Yago Colas' Basketball Culture 101 course at the University of Michigan continues to deliver thoughtful discussion. At Hoopism,
Matt Gordon has been documenting his experience as a student in the class
.
In studying Michael Jordan's persona and legacy, Gordon "was struck by how greatly perception and memory differ from reality." Gordon recently read Sam Smith's "The Jordan Rules," which chronicles a rocky, contentious 1990-91 Bulls season, which ultimately ends in a championship. Attending the 20th anniversary celebration of that team at the United Center recently, Gordon watched a harmonious fraternity of former Bulls being cheered, basking in the glow of the Chicago's collective memory. None of the pettiness, personal rivalries and ugly episodes from 1990-91 were present.
This scene got Gordon thinking: What happens if the Heat win a championship? How much will the public forget about "The Decision" and the various "-gates" that have marked time during this core's first season with the Heat? Will those who hate LeBron James forgive him for what they perceive to be his personal failings? Does winning spawn revisionism?
For all the Miami Heat "haters" right now, you must understand that if they win a championship (let alone several) none of this in-season nonsense about crying will be remembered, let alone the now infamous "Decision." If you are a marketable star and win an NBA championship, all else falls by the wayside. The easiest way to learn about the present is to look at the past -- when Kobe is long gone do you think people will remember his rant about getting Andrew Bynum traded or his intense competitiveness and stack of titles? We remember those that win. Obviously, "The Decision" will never be forgotten, especially not in Cleveland, but if the Heat win a title -- "The Decision" instantly becomes a footnote to Champion.
At TrueHoop, Henry Abbott points out that Jordan's narrative was spun by a few select news outlets, whereas
LeBron's story plays out daily in the guerrilla media
. His elbow has a Twitter feed. Hit pieces on LeBron circulate on YouTube. The public is consulted every time he makes a flip remark in his pregame availability. When he thumbs his nose at Dan Gilbert, we grade him on his form.
James doesn't deserve any sympathy because he plays basketball in the digital age, but it's unlikely the current landscape will allow him to cultivate a legacy as pure as Jordan's.
We don't do purity anymore. Our world is decidedly more gray, which isn't necessarily a bad thing.