Miami Heat Index:

Micky Arison
January, 6, 2012
1/06/12
6:11
PM ET

By Tom Haberstroh
ESPN.com
Archive
January, 5, 2012
1/05/12
7:13
PM ET
Last month Miami Heat owner Micky Arison cast a protest vote against the NBA's new collective bargaining agreement because he felt it was a bad financial deal for his team. Even though Arison is one of the NBA's wealthiest owners, he's regularly maintained that his basketball business should still be run like a business.
That isn't likely to change, especially since Forbes magazine estimated this week that Arison lost more than 20 percent of his net worth in the last year. Citing the 28 percent drop in Carnival Cruise Lines stock,
the financial publication said Arison lost $1.3 billion
. He is still estimated to have $4.5 billion in assets.
Arison is the majority owner of a variety of different cruise brands and recently launched his 100th cruise ship. His core business has been affected by the slump in leisure travel over the last several years.
Meanwhile, the Heat were one of the league's most profitable teams in the 2010-11 season, selling out every game and making a deep and lucrative playoff run while maintaining a payroll that was below the league's luxury tax level. This season, however, the Heat are paying the luxury tax and new tax rules will make it very expensive to keep their core of LeBron James, Dwyane Wade and Chris Bosh together starting in the 2013-14 season. A new revenue-sharing system also will make the Heat share more of their profits with other teams, the facet of the new deal that irked Arison the most.
Arison was one of the owners who was in favor of a hard salary cap and not an increase in the luxury tax. Because of his personal wealth, Arison said in an interview last month that many assume he should be willing to run the Heat at a loss.
"That's why a hard cap concept is a better concept than a luxury tax concept," Arison said. "That's the way fans feel, that's the way players feel, that is the way coaches feel. The only one that feels differently is someone who runs a business and expects to get a return on their investment."
December, 23, 2011
12/23/11
1:48
PM ET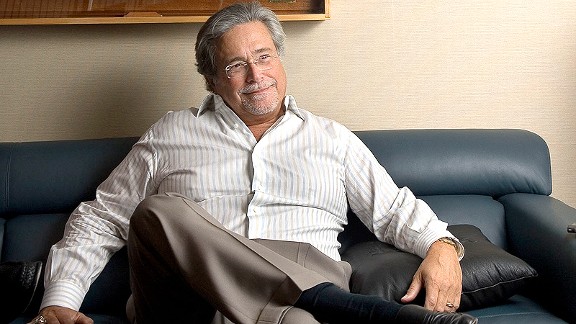 AP Photo/David Adame
Micky Arison joined Twitter to interact with fans and help promote his cruise line, but it came at a cost.
MIAMI – Actually the Micky Arison Twitter controversy was all Ocho Cinco's fault.
Last summer, Heat owner joined Twitter for two reasons. He'd been encouraging his companies, the largest being Carnival Cruise Lines, to use social media and he felt he should set the example. The second was that someone else had started tweeting under Arison's name, something that upset him.
His daughter, Kelly, was able to work with Twitter to reclaim his name and then she got Ocho Cinco to announce he was on the service.
"All of a sudden, I've got 3,000 followers, I better say something," Arison said this week in a rare interview. "I had no concept of how powerful it was until last summer."
Arison ended up feeling the sharp end of that power in late October. On a Friday night after talks between NBA owners and the player's union had badly broken down Arison sent out a series of tweets that ended up getting him fined $500,000. The most controversial was when Arison responded to a follower you had called him greedy by writing "you're barking at the wrong owner."
"That was the night that the deal broke off and I was extremely frustrated," Arison said. "The way everybody interpreted my tweet was not exactly what I meant to say. I didn't mean to throw owners under the bus. I meant to say you're barking up the wrong tree and then I kind of switched "tree" to "owner"."
Numerous NBA owners have joined Twitter over the last two years. Some have been aggressive with it like Dallas owner Mark Cuban and Cavs owner Dan Gilbert. Others have been passive and used it very infrequently such as Portland owner Paul Allen. The new Sixers ownership has been very active in using it to reach out to fans for feedback and to pitch ideas. Recently part owner Adam Aron announced he was switching the team mascot on it.
Fans having direct access to owners certainly creates an interesting and unprecedented dynamic. Earlier this week a fan in Cleveland informed Gilbert during a game that his cupholder was broken and the owner immediately dispatched a repairman. Arison ended up getting fined because interactions with fans that night upset him.
"I was getting a lot of tweets saying I was being a greedy son of a b----," Arison said. "Knowing the way of the economics of this deal was heading, I was trying to get a deal done on what would be terrible economics for me. So I resented those tweets coming in. Rather than just ignoring those tweets coming in, I reacted."
Arison was indeed right about the power of the medium. During the labor talks, Arison said, the owners were monitoring players and media tweets in their room while the players were watching owners and media in their room. As the lockout deeped, Arison said that Twitter became an "invaluable tool" in following what players were doing because owners and their players were not permitted to communicate.
But everyone is still learning.
"Other than that, I've had fun with it," Arison said.
December, 22, 2011
12/22/11
7:06
PM ET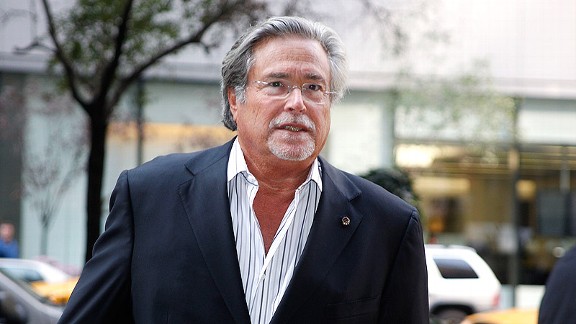 Michael Cohen/Getty Images
While Micky Arison got a chuckle at Donald Sterling's expense in the fall, the tables have turned now.
MIAMI – Micky Arison thinks it's Donald Sterling who might be laughing now.
The Miami Heat owner gave a rare interview on Thursday, discussing a wide range of topics from his decision to vote against the recently ratified collective bargaining agreement to his Twitter controversy that included Sterling in October.
The NBA fined Arison $500,000 for a series of comments on his Twitter account because he referenced league business during the lockout. One of the tweets responded to a fan who asked about what Arison thought about the oft-criticized Clippers' owner. Arison responed with a "lol."
"Looks like he's going to get the last laugh," Arison joked, referring to the Clippers' recent blockbuster trade to acquire Chris Paul. He also called the Sterling tweet "silly."
Arison couldn't resist talking about Sterling during the interview. One of the reasons Arison voted against the deal was because the Heat, who play in a mid-sized market, were slated to write revenue-sharing checks to the major-market Clippers in the way deal was structured. Though that may change with interest in the Clippers surging and their revenue increasing.
"Donald may write some checks and maybe he'll do it happily now," Arison said. "Maybe I changed his luck with my tweets."
November, 27, 2011
11/27/11
2:42
PM ET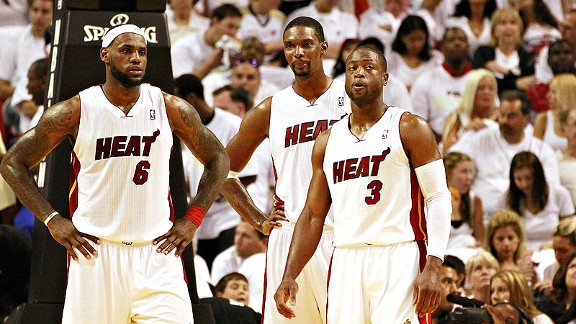 Marc Serota/Getty ImagesHow does the new tentative deal affect the Big Three and the rest of the Heat? Our experts discuss.
The NBA and its players have tentatively come to an agreement, which means a nation can resume hating the Heat instead of enduring a nuclear winter. And there's early indications that those boos will get louder, since some last minute changes to the proposed CBA
look to be very Heat-friendly
.
The complicated CBA language has the potential to induce migraines, but our Heat Index staff has peered under the
hood of the tentative deal
so you don't have to. And it has some interesting contents that will alter the Heat's plans going forward.

Looking at the CBA's structure, which part puts a smile on Heat president Pat Riley's face? Which part makes him uneasy? Who will be the Heat's biggest signing during the lightning-fast free agency sweepstakes?
In another installment of Heat Index's 3-on-3 series, our writers debate about how the new tentative deal reshapes the Heat now and in the future.
1. What are the Heat most happy to see in the new tentative deal?
Tom Haberstroh:
No hard cap. There were only two realistic scenarios that would break up the Big Three: LeBron grew to hate the Miami lifestyle and a league-imposed hard cap. OK, maybe the former wasn't realistic, but a restrictive hard cap was on the table at one point. Hard-line owners softened and so did Micky Arison's hard feelings towards them.
Michael Wallace:
First and foremost, the fact that there essentially is a two-year grace period in the proposed new CBA that would phase in majority of the rule tweaks that might have most affected the Heat. Beyond that, adjusting the mid-level exception to give minimum tax-paying teams use of the full $5 million per season mid-level is huge for the Heat, who can now more competitively shop for that much-needed free agent center.
Brian Windhorst:
The $4 million so-called "apron" that will allow teams barely into the luxury tax to use the full mid-level exception was a huge boon. If they manage their payroll and their amnesty clause properly, they will likely be able to add significant free agents this year and next year. That is a vital development because the team is thin in several areas.
---
2. What are the Heat most disappointed to see in the new tentative deal?
Haberstroh:
The salary floor rule. This isn't going to affect the Heat directly – the Big Three's salaries will satisfy the requirement alone – but teams like the Kings and the Nets may have no choice but to overpay for Sam Dalembert and Kris Humphries, respectively. Not only would it keep two big men off the market, it would artificially inflate the going rate for others too.
Wallace:
Honestly, there's not much there in terms of issues that would adversely affect the Heat. They're not a team that ventures too deep into the luxury tax anyway, so the end-of-the-year tax bill or revenue sharing issues would be manageable. If I'm forced to pick something, it's that Miami could face a bit more competition than expected from teams now forced to spend up to at least 85 percent of the salary cap in bids for late career veterans.
Windhorst:
The new increased luxury tax system plus the quite penal so-called "repeater tax" that will bite teams who are in the luxury tax four out of any five year. The Heat likely are going to be the tax payer for the rest of the Big Three era. But this won't affect fans and is anyone feeling sorry for multi -billionaire Micky Arison? Anyone?
---
3. Early prediction: Who is the biggest free agent the Heat will sign?
Haberstroh:
Sam Dalembert. As much as I'd like to look like a genius in the event that the Heat miraculously nab Nene or Tyson Chandler, I can't answer them with a straight face. But Dalembert? He's more like it, if you think he's a bigger signing than Mario Chalmers.
Wallace:
My crystal ball isn't working right now. So I'm going to wing it and predict that the Heat pull off the shocker and gets Nene to take the full mid-level to come to Miami. Beyond that, knowing Pat Riley's logic when it comes to the mid-level, expect the Heat to split it and try to get two for one - something along the lines of a Sammy Dalembert/Grant Hill combination. It might be expecting too much to ask those players to sacrifice that much.
Windhorst:
The largest probably will be Eddy Curry. The most important might be Sam Dalembert. The Heat's center situation is pretty dicey right now. They have a project (Dexter Pittman), a long shot (Curry) and a stop gap (Joel Anthony, who isn't a true center). They badly need a starter and Dalembert is best, most realistic option.
November, 10, 2011
11/10/11
2:20
PM ET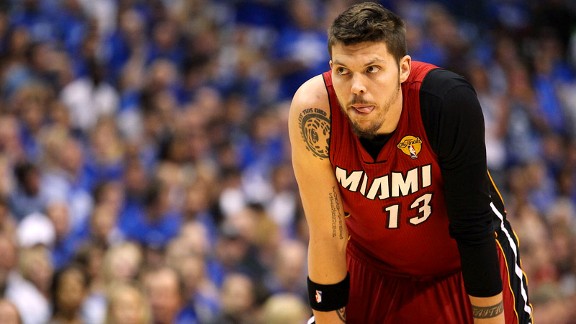 Ronald Martinez/Getty Images
Be careful connecting the dots after Mike Miller recently put his waterfront home on the market.
Mike Miller gave an interview to the
South Florida Sun Sentinel
this week after he'd put his Palm Beach county mansion on the market just a year into his five-year contract with the Heat. On the face, you could say Miller couldn't really be in a hurry considering he's trying to make about a $3 million profit on the place and, despite it's lovely waterside setting and pool with swim up bar, real estate hasn't recovered that much.
The move is interesting more because Miller seems to be genuinely concerned that he Heat exercise the amnesty provision – the expected clause of a new collective bargaining agreement that would allow the team to cut a player and remove his contract from the salary cap, though the player would still get the money – on him.
"If anything happens with the amnesty, this is just going to be a business decision and I can respect that," Miller told the Sun Sentinel. "Teams will only get one opportunity to use it. I can respect that part of it."
Though the amnesty is sure to be a talking point with fans because it's a transaction and fans love transactions – see trade deadline and draft interest every year – it is not an easy decision for any team. First and foremost because the player still gets the checks. It is nice to have salary cap space and you may no longer see the player on the roster but the owner has to continue to sign the checks. That should be a guiding principle when evaluating all of these amnesty candidates. In Miller's case, he is owed $24 million over the next four years.
It's not as simple as realizing that he's coming off the worst season of his career (5.6 points a game in just 41 games, woeful 36 percent on 3-pointers) and two offseason surgeries on this thumb and shoulder. Heat owner Micky Arison is worth more than $4 billion and his sitting on a massive lump of money from thousands of season ticket holders who've paid in full. Not to mention he didn't have to pay LeBron James, Dwyane Wade and Chris Bosh their July balloon payments. James, sources said, was owed a $12 million check in July as part of his contract that allowed him to get 80 percent of his annual salary up front. That cash is still sitting in the Heat's coffers. Yet the Heat's employees are all swallowing 25 percent paycuts right now because of the lockout. We infer from this exactly what Arison has proven for years: he's a businessman not just a billionaire.
So to assume that waiving Miller and seeing him do anything but play for the Heat – even if he's retired and doing MMA fights like he'd probably like to when his career is through – while getting those checks seems to be highly unsavory for the guy who has to write them. That has to be the subtext of any discussion on the matter.
With that said, the Heat are keeping a very close eye on how the final details of the CBA talks are going. Perhaps the biggest issue is whether teams in the luxury tax will be permitted to use the mid-level exception. The Heat are destined for the luxury tax. It is possible they can avoid it this year, maybe. It might come down to how much they have to give Mario Chalmers. How that rule comes down probably will ultimately determine Miller's long-term future in Miami.
The Heat have already dodged a blow when owners relented from a former position of wanting the mid-level exception abolished. You can count that Arison, who has been as deep in the talks as his peers have allowed him for the past six weeks, was part of the push to bring it back at a reduced $5 million per season. With the bulk of their salary cap tied up in three players and future drafts largely mortgaged, the Heat are going to continue to need the mid-level to compete for titles.
The Celtics and Lakers have been in this position for years now and got themselves difference-making role players like James Posey and Ron Artest (and guys who haven't been difference-making like Steve Blake and Jermaine O'Neal) by dipping into the mid-level. The Heat, with no reliable starting center or point guard and a relatively thin bench, need to do so as well. And probably several times over the next few years.
If there is no mid-level for teams in the luxury tax teams or it is a reduced mid-level – owners recently pitched a 50 percent mid-level for tax teams -- the Heat may have to bite the bullet on Miller and release him with the amnesty clause. Not because they don't think he would really help them, but because they know they may have to keep their options open in the future. Waiving Miller possibly could result in the ability to sign 2-3 players that collectively would make a bigger impact down the line. Especially with players continuing to show a willingness to play for less than market value in Miami.
Depending on where the numbers fall, however, that decision may be a year off. The amnesty clause is expended to have a multi-year window and the Miller just might, with the right management, but able to put it off.
Miller is being realistic as he looks at the Heat's payroll and what his agent tells him about the new rules. But it is also realistic to say no one knows how it is going to play out yet.
November, 2, 2011
11/02/11
12:37
PM ET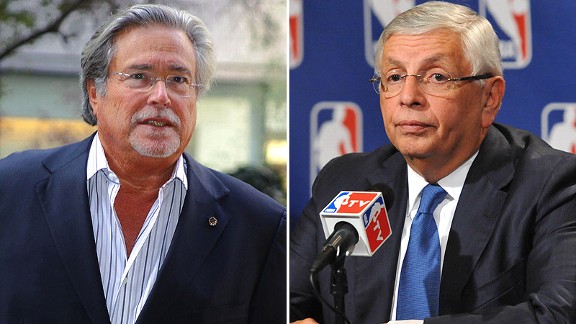 Getty Images
David Stern wants to silence Micky Arison, but the Heat owner was only speaking the truth.
Heat owner Micky Arison has made everyone believe with his words on Twitter that he doesn't like the way things are going in labor talks with players. He has given the strong impression that he's not out for every last dollar like some of his peers seem to be, that he would rather be going to New York for Heat-Knicks games and not more meetings at the Waldorf and that legislating competitive balance isn't possible despite how much some owners want to punish his franchise for their free agency jackpot.
He gave those impressions for several reasons: 1. He's ultra rich and has been the boss for a long time and he's used to doing what he wants. 2. He's frustrated by not having any influence with his fellow owners and feeling like a target and wants fans and especially NBA players to know it. 3. No, he doesn't stand totally united with all his fellow owners even if they are trying to ram home a deal that will make all of them, including him, more money. 4. It was Friday night after a long week and not everyone makes their best decisions on Friday night.
NBA Commissioner David Stern tried to clean up that mess this week by doing two things. First, he fined Arison a heavy $500,000 both as a censure and as a message to Arison's fellow owners who were incensed at his break in decorum by using Twitter to slip a little dirty laundry out the window. Then Stern gave an interview to the
New York Times
to publicly state that all the owners are really and truly united regardless of any unauthorized commentary on Twitter.
With his standard "I know more than you do so just trust what I have to say is correct and don't try to challenge it because I'll outwit you or simply belittle you" attitude, Stern told the Times that: "(Arison) believes his tweets were taken out of context and understands our concern about them. And he's very much on board with the other 29 owners about the deal that we want."
As for the size of the fine, Stern said it was because "It was more about his timing. We're trying very hard to get a deal done with the players, or we were, and we don't need any external distractions to that focus."
"External distractions" is a mouthful. Does Stern not want to distract NBA players who are currently fighting amongst themselves in the wake of the latest breakdown in talks and perhaps on the verge of splintering? Does Stern not want to distract the media, which has limited ability to report on owner-on-owner disputes because they don't give interviews like players and agents do? Does he not want to distract the fans, to whom he's sold the narrative that the owners are united in presenting a product in which every market has the same chance to win and that they're willing to share money with each other to make such harmony possible?
From a straight business and league-wide public relations standpoint, Arison clearly screwed up last week with those Twitter posts. His business partners were appropriately enraged with it and did not want to let it go unpunished. In some form or fashion, Stern probably told him that exactly as he signed the invoice for the 500 grand.
But lets not let the story get in the way of the truth. In this mess with so much money, so many angles, so many different markets, so many different people, so many perspectives plus a a significant amount of greed, there is no group that's truly united. It's Stern's job to keep sticking fingers in holes in the dam to hold things together long enough to make the deal. It's union executive director Billy Hunter's job to do the same, even if appears he's now resorting to using toes, too.
Arison might not have been afforded context in his 140 characters of rope but he was calling it like it is.
October, 14, 2011
10/14/11
12:15
PM ET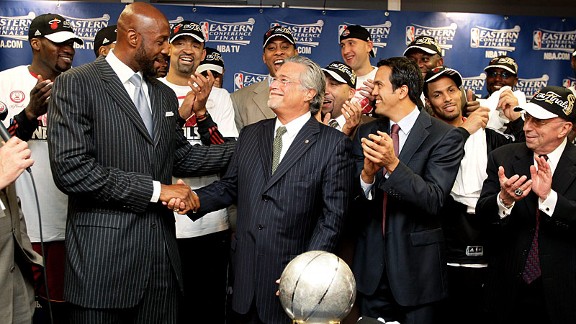 Nam Y. Huh/Getty Images
Heat owner Micky Arison has been more active in the lockout negotiations. Why?
Two weeks ago Heat owner Micky Arison took an early-morning flight from Miami to New York to sit in on what was supposed to be an important negotiating session in the ongoing collective bargaining talks.
According to sources, his presence at the meeting was met with some surprise by his peers. The meeting included the owners' labor relations committee, which is led by Spurs owner Peter Holt. But Arison is not on that committee and, after spending most of the summer in Europe on vacation and business, he hadn't even been in attendance at the most recent owners' meetings.
The reason for Arison's uptick in interest late in the process – he tweeted this week that he was changing his plans and cutting short a West Coast business trip to make sure he was in New York for next week's crucial mediation session as well – isn't hard to identify.
As the league and players haggle out what a new system might look like, the devil could be in the details for the Heat. Knowing this Arison appears to be keeping a close eye on the process with so much potentially on the line.
No one is hiding the Heat have become somewhat of a target as the talks have unfolded, one of the nasty side effects of the free agent haul of 2010 that continues to drive some bad blood amongst Arison's peers. Not just the obvious adversaries like Cavs owner Dan Gilbert and Mavs owner Mark Cuban, either.
Across the board, sources say, owners have been in favor of legislation that would potentially hamper the Heat's chase to build a multi-championship winning team. It's not directly a collective attempt to get the Heat back for working the current free agency and cap system like no one had before. There are some changes that owners had been planning to push for long before LeBron James and Chris Bosh took their talents south. But making sure the Heat have a harder time is a tantalizing side benefit for some.
"There's a feeling that, looking at teams like the Heat, you just can't allow them to have certain benefits right now," one league official said. "Yes, everyone is fighting about money. But there is also a fight about competitive balance and that is an important issue. You have to give everyone a fighting chance against the Heat, the Lakers and the Bulls of the world."
The biggest threat to the Heat may have been averted recently when the owners dropped their long-standing request for a hard salary cap. Depending on how that was worked out, there was a chance the Heat would have to break up their core of James, Bosh and Dwyane Wade just to be able to field a team. While that doomsday scenario for the team looks like it can be forgotten for the moment, there are other issues that Arison and Pat Riley are keeping a close eye on.
What becomes of the mid-level exception is at the forefront right now. The players are firmly attempting to keep it to allow teams over the salary cap to be involved in free agency each summer. The mid-level exception has developed into the most important free agent mechanism.
The league initially wanted to kill altogether it to force owners to reduce spending. The players, naturally, started out with a plan to get two mid-level exceptions. There's no ambiguity there. Needless to say, it's been an ongoing issue during the talks. The most recent proposals have it being eliminated for teams who are paying the luxury tax, which the Heat most certainly will be.
After locking five players into contracts five years or longer in 2010, the Heat won't have cap space coming any time soon. After trading away five first-round picks as they cleared that cap space and then in making sign-and-trade deals for James and Bosh, getting up and developing young players will also be much more of a challenge in Miami. Because of the construct of their roster plus the age and injury issues that Mike Miller and Udonis Haslem have, the Heat also currently have very limited trade options as well.
That leaves the mid-level exception as the primary tool for the Heat to attempt to upgrade their team. With a significant hole at the center position, the Heat are hoping to have that money available to them to sign a legitimate center before next season, for example. And to plug whatever holes open around James, Bosh and Wade over the next three seasons. If that is taken away and they are forced to attempt to pick up aged veterans past their prime at the league minimum they may find themselves in the same position they were in last season. That was relying on players like Juwan Howard, Zydrunas Ilgauskas and Mike Bibby to play key roles.
The Heat have proven they can draw veterans to Miami for less than market value for a chance to win. But they haven't proven those end of the road players can help them win a championship.
Another issue the Heat will be keeping a close watch on is how the so-called Bird exception is changed. That rule, created nearly 30 years ago, has always allowed teams to exceed the salary cap to sign their own free agents. NBA Commissioner David Stern said this week on WFAN in New York that some owners were in favor of eliminating the rule entirely. In most recent talks, there have been league proposals to restrict its usage to one player per season or perhaps even just once over a two-year span.
Any sort of restriction on the Bird exception might have consequences. With Bosh, Wade and James all scheduled to be free agents together again in 2014, it might make it impossible to re-sign them. That may seem like it's a long way off to be concerned with but it isn't. Such a rule might force the Heat to look to break up their Big Three early to make sure they don't lose one or two of them for nothing. Combined with a more restrictive mid-level exception, the Heat may be forced into closely examining trading one of their big names before 2013.
Then there's the potentially punitive luxury tax that owners want to enforce. Various reports have suggested the owners want to increase the penalty for teams way over the cap. Recent proposals have included a quadrupling of the dollar-for-dollar tax in certain situations. The Heat are headed in this direction. They already have $71 million in salaries committed for the 2013-14 season to just six players, for example.
Despite their success, the Heat currently do not have the sort of high-dollar local television deals like the traditional big tax payers like the Lakers and Knicks. While Arison is one of the wealthiest NBA owners – Forbes recently listed him as the third-richest at $4.2 billion – his history does not indicate he enjoys deficit spending. Despite the Heat's windfall over the last year, most employees are currently swallowing 25 percent pay cuts and that could grow if the lockout continues. At the tax numbers proposed by his fellow owners, Arison could be headed for massive tax bills in two or three years.
And the reality is, no one will be in the least bit sympathetic to the Heat if these changes force them to alter their plans. Arison doesn't enjoy much support for his position. The small markets want his tax money and don't want him to continue to bid against them for free agents. The big market teams don't want to see the biggest competition get better.
If there was anyone in the league who didn't mind the status quo it was the Heat. No one is sure just how much will be different once all this is finally settled but there's no chance of no change. Which means the Heat might be forced to make some unwanted changes, too.
May, 27, 2011
5/27/11
2:55
AM ET

By Michael Wallace
ESPN.com
Archive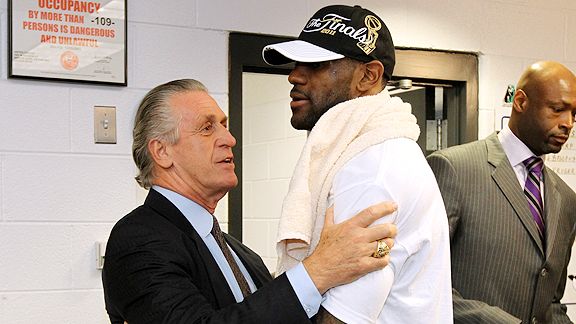 Nathaniel S. Butler/NBAE/Getty Images
Heat president Pat Riley on Thursday night: "Winning at winning time is what it's all about."
CHICAGO -- The one moment of uncertainty -- likely the only time Pat Riley truly came close to fearing that the greatest free agency haul in NBA history could fall to pieces -- played out on the sixth floor of the Ritz Carlton hotel on July 2 in downtown Cleveland.
The poker face was somewhat pale.
That confidence was cracking just a bit.
The reality that there was even a slight chance things could turn into ruins was beginning to take shape.
Riley, the Miami Heat president, had just emerged from his free-agency meeting with LeBron James an hour earlier and had retreated back to the hotel with owner Micky Arison, Alonzo Mourning and a few other members of the front-office staff.
I approached Riley near the elevators that afternoon and asked him what he thought about Dwyane Wade taking a second recruiting visit with his hometown Chicago Bulls later that day. I also asked if he had heard that James' camp had reportedly requested more information from the New York Knicks.
Of course, Riley was aware of both situations.
"There's a lot going on right now, but we feel good about what we've presented," Riley said that afternoon in Cleveland. He then summed up our conversation with the five words that essentially would become his mantra for the next 11 months.
"Let this all play out," Riley said.
Fast forward to Thursday night, after James, Wade, Chris Bosh and the Heat finished off an improbable comeback to eliminate the Chicago Bulls in five games and advanced to a rematch with the Dallas Mavericks in the NBA Finals.
Riley entered the hallway outside the Heat's locker room in the United Center relieved after enduring a season filled with scrutiny, controversy and criticism for everything from their celebration in July after the free-agency coup to the way the Heat fell apart in November, came back together midseason, gradually improved, then ultimately peaked in these playoffs.
Riley hasn't had much to say to the media throughout the season. But when I reminded him of our conversation in that downtown Cleveland hotel and the lasting message he left in July, it resonated.
So far, this season has played out just as Riley had planned, with the Heat now back in the NBA Finals for the first time since they defeated the Mavericks in 2006. Miami has one more hurdle ahead to reach the heights Riley envisioned when he gutted the team's roster, cleared the maximum amount of salary cap space last summer, pushed the franchise's future into the middle of the craps table and gambled that James, Wade and Bosh would deliver on their dreams of coming together to form a potential dynasty.
"Just let it play out," Riley said late Thursday night, playfully picking up from a conversation we had almost a year ago. "No matter what happens, no matter what was said, no matter how we needed to do it, it was all about, 'Let's just get through the season.' And that's what this team did. I guess we just had to stay one step ahead of the posse."
It was actually a perfect analogy from Riley, considering the only thing that stands in the way of a championship is a Mavericks team out to avenge one of the biggest collapses in NBA Finals history after blowing a 2-0 series lead by losing the next four games to Miami.
With Game 1 of the best-of-seven series set for Tuesday in Miami, there's plenty of time over the weekend to break down the matchups and numerous storylines in what should be an entertaining and lengthy showdown.
"There is a history there," Riley said of facing the Mavericks. "We're just happy to be back in the Finals."
For now, Riley and the Heat can -- or at least should -- take a moment or two to exhale and reflect before they regroup for the start of the series.
Don't doubt it for one second. The Heat had to get at least this far in order to justify the bold moves they made during their near-$400 million free agency makeover. And it was only in this series against the Bulls that Riley and Arison began to see anything close to the full return on their offseason investment.
James, Wade and Bosh have been there all season. But this team only recently became close to whole when Udonis Haslem and Mike Miller started to play major roles in the Game 2 victory in Chicago after missing significant time during the season to recover from foot and thumb surgeries, respectively.
"Winning at winning time is what it's all about," Riley said of the Heat overcoming a 12-point deficit with less than four minutes to play to beat the Bulls on Thursday. "We played the type of game we had to play to get there. We had two or three great players that had no fear."
Riley was referring to Wade, James and Bosh, who combined to score all 26 of the Heat's points in the fourth quarter to put away the Bulls. It was essentially a continuation of how Miami rallied in Game 4 to win in overtime on Tuesday after that same "big three" scored all 16 of Miami's points in the extra period.
James, Wade and Bosh are enough to put Miami in position to compete for a championship. But it's the just-in-the-nick-of-time emergence of Haslem and Miller that elevates the bar from simply being able to contend for a title to actually expecting to win it all.
"There are no guarantees," Riley said of the Heat, who are 12-3 in the postseason. "You never know you're going to win it until you actually win it. I'm not surprised that this team has come as far as it's come. I've coached teams that have talent that takes it a long way. But every one of the guys we have has had a moment in these playoffs where they've really helped us."
Riley acknowledged the Heat have come a long way over the course of the season. And each step of the way, they've exorcized one demon or another.
Beating Philadelphia in the first round gave the Heat their first playoff series victory since they defeated Dallas to win it all in 2006.
Knocking out Boston in the conference semifinals allowed James and Wade to finally get past the same Celtics who ended their seasons the previous year in Cleveland and Miami.
Wade, James and Bosh have said that their individual failures to overcome Boston was among the motivating factors that brought them together in Miami.
And in vanquishing the Bulls, the Heat beat the team with the league's best record, top defense, coach of the year in Tom Thibodeau as well as the MVP in Derrick Rose.
Gone in five. Gone in five. Gone in five.
"We look forward to a fun couple of weeks now with a group of guys who are very deserving," Arison said Thursday. "The thing about this is, we knew when this all came together that we'd have a chance to really win big. We didn't know if we were going to actually win it. But we'd have a chance."
Arison said that hasn't been the feeling around the franchise the past few years.
Since 2006, the Heat have been eliminated in the first round three of the last four seasons. The one season they didn't make the playoffs resulted in the team's tying the franchise record with a 15-67 finish in 2007-08.
That represented rock bottom for Riley, who retired from coaching after that season to work solely in the front office.
Now, the Heat are in position to finish back at the top of the league.
Arison had one request of some national media members as he left the United Center on Thursday.
"Please pick Dallas," Arison wisecracked, insinuating there might not be any room for critics to now congregate on the Heat's bandwagon.
For Riley, the message Thursday night was the same as it was before the season started.
"Let this team be what it will or won't be," Riley said.
Plenty of people have had their say along the way about the Miami Heat.
But it looks like Riley will get his wish.
The team he put together is about to have the final word.
"All we did was provide the platform for an opportunity like this to take place," Riley said. "It's part of the vision we all had from the beginning."
November, 26, 2010
11/26/10
11:48
PM ET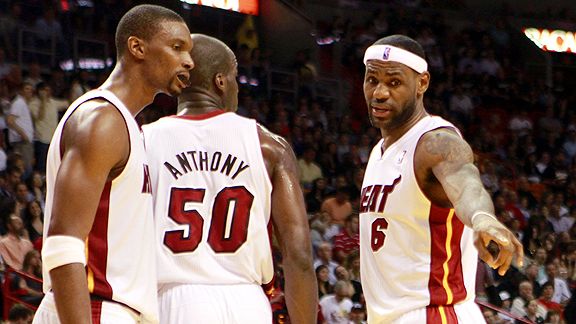 Marc Serota/Getty Images Sport
It wasn't a pretty win for the Heat, but there were a few positives they could point to.
MIAMI -- Their faces drawn and tans suddenly seeming faded, Micky Arison and Pat Riley both stared at the Heat bench from their separate courtside seats at the conclusion of the third quarter Friday night.
On a three-game losing streak and hosting the 76ers, current residents of the basement of the Eastern Conference standings, the Heat had a meager two-point lead after 36 minutes -- and were lucky to have it.
It was a rather joyless moment inside AmericanAirlines Arena. The owner and president did not look pleased and how could they be? Their nine-figure lineup was playing passionless basketball at a time when the Heat shouldn't just have been getting well but feasting on a doormat.
There have been quite a few failures and setbacks for the Heat in the season's first month, but this situation was the first time there seemed to be a dire vibe in the building. A loss to the 76ers and the Heat would slide to .500 16 games in-- and who knows what would happen?
But for now the Heat pulled themselves, or at least coach Erik Spoelstra plus their dignity, back from the edge.
After appearing only mildly interested for three quarters -- which, considering the circumstances, was hard to explain -- Miami came up with a fourth-quarter surge to avoid a four-game losing streak with a 99-90 victory.
The Heat found some defensive energy, while Dwyane Wade and LeBron James made a few All-Star plays. It was a win and everyone's lines in the box score ended up looking OK.
In the final seconds Arison got out of his seat to applaud. For the moment the pressure was eased. The Heat could rest a little easy, at least until their jet hits the tarmac in Dallas, where a much sterner test waits Saturday night.
"You never know what can change your momentum in this league," Spoelstra said. "Hopefully this will lead to some more positive play."
The Heat players and coaches have admitted the last couple of weeks have humbled them. The string of losses and miserable record against quality opponents -- they're 1-6 against teams .500 or better heading into their meeting with the Mavericks -- have tempered their enthusiasm.
So for the moment, they're taking solace in any victory. They said it before they took on the pesky Sixers, who got a high-effort game from Andre Iguodala and a season-high 21 points from Jodie Meeks off the bench. And Miami was certainly thinking that in late in the game.
"We've got to get away from worrying about how we get wins," Wade said. "We've got to focus on getting wins. We've got to worry about playing well."
That was the attitude Wade played with and perhaps it will become infectious. In the midst of a miserable shooting slump that saw him go 11-of-47 over the previous three games, Wade started 2-of-8.
But he kept his head down, attacked the rim relentlessly and the 76ers' soft middle eventually gave way. Wade got to the foul line 12 times and worked his way to 23 points with a season-high eight assists.
James was just 5-of-15 but had several crucial defensive rebounds in the fourth quarter and hustled to the opposite end to catch the Sixers off guard. He clawed his way to 20 points, eight rebounds and six assists.
Chris Bosh made three hoops in the fourth to help Miami cement its lead and ended up with 18 points and nine rebounds.
None of them played very well but they did leave with a win. Considering recent events and how fragile everything seems, that certainly qualifies as an accomplishment.
"Once we figure things out, what works best for us, I think that's going to really propel us," Bosh said. "It is not easy finding that out. If we had the answers to the test, believe me, we would have used them a long time ago."
October, 31, 2010
10/31/10
10:11
AM ET

By Kevin Arnovitz
ESPN.com
Archive