Miami Heat Index:

Pau Gasol
January, 20, 2012

1/20/12

3:08

AM ET



There were plenty of storylines from the Heat's victory Thursday against Kobe Bryant and the Los Angeles Lakers. In our first installment of Heat Index's Postgame Temperature Check, we take the pulse of the Heat and NBA fans by addressing your questions, concerns and observations after select home games. We also provide the forecast for Saturday's home game against the surprising Philadelphia 76ers.


January, 19, 2012

1/19/12

3:13

PM ET



MIAMI - Although he has yet to even put on a game uniform this season, center Eddy Curry has already been worth his weight in one area for the Heat: Entertainment value.

On Thursday night, Curry might just finally start to become a much-needed, productive load on the court. The veteran center was in a joking mood when he spoke with reporters after Thursday's shootaround in preparation for the Heat's game against the visiting Los Angeles Lakers.

But Curry was all business when he talked about the impact he expects to have whenever he's activated by the Heat. After losing significant weight, improving his condition and recovering from a training camp hip injury, Curry offered his official pitch Thursday to make his season debut against the Lakers.

"I submitted a letter of recommendation," a smiling Curry said when asked if he approached coach Erik Spoelstra about playing. "I'm looking forward to the opportunity to be activated tonight. I'm just trying to get a uniform right now. I ain't talking about minutes (expected playing time)."

Curry might finally be granted his wish out of necessity. An undersized Heat team faces one of the league's biggest frontcourts in the Lakers' tandem of 7-footers Andrew Bynum and Pau Gasol. Miami will be without star shooting guard Dwyane Wade (ankle), and forward LeBron James (flu) is considered questionable after he was sent home from the team's morning shootaround for treatment and rest.

The same bug that affected James the past few days also forced reserve center Dexter Pittman to spend time away from the team recently to recover. Pittman was not with the team for Tuesday's game against San Antonio, but did practice Wednesday and should be available against the Lakers.

Spoelstra reiterated Thursday he hasn't decided whether to activate Curry against the Lakers or possibly wait for the weekend games Saturday against Philadelphia and Sunday against Milwaukee.

For Curry, it's been a long journey back to the cusp of playing an actual NBA game. A combination of conditioning issues, injuries and philosophical differences with previous coaching staffs limited Curry to just 10 games over the past three seasons. He hasn't played since 2009 when he was with the New York Knicks.

Now noticeably trimmer and healthy, Curry is hungry for a shot to help the Heat. He spent extra time working out with assistant coaches the past few days after practice and declared himself ready if needed.

"I was just trying to put my body through what they were going through," Curry said of the post-practice conditioning sessions. "No setbacks. So that was a positive thing."
January, 19, 2012

1/19/12

2:13

PM ET



MIAMI - The last time Heat forward Chris Bosh was forced into the role of leading man with LeBron James and Dwyane Wade sidelined with injuries, he responded by guiding Miami to arguably it's most thrilling victory of the season.

Bosh could again face that challenge Thursday night with two-thirds of the Heat's Big 3 ailing as the Los Angeles Lakers visit AmericanAirlines Arena.

James was sent home by the team during the morning shootaround because of flu-like symptoms and is questionable for the game. The Heat will be without Wade for the second consecutive game, and fifth time this season, as he continues to recover from a slew of lower-leg injuries that include a sprained right ankle.

James has been under the weather since the Heat returned from a five-game road trip last week that ended in Denver. Despite the illness, James shook off a sluggish start in Tuesday's win against San Antonio and finished with 33 points in 35 minutes.

Bosh is prepared to carry the additional load if James either can't play or is limited against the Lakers.

"The show still goes on," Bosh said after Miami's shootaround. "We've been in this situation before, and we won the next game. We just have to do our job and do what we're supposed to do."

When Wade and James sat out Jan. 5 to start that five-game trip against the Atlanta Hawks, Bosh stepped to the forefront with 33 points, 14 rebounds, five assists and two blocks to lead the Heat to a 116-109 victory in triple overtime.

With 7-footers Andrew Bynum and Pau Gasol, the Lakers present an even bigger challenge - literally - against a Heat team that is undersized in the front court. But Bosh could have help down low to neutralize some of the Lakers' size advantage, considering the possibility that Heat center Eddy Curry could make his season debut.

"We're still going to expect to win," Bosh said. "We had a good shootaround and prepared well this morning."



March, 10, 2011
3/10/11
10:48
AM ET

By Tom Haberstroh
ESPN.com
Archive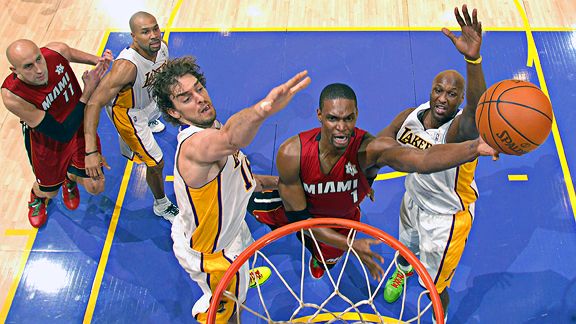 Andrew D. Bernstein/NBAE/Getty Images
Chris Bosh thinks he needs to be more aggressive and get the ball around the basket more. Pau Gasol agrees.
MIAMI -- It could be said that Chris Bosh and Pau Gasol are kindred spirits in the NBA.
Both are tall and slender bigs who have been selected to multiple All-Star games. Both left the franchise that brought them into the league and joined a more decorated one with championship expectations. Both feature an inside-out game built on finesse. Both have been called "soft" by critics.
Even though they have never been teammates, Bosh and Gasol have shared similar experiences in the league. Ahead of Thursday's matchup between the Lakers and Heat, Gasol expressed some sympathy with Bosh's desire to receive the ball on the block more often. Sitting in a courtside seat in AmericanAirlines Arena on Wednesday, Gasol said he has dealt with that balancing act over his nine-year career.
"It makes sense for him to be more of an inside player, because he's very productive and a very good post-up player there with a variety of moves," Gasol said. "He can do that for his team.
"As soon as I got to the NBA, my teammates always needed me more of an inside player, even a center, when I was more naturally a power forward, so I adjusted to that. I think the Heat need that inside presence. They need a productive post-up player that gives them balance with their other great outside pieces."
After guarding Bosh over the years, Gasol knows Bosh is more than capable of thriving in the post.
"He's a great face-up player that can get his shot up very consistently and make it," Gasol said. "He can get you up in the air and attack with good quickness, good footwork. I've seen him do it in Toronto, but here it's a little different. Obviously, he's not the focal point. And you have to adjust to that."
Gasol has made that adjustment in Los Angeles. In pairing up with Kobe Bryant, Gasol had to learn how to play alongside a ball-dominant superstar. But Bosh has two Kobe Bryants to deal with, so building chemistry and maintaining that cohesion has been difficult for Bosh.
Gasol says the Lakers had chemistry right away after he was traded midseason in 2007-08. But having superstar teammates can be a blessing and a curse.
"It's tough when you have great players on the same team and you have aggressive players who can take over and dominate certain moments and certain games," Gasol said. "Sometimes you might get away from that balance. But for the most part, you have it, and that's why your team is successful."
Everyone seems to have an opinion about how to fix the Heat's problems. After watching the team play over the past couple of weeks, Gasol offered his take.
"I can tell when guys are trying to do too much individually to overcome a struggle," Gasol said. "It's not bad intentions, but it's that aggressiveness spirit and competitiveness that players have that sometimes hurts a team. You have to realize that sometimes the easier play or the right pass to the open teammate makes things a lot better, even though they may not make the shot. Guys are going to miss shots, so be it."
In Miami's loss to the Blazers on Tuesday, Wade and James combined for 69 of the Heat's 96 points. Bosh and Mike Miller were supposed to strengthen the two superstar wings, but they combined for just nine points on 4-for-18 shooting. It will be interesting to see how the ball is distributed on Thursday. Will James and Wade trust their teammates after their recent misfires? They've done it before and they'll need to do it again on Thursday.
"It's still a team game," Gasol said. "You have to rely on your teammates."
December, 24, 2010
12/24/10
12:53
AM ET

By Tom Haberstroh
ESPN.com
Archive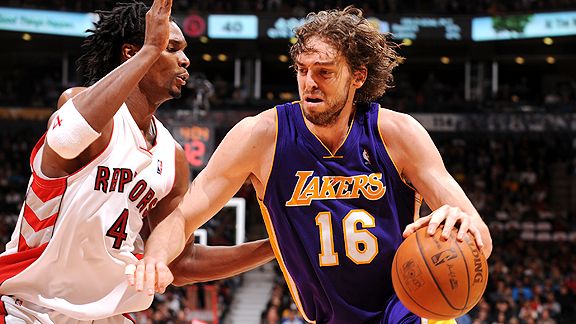 Andrew D. Bernstein/NBAE/Getty Images
Chris Bosh and Pau Gasol: Similar profiles, different paths.
As the much-anticipated Christmas Day matchup approaches between the Los Angeles Lakers and Miami Heat, the parallels between Chris Bosh and Pau Gasol will be obvious. Both are All-Star big men who, after struggling to bring home championships for their original franchises, changed scenery as they entered their primes, joining clubs brimming with talent. What's more, they've each drawn considerable criticism -- no matter how unwarranted it may be --
for their supposed "soft" play
.
Bosh and Gasol can sympathize with each other in many respects, but it's also worth appreciating their distinct differences. Here are three:
Second fiddle vs. third option


Gasol was traded from the Memphis Grizzlies to the Lakers before the trade deadline during the 2007-08 season. In Memphis, Gasol had established himself as one of the great young big men in the game. In that capacity, he took on the role as the Grizzlies' No. 1 scoring option.
But the Spaniard played with other go-to options and he gradually saw fewer touches as the seasons went by. Beginning with his All-Star season in 2005-06, Gasol's usage rate (the percent of team possessions a player is used on offense) had dwindled from 26.4 percent in 2005-06 to 25.3 percent in 2007-08 -- and falling further to 22.7 percent in 2007-08 before the organization famously shipped him to Los Angeles. Integrating into the Lakers' offense with Kobe Bryant would be an adjustment, but Gasol wasn't exactly Chamberlain in his appetite for scoring.
Gasol's scoring burden pales in comparison to what Bosh experienced in Toronto. The former Raptor's usage rate in 2009-10 was a career-high 28.7, shouldering the ninth largest scoring responsibility in the NBA last season. By comparison, Gasol's 22.7 percent in 2007-08 ranked him 71st.
Not only was Bosh used to getting an enormous number of shots in Toronto, but he has to integrate into an offense in Miami with not one, but two of the league's most ball-dominant wings in LeBron James and Dwyane Wade. Gasol should be fortunate that he only has to deal with one Kobe Bryant on his team. While you could accurately call Gasol a second-fiddle to Bryant, the big man in Miami is more like a third wheel. As such, Bosh has seen his usage rate plummet from 28.7 percent in Toronto last season to 24.0 as member of the Heat. The only way you could equate the respective environments of Gasol and Bosh would be to put Carmelo Anthony in purple and gold.
Systemic changes


In addition to dissimilar pecking orders, Gasol and Bosh's biggest systemic adjustments would come on opposite ends of the court. Gasol had the unenviable task of mastering Lakers head coach Phil Jackson's triangle offense on the fly. It takes years for some players to feel comfortable in the triangle offense, and some never actually do.
Bosh, on the other hand, must acclimate to Erik Spoelstra's highly disciplined defensive system, a massive change from his Toronto days when the defense was more porous than a colander.
It took a little time for Gasol to learn the simple, yet multi-faceted triangle offense just like it will for Bosh to feel comfortable with the demanding defensive rotations in Spoelstra's system. So while Gasol had to study X's and O's to get up to snuff, Bosh is forced to develop instinct. Unfortunately for Bosh, there's no crash course for intuition. Compounding the issue is that Bosh's defensive sensibilities were essentially neutered playing with the worst defense in the NBA in Toronto.
In terms of skill set, Gasol is a perfect fit for the triangle offense, as he's a gifted passer and equally effective from the elbow and the block. Bosh hopes his crafty finesse on the offensive side of the ball translates on the defensive end where exploiting angles is just as integral to success. The early results have been positive, as the Heat rank as a top team in defensive efficiency.
Same position, different matchups
It's easy to overlook that when the Lakers are at their healthiest, the 7-foot Gasol plays the role of power forward. Lately, Gasol has slid into the 5 slot while Andrew Bynum recovers from knee issues, but figures to spend most of his time at the 4 once Bynum is reintegrated fully into the rotation. No doubt that Gasol is offensively skilled as any big man, but it certainly helps to have a few inches on the defender -- especially in getting the clearance necessary for a midrange jumper.
Bosh doesn't have that liberty. If anything, the 6-foot-10, 230-pound power forward has been at a height disadvantage for long stretches this season, as Spoelstra asked him to play the 5 early in the season. Although it doesn't fully explain the precipitous drop-off in rebounding, it's clear that Bosh could use a couple inches underneath. In the end, Bosh doesn't enjoy the mismatches that Gasol experiences alongside Bynum, one of the largest players in the NBA.
While their positional labels may both read "PF" in Saturday's starting lineup, the two inches in height make a world of difference.
December, 23, 2010
12/23/10
6:37
PM ET
By Beckley Mason and Ethan Sherwood Strauss
ESPN.com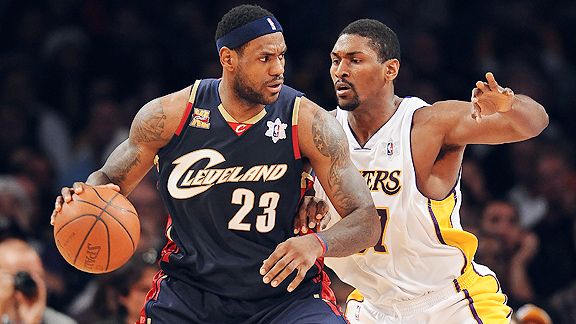 Lisa Blumenfeld/Getty Images Sport
Remember Christmas Day 2009 in Los Angeles? Didn't think so.
"Mama there goes that Meme!" is a
HoopSpeak.com
feature in which Beckley Mason and Ethan Sherwood Strauss, like curious extraterrestrials, probe, abuse and ultimately learn from a popular media meme. In this special Christmas edition, the guys examine why it is we're so drawn to this Christmas Day matchup.
Ethan
: On Christmas, millions will bask in a Heat-Lakers game so hyped, it's hard to fathom how basketball will still exist in its aftermath. While Saturday's Miami-Los Angeles mega-battle probably won't implode the sport, it will decide how we go back and frame our preconceived notions about both teams:
The media after a Lakers loss:
"The Lakers win in the playoffs, the regular season means nothing. I now smugly chuckle at your silly, naive overreactions"
The media after a Heat loss:
"This shows that Miami doesn't have what it takes to win like the Lakers do. Perhaps LeBron lacks that brutal killer instinct -- you know, the one displayed by flicking your wrist under a ball."
With apologies to the Heat Index: The game does not matter. In fact, it sort of mirrors Christmas itself. We build up the moment, then quickly flee like Harold Hill exiting River City. I vaguely recall the last LeBron-Kobe Christmas game. The ascendant Cavs stepped into Staples and stepped over the Lakers. Five months later, confetti and champagne rained, decking the halls of that same arena. The Lakers had won yet another title. The Cavs weren't even in the building.
That 2009 match was not predictive or important. So Beckley, why do we watch this upcoming Christmas litmus?
Beckley
: Your math is correct. For these teams this game means no more nor less than any other nonconference game on the schedule. And you're right, no game played in December necessarily gives either team a discernible advantage going into future matchups. Hindsight may inform significance, but for now, all we have are two elite teams playing a game worth one win.
But I think you overlook a crucial element, and that is that this game will feature five of the top fifteen players on the planet in one 94-by-50 foot space.
This in itself demands celebration.
Drawing consequence from 1/82 of a season can be absurd, but what about the inherent meaning of seeing the three best wing players of the past decade on the court at one time? How about the worth of being privileged to a contest of styles between the fury of the Heat fast break against the mature elegance of the Lakers' Triangle?
This meeting is a basketball eclipse. So what if the dulling glare of the 82-game grind returns December 26th? The spectacle of this regular season ritual is worth taking in.
Ethan
: Okay, you're cluing me into a love of this Heat-Lakers game, my heart's growing three sizes, fit me for the magnum pacemaker. I'm reminded of how we can appreciate this sport, divorced from standings. A short time ago, I saw Blake Griffin play in a totally meaningless NBA preseason game. His dunks threw people from their seats, sent them talking in tongues. Griffin brandished athleticism that we could hardly absorb or process. The night was special because of what we saw combined with the visceral impact of such a sight. Time flew faster than frightened bats, an alley-oop validated my existence on the planet. Basketball doesn't need stakes, the talent exhibition is enough. I'm watching Lakers-Heat for the sheer joy of watching Lakers-Heat.
Wait, why haven't I brought up Dwyane Wade? What about Pau Gasol? Lamar Odom exists, right?
Beckley
: Odom … who? You know that when it comes to hype memes, Pau and Dwyane are two warm-up acts who deserve top billing. Each has been the best player in an NBA Finals series, and both have played better than their overshadowing counterpart for chunks of this season. But neither Wade nor Gasol seems to swell with the all-consuming hero narrative like LeBron or Kobe.
That's too bad for Gasol, who is uniquely equipped to control this game by dominating the pivot on both ends. On Saturday, I believe Pau and Odom's ability to pass over and around the Heat's quick hands and length and preserve the flow of the triangle will be more important than whether Kobe can personally out duel Wade. But even that story line has gone largely untold. And what's really interesting about the lack of meme wattage devoted to the Wade-Bryant match-up is that these two will actually be, you know, guarding each other. While the legends of LeBron and Kobe are battling it out in blogs and message boards around the country, Wade and Bryant will be making their arguments in person on Saturday.
So fill the narrative void, Ethan, and tell me who you would take between Wade and Kobe.
Ethan
: We've historically photoshopped LeBron against Kobe--lacking a single shared playoff series, the two are existential enemies at most. This Cold War came at the expense of what should have been a bigger national Wade vs. Bryant fight. So let's wage it right here on these pages.
Kobe has the bigger market, better team success and this season's statistical edge. Dwyane has dusted KB individually over the long haul. Also -- as you alluded to -- Bryant never owned a Finals quite like Wade did. And yes, I know that many fans attribute the Dallas-Heat series to the surreal renderings of Salvatore Dali.
It's Dwyane over Kobe in career Player Efficiency Rating (PER), Win Shares, and Wins Produced. Plus, if we subtracted Wade's injury-torn 2007 campaign, he would dominate the advanced stat alphabet soup insofar as a man can dominate a soup. Since any rational Bryant critique gets dismissed as "hating," here's some hate: In my personal opinion, Dwyane claims a better career than Kobe. December 25th, 2010, should be hyped as Wade's chance to show why -- especially since Bryant is playing so well right now.
What's funny is how so many pundits favor the Lakers for reasons unrelated to LeBron, Kobe, or Dwyane. I keep reading, "The Lakers will win with their size." Beckley, why is size mattering more than ever before?
Beckley
: You'll have to ask Jimmy Johnson for that answer. But I can tell you that I recently watched Miami nab seven offensive rebounds in one possession against the purportedly larger Mavericks. Maybe we need to re-imagine the conventional size versus speed narrative. The Heat have actually accumulated a greater total rebound differential (the difference between a team's rebounds and their opponents' rebounds) than the Lakers. And what's this? The Lakers are averaging greater than one steal per game more than the fleet footed Heat. Clearly, appearances can be deceiving.
Well, maybe not appearances, strictly speaking. It seems strange to focus on how the two teams would literally stack up when the Heat's starting five is collectively listed as being three inches taller than that of the Lakers. The Heat's problem isn't that their centers aren't big enough -- they're actually quite large -- it's that they aren't nearly as central to their team's success as Gasol and Bynum.
I can see this game playing out like a castle siege, with Gasol and Bynum acting as the ramparts in the paint. The charging Heat wings will try to raise the citadel with driving offensive assaults and quick-strike weakside blocks and steals on defense. This isn't about size versus speed, it's about flow versus disruption. If the Gasol et al hold down the fort, only an epic 3-point barrage from the Heat will win the day.
Ethan
: The size fixation is really more about "size that's good" than "size." Odom, Gasol and Andrew Bynum deservedly own greater star power than fading giants like Dampier and Illgauskus. The Heat don't lack literal height, like pre-Gortat Phoenix. Their height is just aging and wrinkled. In the spirit of Monty Python, I'd shout, "Illgauskus and Dampier aren't quite dead yet!" As for Juwan Howard … the reaper is fondling what's left of his skills.
In reference to your strategy breakdown, what's your actual basketball prediction here? I'd go with the Lakers just because Kobe is really motivated. He just wants it so badly and he really, really loves basketball.
Just kidding, I'd favor the Lakers because the game is at Staples.
Beckley
: I'm glad we got through this without mentioning Bosh. I guess I'll take the Heat because they seem to play Thrice As Nice as the alpha dog villains with a target on their backs who have more to prove to Charles Barkley. Plus, they'll be festively dressed in their Christmas reds.
You can follow Beckley Mason (@BeckleyMason) and Ethan Sherwood Strauss (@SherwoodStrauss) on Twitter.
November, 17, 2010
11/17/10
10:04
AM ET
By Beckley Mason and Ethan Sherwood Strauss
ESPN.com

"Mama there goes that Meme!" is a HoopSpeak.com feature in which Beckley Mason and Ethan Sherwood Strauss, like curious extraterrestrials, probe, abuse and ultimately learn from a popular media meme. In this special Heat edition, the guys look at what makes Chris Bosh soft.

Beckley
: Hey there, Ethan, ever get the feeling that Chris Bosh is a subhuman creature who shouldn't be allowed to trod the same floorboards as James Jones? I know he averaged 23.3 points and 10.4 rebounds on 50 percent shooting from 2008-10, and that almost everyone viewed him as a max player on the same level as Carmelo Anthony and Amare Stoudemire. But this year he's collecting only six boards in 34 minutes per game. After watching 130-pound Rajon Rondo go boom over Bosh's trembling frame, I'm drawing the following conclusions: Chris Bosh is soft because he likes to shoot jump shots and get dunked on. Also, he should be traded for someone useful, like Kevin Willis or Popeye Jones or the newly Shaped-Up Karl Malone. What's your take -- is this guy any good? Can he anchor the Heat's front line, or will he simply drag LeBron and Wade's season into the deep?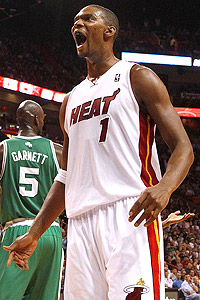 Mike Ehrmann/Getty Images SportWhat is it about Chris Bosh's game that invites the "soft" label?
Ethan
: Bosh has been losing cred since that "soft" label was sewn to his lapel. Or was it his ascot? Look, I don't know a whole lot about this league, but I know that "soft" is bad. It's feminine, and feminine is losing. And losing is bad. And feminine. And European.
We all know that Europeans are softies -- they lack our hearty American volksgeist, they flop till they drop, they have silly accents. That logic leaks into basketball, where we blame Vlade Divac for inventing a "womanly" foul-faking phenomenon that John Stockton had mastered from the womb. Chris Bosh isn't European, though he did play in prissy Canada -- which neighbors wimpy Europe by the grace of clean streets and functioning health care. It doesn't help that Bosh's foreign-influenced Raptors might well have played defense in front of hula hoop rims.
Apparently, defense is "hard," because the Raps are soft for lack of it. But the Heat have played amazing defense so far. Beckley, I'm confused. Does everybody hate Chris, due to his recently bad rebound rate? Do we judge grit, heart, hustle and hardness on the basis of board-ability? If that's the case, then why is Dwight Howard lacking in fortitude when he's mastered rebounding and defense?
Beckley
: Well if Rihanna is to be trusted on such matters, being "hard" means you're a combination of brilliant and resilient. Also, it's good to have fan-mailers numbering at least 27 million (also known as the Selena Gomez line). But if we survey recent history, we find there are five surefire ways to be labeled "soft":
Smile too much
This is Dwight's downfall. No matter how he chisels his righteous delts, until he trades in his megawatt grin for scowls and growls, he'll just be a big teddy bear.
Avoid contact
The Vince Carter Curse. VC has great size and strength, but put him on his butt early and he has a tendency to wither over the course of a game.
Be European/play "like a Euro"
As you alluded above,
Pau Gasol
has often been ripped for the softness of his hands as much as an unwillingness to bang. Many have clumsily equated his grace with a disinterest in the brute tasks of a power forward (can also apply to South Americans).
Shoot too many jump shots
Dirk was the perfect confluence of softness when he first found stardom: Euro jump-shooting phenom who didn't like to go to the rack (something he does very well these days by utilizing one of the most underrated first steps in the league). Also there's the time in the 2007 playoffs when Stephen Jackson punked him like he was the new kid at Barry Farms. Now Dirk drops 30 with his opposition's teeth lodged in his elbow and sports a snarling, Teutonic mean-mug, so he's ditched that rep.
Scared of "the big moment"
This one is Vince Carter's well-worn territory as well, see his gut-twisting choke job at the free throw line against the Celtics in last season's playoffs.
Reviewing this list, it's interesting to note that one of the "hardest" dudes around today, Kevin Garnett, qualified for items 2, 4 and 5 prior to his tenure in Boston. In fact, Bosh's offensive game mimics the Big Ticket's as much as any player in the league. But whereas KG's body language says "I'll punch your grandma!" Bosh's seems to say "scoring is fun!"
Bosh is probably too skinny (he weighs only 15 pounds more than Wade) to ever be described as rugged, tough or bruising, but his quickness has historically compensated for the limitations of his sinewy frame. We can usually offer an approximate measure of a player's willingness to go inside with the rock by how frequently he shoots at the rim. This season, only 25 percent of Bosh's shots have come in the immediate basket area,
compared to 33 percent in 2009 and 35 percent in 2010
. When Bosh goes into his jab step dance, he isn't boogieing to the bucket. It's unreasonable to expect this relative waif to protect the tin, but can't he at least use his preternatural quicks to attack the rack?
Ethan
: I always assumed Rihanna was singing "Brazilian" instead of "resilient," but that was as dumb as thinking Chris Bosh to be the only girl in the world. Speaking of resilient Brazilians, if the flailing, flopping Anderson Varejao isn't soft, he's an "energy guy." Though foreign, Anderson hails from the species of non-scoring bigs who can escape critique of their masculinity through perceived "hard work." These dudes hustle, take charges and do all the winning yeoman basketball stuff. When the plucky Energy Guy keeps rebounding his own missed shots, the fans roar as though Air Bud is nuzzling buzzer beaters. The masses love a scrappy striver far more than a polished Goliath. Lacking a sling, the next best way to knock perfect Pau is to impugn his machismo.
But, is there a logic which bigs get criticized? To quote the philosopher Ludwig Wittgenstein:
"For if you look at softness you will not see something that is common to all, but similarities, relationships ... I dunked on Chris Bosh in front of his girl."
Unlike a yarnball, there's no common soft thread here. Beckley, we're stuck with your maddening rubric of definitions. Dwight Howard is physical granite, but that friendly face somehow undermines his shoulders? Dirk was ripped for rack avoidance, yet Robert Horry's toughness was based on a career of timely, sleepily-heaved 3s? Just thinking about Kevin Garnett in this context fills my eyes with dark blood.
Like KG, Bosh scores 2, 4 and 5 on your list. He also could score a 1 though I stopped charting NBA player smiles ever since my girlfriend discovered the notes.
(Embarrassing Note No. 47: Kevin Durant smiles like a frolicking dolphin. I want to swim with him, my heart is an ocean.)
Anyway, the total rubric conveys that Chris might as well be a European Canadian from Brazil. At what point do we throw him into a lake to see if he floats?
As Bosh starts sinking, our mob might realize that he hasn't been bad for the Heat. Chris has a near 19 Player Efficiency Rating (PER), and is second in total team plus-minus. He's scoring efficiently and avoiding turnovers. The assault on his manhood is just a distraction from Spoelstra's maddening assault on creativity. If Spo would merely bench Arroyo in favor of a lineup that features Wade, James, Jones, Bosh, Z/Haslem/Anthony, the Heat would redefine basketball. Instead, he's wasting usage on 28 minutes of Carlos and Mario. As the losses pile up, we'll keep piling on Bosh. Spoelstra's insistence on playing the smallest Miami players is stoking ridicule of his tallest star.
Beckley
: It does seem logical that a more avant-garde coaching philosophy would better exploit the Heat's position-pulverizing, unprecedented combination of talent. But while Arroyo's play may not pass the eye test, stats tell us he has the highest offensive efficiency rating and second-best defensive efficiency rating. So, at the very least, he's not hurting the Heat.
Speaking of the ornery Viennese philosopher, I suspect Ludwig would sneeze at any attempt to analyze Bosh as an entity separate from the context of his Heat teammates. A month into the season, Bosh still juts out like an evocative but misused word in the syntax of the Heat's offensive and defensive schemes. Bosh is still a top talent, but Miami still hasn't made sense of how best to use him. Yet other players have also had their share of struggles. Notably, Wade has made some costly mental errors on defense and seems to be having just as much difficulty as Bosh has in finding rhythm in offense opportunities. Yet Wade's play has been shrugged off; we know what he can do. Bosh still has to prove to a large population of viewers who've never seen him play that he's worthy of the hype.
I expect Bosh to shed some of these unflattering linguistic associations only if the team finds its collective voice. Ten games in, it's not too late for Bosh to have the last word.
Ethan
: Not only is Wade a relative known quantity with a firm partner's leeway, sports media tells me that the Heat are obviously
his
team. And Dwyane deserves your respect, because he made the real estate purchase back in the mid 2000s, when Midas couldn't afford Miami prices.
I'm also wondering: Is Bosh suffering from what Stanford sociology professor Mark Granovetter called "the forbidden triad?" FT syndrome is the deterioration that occurs when the relationship between three people gets unbalanced. While Bosh-James-Wade may be cool with each other, the fans who use them as avatars are untethered to tact or mercy. Worshippers of LeBron and Dwyane look to the weaker third and see a skinny scapegoat. Chris is like the new roommate who talks just a little too much. It's only a matter of time before the two other roomies conspire against Chris, and hiss gossip whispers about his enduring virginity. But yes, Beckley, I agree with you in the long term. Once the Heat get balanced, so too will the dialogue about poor, feminized Chris Bosh.
November, 11, 2010
11/11/10
10:02
AM ET

By Kevin Arnovitz
ESPN.com
Archive
Kurt Helin of Pro Basketball Talk on Chris Bosh: "I've compared Bosh to Pau Gasol before because I think it's apt — not directly in terms of game, they are different in style and Gasol is far more polished; but in terms of situation. These are not guys who can carry teams on their own to titles, but if used right can be key cogs in getting the rings. They are very good second options. Or for Bosh, third option. But we then can't get mad at them for not acting like option number one."
Opportunities aplenty beneath the glass tonight as the Heat and Celtics have two of the league's four worst offensive rebounding rates.
Paul Flannery of WEEI leads a thorough discussion of Miami's standing as a basketball town and how much worry we should devote to Chris Bosh's struggles.
How are the Heat faring on local television? Overall, ratings are up 112 percent from last season. Miami's loss against Utah on Tuesday night was the highest-rated regular-season game ever on Sun Sports, according to Sports Media Watch: "The previous record was set just days earlier by Friday's Heat/Hornets game (6.8). Prior to this season, the record was a 6.5 for Bulls/Heat in January 1998." The Miami-Fort Lauderdale market is almost identical in size to the Cleveland television market. This season's Heat games are averaging a 5.3 rating. Last year's Cavs games on Fox Sports Ohio? An 8.6 rating.
At publication, the least expensive pair of lower-level seats at AmericanAirlines Arena tonight will run you $179.50 apiece.
Sebastian Pruiti illustrates Erik Spoelstra's last-possession side-out-of-bounds play from Tuesday night's loss against Utah -- a perimeter screen by Chris Bosh for Dwyane Wade as a means of clearing out the paint for LeBron James, who dives to the basket. As SOBs go, it's a good-looking set, only Paul Millsap extinguishes it by protecting the rim rather than being lured to the perimeter by Bosh.
The Jazz mounted another improbable road comeback last night when they beat the Magic in Orlando one night after shocking the Heat in Miami. According to ESPN Stats & Info, 12 teams have Sunshine State back-to-back sets this season -- and Milwaukee and Toronto do it twice.
Prior to Tuesday night's loss, LeBron James had never lost a game when his team led by 20 points or more.