Miami Heat Index:

Robert Dozier
October, 8, 2012
10/08/12
11:07
AM ET

By Michael Wallace
ESPN.com
Archive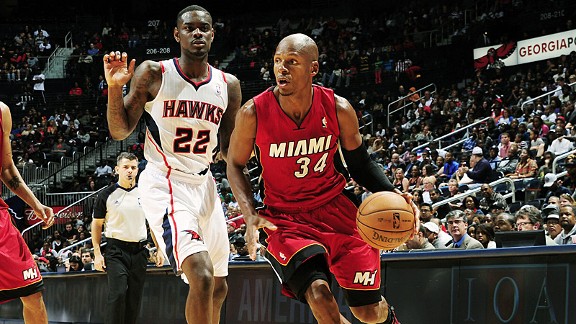 Scott Cunningham/NBAE/Getty Images
In Sunday's preseason opener in Atlanta, Ray Allen showed that he's ready after training camp week.
MIAMI -- With their first preseason test behind them and a case of jet lag looming after a 14-hour flight, LeBron James and the Miami Heat arrived in China on Monday morning for a weeklong stay for two games against the Los Angeles Clippers.
A string of minor injuries to some, coupled with continued rehab for others from offseason procedures, has made it difficult for the defending NBA champions to establish much continuity so far. The Heat hope to jump-start that process overseas.
"Only thing that matters is we want to continue to get better," James said before the preseason slate got underway. "A trip like this will definitely help. We're not going to waste the opportunity."
So where do the Heat stand after a full week of camp? Let's break down the roster in Monday's Progress Report.
PROJECTED STARTERS
PG: Mario Chalmers: As hard is it might be to fathom, the fifth-year guard and returning starter absolutely should be considered an NBA veteran. Still, Chalmers hasn't been able to gain much traction in camp because of a thigh bruise he sustained during last week's initial workouts. Unless the injury is more serious than indicated, it's hard to imagine him missing both games in China. So he should be in the flow soon.
SG: Dwyane Wade: Still in the final, methodical stages of rehab from offseason arthroscopic knee surgery, Wade missed Sunday's game in Atlanta but is almost certain to get in at least one of the two games in China. It's a business trip for Wade on multiple fronts, as he is expected to launch his new shoe endorsement deal with a China-based brand this week after splitting from Nike's Jordan Brand. One sign that Wade is physically back to his explosive ways came last week during a post-practice workout, when he caught a ball in the paint, spun toward the basket and rose for a vicious dunk without much momentum.
SF: LeBron James: The league's reigning regular-season and Finals MVP hasn't missed a beat despite playing nonstop basketball since December, when the lockout-shortened 2011-12 season commenced on Christmas Day. LeBron was on his usual triple-double pace Sunday in Atlanta, when he had 10 points, six rebounds and six assists in a little more than 20 minutes. Chances are the trip to China might do more to bore than to buoy him as he awaits a more meaningful portion of the season.
PF: Shane Battier: After laboring through the lockout and free agency last offseason, Battier arrived to camp a year ago out of shape and rhythm. It led to a slow start to the season. That's far from the case this time around for Battier, who is the physical embodiment of coach Erik Spoelstra's "position-less basketball" scheme. Battier is back at the starting power forward spot, where he was most effective in the Finals victory against Oklahoma City. Much like James, Battier seems in midseason form.
C: Chris Bosh: Reluctant about the full-time move to center? Sure, that was the case initially. But is it a regrettable change for Bosh? That hardly seems to be the case so far. Just because Bosh is officially listed at center, it doesn't necessarily mean he'll be forced into the paint to bang bodies with opposing bigs. With a team-high 22 points, including 15 in the third quarter Sunday, Bosh showed the potential that he can work this assignment to his advantage on most nights. He seems as comfortable and confident now than he's been at any time since he arrived in Miami.
KEY RESERVES
G: Ray Allen: Maybe it's just me, but there's still something that just doesn't look right about Allen being in a Heat uniform. But Allen is already making the adjustment process appear as silky smooth as the stroke on his lethal jumper. The league's career leader in made 3-point baskets is setting out to prove at age 37 he's more than simply a long-range threat. He made his case in Atlanta when he only attempted one trey, but had five assists, three steals and three boards off the bench. If he stays healthy, this could be a Sixth Man of the Year situation.
F: Mike Miller: For the first time since he signed in the summer of 2010, Miller is visibly free of pain. No bandages. No braces. No bending over and laboring up and down the court. But it's still early. So Heat fans might want to search for the nearest wood structure and commence knocking on it. This might finally be the season the Heat get to unwrap all those intangible gifts they expected when he signed in the summer of 2010.
F/C: Udonis Haslem: The proverbial chip on the shoulder is still there with Haslem. Last season, the Heat added Battier and moved him to power forward. This season, Miami is hoping to resurrect the player formally known as All-Star Rashard Lewis. Presumably, there could be backup minutes at center, but Haslem, who sat out Sunday with minor soreness, is going to have to fight to remain relevant in the Heat's primary rotation. His rebounding will certainly be valuable.
ROTATION BUBBLE
PG: Norris Cole: There has been ample opportunity for Cole to showcase his improvement from last season, mainly because the quad injury has kept Chalmers off the court the past week. Cole spent the entire summer working to gain more control of the offense. Although he struggled with five turnovers and just two assists on Sunday, Spoelstra considers him the most improved player in camp so far.
F/C: Joel Anthony/Rashard Lewis: Anthony has been sidelined and Lewis has been laboring through the early stages of training camp while trying to regain his rhythm after two seasons of leg injuries. Ultimately, this could be a situational process for the Heat. They will lean on Anthony for shot-blocking and defensive needs and turn to Lewis for offense and floor-spacing purposes.
LONG SHOT TO WATCH
F: Robert Dozier: Stashed overseas for the two years since he was drafted in the second round by the Heat, Dozier is working his way into the good graces of the coaching staff. He can play up to three positions in the Heat's system and has enough length, athleticism and offensive skills to potentially separate himself from other camp hopefuls such as Jarvis Varnado and Josh Harrellson.
July, 10, 2012
7/10/12
6:19
PM ET

By Michael Wallace

ESPN.com

Archive



MIAMI -- So what does a rookie point guard who just won an NBA championship in his first season in the league do for an encore?

For Norris Cole, the answer is simple.

"Right back to work," Cole said Tuesday between practices with the Miami Heat's summer league team as it prepares to play in Las Vegas next week.

Just three weeks ago, Cole was on the Heat's home court alongside LeBron James, Dwyane Wade and Chris Bosh as the Heat finished off the Oklahoma City Thunder in five games to win the title.

On Tuesday, Cole was in his familiar practice jersey, but surrounded by a completely different set of teammates -- young free agents, second-round picks or undrafted players aspiring to NBA jobs.

Cole is the lone player from the Heat's Finals rotation on the summer league team that will play five games in Las Vegas starting Sunday against similar NBA teams stocked with young players. Seldom-used Heat center Dexter Pittman and guard Terrel Harris, who were both with the Heat last season, are also on the summer league squad.

The team's primary goal is to help Cole build on his sporadic rookie campaign in hopes of becoming a consistent contributor in the point guard rotation behind starter Mario Chalmers during Miami's title defense. The NBA's labor dispute prevented Cole from participating in summer league play last season.

So there's plenty of work to catch up on, despite the fact that he was part of a team that passed a major test this season.

"I don't want him ever thinking he's arrived to a point where he's now being hunted," said Heat assistant Dave Fizdale, who will coach the summer league team. "He has to stay hungry. And he has to play this summer like a guy who did not win a title."

Fizdale emphasized that Cole will be featured in just about every aspect of the Heat's game plan while in Las Vegas. He hopes to see Cole, the Heat's first-round draft pick in 2011, take more command of the offense by becoming a vocal leader as well as an aggressive playmaker.

"The offense is in his hands to make the play calls, to make the reads and to really quarterback the team," Fizdale said. "We're breeding Norris a different way. Norris is a hunter. Norris doesn't care about people coming after him, and all that. We're developing him to be an attacker. So he's going out to Vegas with the intent to destroy whoever he plays against."

Cole averaged 6.8 points, 2.0 assists and 1.4 rebounds in 19.4 minutes per game last season. He played in 65 games, including 19 playoff appearances. He averaged 11 minutes a game in the Finals.

Cole said the past three weeks have been a whirlwind for him since the championship, but he's ready to end his extremely abbreviated offseason to improve his game and possibly expand his role.

"Even though we won a championship, I know I can get better ... need to get better to help this team grow," Cole said. "I'm going out there [Las Vegas] to get better. Competition is good for everybody."