Miami Heat Index:

Roy Hibbert
March, 25, 2014
Mar 25
11:18
PM ET
INDIANAPOLIS --
Greg Oden
was an objective bystander at the time, but he remembers the series vividly.
Between the workouts in hopes of reviving his NBA career and the trips back to his college campus at Ohio State, Oden made time in his schedule to closely watch the Eastern Conference finals last season.
LeBron James
and the Heat were in a back-and-forth flurry with the
Indiana Pacers
, and Oden couldn't help but to notice how hard Miami was struggling to deal with 7-foot-2 headache
Roy Hibbert
.
"It was one of the best [stretches] I've seen him play," Oden said of Hibbert, who averaged 22.1 points and 10.2 rebounds in the conference finals. "He definitely was in a groove when that was going on."
The Heat won the series with a Game 7 blowout in Miami, but they never lost sight of the growing impact and threat Hibbert poses for the two-time defending champions. The Heat signed Oden and invested in his comeback from a four-year layoff with hopes he can help to disrupt Hibbert's groove.
[+] Enlarge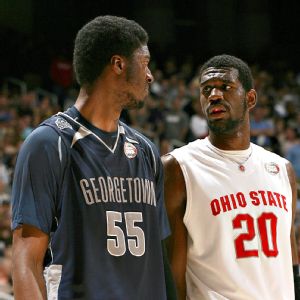 Bob Leverone/Sporting News/Getty ImagesRoy Hibbert and Greg Oden first met on a big stage in the 2007 NCAA Final Four.
For some reason, when Hibbert has faced Miami the past few seasons, he tends to channel his inner
Kareem Abdul-Jabbar
. With Oden, who is expected to make his sixth start of the season in Wednesday's game against Indiana, Miami can counter Hibbert with someone he can pick on closer to his own size.
If Oden ever doubted his purpose for being in a Heat uniform, James offered a clear reminder after the team wrapped up Tuesday's practice and prepared for the flight to Indiana.
"I think he knows why we brought him here," James said of Oden. "I think he looks at it as an opportunity to see how far he's come along as well. It's nothing personal between him and Hibbert at all. But he wants to see where he can measure up at this point in his career, and this point in the season for us. [Hibbert] wore on us. His numbers speak for themselves. He controlled the paint in our seven-game series with his scoring, rebounding and blocking shots. So we had to bulk up. [Oden] helps that."
Because Oden spent the first half of the season working on his conditioning and strengthening his knees after multiple career-threatening surgeries, he was unavailable when the Heat and Pacers split their first two meetings of the regular season. Oden made his season debut Jan. 15 in Washington after a four-year league absence, and he was inserted as a routine starter on March 16 against Houston.
The Heat have been cautious in their approach with Oden every step of the way and were reluctant to set the level of expectation too high for him going into Wednesday's game. But it's clear that both Oden and his teammates see the matchup with Hibbert as an opportunity to gauge Oden's growth.
Oden is coming off his longest stint of the season: He played 15 minutes in Monday's 93-91 home win against Portland, the team that selected him with the No. 1 overall pick in the 2007 draft. Although Oden is soft-spoken and frequently downplays the significance of anything he does on the court, he's been through a series of emotional reunions in recent days.
On Friday he played against Memphis and point guard
Mike Conley
Jr., who was Oden's teammate at Ohio State and in various youth leagues from the time they were in the seventh grade. Conley's father is also Oden's agent and brokered the deal that led to the one-year contract with the Heat last summer.
On Saturday, Oden sat out of the Heat's visit to New Orleans but he did see Pelicans coach Monty Williams, who was an assistant in Portland during Oden's injury-plagued seasons with the Blazers. And then came Monday's game against Portland, which still has three players on the roster who were alongside Oden when he suffered his season-ending knee injury on Dec. 5, 2009.
Now, Oden returns to his Indianapolis hometown as a starter amid his latest comeback.
Oden said Tuesday that he wouldn't allow himself to even dream this time a year ago that he might get the opportunity to be in the position he's in right now as the Heat (48-21) aim to overtake the Pacers (51-20) for the No. 1 seed in the East with three weeks left in the season.
"I just wanted to get on a team and I wanted to play," said Oden, who has struggled with foul trouble in his limited stints but is averaging 3.0 points and 2.3 rebounds in nine minutes a game. "I tried not to think too far into it. But now that it's happening, now that I'm starting, I'm happy. But we've got to come back [to Miami] with a win, and that's all that matters."
Oden insists he won't overthink his matchup with Hibbert, who will also be defended by backup center
Chris Andersen
for longer stretches of the game. His instructions are simple.
"It's positioning and just being big," Oden said. "With a guy like [Hibbert], he can shoot over anybody. He's 7-2. But to me, I've just got to not let him get right in front of the rim, make sure I get big and make sure he has somebody he has to look over when he goes up and shoots."
Oden has played to mixed results so far this season. He's shot 56.5 percent from the field in 21 games, but he continues to struggle with his timing and rhythm. He's grabbed 48 total rebounds and blocked 11 shots, but he has committed 47 fouls and 11 turnovers.
It amounts to Oden still being the ultimate work in progress. But Heat coach Erik Spoelstra has reached the stage where he realizes there can only be progress with consistent opportunities.
"I think he's getting in better game shape [and] the only way for him to do that is to play those minutes," Spoelstra said. "I think that's the most active he's been [as a starter]. I'm not pushing to increase that minute load. If it happens, it happens. He gives us something we don't have."
And that's a change-up option to the Heat's usual small-ball, perimeter-based attack.
And that's also the type of presence in the paint capable of pounding with the big and bulky Pacers.
Hibbert is also intrigued by the possibility of working against Oden. After he scorched the Heat with 24 points on 10-of-15 shooting from the field in the Pacers' 90-84 win at home on Dec. 10, Hibbert essentially counted the months before there would be a chance to face Miami with Oden available.
"I'm going to just keep asserting myself whenever I play against them," Hibbert said after that game. "But I'm really looking forward to matchup up against Greg when he does play. He's such a big impact, a big impressive presence. When he gets healthy, we can battle a little bit."
The big men have a bit of a history together.
Hibbert and Oden matched up twice in their careers. Their lone NBA showdown came during Hibbert's rookie season and Oden's first year of action after he sat out his rookie season following knee surgery. Hibbert had 14 points and two blocks in Indiana's 95-85 loss on March 18, 2009 to Portland, which got four points and seven rebounds that night from Oden.
Their first encounter was a bit more memorable and came during the 2007 NCAA Final Four in Atlanta. Hibbert had a more productive night, with 19 points in 24 minutes for Georgetown. But Oden, who battled foul trouble much of the game, had the more successful result as Ohio State advanced to the championship game, where it lost to the
Joakim Noah
-led Florida Gators.
Oden, who is expected to continue to play limited minutes, is more focused on the scoreboard than the stat sheet when it comes to his performances against Hibbert.
"If I was brought here for that reason -- you know, if I have a terrible game and Hibbert has a good game and we win, that's really all that matters," Oden said. "It's not about who has the better game. It's about winning the game. I'm going to come and do my best. It's going to be a battle with him, I just hope we can come out on top."
A year ago, Oden was a spectator admiring the work of a fellow 7-foot, traditional center against Miami.
Now, he's begins work as a potential solution to help contain the Heat's longstanding Hibbert problem.
December, 18, 2013
12/18/13
12:03
PM ET

By Brian Windhorst
ESPN.com
Archive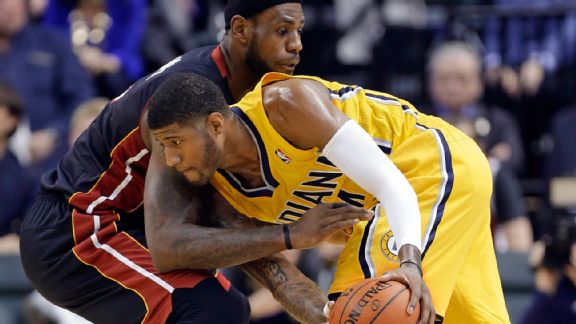 AP Photo/Michael ConroyWill LeBron James be able to slow down the fast-rising Paul George in Round 2 of Heat-Pacers?
MIAMI -- Over the past several years,
Miami Heat
coach Erik Spoelstra has often secretly enjoyed playing the long game against opponents he expects to see in the postseason.
It's not exactly unheard of. But Spoelstra's plotting is often more extreme than the garden-variety chess match. He has changed his starting lineup, for example, twice in the middle of the NBA Finals.
He'll hold back certain lineup combinations, plays sets, and this season he's even kept a certain 7-foot, former No. 1 overall pick under wraps until he feels the time is right.
That is one of the luxuries of having a team expected to make a deep playoff run, and when perhaps only one serious contender stands between you and a fourth straight Finals appearance.
That makes it hard to predict exactly what will be seen Wednesday night, when the Heat and the
Indiana Pacers
face off for the second time in eight days (ESPN, 7 p.m.). After last week's Heat game plan in Indianapolis led to a 90-84 defeat, it would seem that Spoesltra would want to take this chance to test out a few more strategies.
[+] Enlarge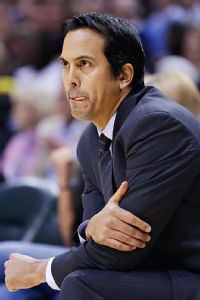 AP Photo/Michael ConroyErik Spoelstra is careful about tipping his hand to the Pacers.
But that may be tough, considering that the personnel for this matchup is somewhat of a mystery.
LeBron James
suffered a mild ankle sprain Monday night and, though he would usually play through it for a big game like this, he purposely didn't commit to anything after missing Tuesday's practice. His history of ankle sprains is varied -- sometimes he's been able to play through them and sometimes he's needed to sit for a game or two.
Meanwhile, the Pacers are openly waiting for
Greg Oden
to be used against them, but the Heat have given no indication that Wednesday will be that moment. And
Michael Beasley
(hamstring) has not practiced or played in 10 days.
"The key for us against this team is to get to our identity," Spoelstra said, leaning on one of his favorite phrases. "We have to play our game."
That means playing fast and small and to force defenses to cover more ground than they prefer at a quicker pace than they prefer. The Pacers have an unwavering method as well, which is to slow the game down and to play with big lineups that favor an interior game and not to bend to the opposing teams' style by changing their lineup.
Chris Bosh said there are holes to exploit in the Pacers' strategy, but the Heat certainly failed to do that in their first meeting of the regular season. What it did show, however, was Miami's willingness to use some creative wrinkles that didn't much resemble how the Heat operated against Indiana in last season's playoffs, an indication that Spoelstra might indeed be in the mood to do some experimenting with these matchups.
In that game, Spoelstra decided to deploy James to defend
Paul George
from the outset instead of saving that move until the fourth quarter, as was his standard. James held George scoreless early and the Heat built a lead, but James became gassed and didn't seem to have the energy for the duties later. George ended up having a big second half, scoring 15 of his 17 points while working mostly against
Dwyane Wade
and
Ray Allen
.
Spoelstra also tried using what Pacers center
Roy Hibbert
called a "big-big" lineup, playing
Chris Andersen
and
Chris Bosh
together in the second half instead of using smaller shooters like
Shane Battier
and
Udonis Haslem
around Bosh. That enabled Hibbert to roam less and stay in the middle, which plays right into the Pacers' wheelhouse. The Heat managed just 37 points in the second half.
The expectation is that the Heat would take a different approach this time around. They can preserve James' energy for later, especially if he's less than 100 percent. They can commit to give Battier -- who has been in a shooting slump and hasn't even attempted a 3-pointer in the past two games -- longer minutes. Perhaps they can even go to Haslem, who hasn't played much since suffering a back injury last month but was a key contributor against the Pacers last postseason.
Either way, tiebreaker scenarios leading into the playoffs are in play here. If the Pacers score a victory Wednesday they will take a commanding two-game lead in the race for the No. 1 seed with only two regular-season matchups left (March 26, April 11). The repercussions of that may seem far away but this will be crucial eventually, especially with these two teams so far ahead of the pack in the Eastern Conference.
Spoelstra, though, may have to weigh just how much he will want to dip into the bag for it. Especially when it comes to deciding whether to risk playing James or to make lineup changes that could have more value down the line.
"As the season goes on, we're always going to be looking at what they're doing; they're going to be looking at what we're doing," Bosh said. "These games are important because who knows what it's going to come down to. So we want to come out and win this game. It's going to be an interesting thing."
June, 1, 2013
6/01/13
1:29
AM ET
One step away from a third consecutive trip to the NBA Finals, struggling
Miami Heat
teammates
Dwyane Wade
and
Chris Bosh
aim to regain enough of a stride to help
LeBron James
finish off the
Indiana Pacers
.
A sore right knee continues to limit Wade's effectiveness during the least-productive playoff series of his 10-year career, while a sprained right ankle has contributed to Bosh's scoring and rebounding woes the past two games.
Both Wade and Bosh hope to bounce back Saturday when the Heat carry their 3-2 series lead into Bankers Life Fieldhouse for Game 6 with a chance to close out the Pacers and advance to the Finals to face San Antonio.
"Nobody is 100 percent," Bosh said Friday before the Heat's team flight to Indianapolis. "It's just really all mental. Just knowing you have to come in, you have to do your job better than the other guy and know that everyone is ailing a bit. But that's part of the game, especially this time of the year. Everybody has to rise to the challenge."
That challenge grew steeper for Bosh when the NBA announced Friday that Heat reserve center
Chris Andersen
is suspended for Game 6 for his role in Thursday's altercation with Pacers forward
Tyler Hansbrough
.
The absence of Andersen's interior scoring, defense, rebounding and energy will create a void for the Heat that demands more production from Bosh,
Udonis Haslem
and seldom-used center
Joel Anthony
against Indiana's physical and productive big men in
Roy Hibbert
and
David West
.
Bosh said the only choice is to embrace the opportunity.
"[You] have to love pain, love basketball, love the game," Bosh said. "And love the position you're in."
May, 24, 2013
5/24/13
2:25
PM ET

By Tom Haberstroh
ESPN.com
Archive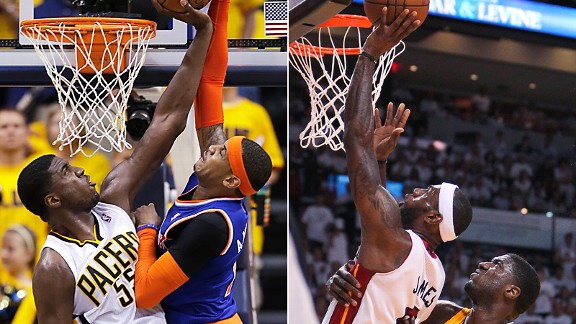 AP Photo, Getty Images
Roy Hibbert explains why the Miami Heat are more difficult to guard than the New York Knicks.
MIAMI -- It must be weird to be Roy Hibbert these days.
On Friday morning at the Indiana Pacers' Game 2 shootaround at AmericanAirlines Arena, he sat at a plush courtside seat with cameras, microphones and tape recorders jammed into his face. For several minutes, he fielded a barrage of questions about another player kneeing him in the groin area.
This is Hibbert's first Eastern Conference finals experience.
It must be weird to be Hibbert because he must wear two hats when talking with the media. In one breath, he would talk extensively about his "family jewels," as he put it. In the next breath, he'd put on his coaching hat and discuss the hard X's and O's of basketball.
For some people, the controversial layup from Shane Battier, the target of
Hibbert's Thursday night tweet
, is all they want to hear about. And that's understandable. Trash talk between athletes can be pretty compelling.
But for others, it's the X's and O's that makes the NBA experience fun. Why are the Heat so difficult to guard as a big man? Indiana coach Frank Vogel called the Heat offense "more intelligent" than the New York Knicks offense, but why is that the case?
Hibbert will explain.
During Game 1, Hibbert said he could hear LeBron James instructing his big men to do something that the Knicks didn't do enough.
What was James telling Chris Bosh, Chris Andersen and Udonis Haslem out on the court?
"'Be ready for that dump-off pass,'" Hibbert recalled.
In Game 1, when the Heat scored 60 points in the paint, Hibbert and the Pacers couldn't stop that dump-off pass.
Why?
Because James and Dwyane Wade are a threat to score and a threat to pass at the same time.
"When you play against a team this athletic with LeBron James, D-Wade and those guys, you have to pick your poison," Hibbert said. "Do you want LeBron James, who has a large launching pad, taking off and dunking on you? Or do you want Birdman making layups at the rim?"
The Pacers didn't have a dependable answer to that question in Game 1.
"It's kind of putting me in an uneasy situation because you have LeBron coming at you at 100 miles an hour and he can take off from anywhere," Hibbert said. "What do you do? Do you try to stop him or do you worry about that pass?
"It's a conundrum. I'm trying to figure that out."
James tallied 10 assists in Game 1, and Wade registered five. As a team, the Heat recorded 24 assists, four more than the Knicks did in any game of the Eastern Conference semifinals. In fact, James dropped more assists in Game 1 (10) than Carmelo Anthony did in the entire series against the Pacers (8).
To Hibbert, that's where you'll find the difference between the Knicks and the Heat.
"Last series, you didn't have to worry about guys making plays like that," Hibbert said. "Carmelo is just coming straight at you, it's easy to deal with. But with two or three guys around the basket ..."
Hibbert trailed off.
"We just have to do a better job," he said. "If I step up, somebody else has my back, and then we have a rotation after that. It's pretty tough when you have guys like Ray Allen in the corner, LeBron and D-Wade on the court at the same time, and you have Chris Bosh, who's a spot-up shooter. They're going to push us to the limit."
The Pacers spent Thursday's practice and Friday morning's shootaround figuring out how to defend the Heat's multiple threats.
"We just have to be able to help the helper," Hibbert said. "That's why Birdman and Chris Bosh have been living off the dump-off passes and stuff like that. We had our hands full. If we can stop the line drives, we can hopefully protect the paint a little bit better.
For the Pacers, the best way to deal with the Heat conundrum is to avoid it in the first place.
"We worked on some things," Hibbert said. "We're trying to stop it at the point of the ball screen so I don't have to be tested at the rim like four or five times in a row. We're working on ball screen defense and the guard-guard pick-and-roll.
Easier said than done.
"But that's hard to deal with when LeBron James and Dwyane Wade are coming at you," Hibbert said.
May, 21, 2013
5/21/13
6:56
PM ET

By Tom Haberstroh
ESPN.com
Archive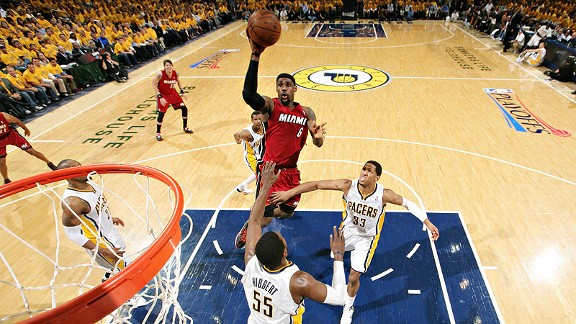 Nathaniel S. Butler/Getty Images
Don't be surprised if LeBron James breaks out his floater against Roy Hibbert and the Indiana Pacers.
MIAMI – For the past several weeks,
LeBron James
has finished up his daily routine at practice by shooting free throws with
Ray Allen
. Every practice, same thing.
But on Tuesday, things were different.
A day ahead of their Eastern Conference finals matchup against
Roy Hibbert
and the
Indiana Pacers
, James was at his normal basket at the Miami Heat's practice court, but Allen was on another hoop, practicing his 3-point shot on his own. Instead of trading free throws with Allen, James was working with Heat assistant coach David Fizdale and point guard
Mario Chalmers
on a different shot:
The running floater in the lane.
Yes, the same one he unleashed out of nowhere against Hibbert last playoffs and used to help push the Heat over the top in six games.
James' goal on Tuesday was obvious: to polish his Hibbert arsenal.
"I just dust it off when I need it," James said of his rarely-seen floater.
This was the first and only day that James has put in extra work on it this season. James started from the top of the key, barreled down the middle of the paint and launched in the air for a floater. He'd do that a few times and then switch angles. Starting from the baseline, James took a dribble on the move and then soared across the lane to drop a running hook. Over and over again.
The only thing that was missing was a 7-foot-2 cardboard cutout standing at the rim.
James knows he'll need his full repertoire against the Pacers' front line for this upcoming series. No, the thinking isn't to only drop floaters in the lane. Rather, it's to keep Hibbert honest. No more allowing Hibbert to camp out around the rim and wait for intruders. The Heat want Hibbert on the move and guessing.
"He won't just have one look," James said after Tuesday's practice. "We have to be able to give him different looks to keep him off balance."
James unveiled the crafty shot in the third quarter of Game 1 of the Eastern Conference semifinals last season, just minutes after
Chris Bosh
left the game with an abdominal strain that sidelined him for weeks. James turned the corner after a high pick-and-roll with
Udonis Haslem
and made his way to the rim as Hibbert sidestepped off
Ronny Turiaf
to park himself underneath the basket.
That's where Hibbert waited for James. But instead of trying to shoot through the 7-foot-2 giant, James hopped off two feet halfway into the lane, rose up and tossed the ball high into the air. Swish. From then on, James went to that shot without hesitation, and it proved to be a handy weapon against Hibbert's size.
Remember James' monster Game 4 against the Pacers when he registered 40 points, 18 rebounds and nine assists? James used his devastating floater on multiple occasions in that furious comeback alongside
Dwyane Wade
, but James also punished the Pacers with 16 free throws. James still attacked the rim and racked up fouls against Hibbert, but he needed the reliable floater to keep Hibbert from getting too comfortable in the paint.
Typically, James will use his otherworldly athleticism and strength to overwhelm his opponent like a wrecking ball. But there will be times when he'll need technique and grace to keep opposing big men on their toes. So for James in this series against Hibbert and the No. 1-ranked defense in the league this season, the key will be variety, not velocity.
James knows Hibbert doesn't want to be dragged away from the basket. He paid close attention to the Knicks-Pacers series and it resonated with him when Hibbert rose up for that iconic block on
Carmelo Anthony
at the rim in the decisive Game 6 (James called it "a very good block" on Tuesday). James watched every minute of the series during which the Knicks' percentage of shots in the restricted area plummeted from 39.5 percent with Hibbert on the bench to just 30.5 percent with him in the game, according to NBA.com/Stats.
This is the Hibbert effect, and James wants to neutralize it with as many weapons as he can. The floater, you can expect, will be one of them.
May, 19, 2012

5/19/12

5:48

PM ET



INDIANAPOLIS - It was a tale of two performances that defined the Indiana Pacers' blowout victory in Game 3 against the Miami Heat.

Pacers center Roy Hibbert had a formidable game while Heat guard Dwyane Wade's performance was flat-out forgettable. As expected, Indiana spent Saturday's practice bracing for what it expects to be a huge bounce-back effort from Wade, who went scoreless in the first half for the first time in 95 career playoff games and finished with just five points and five turnovers.

Meanwhile, the Heat worked Saturday to ensure that Hibbert won't duplicate the kind of impact that led to his career outing with 19 points, 18 rebounds and five blocked shots in Thursday's 94-75 win to take a 2-1 series lead.

"We're going off the mindset ... that D-Wade isn't going to have the kind of night he had in Game 3," Hibbert said after the Pacers' practice Saturday in preparation for Sunday's game. "So we're preparing for him to have a good night, and we'll have to go out there and execute."

Wade missed 11 of his 13 shot attempts and struggled to get into the lane against Indiana's speed and length. Wade also has been dealing with nagging knee and lower-leg injuries that required extensive treatment in recent days.

But with two days off before Game 4, the Pacers expect a more explosive display from Wade. Hibbert insists Indiana will be ready for the challenge, as well as the chance to take a commanding 3-1 lead before the series shifts back to Miami.

"We have some schemes to put him in situations to get the ball out of his hands, and make sure he works on the defensive end," Hibbert said. "I'm not really worried about scoring. I'm really worried about stopping LeBron (James) and D-Wade from getting into the paint."

As for his own game, Hibbert said he can't guarantee another massive double-double like he had in Game 3. But he did vow to focus on two areas.

"I'll tell you one thing: I'm going to rebound and defend," Hibbert said. "Whatever happens after that, happens."
May, 18, 2012
5/18/12
2:22
PM ET
INDIANAPOLIS - After cancelling practice and media sessions Friday, the Heat hunkered down in their search for answers to overcome a 2-1 series deficit against the Pacers. With two days to recover and regroup before Game 4 Sunday, I break down where the Heat must go from here.