Miami Heat Index:

Shaquille O'Neal
October, 30, 2012
10/30/12
9:02
AM ET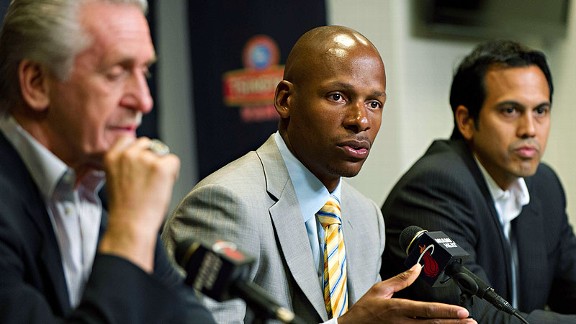 Steve Mitchell-US PRESSWIRE
Pat Riley and Erik Spoelstra hope Ray Allen helps Miami avoid a post-title letdown like in 2006-07.
MIAMI – And so it begins.
Tuesday marks the opening of the NBA's regular season and also the beginning of the Heat's quest to do something that has been done only once in the past decade: win back-to-back NBA championships.
Heat president Pat Riley, who has won five titles as a coach and one as an executive, knows this feeling all too well. In his 1988 book "Showtime," Riley explains the potentially poisonous effect of winning the title and warns of a post-championship hangover he coined "the disease of more."
"Dissension tore up the Lakers in the year following that championship," Riley wrote in reference to the 1980-81 squad that lost in the first round after winning the 1980 title. "Success is often the first step toward disaster. I call it 'the disease of more.' People start thinking, 'I'm really the key ingredient. It was my quality minutes off the bench,' or 'It was my brilliant coaching decisions.' Or 'It was my outstanding defense.' People who were quiet during the lean years suddenly want more money, more playing time, more recognition. And they get aggressive and jealous about pulling in their 'more.'"
Yeah, probably want to nip that in the bud this time around. Heat fans will remember the disastrous repeat campaign in 2006-07, a season that was wrought with overweight players, devastating injuries to its stars and utter disappointment for its faithful. After starting out a woeful 13-17, Riley briefly stepped away from his head coaching position to tend to hip and knee issues. The Heat ultimately lost in the first round of that postseason, just like Riley's 1980-81 Lakers team.
With the so-called "disease of more" in mind, Riley and Heat coach Erik Spoelstra opened up the Heat's training camp with a lesson in less. That is, the importance of sacrifice.
"We talked about that the very first day," Spoelstra said ahead of Tuesday's season opener. "It's a big sacrifice to be a part of this team. That's not just a word ... that's not an empty word. Everybody lives it in terms of salary, minutes, opportunities, whatever it is."
The natural reflex is to compare this 2012-13 squad to the 2006-07 one that tried and failed to win back-to-back titles. But Spoelstra, who served as Riley's assistant coach during that trying season, doesn't see the connection.
"You can't even compare," Spoelstra said. "That team didn't have its health, so it's hard to judge. That's why I don't compare this year to that year. We came out of training camp and we were already banged up."
Ray Allen, Dwyane Wade (a member of that 2006-07 team), Mario Chalmers, Udonis Haslem (also played in 2006-07) and Joel Anthony have all battled injuries and rehab this preseason. Isn't this squad banged up a bit, too?
"Not like that team," Spoelstra said before catching himself. "Knock on wood."
Not surprisingly, Wade agreed with Spoelstra's sentiment, distancing this team from that one.
"Yeah, it's different," Wade said. "That's two totally different worlds. You can't worry about that, different times and different team."
The presence of LeBron James probably has something to do with the different identity. While James is still in his prime and hungry after his first taste of the title, the 2006-07 team's veteran leader was Shaquille O'Neal, who was 33 years old and coming off his fourth title. James Posey and Antoine Walker showed up to camp out of shape and failed a conditioning exam that got them benched during the season.
However, Spoelstra insists the makeup of this team is completely different.
"Virtually every single person on this team has had to sacrifice, and that's a 'we' concept, not a 'me' concept," Spoelstra said. "If you're based solely on 'me,' you're not willing to do those things to help you win."
The Heat's repeat campaign starts on Tuesday against the Boston Celtics, a rival that has learned firsthand how difficult it is to defend the title. Back in 2007-08, the Celtics and their big three of Allen, Kevin Garnett and Paul Pierce took down the Los Angeles Lakers en route to their first title in more than 20 years.
The odds of a Celtics repeat were strong. After being the early preseason favorites in 2008-09, the Celtics blitzed to a torrid 27-2 record that marked the best start in NBA history, in addition to a 19-game win streak. Things were good, and then suddenly, they weren't. Garnett endured a season-ending knee injury shortly after the All-Star break, and the Celtics were defeated by Dwight Howard and the Orlando Magic in the 2009 Eastern Conference semifinals.
So much for the repeat. The Celtics' reign over the NBA was short-lived, much like nine of the past 10 champions who failed to grasp the Larry O'Brien Trophy two seasons in a row.
So why is it so hard? Well, winning a title in the first place is pretty darn hard when there are 29 other teams competing for the same goal. Then there's that pesky target on the back of your jersey that comes with winning it all. Complacency could set in, as it did with Miami's 2006-07 squad.
But when asked if there was a mentality change in that disappointing 2008-09 season, Celtics coach Doc Rivers refuted the very premise of a title defense.
"I never have believed that anybody ever is defending the title because that was last year," Rivers said Monday. "[The Miami Heat] don't own the team trophy this year. That's what I tell our guys here. Miami is defending nothing. You don't give your trophy back. That's in boxing -- you give the belt back. That's defending a title. [The Heat] don't have this year's trophy, so they're not defending it. That's the way we look at it and that's the way we tried to look at it [in 2008-09]."
Spoelstra has embraced a similar tone with his team. Back on media day, Spoelstra stressed the importance of looking forward and not in the rearview mirror, even vowing never to use the word "repeat" when talking about what's at stake this upcoming season.
On Tuesday night, the Heat will be forced to look backward for a few moments. That's when the team will receive some championship hardware during the pregame ring ceremony.
"The hard part is now we have to relive the past," Wade said of the ring ceremony. "That's something we enjoy -- getting our rings -- but we have to do it in the beginning of the season. That's the tough part, reliving the past when we're ready to move forward. We'll try to do our best with it."
November, 30, 2011
11/30/11
1:57
PM ET

By Michael Wallace
ESPN.com
Archive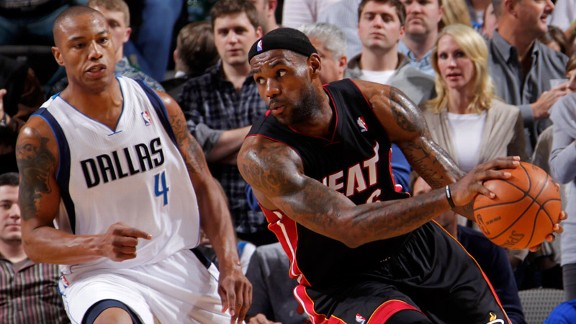 Mike Ehrmann/Getty Images
Could Caron Butler return to the Heat and join LeBron James on another title quest?
MIAMI – Pat Riley and the Miami Heat could very well have their eyes again fixated on the Dallas Mavericks in gearing up for the start of the coming season.
Not just because the Mavericks were the team that stormed back to defeat the Heat in six games of the NBA Finals last season.
Also not because those very same Mavericks will likely hold their championship ring ceremony on Dec. 25 before hosting the Heat in the nationally televised season opener.
The reason Riley might be focused on Dallas also goes beyond the fact that highly regarded center Tyson Chandler is widely considered the top free agent prize at a position of need for the Heat, with the recruiting period having started between teams and player agents Wednesday morning.
The Mavericks and Heat won't be linked by the memories and key players Dallas prefers to hold onto from last season's triumph. Instead, it's about the possibilities involving who Mark Cuban and his defending NBA champions might have to let go.
With about a half-dozen key free agents to make decisions on in the coming days, conventional wisdom suggests Dallas won't be able to bring all of them back and also keep some of the rotation players who had a significant impact on last season's title run.
Two scenarios could very well intrigue the Heat. Most signs point to Cuban doing whatever he has to do to retain Chandler, whose camp will at least have a courtesy conversation with the Heat as Riley tries a home-run swing on a pitch to land a center.
But the Heat's more realistic hope could be to see Chandler's asking price rise so high that it might make the Mavericks consider releasing the other 7-footer on their roster through amnesty.
That would be Brendan Haywood. The same Haywood who is still owed about $45 million on his contract, including his 2011-12 salary and a team option in the final season of his deal. He would also be the same Haywood who would be the most expensive backup center in the league if Dallas kept him, or a player whose departure would help alleviate what stands to be a huge tax burden for Cuban.
More importantly, he's the same Haywood who still speaks fondly of how he found Riley and the Heat's recruiting team on the front steps of his Greensboro, N.C. home to bid for his services. That was one stop on Miami's 2010 free agency tour that ultimately brought together LeBron James, Chris Bosh and Dwyane Wade.
The Heat were certainly interested in Haywood before, and would be again if the right things fell into place. Understandably, it would be a long shot. A very long one. Cuban has given no indication that he might have to rid the team of Haywood to fit Chandler and their other free agent priorities. On top of that, Haywood wouldn't even become a possibility for the Heat until he slipped past several teams with salary cap space who could competitively bid on his services.
With productive centers such a rare commodity in the league, Dallas would be much better off finding a suitable trade partner to get assets in return than by simply releasing Haywood through amnesty, which means Cuban would still pay the contract although it wouldn't count against his cap.
Another reason this could be an intriguing scenario is because the last time the amnesty provision came into play in 2005, Cuban was at the table to ante up. And Riley was there lurking in the shadows.
Six years ago, the Mavericks used the amnesty provision to release guard Michael Finley and the $51 million he was due on the remainder of his contract. Dallas tried to trade Finley but couldn't find a suitable partner, and instead ushered him into immediate free agency to avoid a huge luxury tax bill.
The Heat reportedly offered Finley a mid-level deal to join Shaquille O'Neal and Wade on a team that went on to win a title that season. But Finley instead signed with the San Antonio Spurs. Cuban, a billionaire who has among the deepest pockets in the league, would probably rather swallow the tax bill and maintain his Chandler-Haywood tandem at center than gift-wrap a starter to Miami.
But history also sometimes has a strange way of repeating itself. Which brings me to another Maverick who also has a fond connection to the Heat.
That would be free agent forward Caron Butler.
Yes, the same Butler who Riley selected with the No. 10 pick in the 2002 lottery but had to trade two years later in the deal that brought Shaq to Miami. He's also the same Butler who has remained extremely close to Wade since their playing days together with the Heat.
And he's also the same Butler who sat out the second half of last season to recover from knee surgery and painfully watched the Mavericks win the title without him. During an appearance alongside Wade, LeBron and Bosh at a recent charity basketball game in Miami, Butler told reporters that his options remained open but that Dallas and Miami were among his preferred choices.
To handicap Butler's situation, consider this: The Mavericks have an overwhelming advantage in the money they could offer. But the Heat have the sentimental edge in memories.
Again, history sometimes has a strange way of repeating itself. Just two years ago, another Heat short-timer with long and fond memories from that 2003-04 Heat season strongly considered leaving a champion to return to Miami for the mid-level. But Lamar Odom had a stronger force pulling him back to Los Angeles.
Kobe? Perhaps.
But mainly a Kardashian.
The question with Butler is whether a potential $5 million mid-level offer from Riley and relentless recruiting from Wade are enough to make up the difference?
If you're Riley, the Mavs' dealings with Butler, Chandler and Haywood are worth keeping an eye on.
November, 1, 2011
11/01/11
2:10
PM ET

By Michael Wallace
ESPN.com
Archive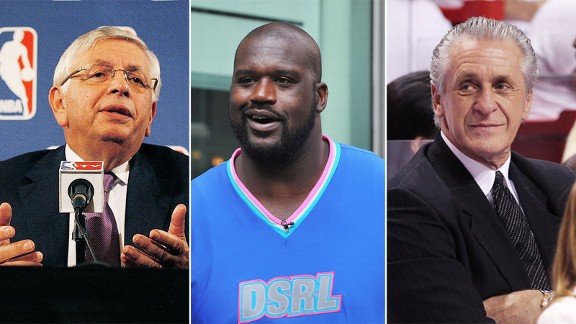 Getty imagesThe Heat have been the source of some negative attention as of late, thanks to David Stern and Shaq.
MIAMI -- The unresolved NBA lockout ensures LeBron James, Dwyane Wade and Chris Bosh won't play tomorrow night against the New York Knicks in the originally-scheduled season opener.
But it's clearly open season on the Miami Heat.
At some point, when the owners and players hash out the final details of a new collective bargaining agreement, coach Erik Spoelstra will address some of the kinks in Miami's offense.
But these days, the offensive shots involving his team are already coming quickly.
So far this week, the Heat have been at the center of two of the NBA's bigger stories, with owner Micky Arison getting slammed Monday by commissioner David Stern with a $500,000 fine for prohibited comments - and characters - he posted on Twitter regarding the lockout. That same day, Deadspin released excerpts from Shaquille O'Neal's soon-to-be-released book in which the retired center posted up for more dunks on his former teams.
Let's get one thing straight up front. The Heat aren't victims in either case here.
Targets? Yes.
Innocent bystanders being unfairly picked on? Hardly.
The Heat's combination of success, arrogance, talent, swagger, money, relevance and bravado continue to make them easy marks at which many in the league and opposing fans tend to unleash pent-up frustrations. In some cases, those characteristics makes this franchise difficult for an objective-minded follower to defend.
This, clearly, doesn't qualify as one of those occasions.
It's not the Heat's smugness or actions that should be called into question after this latest one-two punch delivered by Stern and Shaq. Nope. That would be getting it twisted. It should be the other way around.
Instead, the backlash should be focused squarely on the questionable to flat-out comedic credibility these days of David and Goliath.
Arison's episode speaks for itself.
He was completely fine when kept his tweets to Carnival Cruise business, eating burgers and steaks and expanding business partnerships with arena hype man DJ Irie. But Arison was rightfully fined when he used those precious 140 characters last Friday to defend his position on the lockout and take what easily could be seen as veiled shots at some owners vehemently holding up progress.
Result: Billionaire DM'd a half-million dollar fine.
Who's LOL'ing now?
Arison's a grown man. He knew the risks he was taking when he took to Twitter. He can afford the consequences. This isn't like Michael Beasley failing to see that little plastic baggie on the corner of the coffee table in the infamous twitter pic he once posted to show off his new back tattoo.
I just wonder what the fine might have been had Arison really spoke his mind instead of poked his fingers on a hand-held device.
In a sobering and ironic way, what Arison's actions – and Stern's reaction – unintentionally underscores is the fact that these billionaire owners are ready, willing and abundantly capable of sacrificing millions from a potentially lost season to prove a point.
Having said that, I'm still trying to figure out what point Shaq intends to make in dishing more dirt and details about his final turbulent weeks with the Heat.
In his book, co-authored by ESPNBoston.com's Jackie McMullen and titled "Shaq Uncut: My Story, the Diesel" regurgitates fumes from a heated altercation at practice during the 2007-08 season with current team president Pat Riley, who was in his final season as coach.
Deadspin
released
the following excerpt from the book:
My ticket out of Miami was punched in mid-February 2008. There was a lot of tension between Pat and the players. So we're about to start practice and Jason Williams comes in about ten seconds late. Pat being Pat, he starts swearing at him and screaming, "Get the hell out of here!"...

I tell Pat we're a team and we need to stick together, not throw guys out of the gym. Pat is screaming at me and says if I don't like it, then I should get the hell out of practice, too.

That's when I said, "Why don't you make me?"

I start taking a couple of steps towards Pat. Udonis Haslem steps in and I shove him out of the way. Then Zo tries to grab me. I threw him aside like he was a rag doll. Now it's me and Riley face-to-face, jaw to jaw. I'm poking him in the chest and he keeps slapping my finger away and it's getting nasty. Noisy, too. He's yelling "(Expletive) you!" and I'm yelling back, "No, (expletive) you!"

Zo is trying to calm us both down and he has this kind of singsong panic in his voice. He keeps saying, "Big fella, no big fella, big fella!" I finally turn around and tell him, "Don't worry, I'm not going to hit the man. Do you think I'm crazy?"
Two things immediately jump out about that incident. One, Shaq's timing is way off, because that practice blow-up happened months earlier when both Mourning and Williams were healthy and actually able to practice. Two, credit the Big Fella for at least being smart enough to not go Sprewell on Riley in that moment.
That season quickly went into a tailspin due to injuries, poor attitudes and pettiness. It was equal parts bad management, bad manners and bad luck. It essentially was a season doomed from the start.
It started with Antoine Walker showing up out of shape and injured, yet feeling there should have been more compassion after he had recently been robbed at gunpoint in his Chicago home.
It got worse when Riley was desperately trying to salvage one last run from the core that won a title in 2006. So the natural, um, solution was to trade Walker for Ricky Davis and Mark Blount.
Then it grew disastrous when Mourning shredded up his knee that December in what proved to be a career-ending injury. Wade couldn't get all the way right following offseason knee and shoulder surgeries and would eventually sit out the duration of that season.
And it became toxic when Shaq and Riley threatened to go Hearns-Hagler.
Shaq was traded that February in a sort of six degrees of separation move that eventually led to the cap space created for the 2010 free agency haul that landed LeBron and Bosh alongside Wade. But at that time in the spring of 2008, the immediate payoff for all of that pain was a franchise-worst tying 15-67 season and the No. 2 pick in the lottery.
The jackpot from what then was christened a "God-forsaken season" by Riley: Beasley.
Yep, even the Heavens sometimes have a cruel sense of Heat humor.
Riley isn't a man that regrets much. He's fond of telling stories of how his best championship teams were often shaped by the bloody practice battles and bitter tension behind closed doors. He subscribes to a theory that only two results resonate in sports: winning and misery.
Shaq was a big reason Riley endured plenty of both in their tumultuous time together.
Now, it's just one of many juicy – if not all too accurate – details Shaq is spinning in the type of tell-all book he despised groupies for writing at his expense.
Miami is the NBA's most polarizing franchise, whether it's playing games or posturing amid a lockout.
That will always make this team a target with a price to pay.
This week, both David and Goliath snagged a petty pound of flesh from the Heat.
May, 11, 2011
5/11/11
9:56
AM ET
By Kevin Arnovitz and Tom Haberstroh
ESPN.com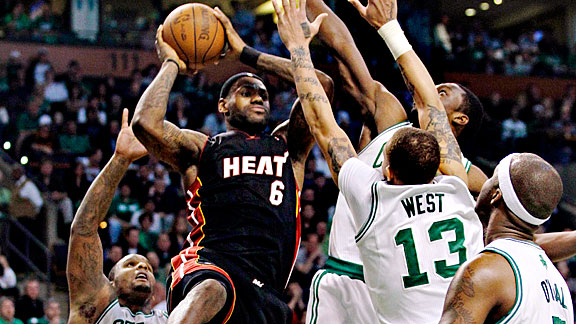 AP Photo/Charles Krupa
Even though he was frequently met by four Celtics, LeBron James never stopped attacking in Game 4. Will that trend continue in Game 5?
Can Dwyane Wade and LeBron James get to the rim at will again?
The success of the Celtics' defense is predicated on overloading the strong side of the court and preventing easy dribble penetration by a ball handler. However, in Game 4, James and Wade were driving into the teeth of the defense effortlessly, generating 18 shots at the rim and combining for another 23 free throws. Even accounting for the overtime period, that's far above their normal rate against Boston this series.
How did they do it? LeBron worked his way to the rim with variety. He flew out in transition on some occasions, cut to the rim off the ball on others and punctured the Celtics' defense using a standard pick-and-roll. Like Wade, if you give LeBron a ray of daylight, he'll exploit it to his full advantage. LeBron took a while to put his aggression into high gear, but by the time the fourth quarter rolled around he was fully engaged in attack mode.
The Heat ran a ton of pick-and-rolls with Wade as the ball handler, but they threw different screeners nearly every other time down the floor. LeBron, James Jones, Chris Bosh, Zydrunas Ilgauskas and Joel Anthony each got their hands at picks for Wade, who split Boston's defenders like an ax.
The array of screeners kept Kevin Garnett, Boston's best defender, away from Wade's attack, although they did target Garnett in the pick-and-roll down the stretch. Wade picked apart the defense and once he turned that corner, it was all over. The Celtics didn't dedicate themselves to swarming the ball handler like they typically do, and Wade dodged his way to the rim.
There's not a dependable way to combat LeBron and Wade in the pick-and-roll, but you may see more aggressiveness from the Celtics at the point of attack in Game 5.
Are the Heat unbeatable if Chris Bosh plays well?
Those who feel Bosh is the X factor in the Heat's title aspirations bolstered their case in Game 4. After he had a miserable 19 minutes in the first half, Bosh recovered offensively in the second half and helped keep the Heat in the game. His two buckets in overtime were perfectly representative of everything he brings to the table. He scored as a baseline cutter off a Wade-James pick-and-roll, then sealed the game with a tip-in with 24 seconds to play.
Bosh's 20 and 12 stat line aside, his biggest contribution -- both in Game 4 and the series -- has come as a defender, which might come as a surprise. For all the consternation about the situation at point guard, lack of depth and the rest of it, frontcourt defense had to be a nagging doubt for the Heat headed into spring. Sure enough, the decisive factor in Heat's Game 3 loss was the Heat's inability to disrupt Garnett on the low block -- and Bosh knew that.
"We couldn't let him catch it on the post," Bosh said. "We wanted to be more aggressive with our fronts, try our best to push him out a little bit further away from the basket."
Watching Bosh battle Garnett, communicate vocally with Anthony when the two shared back-line duties and contest every potential entry pass were some of the more heartening things for the Heat on Monday night. The Celtics will undoubtedly adjust in Game 5. Rather than just try to feed Garnett in the post, they'll run some down screens for Garnett, hit him with a pass off their single-double actions for Ray Allen, or get him going from midrange.
If Bosh can respond without needing help, that will allow the Heat's wings to play aggressively rather than reactively -- and should produce another efficient defensive performance.
Is the Heat's smallball their best ball?
The Heat played all but three possessions of the fourth quarter of Game 4 with a frontcourt of Bosh and James. The result?
They outscored Boston 17-13 in a pitchers' duel.
Proponents of Heat smallball shouldn't be discouraged by the 17 points. If you watch the catalog of the Heat's fourth-quarter attempts, you'll see a nice selection of shot from close range the Heat failed to convert but would happily take again tonight. The spread floor produced driving lanes for Wade and James to attack the rim. And with Bosh luring Garnett -- the Celtics' only big man on the floor -- out of the paint, there were no big bodies to contest the Heat inside. On the couple of occasions Garnett dropped back to help, Bosh exploited the decision by establishing position underneath (see the layup with 5:17 left in regulation to give the Heat the lead).
When a game becomes a perimeter-oriented affair, the Heat might be the best defensive team in the league. In those closing 12 minutes, James and Wade either locked down their individual matchups or, when they were patrolling the weakside, pressured passing lanes and swarmed the middle.
So do the Heat go without a center during crucial stretches in Game 5?
That depends on what the game demands. The Bosh-Anthony tandem has been invaluable defending the pick-and-roll and shouldn't be discounted. But if the Heat want to turn Game 5 into guerrilla warfare, they might opt for smallball again. That would maximize speed and spacing -- and encourage James to operate closer to the basket. Fans of the Wade-James pick-and-roll are well aware the Heat rarely make that play call when James is at the 3. Any scheme that urges James to be a bully makes the Heat a much tougher team to defend.
Will the Celtics continue to abandon the offensive boards?
The Celtics apparently don't believe in second chances. Of the 38 available offensive rebounds in Game 4, how many did the Celtics recover on their basket?
Just 3. Their 7.9 percent offensive rebound rate was the team's lowest in the playoffs and, not coincidentally, it was their worst offensive efficiency of the playoffs as well.
The Celtics are the worst offensive rebounding team in the league for a reason: they'd rather stop transition. Once the shot goes up, almost every Celtics player retreats back on defense to bottle up the Heat's vaunted transition game. Boston's defense was terrific in the open court, stopping Wade's and James' attacks before they even started. But it came with a cost: The Celtics' offense was almost always one-and-done.
There's a fascinating tradeoff here. Do the Celtics continue to surrender second-chance opportunities or do they crash the boards to rescue a struggling offense? Many decorated coaches (Gregg Popovich and Stan Van Gundy, to name a couple) choose to abandon the offensive rebound game to set up their defenses, but usually it's because their offenses don't need second-chance opportunities.
The Celtics, however, need all the help they can get on the offensive end, especially with a wounded Rajon Rondo. Look for the Celtics to get Garnett back on the block, where he was most effective in Game 3, and helping out on the boards. Garnett and Glen Davis didn't secure an offensive rebound in Game 4, but don't expect that to happen again.
Is this Shaquille O'Neal's final game?
Lost amid the swirling storylines of the series is the prospect that one of the NBA's most gigantic legends could be suiting up for the last time.
How do we begin to quantify O'Neal's contributions to the game? Let's start with the record book. He has played 50,017 minutes in his NBA career (regular and postseason) -- that's about five weeks' worth. O'Neal is the active leader in points, total rebounds, offensive rebounds, blocks, field goals, field goal percentage, free throw attempts and fouls. He's won an MVP award, four NBA titles (one of them with the Heat and Wade) and was named Finals MVP three times. His career Player Efficiency Rating of 26.43 trails only Michael Jordan and LeBron James.
O'Neal's legacy transcends anything numeric. Heat rookie Dexter Pittman was 4 when O'Neal was drafted in 1992 by the Magic out of LSU. At the time, Orlando was still a fledgling expansion team and when O'Neal was asked how he felt about going to a small market in central Florida, O'Neal responded, "Orlando has Disney. I like Mickey. I'm looking forward to going to Disney and chillin' with Mickey."
Though O'Neal entered the league long before the digital explosion, his charisma and unfiltered relationship with fans made him arguably sports' first and most aggressive social media star. He was the first high-profile NBA player to embrace Twitter and
use it to further his already outsized personal brand
. O'Neal always understood that character arcs and robust public images are as essential to the game's livelihood as slam dunks and championship banners. The drama surrounding his arrival, tenure and departure with the Lakers will be one of the most enduring chapters of the basketball era.
If the Heat are able to build a big lead Wednesday night and Doc Rivers inserts O'Neal into the game, will the Miami faithful give him a standing ovation? If they have a sense of history and an appreciation for the pageantry of the game, they will.
May, 6, 2011
5/06/11
2:40
PM ET
Nathaniel S. Butler/NBAE/Getty Images
With Shaquille O'Neal expected to play on Saturday, this is a matchup Heat coach Erik Spoelstra may want to avoid.
MIAMI -- Shaquille O'Neal changes things.
On Thursday, Celtics coach Doc Rivers announced that he expects the 39-year-old center to play in Saturday's Game 3 and that will probably prompt a small adjustment from Erik Spoelstra and the Heat.
But if you ask the Heat players, you get the sense it's not something they're worried about at all.
"Obviously, having him back is going to be a boost of energy to the crowd and to the team," Dwyane Wade said at Friday's practice. "But it's our job to continue to execute our game plan and not worry about who's coming back and who isn't."
After Wade spoke, LeBron James was asked to share his thoughts on O'Neal's expected return.
"Whatever D-Wade said," James responded. "We will all play our game. You can only put five guys on the court at one time. We'll see what happens."
Does it change the Heat's frontcourt rotation?
"Nope, nope, nope," LeBron said.
Despite what LeBron insists, Shaq's return will probably change the Heat's frontcourt rotation.
Remember Erick Dampier? He'll likely have to dust off his jersey and suit up for Game 3 after being on the Heat's inactive list in the postseason, although Spoelstra made no indication about his status at Friday's practice. At 6-foot-11 and 265 pounds, Dampier represents the Heat's biggest body on the roster, a superlative that could put him on the court on keep-Shaq-out-of-the-paint duty.
On Saturday, that duty could last maybe five minutes. But if Shaq has the kind of impact that he's had this season, every minute will be crucial to the Celtics' success. Pete Newmann and Dean Oliver of ESPN's Stats and Info department dug up some fascinating numbers on O'Neal's impact this season.
As old as he may be, the Celtics' offense hasn't been nearly as potent without him on the court -- especially against the Heat. Consider this: the Celtics averaged 121.1 points per 100 possessions with Shaq on the floor against the Heat this season, a whopping 26.2 points per 100 possessions better than when he was off the floor.
With Shaq in the fold, the Celtics improved their offensive game across the board. Virtually every Celtics player saw his efficiency skyrocket with Shaq next to them. Rajon Rondo shot 34.5 percent from the floor with Shaq off the court and 50.0 percent with him on the court. And Ray Allen? His field goal percentage soared from 50 percent (really good) to 68.8 percent (really great) with Shaq out there.
The team's assisted rate (percentage of field goals assisted) jumped from 61.4 percent to 66.7 percent, the team's rebounding rate climbed from 45.7 percent to 54.2 percent, and overall, the team's field goal percentage increased from 45.5 percent to 54.1 percent. Whether Shaq is directly responsible for all that, we can't be totally sure. But those are the facts.
What we don't know is whether the May version of Shaquille O'Neal will have a similar positive impact. Will he be in shape? How well will his body move? The Celtics don't know and the Heat clearly don't know either.
But the Heat will be prepared for him, although it probably won't involve the Heat's defensive savant Joel Anthony. Shaq tossed Anthony around like a rag doll in the fifteen minutes that he shared the court with him this season. Anthony's presence basically gave Shaq the green light to score. According to NBA StatsCube, Shaq tallied 24 points on 21.6 field goal attempts per 36 minutes with Anthony on the court. When Anthony sat on the bench? Shaq scored just 5.8 points per 36 minutes on just 2.9 field goal attempts. That's impact.
Spoelstra will likely keep the 6-foot-9 backup center on the bench during Shaq time. That's especially significant in this series because Anthony has been a game-changing presence on that end of the floor. At least on Saturday, the Heat won't have to make enormous adjustments, but there's no doubt that Shaq will change Boston's chances in this series. Whether it's a change for the better remains to be seen.
January, 19, 2011
1/19/11
3:50
PM ET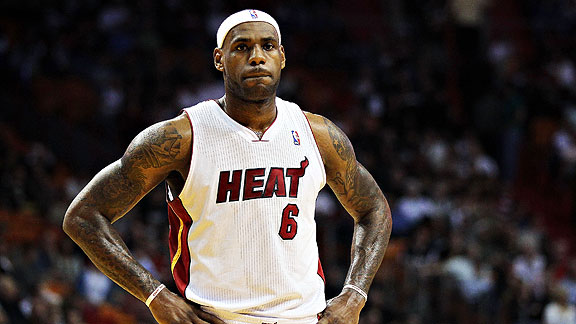 Mike Ehrmann/Getty Images Sport
LeBron James' success at power forward has a lot to do with who's playing alongside him.
LeBron James is a guard in skill but a forward in size. So when Heat power forward Chris Bosh missed his first game of the season Tuesday night, it seemed logical to slide James to the 4 and tap into the two-time MVP's versatility.
And that's exactly what Heat coach Erik Spoelstra did for long stretches against the Hawks. In all, James played 33 of his 44 total minutes in the overtime game at the power forward position. The unconventional lineup spurred the Heat to an 18-2 run in the second quarter, but it also suffered through rough patches at the conclusion of the first and third quarters. For the game, LeBron-at-the-4 lineups outscored the Hawks' units by one point.
But is that success a one-game blip or part of a wider trend this season? And what about his time in Cleveland? Moreover, does James even have the post-up game to emulate a traditional power forward?
Let's break it down.
LeBron at the 4 in Miami
With over half of the Heat's season in the books, we have watched Spoelstra deploy James at the power forward slot at several junctures, and the results have been interesting.
Overall, the formation has worked. The Heat have beaten opponents on average by seven points every 100 possessions with James playing the power forward slot. On the whole, the Heat are beating their adversaries by 9.2 points every 100 possessions, so it's not quite as effective as the status quo.
But dig deeper and we find that who plays the 5 in these lineups has a large effect on its success. More specifically, Bosh makes it very much worthwhile.
So here we see that lineups with James and Bosh manning the frontline have been remarkably effective, outscoring opponents by nearly 15 points every 100 possessions. This configuration's offense is just about unstoppable; the Heat have scored 97 points on 79 trips down the court (its 122.8 offensive efficiency is 14 points better than the Heat norm).
But there's a tradeoff. The defense gets less stingy with James and Bosh holding down the fort. In fact, when Anthony tags along with James down low, the defense has been about 10 points per 100 possessions better. (Helpful reminder: When talking about defensive efficiency, a lower number is better. Think of it like you would a golf score.)
Take notice of the stark change in the Heat's strengths. With Anthony, the Heat still manage to be a top defensive team even with James playing "out of position." But the offense suffers. And with Bosh in there at the 5, the Heat become on offensive juggernaut. Give up 10 points on defense, add 21 more on offense.
Given Bosh's and Anthony's vastly different skill sets, this shouldn't be a total surprise. But to see it illustrated so acutely in this half-season breakdown reminds us that simply putting James at the 4 doesn't guarantee a certain brand a basketball. It depends on who's flanking him.
While the sample size is limited, the success of lineups with James at the 4 seems to hinge on the center position. And if we look back even further into his days as a Cavalier, we see a similar trend.
LeBron at the 4 in Cleveland


Earlier this season, when Heat forward Udonis Haslem went down with a foot injury, I ran the numbers to find out how the Cavaliers looked when James slid to the 4. What did I discover? When Varejao played the 5, the Cavaliers were off-the-charts good. Like, outscoring opponents by nearly 30 points every 100 possessions good. Both offense and defense was stellar with the gritty Brazilian. But with Shaq? The Cavs were terrible. Same with Zydrunas Ilgauskas, whom Spoelstra has been very reluctant this season to pair with James at the 4. And that's probably not a coincidence.
Here are the illuminating numbers:
So how do we reconcile this information with what we know about the Heat? For one, the Heat don't have a player like Varejao who can run the court, score when you need him to, help out James defensively and seamlessly guard opposing centers. Granted, Bosh does most of those things well. Anthony does some of those things sufficiently. But Varejao does it all exceptionally.
And it's instructive to look at Ilgauskas' numbers. Pairing a lumbering center with James at power forward is like asking Usain Bolt to run the 100 meters while dragging a mid-size sedan. There's a reason Erick Dampier and Ilgauskas have been used sparingly with James at the 4.
But in these lineups, is calling James a power forward just an empty designation? Can he play on the block?
LeBron in the post


Finding deficiencies in James' all-around game sometimes feels silly. After all, he's already the most talented player in the league at age 25 and has been for quite some time.
James' game may be extraordinarily versatile but it is not laterally complete. If he puts his back to the basket, he suddenly doesn't look as confident with the ball. But data suggest that we may be overexaggerating his ineffectiveness on the block.
Synergy Sports' scouting reports generated from video breakdowns tell us that James has scored 42 points on 48 post-ups this season, an efficiency that ranks 40th among the 71 players with as many plays down low as James. For the sake of comparison, Paul Pierce ranks third and Kobe Bryant 19th.
But last season, James fared far better on the block, perhaps due to familiarity and continuity within the Cleveland offense. He scored 1.14 points per post-up last season which ranked first among the 55 players that matched his attempts and that included Bryant and Pierce.
So James certainly has the potential to be a great post-up presence and he's shown impressive results, but he tends to shy away from the block. The post-up game represents only 4.5 percent of his overall offense, which pales in comparison to some of his wing contemporaries. For reference, Bryant goes there four times as often. Now, part of that is due to offensive schemes, but it's also a testament to preference.
In Tuesday night's loss to the Hawks, James rarely put his back to the basket and ran limited pick-and-rolls as the screener, despite playing the role of the big man. He hasn't fully embraced what it means to play the 4 in conventional terms but he's not a conventional player, either. There's still plenty of room for him to grow as a player -- and that's a scary proposition for the rest of the league.
November, 18, 2010
11/18/10
12:21
PM ET

By Kevin Arnovitz
ESPN.com
Archive
Prior to the Heat's game last Saturday against Toronto, the Professional Basketball Writers Association presented Chris Bosh with its annual Magic Johnson Award, which is given to the player who combines on-court performance with steady cooperation with the media.
Four nights after being honored for his cooperation with the press, Bosh rewarded them by following up his 35-point effort against Phoenix with this quote during his postgame sideline interview on ESPN:
Q: "Coach Spoelstra said over the last three days it's been like training camp, really taking you guys back to the beginning. What was the biggest message he sent over those those three days of hard practices?"

Bosh: "We got back to getting after it. I guess he felt he was loosening up just a little bit too much. And he knows he has to meet us halfway. He wants to work. We want to chill. But we're going to have to work to get everything down, to get our timing down and get our chemistry down."
By suggesting that he and his teammates share a lesser affinity for practice than Erik Spoelstra and the Heat coaching staff, Bosh committed what's referred to in political journalism as a Kinsley Gaffe: He told the truth by accident.
In an unfiltered moment, Bosh expressed a reality that's anathema to many fans and sportswriters, namely that there are things basketball players would often rather be doing than running through full-contact 5-on-5 drills and repetitive workouts.
In Miami, Bosh's remark has a more specific context. Erik Spoelstra is a direct descendent of Pat Riley's coaching tree. Though Spoelstra isn't nearly the taskmaster Riley is -- witness the irony of the Heat's having Thursday off before their Friday game against Charlotte -- Miami's current head coach has grown up in an organization that places a premium on grueling preparation.
In his 2001 book "
Shaq Talks Back
," published about three years before Shaquille O'Neal was traded to Miami and a little more than four years before Riley became O'Neal's head coach, O'Neal swore he'd never play for Riley. He relayed a common perception among players in the league:
I would never play for Pat Riley. Part of the reason was because he played me only twenty-five minutes at my first All-Star Game in Salt Lake City in 1992 ... Maybe an ever bigger reason is those five-hour practices he puts his teams through. Riley is known as a workaholic, and during the season he runs his team until they drop. I think Riley burns out his teams. All those suicide drills, where you run and run. It just takes too much out of you. I'm coming up on thirty years old. I don't need more than two hard hours. Watch some film. Tell me what you need me to do. That's it. Unless a team is falling apart, that's all a real professional needs to get ready for an NBA game. Trust Me.

I think Riley burns out his teams. All those suicide drills, where you run and run. It just takes too much out of you. Look at his Knicks and Heat teams and see how fresh they were at the end of the regular season. I'm not saying the man is not one of the greatest coaches to ever coach the game. I'm just saying as a hard-working NBA player I don't know how much my body can take.
O'Neal recently discussed his misgivings about his time in Miami with Riley
with the Times Picayune.
It's no coincidence that when Sports Illustrated polled NBA players in the spring of 2008 about which coach they'd least like to play for, Riley was the decisive winner -- despite the fact that he'd coached five teams to NBA titles. What motivated the plurality of voters? Without exit polls, we can't possibly know, but O'Neal's comments offer us a hint. His opinions are notoriously overstated for effect, but they're not necessarily outside of mainstream thought in the NBA.
Spoelstra's posture with his team as head coach probably isn't as erect as Riley's, but if Monday and Tuesday came anywhere close to what the Heat's team president required when he was running practices, Bosh and his teammates' desire to chill isn't surprising. However unpalatable it might be to the fan watching at home, NBA players are more like any other working stiff than they are different. They tend to size up workplace conditions on a relative basis.
Bosh's misdemeanor on Wednesday night wasn't confessing he preferred a less demanding practice schedule than the one posted on the Heat's dry-erase board. It was saying it aloud in front of a very large camera.
October, 25, 2010
10/25/10
5:58
PM ET

By Brian Windhorst
ESPN.com
Archive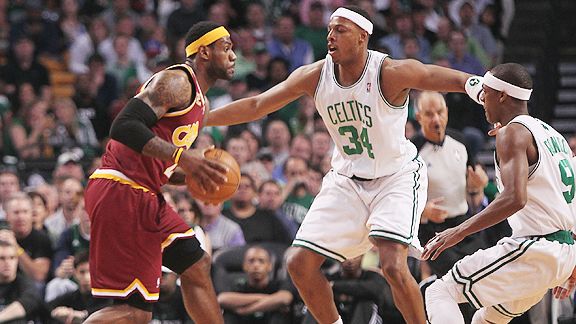 Jim Rogash/Getty Images Sport
Double-teaming LeBron James will present more complications than it used to.
WALTHAM, Mass. – They're trying to sell it, and are even making a good sound case. But nobody is buying it, especially the coach.
As they finished up their preparations for Tuesday's mega-season opener with the Heat, many Celtics were quick to shrug off all hype regarding the start of the season. A veteran-laden team with a stockpile of championship rings, the Celtics are used to the eight-month grind. And they're presenting a compelling case that they're unaffected by the attention.
It's just the first Tuesday of the regular season, they say.
"It means more to the media and the fans than to us," Paul Pierce said.
"The media has done a good job with the marketing," Shaquille O'Neal said. "There's talk of losing money. Not on Tuesday night. We ain't losing money, so thanks for that."
So it's just media, marketing and some overexuberant fans who are manufacturing the hysteria?
"Let's just be honest," Celtics coach Doc Rivers said. "Everybody is excited about it. Our guys try to downplay it until you walk through the locker room and you can hear them talking about it. And the film is on all day watching Miami."
That's what we thought. Say what they will, the Celtics are quite interested in getting the first crack at Team John Dillinger, as LeBron James branded his new squad over the summer. So is the rest of the NBA, which likely won't just be watching from a fan perspective but also trying to get an early scouting report on how to handle the new Heat.
No team in the league has been more impressive defensively over the past three years than the Celtics. For that matter, no team has done a more thorough job of keeping James and Dwyane Wade relatively in check.
Wade and James have put up some huge numbers -- even in the playoffs -- against the Celtics. James had a 45-point Game 7 in 2008. Last season, Wade had a high-scoring playoff series against the Celtics, tallying 46 points in Game 4.
But Boston has routinely bested them, employing an array of effective game plans. Sometimes the Celtics have allowed the scorers to get their points only to lock them down in the half court during crunch time. Other times they've forced Wade and James to their weak spots on the floor and invited them to take low-percentage shots under pressure.
A few daggers aside, the Celtics' blueprint has worked nearly flawlessly in recent years. Boston beat both Miami and Cleveland last season in the playoffs. In fact, no team has beaten James more in the past three seasons than the Celtics, effectively neutralizing his greatness twice in the playoffs.
So if any team can find a formula to do it to
both
James and Wade at the same time, it just might be the Celtics. And so it is quite appropriate they get the first shot at the Heat. Coaches and players across the NBA will be taking notes.
"It doesn't matter what they score, I don't care," Rivers said. "I would like them to score under 10, that would be terrific. But if they both score over 30 and we win, I'm going to feel very good about that game.
"We're going to trust our principles; that is who we are. We've been asked over the last few years if we have this 'Dwyane Wade defense' or this 'LeBron defense' and we laughed. We never changed our defense. We play our defense. We try to get people off their spot. We try to get them to take the shots we want. If they make those shots, we're fine with it."
That is a confident response from a systematic defensive team. But can that system withstand what O'Neal is already calling a "legendary backcourt" of James and Wade, while at the same time also accounting for Chris Bosh?
The Heat plans for the answer to be no. That was the motivation behind creating a superteam that was unguardable even by the best in the business.
The Celtics – and other quality high-end defensive teams like the Lakers and Magic – hope the answer will be yes. After all, there is only one ball. By using sound defensive techniques and communication, defenses can put those strategies to work against five All-Stars at once. "Good pitching beats good hitting" and similar metaphors have often prevailed in playoff basketball.
Pierce tried to explain this concept. By tilting the defense to where the ball is -- "loading," as Boston calls it -- and getting help from active and intelligent teammates, defending the Heat should be like guarding any other team with a star or two. But the more Pierce talked, the more you could tell he knows this challenge is different.
"It is hard to defend LeBron one-on-one so it is always important for five guys to be aware of where he is," Pierce said, returning to a standard tactic.
But then he had to elaborate.
"The bad thing about it is they have Dwyane Wade on the other side now. We all have to keep our antennae up."
Then Pierce kept going.
"Along with Chris Bosh. We have to be very aware of where these guys are on the court at all times. It's going to be a challenge."
That's even more true Tuesday because the Celtics, like the rest of the league, have roughly three minutes of video to consult of Wade, James and Bosh playing together. James and his teammates have often pointed out that they're behind because of injuries -- but opponents are behind trying to prepare for them, as well.
All of which adds even more spice and intrigue to the opener.
"I would have liked to have seen them a couple times," Rivers said.
"We all, especially coaches, are a creature of film. That three-minute flip clip is not very good to break down. You've got to guess in a lot of ways. This is where we think Wade would be, but he could be on the other side of the floor."
Nothing is settled in October -- or in November, when the teams meet again in Miami two weeks from now. While the Heat will hardly have their systems running on full speed, the Celtics will not be whole. Delonte West, a defensive specialist signed over the summer because of his rugged style and knowledge of James, will not play in either game because of a league suspension. And Kendrick Perkins, the Celtics center, continues to rehab his right knee and isn't expected back in action for at least three months.
So both teams are quick to point out that few conclusions will be reached Tuesday. But don't be fooled -- they both care a lot about what happens on day one.
"Once LeBron took his talents to South Beach, I think everyone got excited," Rivers said. "They've formed a superteam. I've said it a hundred times, I'd rather kindle the fire than start one."