Miami Heat Index:

Tim Duncan
June, 10, 2013
6/10/13
5:07
PM ET
MIAMI -- As the
Miami Heat
were in the midst of a dominant second-half run on the way to a Game 2 victory in the Finals against the
San Antonio Spurs
, point guard
Mario Chalmers
approached
LeBron James
near midcourt with a message.
"I felt like we had them on the ropes," Chalmers said of the powerful and brief conversation with James. "I told [James], 'Let's go for the kill.' He said, 'I'm with you.'"
Actually, it probably should have been the other way around. With Chalmers leading a group of Heat role players who sparked a 33-5 run to put Sunday's game away, it was James' supporting cast that served notice its presence would be felt as the Heat tied the series 1-1.
While much of the focus in the Finals will be on the respective Big Three members of the Heat and Spurs, the outcome of the games will likely continue to hinge on which team gets the biggest boost from its supporting cast.
That developing trend continued in Game 2 of the Finals, when Chalmers and Miami's role players stepped up in the decisive moments of the game. James got off to a sluggish start and didn't get going until late in the third quarter. Meanwhile,
Dwyane Wade
and
Chris Bosh
combined for 22 points, 12 rebounds and 10 assists in a rather pedestrian, yet productive outing from Miami's Big Three unit.
But it was the next four players in the Heat's rotation that made the difference. Chalmers had 19 points and didn't commit a turnover;
Ray Allen
continued his shooting resurgence with 13 points off the bench; and
Mike Miller
and
Chris Andersen
combined to make all six of their shots for 18 points to spark Miami's 103-84 victory.
"Obviously, there are going to be certain games where guys will have to be special," Wade said. "But we like to have games like this, where everyone is involved and the ball is moving around and guys are feeling like they're involved and they're comfortable and confident."
The most impressive aspect of the Heat's 33-5 run was that the damage was done with Wade and Bosh enjoying all but a combined two minutes of it from the bench. Chalmers, Allen, Miller and Andersen scored 22 of the 33 points and made seven of eight shots during the run. James scored the other 11 points as Miami went from trailing 62-61 late in the third to leading 94-67 midway through the fourth.
"It's the key," James said of role players swinging the series in either team's favor. "The Big Three on both sides, you know you can kind of rely on them at all times. But I think the supporting cast is really why both teams are here. They've been making an impact all year long. [The Spurs] feel like their supporting cast is better. We feel like our supporting cast is better. It's who goes out and does it each and every night to help seal the wins."
Miami's answer Sunday came in response to big plays made by role players in support of
Tony Parker
,
Tim Duncan
and
Manu Ginobili
in San Antonio's Game 1 win. Parker's miraculous bank shot in the final seconds provided the biggest highlight from Thursday's series opener. But it was
Danny Green
's 3-pointer with 2:29 left that gave the Spurs enough of a cushion to hold on for a 92-88 win.
Green,
Kawhi Leonard
,
Tiago Splitter
and
Gary Neal
accounted for 36 points and 19 rebounds in Game 1 to help make the difference. The Heat had the edge in Game 2 as Chalmers, Miller, Allen and Andersen combined for 50 points on 65.3 percent shooting, along with nine rebounds.
"This series probably is defined by all the little things," Heat coach Erik Spoelstra said. "Small things will make a major difference because the talent level is pretty equivalent. So it's going to be loose balls, rebounds, execution, guys coming in with confidence, being aggressive and that type of thing. Everybody's fine with it."
Spurs coach Gregg Popovich said the outcome of Sunday's game was determined by the struggles of his future Hall of Famers and not a lack of support from others.
Parker, Duncan and Ginobili missed 23 of their 33 combined shots in Game 2 against a Heat defense that was more aggressive and disruptive than it was the previous game. After forcing just four turnovers in Game 1, the Heat scored 19 points off 17 San Antonio turnovers Sunday.
"Tony, Manu and Timmy were the ones that were 10 for 33," Popovich said. "I'm not going to put that [responsibility for the loss] on the bench. That's when every team is at their best, when the perimeter is making shots, when the bench is playing well, when you have a lot of contributions. That helps you win basketball games."
Despite the sloppy play, the Spurs got 14 rebounds from Leonard and a perfect shooting night from Green, who made all six of his shots, five of which were 3-pointers. But even with Leonard, Green, Splitter and Neal contributing 40 points and 18 rebounds Sunday, it wasn't nearly enough.
The Spurs expect to regroup as the series moves to San Antonio for the next three games, starting Tuesday night.
"We know one of the main reasons why we are here [in the Finals] is because they had a terrific season," Ginobili said of the Spurs' role players. "Kawhi grabbing 14 rebounds, Danny shooting 5-for-5 [on 3-pointers], that really helped us. So Tim, Tony and me, we have to step up. We have basically no shot winning a game against [Miami] if none of us played good. So we definitely have to step up."
Meanwhile, Chalmers looks for those he refers to as Miami's "others" to maintain their impact moving forward.
"It's very important," Chalmers said. "Their second unit had a big game in Game 1. Our second unit had a big game [Sunday]. So it's going to be the tale of 'The Others.'"
June, 7, 2013
6/07/13
2:36
AM ET

By Tom Haberstroh
ESPN.com
Archive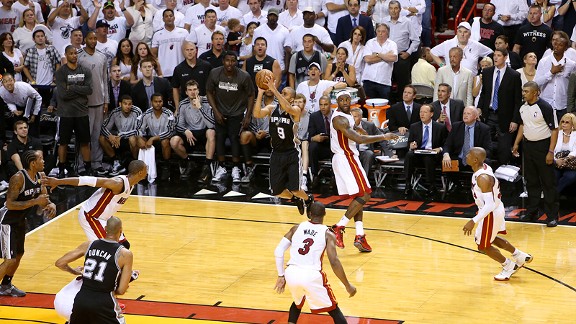 Mike Ehrmann/Getty Images
The San Antonio Spurs took Game 1 of the NBA Finals thanks to Tony Parker's late heroics.
Tony Parker made a shot at the end of the shot clock to put the San Antonio Spurs up 92-88 with 5.2 seconds remaining to help ice the Miami Heat in Game 1 of the NBA Finals.
Here's how it happened ...
... in their own words.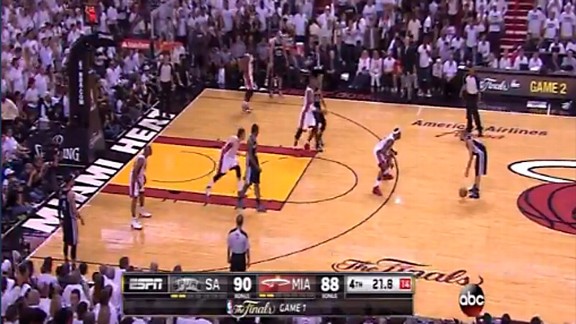 Erik Spoelstra:
That seemed like a 26-second possession.
LeBron James:
You're going to make me go back to that play?
Manu Ginobili:
He had LeBron on him.
Tony Parker:
I knew he was coming. Obviously a lot of NBA teams, they put bigger guys on me.
Tim Duncan:
I think at this point my mind was just blank. I just wanted him to get a shot up in the air.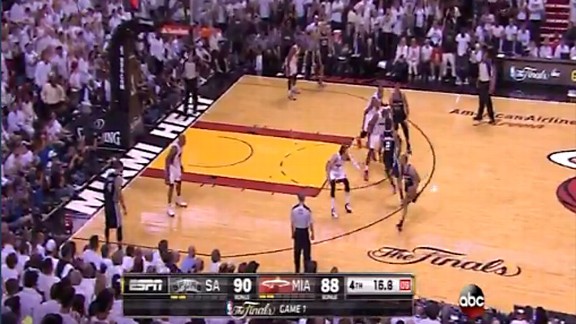 Parker:
If LeBron is on me, I just have to try to keep playing the same way, pick-and-rolls.
Ginobili:
I think we waited too long for him to play that pick-and-roll, and they are so good guarding that and helping and rotating and long arms on the ball.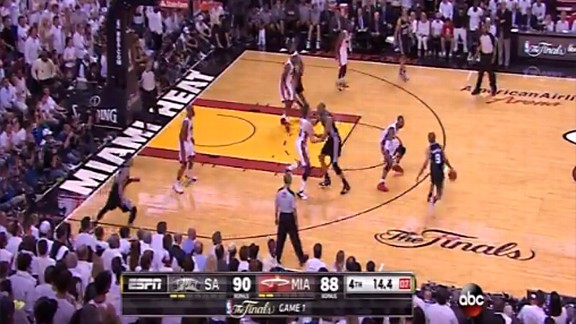 Duncan:
I was trying to get position on the board, trying to work Bosh up the lane a little bit, so I could get back to the board.
Spoelstra:
We played it all the way through. That's probably what this series is about.
Parker:
It felt forever. It didn't work out like I wanted it to.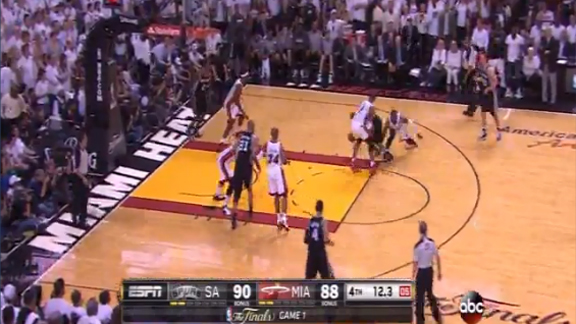 James:
He stumbled two or three times.
Spoelstra:
There were a couple of loose balls where it might have been an opportunity to make it a jump ball, and then he just broke through.
Gregg Popovich:
It looked like he lost it two or three times.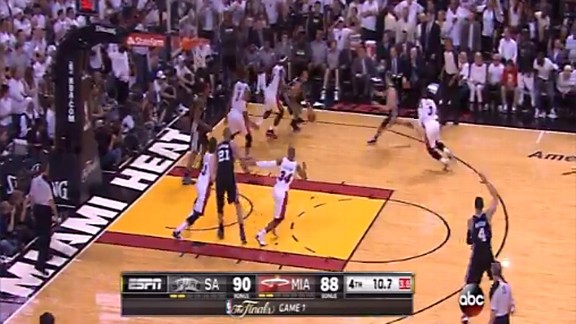 Ginobili:
He lost it twice, so I was trying to just [chase] him around to get him an outlet.
Danny Green:
That wasn't drawn up, but he made it look like it was.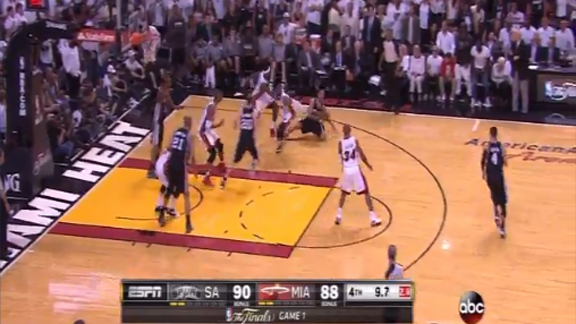 James:
He fell over, and when he fell over, I was like, 'OK, I'm going to have to tie this ball up.'
Duncan:
I see him go down and I'm just praying he gets a shot off. He does just about everything in the book that he had.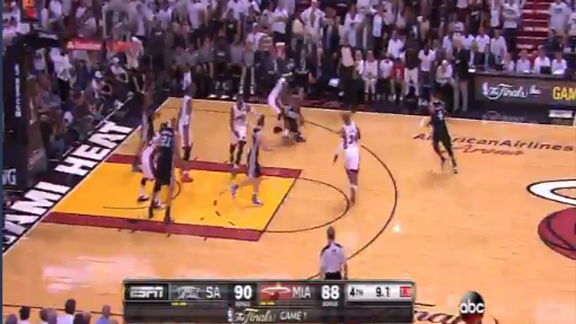 Parker:
I thought I lost the ball three or four times.
Popovich:
He stuck with it. He kept competing.
Spoelstra:
It's going to go down to the last 10th of a second.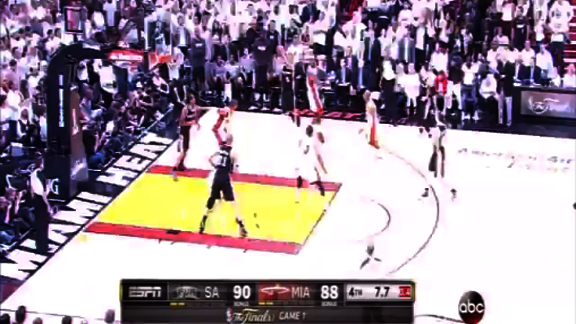 James:
He got up and went under my arm. I got a great contest, and he even double-pumped it and barely got it off.
Spoelstra:
You can't leave it to chance, even if it's right there at the end of the clock, a body in front. Hopefully you try to make him shoot over the top, but he made a tough play.
Parker:
At the end, I was just trying to get a shot up. It felt good when it left my hand.
Popovich:
He got it up there on the rim.
Ginobili
When he turned to the other side and threw it up, I thought it was late. But going back in the timeout, they told me it was good.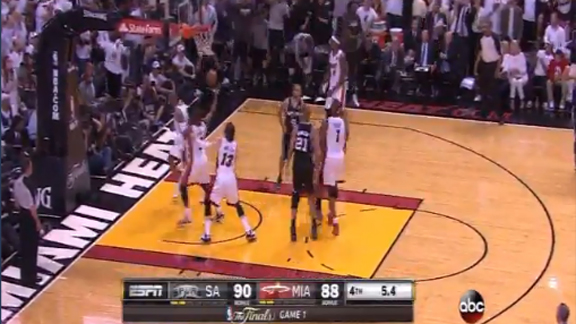 Parker:
I was happy it went in.
Duncan:
It was just amazing.
Ginobili:
And of course Tony's shot is one of those things that happens sometimes. We got lucky today. One of those things that could have been either way. It was just so close, but it was an unbelievable shot. That was the game winner.
Green:
That last one wasn't executed the way we wanted, but Tony made a big play.
Popovich:
We were very fortunate. Great effort by Tony, and as I said, we were fortunate.
Spoelstra:
He made a tough play, and you have to give him credit for that.
James:
Tony did everything wrong and did everything right in the same possession. That was the longest 24 seconds that I've been a part of.
June, 6, 2013
6/06/13
1:32
PM ET
MIAMI -- Eventually, it was inevitable.
So what in the world took so long?
All things considered, the only surprising element to the NBA Finals matchup between the
Miami Heat
and the
San Antonio Spurs
is the amount of time it has taken for them to finally cross paths with a championship at stake.
But when the teams play Game 1 on Thursday at AmericanAirlines Arena, it won't be a clash of bitter rivals who despise one another. Instead, there are so many top-down connections the Heat and Spurs share -- from the heads of their organizations to the veteran voices at the end of their benches -- they'll enter the Finals far more like mirror images than mortal basketball enemies.
"The only thing I've known since I've come in the league is the Spurs have been run by [Gregg] Popovich and the Miami Heat have been run by Pat Riley," Heat coach Erik Spoelstra said Wednesday. "Because of that mutual respect and the consistency of culture, I think probably both franchises thought at some point in the last 18 years that we would have met in the Finals. And we haven't."
Until now.
Those parallel paths trace back to 1995, when Riley took over the Heat a year before Popovich transitioned from the front office in San Antonio to the Spurs' bench. Since then, the two have served as either executives or coaches -- or in both capacities -- to established standards of excellence that render seasons a failure if they don't end in the Finals.
By the time this Heat-Spurs series is over, the teams will have combined to win seven titles in a 14-year span.
Along the way, the teams have maintained a mutual respect and admiration. So it was no coincidence when Popovich was one of the only coaching or front-office peers to call and congratulate Riley in July 2010 after the Heat acquired
LeBron James
and
Chris Bosh
to join
Dwyane Wade
in the biggest free-agency coup in NBA history.
Popovich reflected on that conversation with Riley on Wednesday as his Spurs prepared for perhaps the most formidable team they've faced in five trips to the Finals.
"He put together a team fairly, within the rules, that is a monster," Popovich said Wednesday of a Heat team led by a four-time MVP in James, the 2006 Finals MVP in Wade and a perennial All-Star in Bosh. "So why wouldn't he get credit for that? Why wouldn't you congratulate him for that? He lets people do what they do, puts things together, and he put together a hell of a team. And so I called him to thank him because I respect him so much."
Popovich paused, considered the task he has at hand in the coming days and immediately clarified his gratitude.
"Not to thank [Riley], but to congratulate him," he said. "That's the last thing I'd do is thank him for doing that."
In reality, all the Heat were doing was borrowing from the blueprint the Spurs had established years ago. Although the
Boston Celtics
tend to get much of the credit for reviving the Big Three era when they acquired
Kevin Garnett
and
Ray Allen
to join
Paul Pierce
in 2007, the Spurs had already perfected the formula to the tune of three titles with their core of
Tim Duncan
,
Tony Parker
and
Manu Ginobili
.
When Riley spoke to reporters near the end of the regular season in April about the future he envisions for the Heat, he mentioned the Spurs' model as the one he'd like to follow in designs to keep James, Wade and Bosh together for a decadelong run of Finals appearances and titles.
Normally, the Heat draw from some level of disdain or scorn to help inspire them to face a postseason rival. But this matchup is filled with far too much admiration to get outright nasty. And it's completely genuine.
The track record speaks for itself.
The Spurs have put together 14 consecutive 50-win seasons and are undefeated in their four previous trips to the Finals. Meanwhile, the Heat have had winning seasons in 14 of the 17 years Riley has been at the helm of the franchise.
San Antonio is built around a four-time champion in Duncan, who is regarded by many as the best power forward to ever play the game. Miami's catalyst is James, who at age 28 has won four MVP awards in the past five seasons and should be considered the greatest small forward -- if not best player overall -- by the time he's done.
The similarities also extend to the end of their benches, where Miami brought back
Juwan Howard
in the spring to be a veteran presence and leader in the locker room. San Antonio, on the other hand, reached out to former superstar
Tracy McGrady
for the same role and a shot at a ring.
But there are also a few approaches that make these franchises distinctively different. Although the Spurs have built their foundation through the draft, the Heat bought their major pieces in free agency. San Antonio has successfully mined foreign markets for players such as Parker, Ginobili and
Tiago Splitter
. Miami has strongly preferred players who have been groomed through domestic ranks.
Yet in the Finals, they've still landed on common ground.
James, whose
Cleveland Cavaliers
were swept by the Spurs in the 2007 Finals, said he has applied some of San Antonio's basic concepts to teams he has played with the past few years.
"I think the one thing that you kind of always see, no matter what, they've always shared the basketball and played as a team," James said. "That's winning basketball. You always see the Spurs doing that. They're in the Finals for a reason; for their experience, how well they're coached, how balanced they are and their championship DNA."
Parker returned the sentiment Wednesday by saying the Heat would be the toughest team he has faced in the Finals. Parker and James also faced virtually the same line of questions about their overall development since the 2007 Finals.
"Against Miami, it's the last step," Parker said. "It's going to be the hardest one, because winning a championship is very hard. LeBron is going to be very tough. But it's a great opportunity for us to try to beat them."
That feeling is mutual. But at least one thing the teams don't have for one another is envy. The Heat love the spotlight and the attention that comes with being one of the most popular and polarizing teams in any major sport.
But with that comes a level of scrutiny and ridicule that has critics speculating on the possible breakup of Miami's core every time there's a rough patch. It happened in the days leading to Game 7 of the conference finals against Indiana.
On the other hand, there was hardly any national debate as to whether Duncan, Parker and Ginobili needed to part ways as the Spurs fell short of the Finals in recent years. The dynamic isn't lost on Wade entering Thursday's game.
"Their team was put together through the draft ... the way people feel is the right way, and ours was put together a little differently," Wade said. "So the conversation is different. We understand. We're not trying to be the Spurs. We're not going to get the same treatment, same talk. I'm sure they don't want to be us. Our team has done pretty decent. In our three years together, we've been in the Finals three years in a row. So we're doing something right."
So is San Antonio.
And Duncan completely agrees with Wade in that the Spurs want no part of the scrutiny Miami faces daily. They're fine with the notion that they're overlooked and under the radar.
"We play the same way, we do the same things, we've been blessed to win four championships, and we're blessed to be back and have a chance to win a fifth one," Duncan said. "So that's all that matters to us. I'm definitely glad I don't have that kind of [media] pressure on me. Absolutely."
March, 31, 2013
3/31/13
12:27
AM ET

By Brian Windhorst
ESPN.com
Archive
What would a potential Finals matchup between the teams with the two best records in the NBA, the
San Antonio Spurs
and
Miami Heat
, look like? What would be the strategy of the coaches? How would the individual defensive assignments work out?
No one knows.
In a league that thrives on rivalry development with regular-season meetings leading to a crescendo in the postseason, the Heat and Spurs might as well play on different continents. Because of scheduling quirks and Gregg Popovich's expensive decision on player rest earlier this season, the Spurs and Heat have only staged one legitimate game in the past 25 months.
All of which makes Sunday's Heat visit to the Spurs all the more interesting. There's an absence of data and an absence of feel between these two teams that could play for the title in June. Not to mention there's the race for the No. 1 overall seed. The Heat come in with a two-game lead in the loss column, and a victory would clinch the tiebreaker.
Dwyane Wade
has never played a regular-season game against
Kawhi Leonard
. The Heat's small-ball strategy has yet to deal with the
Tim Duncan
-
Tiago Splitter
front line.
If not for a meaningless preseason game that
LeBron James
didn't even play in last October, the Heat might not know that
Manu Ginobili
is still in the league. Ginobili hasn't played a regular-season game against the Heat since March 4, 2011, and he's dealing with a hamstring injury that will likely keep him out Sunday.
The past two games the teams played in which they put out their real lineups have been lopsided blowouts because of unusual hot shooting. The Heat won the only meeting in a lockout-shortened 2011-12 season when they set several records in shooting 68 percent in the second half. The Spurs won the Heat's last visit to San Antonio more than two years ago by 30 points when Miami was totally flat playing on the second night of a back-to-back that saw San Antonio take a 24-point lead … in the first quarter.
In December, Popovich famously sent Ginobili, Duncan,
Tony Parker
and
Danny Green
home on a commercial flight instead of playing them in the fourth game in five nights in a nationally-televised game in their only visit to Miami. Leonard and
Stephen Jackson
were injured at the time as well and did not play.
The Spurs' backups made it an interesting game with a gutty performance -- commissioner David Stern was not impressed and fined the Spurs $250,000 for Popovich's decision -- and the Heat barely pulled out a five-point win. But that game was as worthless as the preseason game when he comes to judging the two teams' relative strength against each other.
Schematically, the Spurs have the ingredients and the system to give the Heat plenty of problems. Parker's quickness is an antidote to the Heat's pressure defense, as is the Spurs' longstanding offensive style of moving the ball around the perimeter to set up 3-point shooters. The Spurs also have the ability to go small because of versatile big man
Boris Diaw
and Leonard's ability to guard so many different players.
San Antonio has also perfected a defensive trick that would be very useful against the Heat: avoiding fouls. The Spurs have given up the third fewest free throws in the league this season. The Heat are in the top 10 in free throws taken and fouls drawn.
In theory, and that's about all we have, the Spurs also have strong wing defenders in Leonard and Jackson, who at least give them a chance at making James and Wade earn their points.
Of course, the Heat own advantages over every opponent. Their athleticism and speed in transition would be a big issue for the Spurs, especially over a long series. Even with Duncan and Parker having terrific seasons, there is some doubt that San Antonio can overcome the troubles the
Oklahoma City Thunder
's young legs gave them in the playoffs last season. The Spurs are 2-1 against the Thunder this season with one more game coming in Oklahoma City.
The Spurs' defensive style of protecting the middle -- very successful over the past decade -- is the sort of system the Heat have been constructed to defeat. Miami's 3-point shooters are a tough cover for any team, and the Spurs would be no different. And wouldn't it be interesting to see James possibly defending Parker in the stretch run or even Duncan -- both are possible -- and give the Heat a lot of matchup flexibility?
The hope is some of those situations unfold in a real sample on Sunday. The game has real stakes and could, at last, give a real look at how these two juggernauts compare.
Then again, nothing with the Spurs and Heat has gone according to plan for awhile.
November, 29, 2012
11/29/12
1:48
PM ET
MIAMI -- Chris Bosh was simply trying to respect his elder. He meant no offense to Tim Duncan -- certainly not with a low-post matchup looming Thursday against arguably the greatest power forward in NBA history when the San Antonio Spurs visit the Heat.

Bosh, 28, only wanted to make it clear that a reporter's assertion was inaccurate when it was suggested that the Heat center and Texas native was a probably teenager when he started to admire Duncan's impact on the NBA game.

"Not to make [Duncan] feel old, but I might not have been a teenager," Bosh shot back. "I might have been a preteen. But he's been one of my favorite players growing up."

As one of the top high school players in the nation out of Dallas, Bosh once modeled parts of his game after Duncan during his initial seasons with the Spurs. Now Bosh is yet again faced with the challenge of trying to stop those same lethal low-post moves he emulated on his way to the NBA.

These days, Duncan is looking a lot like the dominant force that led the Spurs to four championships and barely resembles a 36-year-old player now in his 16th season.

With the Spurs riding a five-game winning streak into Miami, Duncan is averaging 18.4 points a game, his most since the 2008-09 season. He's also shooting a career-high 76 percent from the free throw line and 52.9 percent from the field, which is his most efficient mark since the Spurs last won a championship during the 2006-07 season.

"I mean, he just keeps going," Bosh said of Duncan, the league's current Western Conference Player of the Week. "I don't know how he does it. He's just like a timeless clock. He just keeps it moving. He's always been a great player."

Bosh also has had a recent spike in production during the Heat's four-game winning streak. He is off to the best start of his three seasons in Miami and has averaged 23.7 points and 11.3 rebounds while shooting 66.7 percent from the field over the past three games. But now likely comes Bosh's toughest assignment of the young season.

"I know Timmy is probably going to make some shots outside, he's going to try for the duck-ins, he's going to mix it up," Bosh said, mentally previewing a scouting report on Duncan he no longer has to actually read. "You can't fall asleep no matter what happens. If you're playing him the right way and he hits a jumper in your face, you still have to stay down on the pump fake. It's always a challenge to stay mentally focused and sharp no matter what happens."

Bosh, of course, has been familiar with Duncan's work for a couple of decades now. For the record, Bosh was indeed 13 -- a teenager -- when Duncan arrived in San Antonio as the No. 1 overall pick in the 1997 draft. Time flies, but Duncan's game has been aging gracefully.

"I just liked it because everybody said I was fundamentally sound in high school, and he was the 'Big Fundamental,'" Bosh said, referring to Duncan's NBA nickname. "It was encouraging to see somebody who was fundamentally sound could be actually considered a good basketball player. It hasn't always been like that, especially with younger guys. So that was encouraging for me to keep working on my game, keep working on the fundamentals."
November, 1, 2010
11/01/10
3:33
PM ET

By Kevin Arnovitz
ESPN.com
Archive
In
an interview with Details
, Dwyane Wade critiques Tim Duncan's sartorial shortcomings, gives us the scoop on Common's pseudo-dunk in "Just Wright" and confesses to being a teary moviegoer:
Q: Worst Style in the NBA?
A: "Tim Duncan doesn't care. He will wear a 7X shirt ... (laughing) ... he just doesn't care. I have a teammate, James Jones, he doesn't care. He has one polo and one jacket for the year. It's not the worst style. It's just their style. (laughing) It's not mine!"

On acting with Common in Just Wright: "When Common dunked in that one scene, the rim was lowered. They shot it right so it looked like he was getting up. Common, I love you ... but he didn't get up there at all!"

On crying at the movies: "I'm a softy when it comes to movies...I like romantic comedies. I might have shed a tear or two before. "The Titanic" may have got me a little. My eyes got a little watery in "Marley & Me." And I wasn't ashamed to tell my boys."
Apparently, there's pride in sentimentality when you have an NBA title under your belt.