Miami Heat Index:

Zyrdunas Ilgauskas
November, 23, 2010
11/23/10
10:53
PM ET
By Kevin Arnovitz and Tom Haberstroh
ESPN.com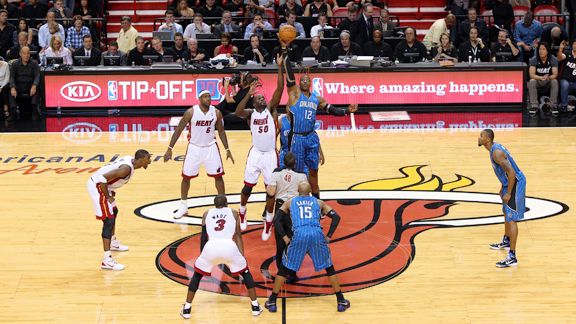 Ned Dishman/NBAE/Getty Images
The October 29 meeting between Miami and Orlando seems like an eternity ago. What's changed?
Paint Job
Seven
shot attempts in the basket area -- that's all Miami surrendered to Orlando in the teams' first meeting on October 29. Although Dwight Howard played only 29 minutes after falling into early foul trouble, the Heat's razor-sharp defensive schemes deserve much of the credit for confining the Magic's half-court game to the outskirts of the perimeter. Re-watching the game nearly four weeks later is a bizarre exercise. The Heat's defense against Orlando is spinning at 78 RPM. Chris Bosh, LeBron James, Dwyane Wade, Udonis Haslem and the basketball player formerly known as Joel Anthony jump out aggressively onto Jameer Nelson's shoulder on every ball screen. Those dribble-handoffs run through Dwight Howard at the top of the key? Every Magic recipient is either met by a defender on the other side or is denied altogether with the Heater playing directly on his hip. While the Magic pass the ball around the perimeter desperately searching for a way in, the Heat tighten the pressure on the ball side of the floor, doing their best Boston Celtics imitation. On the rare occasions when Nelson or other perimeter players were able to make progress or Howard received an entry pass off the block, Miami's help-line defense was quick and decisive with its rotations. We haven't seen that kind of effort from Miami in almost and month -- but beating the Magic on their home floor will demand it.
Regaining Their Stroke
As clichéd as it sounds, the Magic often live and die by the 3. The latter was their fate in the Magic's first clash against the Heat as the Magic missed 20 of their 24 3-point attempts on their way to a 26-point loss. But outside of the Heat's home opener, Orlando has shot 38.1 percent this season, raising the question whether the cold shooting at AmericanAirlines Arena should be attributed to the Heat's distracting close-outs or just random luck. Heat coach Erik Spoelstra credits his D some but fears a correction. "Sometimes you can play great [defense] against Orlando and they hit 3s right in your face," Spoelstra said Tuesday. "But you have to keep on sustaining and hopefully over the course of 48 minutes you're able to get enough stops where they miss 3s and you're able to secure the rebound. But you can't expect that."
Get to Work
The first month of the NBA season is fraught with small sample size theater and fluky outliers. But as the standings begin to settle and the jackrabbits return to the pack, there are the Orlando Magic -- atop the league in defense efficiency once again. The Magic aren't a fancy unit defensively and they won't be suckered into bad bets. They have a well-defined to-do list: First and foremost, slow the ball. Chase shooters off the line. Avoid double-teams at all costs -- even against individual talents such as James, Wade and Bosh. Don't overcommit -- when you need to help, do so quickly, then recover promptly. Miami must force Orlando into help situations and that means getting the ball to its most dangerous players in the most dangerous spots. The Magic would love nothing more than to watch James heave up quick 20-foot jumpers off uninspired high screens. The Heat will be tempted to lure Howard out of the paint by running the all-to-familiar pick-and-pop game with James and Zydrunas Ilgauskas. Again, Orlando will gladly cede those jumpers to Big Z (but will still close out strongly). In order for the Heat's offense to succeed in the half court, it will have to
move
because the Magic won't just hand James and Wade easy mismatches for one-on-one exploitation. The Heat must ask themselves what they want on a given possession, then unleash their superior speed to achieve it. Dribbling at the top of the floor won't work -- particularly with Howard patrolling the paint. Get guys the ball
on the move
.
Heart of Glass
First in the league in defensive efficiency -- and first in the league on the boards. It's a rare possession that the Magic give the opposition more than one opportunity to score. And even though Stan Van Gundy imposes a strict prohibition on his perimeter players crashing the glass for second chances, Orlando still has a league-average rate offensive rebounding rate. Meanwhile, Miami hovers in the middle of the pack as a rebounding squad, but it had one of its best efforts of the season in their win over Orlando. If the Heat want to duplicate that performance -- and they'll need to -- then they must play a more active game closer to the rim. Offensively, James and Wade need to do what they do best -- drive to the hole with abandon and force Orlando to collapse. When that happens, help defenders who have left their guys tend to be out of position, which creates opportunities for putbacks on the weak side glass. Defensively, Bosh, whose counterpart will be finesse-4 Rashard Lewis, and the designated pivot man can't remain grounded. And James, whose rebounding rate is the lowest since his rookie season, has to become a hungrier presence on the boards. If nothing else, it'll allow him to ignite a few breaks and get a handful of coast-to-coast buckets.
Turnovers Igniting the Break
A season ago, the Orlando Magic were the proud owners of the league's second best offense in the league but it's slid 6.1 points per 100 possessions since then. What's the problem? Magic point guards have been uncharacteristically sloppy with the ball. That's especially true for newcomer Chris Duhon whose turnover rate so far in a Magic uniform has doubled his career norm. Jameer Nelson and Duhon combined for 5 turnovers in the Oct. 29 matchup. The Heat should be licking their chops since the transition game is the only thing that seems to be working offensively and turnovers award them those opportunities. Additionally, if the Heat seek to disarm Dwight Howard defensively, causing turnovers and jumping out in transition will be their best option.
November, 16, 2010
11/16/10
8:38
AM ET

By John Krolik
ESPN.com
Archive
Issac Baldizon/NBAE/Getty Images
LeBron James: an embarrassment of riches that can be difficult to tap.
LeBron James is the most versatile superstar the NBA has seen in years. He's extremely good when he creates shots for others, a force to be reckoned with when he drives to the basket, and almost literally unstoppable when his teammates occupy the defense and create shots for him. James' versatility produces a fundamental paradox: Should his coach build a gameplan around him in order to ensure that the team is getting the most out of each of James' abilities, or be confident that James' versatility will allow him to be an effective part of an offense built around others? Should LeBron be milked for maximum production, like he was in Cleveland, or molded for maximum efficiency, like he was in his last two international campaigns?
In James' last two seasons in Cleveland, a clear plan for how to use him emerged. Early in the game, James would look to get baskets by moving without the ball and try to set up his teammates when he had the ball in his hands. He'd find cutters diving to the rim or set up shooters coming behind back-screens with skip passes.
Late in the game, LeBron would go into overdrive. The offense went through him on every possession, with a few set plays designed to set up LeBron for a dunk or Mo Williams for an open 3-pointer thrown in to keep defenses off-balance. But mostly, it was LeBron going isolation or pick-and-roll and looking to drive, and four other Cavaliers being ready to shoot or cut to the basket if their men left them to help out on LeBron.
Was it predictable? Absolutely. But it was also extremely effective -- if you don't believe me,
check out the numbers
, or the Cavaliers' regular-season records. The Cavaliers used their version of the LeBron Plan in 157 regular-season games from 2008-2010, and they won 126 of them as LeBron coasted to two straight MVP awards.
The problem, of course, was that the Cavaliers' plan wasn't enough to beat the Magic in the 2009 Eastern Conference finals, despite James' stellar play in that series, and the Celtics made an absolute mockery of the Cavaliers' plan in last season's playoffs.
So LeBron went to Miami, and from an X's-and-O's perspective, it was hard not to get excited. With Dwyane Wade and Chris Bosh capable of carving apart defenses on their own, the Heat would be able to use LeBron in ways the Cavaliers never had the talent to. Miami could move James around the floor and allow him to attack the basket against defenses woefully unprepared to stop them, or he could find teammates for high-percentage look after high-percentage look.
So far, that hasn't happened in Miami -- LeBron is basically playing pick-and-pop basketball, settling for jumpers, and trying to make highlight-reel plays on the break, and it's led to some relative growing pains. Everyone expected that James' point totals would go down in Miami, but who could have predicted that his true shooting percentage would be lower than it has been since his rookie year, or that his turnover ratio would be a career-high?
The party line in Miami is that James is being more unselfish, and his assist totals have been high -- but his passing is much less efficient in Miami than it was in Cleveland. Last season, LeBron averaged 4.0 passes that led to shots at the rim and 2.5 passes that led to 3s per game. This season, those numbers have fallen to 1.8 and 2.1 assists per game. LeBron now averages 4.3 assists that lead to mid-range shots every game, as compared to 1.4 of those assists per game last season. When you consider that mid-range shots are far less efficient than shots at the basket or beyond the arc, that's not a good trend.
After "The Decision," "Scottie Pippen" was a trending topic on Twitter. Pippen's name was brought up as a slight to James, but the truth is that James and the Heat could do well to rip some pages out of Pippen's book. Pippen was great without ever trying to be. He could play in the post, handle the ball, attack the basket, drain open shots, and make the right pass at any time. He could do it all -- but never tried to do it all at once. Phil Jackson and Michael Jordan recognized that, and that's why Pippen was the second-best player on six championship squads.
James has Pippen's versatility, except that James is bigger, stronger, a better passer, and has scored more points per game than any player not named Michael Jordan or Wilt Chamberlain. That's a scary combination, and it's time to realize that emulating the best second banana of all time on occasion won't make James any less of a superstar.
Where are James' weak-side cuts for a dunk after Wade splits the defense on a pick-and-roll? For that matter, where is that devastating Wade-James two-man game we heard so much about, with an unstoppable James rolling hard to the rack after he sets a screen for Wade? Where are those dribble-handoffs with Wade or Bosh at the high post ? Where is LeBron's post game, working with Bosh on the opposing block to make it impossible for defenses? Why is LeBron passing to Zydrunas Ilgauskas and James Jones for spot-up jumpers instead of Wade and Bosh for dunks?
Over his last two seasons in Cleveland, LeBron was forced to blossom into a complete and historically good player. Now LeBron has the opportunity to help the Heat grow into a complete and historically good offense, but most of his possessions have been of the "OK, LeBron, your turn" variety. LeBron and Wade have often looked more like Iverson and Carmelo than Michael and Scottie or Magic and Worthy, and that's a shame.
Of course, the key caveat to all this whining about what the Heat could be on offense is this: Even with LeBron "struggling" compared to his past two seasons, Bosh playing the worst basketball of his career, and the Heat barely scoring inside the paint, the team is third in the league in offensive efficiency. Eventually, James, Wade, and Bosh are going to embrace each other's versatility, get creative, and start clicking, and that's when things are going to get frightening for the rest of the NBA.