Miami Heat Index:

Jeremy Lin
April, 28, 2012
4/28/12
11:46
AM ET

By Tom Haberstroh
ESPN.com
Archive
How crazy was Linsanity during this regular season? Consider this:
Tickets for Game 1 in Miami are selling for
half as much
as the February 23rd matchup tickets, which occurred during the height of Linsanity.
A representative from TiqIQ.com, a ticket information company that tracks online ticket prices on the secondary market, sent over the following results as of 11:30 a.m. ET:
The average price for Game 1 Saturday is $226.13, which is the 12th highest average priced home game for Miami this year
Compare this to their game in Miami on 2/23....Average price was $523.55 with a get in of $93
The current get in price is $28
The average price for the series is $510.71
The average price for Heat home games is $339.15, which is 43.02% lower then the average at MSG ($595.21)
What's more stunning: that Game 1 tickets are selling about $200 less than Linsanity tickets, or more than 10 regular season games were more coveted than Game 1?
February, 23, 2012
2/23/12
10:31
AM ET

By Brian Windhorst
ESPN.com
Archive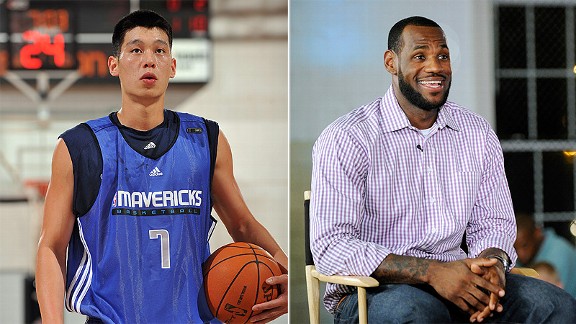 Getty Images, AP Photo
Shortly after declaring where he'd take his talents, LeBron James watched a kid named Jeremy Lin.
MIAMI – Five days after his "decision" in the summer of 2010, LeBron James was either spending his time:
A. Hiding in a bunker
B. Shopping for houses in South Florida
C. Watching Jeremy Lin play summer league games on NBA TV.
Actually, it was all of the above.
James often says he watches all levels of basketball and does so year-round. He's proved it over the years, occasionally making references to obscure moments that he's caught in NBA games. Of course James has been watching Lin regularly as he's starred for the New York Knicks, who his Miami Heat host tonight, but his database on him goes back further.
James said he remembers first hearing about Lin on SportsCenter after a game against UConn when Lin was at Harvard. Bu the first time he saw him play was in the 2010 Vegas Summer League. James had tuned in to watch No. 1 overall pick John Wall play, but Lin, who was playing for the Mavericks' summer league outfit against Wall at the time, got James' attention.
"Yeah, I watch summer league games," James said. "It was his first big game. It was a good game. I was like, he's a good player, no one predicted what he'd do now."
That game sort of put Lin on the NBA map as he had a huge fourth quarter with several impressive defensive plays and a series of aggressive drives to the basket that are now part of his trademark. His team lost but he won personally.
Now there is a much deeper catalog for James to study. He is expecting to be assigned to guard Lin for at least a few minutes. James has routinely defended top point guards from Rajon Rondo to Derrick Rose to even Chris Paul at times. Though it will probably be a countermeasure Heat coach Erik Spoelstra goes to only if other schemes are not working.
James said he'll be doing film work before tip-off to prepare for it.
"I know I'm probably going to end up on Lin at some point, I may end up on Amare and I'll probably start off on Carmelo," James said. "When we go small, I'll have to cover a big guy. If we go small, I'll probably have to cover the point guard."
The Heat, like many other teams in the league, have had a touch on Lin fever. He's been a regular topic in the locker room. When Lin made his 3-pointer to beat Toronto last week, several players rushed into a room with a television in the visitor's locker room in Indiana to see a replay.
With this game's buildup, though, there is a sense James and his teammates are looking forward to playing against the new star and the new-look Knicks, a potential playoff opponent, instead of just talking about it.
"I'm not tired of him but I've answered these questions more than once," James said. "He's a good player and he does good things for their team. They needed a point guard and they found one."
February, 23, 2012
2/23/12
9:42
AM ET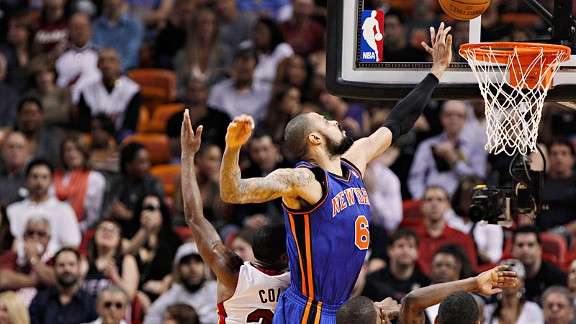 AP Photo/Lynne Sladky
All eyes are on Jeremy Lin, but Miami won't overlook Tyson Chandler and New York's formidable front.
MIAMI - Dwyane Wade insists the Miami Heat have paced -- and braced -- themselves for Linsanity.
"We're going to answer it today, we'll have to answer it tomorrow, and then we'll move on," Wade said Wednesday when asked if his team had already grown weary of facing relentless questions about the overnight sensation that is New York Knicks point guard Jeremy Lin. "Well, nah. All-Star weekend, we'll be asked about him, too. But after that, we'll move on."
Wade, whose Heat team is familiar with being a major topic throughout league circles, actually seemed to embrace the reversal of roles.
"The biggest thing is he's winning," Wade said of Lin. "They're winning. He's the leading catalyst of that. I'm sure guys have had to answer questions about us, and they were like, 'Oh Jesus, not this again.' But that's what this league is about. Once we get done with this game and All-Star Weekend, we can move on and answer other questions."
Considering the run the Knicks have been on recently since inserting the now-popular point guard into the lineup, there's no doubt that all eyes will be on Lin when New York visits Miami on Thursday for one of the most anticipated matchups in the league this season.
Despite all of the hype, the Heat's focus extends well beyond finding a way to contain Lin, who has led the Knicks to nine victories in the 11 games since he emerged as the starter. Miami, which enters the game with the league's best record at 26-7, has the star power to account for New York's potentially prolific scorers in Lin, Carmelo Anthony and J.R. Smith.
But a bigger problem for the Heat could be figuring out a way to match-up with the Knicks' inside tandem of Amare Stoudemire and Tyson Chandler. Miami has gotten away with playing smaller lineups, finishing games almost exclusively with Chris Bosh and Udonis Haslem rotating at center.
Not even the Orlando Magic, who have the league's most dominant center in Dwight Howard, could effectively exploit the matchup advantage they had inside during last Sunday's 90-78 loss to the Heat. But few teams have the kind of length and athleticism at the power forward and center spots as the Knicks, with both Stoudemire and Chandler becoming bigger factors since Lin took over control of the offense.
Chandler, who had essentially been a forgotten man in the offense, has regained his finishing touch around the rim and is averaging 13.3 points and 10 rebounds on 75.3 percent shooting in road games this season.
Stoudemire is trying to shake off a rusty start to the season and is again showing flashes of brilliance in the pick-and-roll game, specifically with Lin facilitating the initial set. Stoudemire has averaged 19.1 points and shot an improved 48.5 percent this month. The Knicks also have grabbed at least 14 offensive rebounds in three of their past four games.
When the Heat and Knicks met a month ago, Lin hadn't yet cracked the rotation and neither Stoudemire nor Chandler were significant factors in a game that saw New York attempt 43 shots from 3-point range in a 99-89 Miami victory at AmericanAirlines Arena.
But the Heat are preparing for a more balanced approach from the Knicks, who are equally capable of jacking up 43 shots from beyond the arc one game as well as scoring 54 points in the paint like they did in Wednesday's home blowout against the Atlanta Hawks.
"If you don't have (defensive) habits built up, it can be an absolute nightmare trying to defend them," Heat coach Erik Spoelstra said. "To defend a system like that, you have to do it team-wise. If one guy breaks down, it will invariably lead to a wide-open 3. You can't prepare for them in one day. This has to be weeks and months of (defensive) habits."
Those habits for the Heat, a top-five defensive team in the league, start with an all-hands-on-deck commitment to protect the paint and compensate for their lack of significant bulk in the middle.
"With the way they shoot the ball, we can't give them 3s and give them paint points," Haslem said of the Knicks. "So we've got to try to take care of the paint first. No easy baskets, then close out on the 3s. Our defensive principles don't change. Protect the paint. Make them spray the ball. It's not an easy style to play defensively, but it's been working for us. We understand our recipe for success."
For the Heat, that recipe involves keeping a close eye on Lin but also putting a body or three on Stoudemire and Chandler.
"That's huge for us," center Joel Anthony said. "Everyone talks about Jeremy Lin. But Stoudemire, on any given night, can explode and you don't want to be in a position where he's affecting a game like that. And we know Chandler can have a huge impact with those lobs and his activity around the basket. So we definitely have to find a way to neutralize that or it doesn't matter what happens on the perimeter. We've put ourselves in a tough situation if we can't handle what goes on inside."
The Heat have had success mixing defensive coverages, which, at times, has even included gimmicks such as LeBron James defending the center to combat size with quickness. During its seven-game winning streak, Miami has won the rebounding battle six times and has not allowed a team to score 50 points in the paint.
Maintaining those benchmarks remain a priority against the Knicks.
"We don't really care about size much here," Bosh said. "It's just really some numbers on paper. Our goal is to outrebound every team we play. It never really changes. We just look at what our job is, and we plan to do our job again (Thursday)."
February, 22, 2012
2/22/12
12:36
AM ET
MIAMI - Credit the Sacramento Kings for at least making the Miami Heat work hard into the fourth quarter on Tuesday. Still, the Heat got 30 points and 10 assists from Dwyane Wade and six 3-pointers from Mario Chalmers to pull away for a 120-108 victory that extended their winning streak to seven.

Next up: Jeremy Lin and the New York Knicks on Thursday night. Check out our latest Heat 'Temp Check' show for a recap of Tuesday's win and a look ahead to the most anticipated game of the season as Linsanity looms.


February, 20, 2012
2/20/12
11:57
AM ET
MIAMI - Heat guard Dwyane Wade is enjoying his most efficient stretch of play since his rookie season, and his team has the NBA's best record thanks to a six-game winning streak.

But if you think this current run is as good as it gets for Miami, Wade explains why you should think again, and why his team is fine with flying relatively under the Lin-sanity radar.


February, 19, 2012

2/19/12

9:40

PM ET



MIAMI - Apparently, Heat coach Erik Spoelstra was so focused on his job Sunday that he didn't notice former President Bill Clinton sitting courtside for Miami's victory against the Orlando Magic.

Clinton, who was a guest of Heat owner Micky Arison, caught a ball that sailed out of bounds, was presented a No. 42 Heat jersey with his name and also received a standing ovation when he was shown on the giant screen above the court - all during the game.

Yet Spoelstra insists he was oblivious to it all, and didn't know Clinton was in the building until he spoke with the media after the game. Spoelstra's reaction drew laughter in the press room.

"I didn't know," Spoelstra said after the Heat's 90-78 victory. "Is he still here? Do I have a chance to shake his hand?"

Spoelstra's best line came immediately after, when said he was surprised Clinton chose to attend the Heat game instead of Sunday's earlier nationally televised game in New York between global media sensation Jeremy Lin's Knicks and the Dallas Mavericks.

In essence, Clinton had Heat fever instead of Linsanity. But the Knicks visit the Heat on Thursday for their final games before the All-Star break.

"I'm surprised he's not at one of the games up north, the earlier game," Spoelstra joked. "That seems to be the hot game right now."