Miami Heat Index:

New York Knicks
March, 3, 2013
3/03/13
12:44
AM ET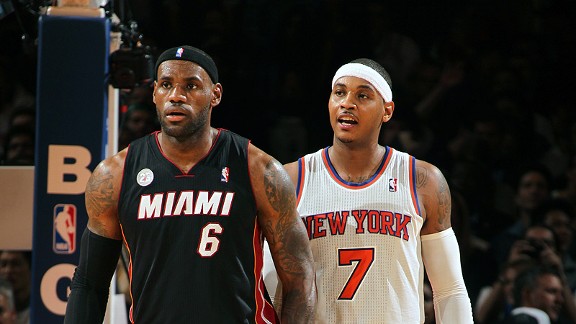 Nathaniel S. Butler/NBAE/Getty ImageLeBron James and the Heat head to Madison Square Garden to face the Atlantic-leading Knicks.
In another installment of the Heat Index's 3-on-3 series, our writers give their takes on the storylines before the Heat face the Knicks on Sunday
(1 p.m. ET, ABC)
.
1. The Heat's winning streak is ________________.
Israel Gutierrez:
Multi-layered. It started out with us marveling at the efficiency of LeBron James, but within this streak we've seen so much more. Dwyane Wade has looked more like the 2009 version of himself, Ray Allen has fought through his extended slump, the defense has been actually consistent and the wins have come in so many different styles. It has turned a team with minor question marks into a runaway favorite to repeat.

Michael Wallace:
Resounding. The Lakers, Clippers, Thunder and Grizzlies all presented different challenges, and LeBron James and crew passed each one with high marks. Along the way, James has played the best ball of his career, and Dwyane Wade has erased many doubts about a lack of explosiveness in his game.
Brian Windhorst:
Impressive. Five road wins. Win at OKC. Home wins over Houston, LA Clippers and Grizzlies. A double-OT win. Holding an opponent to 67 points. Historic shooting. Whoa.
---
2. Heat vs. Knicks is ________________.
Gutierrez:
The next stop on the regular-season redemption tour. During this streak, the Heat has avenged earlier losses to the Clippers, Blazers, Bulls and Grizzlies. The Knicks spanked the Heat twice early in the season, but that Heat team wasn't anything like the machine that's on display now. If Miami can manage to beat New York, the next stop on the tour is at home against the Pacers on March 10, when the Heat could be riding a 17-game streak. Big game, anybody?
Wallace:
Always intriguing. Heat coach Erik Spoelstra couldn't find enough ways to describe how the Knicks pounded, embarrassed, annihilated and torched the Heat in a pair of 20-point victories earlier this season. The Knicks have slipped since that fast start to the season, but they certainly have the Heat's full attention this time around.
Windhorst:
A pivotal game. The Heat win, and they have dashed the hopes of another challenger. Knicks win, and it's proof to them they might have a chance against Miami in a series.
---
3. LeBron's pregame dunks are ________________.
Gutierrez:
Entertaining, plain and simple. Spending time complaining about when he dunks takes away from the enjoyment. The fact that he could probably win a dunk contest after his legs have taken 10 years of NBA-level pounding is impressive enough. But to demand he partakes in the contest is just silly. If it's OK, I'll just pocket Magic's million dollars and end this nonsense, as a favor to everyone. You're welcome.
Wallace:
Much ado about nothing. Having grown weary of all the national debate and attention his pregame dunk routing has drawn in recent days, James finally cracked Friday and reminded the media that he's been doing this since his days in Cleveland. "But I guess it's a small market, and y'all didn't pay attention then," James quipped.
Windhorst:
A long-standing tradition. For some reason people are just now talking about them now.
May, 2, 2012
5/02/12
8:42
PM ET
MIAMI -- Before the playoffs started, Miami Heat forward Chris Bosh anticipated it would take two or three games to regain the conditioning and rhythm he lost while sitting out the final two weeks of the regular season with nagging leg injuries.

As the Heat headed to New York on Wednesday with a 2-0 series lead against the Knicks, Bosh said he's progressing right along schedule entering Game 3 on Thursday night.

"I'm feeling good," Bosh said after practice at AmericanAirlines Arena. "That last game was better for me. I can still get better in some aspects. But progression is there."

Bosh struggled with his timing and stamina in the series opener, and finished with nine points, six rebounds and two turnovers in 24 minutes during Saturday's 100-67 victory. It was his first game action since an April 16 win in New Jersey in which he had 22 points and 15 rebounds. Bosh was then held out of the final six games of the regular season with what the team first said was muscle fatigue in his legs but later clarified as a right hamstring strain.

Heat coach Erik Spoelstra said he would gradually increase Bosh's playing time over the course of the series. After some initial sluggishness in Game 1, Bosh came back with 21 points on 7-of-12 shooting from the field in 31 minutes during the Heat's 104-94 Game 2 win Monday. Bosh said Wednesday his legs are gradually starting to respond but that he still doesn't have quite the lift he hopes to regain as he plays his way into playoff shape. His rebounding numbers are still well below expectation; he has just 10 total rebounds through the first two games of the series.

Bosh's production could continue to climb in Game 3 on Thursday, with the Knicks not expected to have Amare Stoudemire available because of a hand injury he sustained in punching a fire extinguisher case in frustration following Monday's loss.

The last time Bosh played at Madison Square Garden, he had one of his best games of the season, with 16 points and 14 rebounds during an April 15 win against the Knicks. New York was also without Stoudemire in that game.

So Bosh, who averaged 18 points and 7.9 rebounds per game during the season, believes he'll be ripe for a breakout performance soon should he continue to gain confidence and strength in his legs.

"As long as I'm feeling good, I can get in better condition, and it's going to get better as the playoffs go on," Bosh said. "I don't want to be at my peak yet. I want to play hard on every single possession. But at the same time, I want to be peaking at the right time."
April, 29, 2012

4/29/12

3:23

PM ET



MIAMI - LeBron James has too much respect to accept that Carmelo Anthony's struggles in the Heat's blowout Game 1 victory on Saturday against the Knicks were anything more than a statistical anomaly.

In other words, James considers it to be in the Heat's best interest to dismiss it as an off night for Anthony against a solid defensive effort by Miami that resulted in a 100-67 win to open the first-round series.

When the teams meet for Game 2 on Monday, the Heat will be expecting much more from Anthony, who had one of the worst playoff shooting performances of his career in going 3 of 15 from the field to finish with 11 points, 10 rebounds and four turnovers Saturday.

"We don't expect him to shoot 3 of 15 (again)," James said Sunday as the Heat wrapped up practice at AmericanAirlines Arena. "But we just want to make it tough on him whenever he takes a shot."





With the Heat looking to take a commanding 2-0 series lead, coach Erik Spoelstra stressed Sunday the importance of his team entering Game 2 with the same focus and intensity they showed Saturday.

Otherwise, Spoelstra said, the Heat would squander a remarkable defensive performance from Game 1 if they stumble on Monday and allow the Knicks to even the series at 1-1 heading back to New York.

"Their game plan hasn't changed," Spoelstra said Sunday. "All they're trying to do is get one on our court. We haven't done anything yet. We haven't even protected our home court (completely) yet."
February, 23, 2012
2/23/12
9:42
AM ET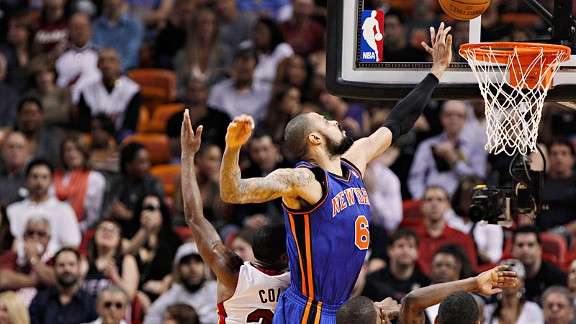 AP Photo/Lynne Sladky
All eyes are on Jeremy Lin, but Miami won't overlook Tyson Chandler and New York's formidable front.
MIAMI - Dwyane Wade insists the Miami Heat have paced -- and braced -- themselves for Linsanity.
"We're going to answer it today, we'll have to answer it tomorrow, and then we'll move on," Wade said Wednesday when asked if his team had already grown weary of facing relentless questions about the overnight sensation that is New York Knicks point guard Jeremy Lin. "Well, nah. All-Star weekend, we'll be asked about him, too. But after that, we'll move on."
Wade, whose Heat team is familiar with being a major topic throughout league circles, actually seemed to embrace the reversal of roles.
"The biggest thing is he's winning," Wade said of Lin. "They're winning. He's the leading catalyst of that. I'm sure guys have had to answer questions about us, and they were like, 'Oh Jesus, not this again.' But that's what this league is about. Once we get done with this game and All-Star Weekend, we can move on and answer other questions."
Considering the run the Knicks have been on recently since inserting the now-popular point guard into the lineup, there's no doubt that all eyes will be on Lin when New York visits Miami on Thursday for one of the most anticipated matchups in the league this season.
Despite all of the hype, the Heat's focus extends well beyond finding a way to contain Lin, who has led the Knicks to nine victories in the 11 games since he emerged as the starter. Miami, which enters the game with the league's best record at 26-7, has the star power to account for New York's potentially prolific scorers in Lin, Carmelo Anthony and J.R. Smith.
But a bigger problem for the Heat could be figuring out a way to match-up with the Knicks' inside tandem of Amare Stoudemire and Tyson Chandler. Miami has gotten away with playing smaller lineups, finishing games almost exclusively with Chris Bosh and Udonis Haslem rotating at center.
Not even the Orlando Magic, who have the league's most dominant center in Dwight Howard, could effectively exploit the matchup advantage they had inside during last Sunday's 90-78 loss to the Heat. But few teams have the kind of length and athleticism at the power forward and center spots as the Knicks, with both Stoudemire and Chandler becoming bigger factors since Lin took over control of the offense.
Chandler, who had essentially been a forgotten man in the offense, has regained his finishing touch around the rim and is averaging 13.3 points and 10 rebounds on 75.3 percent shooting in road games this season.
Stoudemire is trying to shake off a rusty start to the season and is again showing flashes of brilliance in the pick-and-roll game, specifically with Lin facilitating the initial set. Stoudemire has averaged 19.1 points and shot an improved 48.5 percent this month. The Knicks also have grabbed at least 14 offensive rebounds in three of their past four games.
When the Heat and Knicks met a month ago, Lin hadn't yet cracked the rotation and neither Stoudemire nor Chandler were significant factors in a game that saw New York attempt 43 shots from 3-point range in a 99-89 Miami victory at AmericanAirlines Arena.
But the Heat are preparing for a more balanced approach from the Knicks, who are equally capable of jacking up 43 shots from beyond the arc one game as well as scoring 54 points in the paint like they did in Wednesday's home blowout against the Atlanta Hawks.
"If you don't have (defensive) habits built up, it can be an absolute nightmare trying to defend them," Heat coach Erik Spoelstra said. "To defend a system like that, you have to do it team-wise. If one guy breaks down, it will invariably lead to a wide-open 3. You can't prepare for them in one day. This has to be weeks and months of (defensive) habits."
Those habits for the Heat, a top-five defensive team in the league, start with an all-hands-on-deck commitment to protect the paint and compensate for their lack of significant bulk in the middle.
"With the way they shoot the ball, we can't give them 3s and give them paint points," Haslem said of the Knicks. "So we've got to try to take care of the paint first. No easy baskets, then close out on the 3s. Our defensive principles don't change. Protect the paint. Make them spray the ball. It's not an easy style to play defensively, but it's been working for us. We understand our recipe for success."
For the Heat, that recipe involves keeping a close eye on Lin but also putting a body or three on Stoudemire and Chandler.
"That's huge for us," center Joel Anthony said. "Everyone talks about Jeremy Lin. But Stoudemire, on any given night, can explode and you don't want to be in a position where he's affecting a game like that. And we know Chandler can have a huge impact with those lobs and his activity around the basket. So we definitely have to find a way to neutralize that or it doesn't matter what happens on the perimeter. We've put ourselves in a tough situation if we can't handle what goes on inside."
The Heat have had success mixing defensive coverages, which, at times, has even included gimmicks such as LeBron James defending the center to combat size with quickness. During its seven-game winning streak, Miami has won the rebounding battle six times and has not allowed a team to score 50 points in the paint.
Maintaining those benchmarks remain a priority against the Knicks.
"We don't really care about size much here," Bosh said. "It's just really some numbers on paper. Our goal is to outrebound every team we play. It never really changes. We just look at what our job is, and we plan to do our job again (Thursday)."
February, 22, 2012
2/22/12
12:36
AM ET
MIAMI - Credit the Sacramento Kings for at least making the Miami Heat work hard into the fourth quarter on Tuesday. Still, the Heat got 30 points and 10 assists from Dwyane Wade and six 3-pointers from Mario Chalmers to pull away for a 120-108 victory that extended their winning streak to seven.

Next up: Jeremy Lin and the New York Knicks on Thursday night. Check out our latest Heat 'Temp Check' show for a recap of Tuesday's win and a look ahead to the most anticipated game of the season as Linsanity looms.


February, 20, 2012
2/20/12
11:57
AM ET
MIAMI - Heat guard Dwyane Wade is enjoying his most efficient stretch of play since his rookie season, and his team has the NBA's best record thanks to a six-game winning streak.

But if you think this current run is as good as it gets for Miami, Wade explains why you should think again, and why his team is fine with flying relatively under the Lin-sanity radar.


February, 19, 2012

2/19/12

9:40

PM ET



MIAMI - Apparently, Heat coach Erik Spoelstra was so focused on his job Sunday that he didn't notice former President Bill Clinton sitting courtside for Miami's victory against the Orlando Magic.

Clinton, who was a guest of Heat owner Micky Arison, caught a ball that sailed out of bounds, was presented a No. 42 Heat jersey with his name and also received a standing ovation when he was shown on the giant screen above the court - all during the game.

Yet Spoelstra insists he was oblivious to it all, and didn't know Clinton was in the building until he spoke with the media after the game. Spoelstra's reaction drew laughter in the press room.

"I didn't know," Spoelstra said after the Heat's 90-78 victory. "Is he still here? Do I have a chance to shake his hand?"

Spoelstra's best line came immediately after, when said he was surprised Clinton chose to attend the Heat game instead of Sunday's earlier nationally televised game in New York between global media sensation Jeremy Lin's Knicks and the Dallas Mavericks.

In essence, Clinton had Heat fever instead of Linsanity. But the Knicks visit the Heat on Thursday for their final games before the All-Star break.

"I'm surprised he's not at one of the games up north, the earlier game," Spoelstra joked. "That seems to be the hot game right now."
January, 28, 2012
1/28/12
11:57
AM ET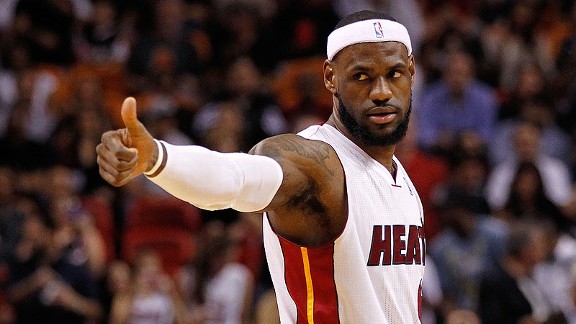 Mike Ehrmann/Getty Images
LeBron James got the thumbs-up from Dwyane Wade to facilitate the crunch-time offense.
MIAMI - The conversation needed to happen at some point.
There simply was no way around it. After sitting out the past six games to recover from a combination of ankle, foot and calf injuries, sooner or later Miami Heat guard Dwyane Wade and forward LeBron James were going to have to discuss the most seamless way to reunite their dominant play.
After all, James and the Heat had redefined their playing style and rotation pecking order to the tune of a 5-1 record in the most recent stretch of games Wade missed. In that time, James found a productive comfort zone and strung together a run of MVP-worthy performances. He even started referring to his recent play as that of the Cleveland LeBron.
Well into their second season together in Miami, James and Wade still, at times, don't play as much
with
each other as they do
around
one another. Finding their Kanye West/Jay Z balance, their Miles Davis/John Coltrane rhythm - especially in the fourth quarter of close games - remains the final frontier yet to be crossed for this Heat tandem.
In some cases, you can play your way through it - feel your way along in game action - and eventually work out some of the kinks. At other times, it takes a conversation and clear communication. By all indications, James and Wade took the latter route before Wade made his emphatic return for Friday's 99-89 win against the New York Knicks.
Wade made several highlight plays and grabbed most of the attention in finishing with 28 points, five steals, four assists and two blocks in 33 minutes against the Knicks. But the underlying theme for the Heat was that James wasn't reduced - or, rather, didn't reduce himself - to a glorified spectator down the stretch. Even with Wade back, this was more about James and whether he would abandon Cleveland LeBron and return his relatively more routine Heat role.
James responded by continuing to put on a Cleveland clinic in Miami, closing out the Knicks with a game-high 31 points, eight rebounds, seven assists and - perhaps most importantly - another huge fourth quarter outburst to secure the win.
But the key to the dual dominance from James and Wade in their first game back together wasn't only how well they co-existed at the finish. It was also how openly and honestly they communicated before the start.
"D-Wade just told me to keep playing my game - even with him returning," James said of his talk with Wade, a message that was reinforced throughout the game against the Knicks. "I'm going to do that for sure. Last year was definitely a learning experience for myself, just trying to learn how to play alongside him."
That continues to be a work in progress as the Heat look toward Sunday's home showdown against the Chicago Bulls. But James and Wade will try to pick up where they left off in Friday's fourth quarter.
You want a blueprint that lays out exactly how lethal James and Wade can be when working as a cohesive tandem instead of mutually exclusive forces? Just take a snapshot of the final 12 minutes against the Knicks.
It started with rest. Heat coach Erik Spoelstra opened the period with Wade on the bench and James playing the first three minutes. He was free to revert to 'Cleveland LeBron' mode, and an assist on a Mike Miller jumper broke a tied game to give the Heat a lead they kept.
At the 9:13 mark of the fourth, James went to the bench and was replaced by Chris Bosh. During that same substitution, Wade replaced Shane Battier. It was Wade's time to lead and James' opportunity to rest - something he didn't get much of during the fourth quarters of close games when Wade was injured.
Wade's jumper and putback came during a stretch when the Heat pushed their lead to seven. At the 6:25 mark, James reentered for the finish. This was when James carried out Wade's pregame advice. James was the facilitator, Wade the finisher. There were at least two occasions when Wade crossed halfcourt and immediately wanted the ball. But James kept it, set things up and motioned for Wade to run off screens.
Wade's team? Wade's town? Those things don't matter. This was LeBron's show. It was his time to prove that the only adjustment he would make in Wade's return was to be even more like the player who clearly carried the team the previous six games. Wade's job was to fit in.
"They did a very good job of playing off each other," Spoelstra said. "Getting out in the open court, playing off each other on cuts in the half court, and one guy being aggressive, the other guy playing off that. LeBron really has (taken) another step forward in terms of his aggressiveness. Those are positive steps forward for us."
James insists he won't regress.
"I understand that down the stretch, I have to be aggressive, I got to get to the free-throw line, help us stop the clock and get easy buckets. Even with (Wade) playing as great as he did, I stayed into my offensive game."
The high-water mark came when James fed Wade for a lob dunk with about four minutes left in the game. It capped a quarter in which the two combined for 19 of Miami's 25 points and made nine of their 10 free throws. In fact, James' fourth quarter with Wade on Friday was no less dominant than his final period without Wade the other night in Detroit. That's when James finished off the Pistons with 10 points, three assists, two rebounds and made all eight of his free throws over the final 12 minutes of the 101-98 road victory.
Heat forward Chris Bosh is as cerebral as they come in the NBA. He knows this reunion moving forward won't always be as smooth between James and Wade as it was Friday night. But how it played out remains the ideal.
"We have to get back used to Dwyane's tendencies again," Bosh said. "We just have to get used to it again. We just have to continue to stay on the same page. We'll talk about it again (Saturday) and see how we can continue to get better and continue to execute on Sunday."
It takes more than talent for the Heat to work their way through this. It also requires talk. Real talk. And, a willingness to listen and take heed.
That's exactly what happened when Wade approached James and essentially told him not to change the way he's been playing these past few weeks. It was a discussion that could prove to be pivotal, a conversation that defines the rest of their season.
Was it the first step toward Wade, 30, quietly handing James, 27, the reigns as the closing catalyst in Miami? Or was it just a nice way of Wade promising not to step all over James' toes in his first game back?
The answer isn't clear. At least not yet, anyway. We'll see how this plays out in Sunday's game against the Bulls and into the playoffs when it really counts. It doesn't really matter if he's Cleveland LeBron or Miami LeBron right now. The truth is, no one doubts regular-season LeBron. It's Finals LeBron we wonder about.
But what does matter most right now is that James took Wade's advice and ran with it. Literally. And neither of them should turn back now.
The Heat's script was flipped.
And it was just the kind of assist Miami's best facilitator needed from the team's incumbent finisher.
January, 28, 2012

1/28/12

1:11

AM ET



MIAMI - After missing six consecutive games to address a slew of lower-leg injuries, Miami Heat guard Dwyane Wade made a resounding comeback in Friday's 99-89 home victory against the New York Knicks.

It was almost as if Wade had never left the scene. After finishing with 28 points, five steals, four assists and two blocks in 33 minutes of action, Wade talked about his performance and how good it felt to be back on the court.

For more on Friday's Heat victory, check out our stories on ESPN.com and the Heat Index.

January, 26, 2012

1/26/12

5:14

PM ET



MIAMI - Heat center Eddy Curry takes another meaningful step in his attempted return to NBA relevance when Miami faces his former team, the New York Knicks, on Friday at AmericanAirlines Arena.

In a very limited role with the Heat, Curry has averaged just two points and 1.3 rebounds in seven minutes a game this season. He's appeared in three games for Miami, which is taking the long view in terms of Curry's potential impact with the team.

Heat coach Erik Spoelstra addressed Curry's journey from being overwhelmingly overweight and out of the league at one point last year to moving into position to revive his career one day at a time in Miami's big-picture perspective.
January, 20, 2012
1/20/12
12:09
PM ET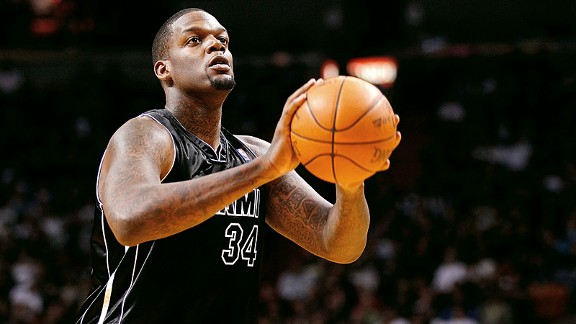 Mike Ehrmann/Getty Images
After many trials on and off the court, Eddy Curry finally returned to the floor.
MIAMI - Soaking wet and emotionally drained an hour after his long-awaited return to the relevance of an NBA game, Miami Heat center Eddy Curry cut through a crowd of reporters waiting for him with a towel around his neck.
This was long after Chris Bosh, Curry's immediate neighbor in the Heat's locker room at AmericanAirlines Arena, had already dressed and left Thursday night.
Long after LeBron James dissected a performance in which he slammed Kobe Bryant and the Los Angeles Lakers and stuffed the stat sheet with 31 points, eight rebounds, eight assists, four steals and three blocks.
Even long after Dwyane Wade popped into the room and hopped up onto his seat to retrieve a few items in his locker stall, as if to let everyone know he's recovering nicely from an ankle injury that's sidelined him the past two games.
Curry was trying to dry himself off, but it wasn't because he had just left the showers like the rest of his Miami teammates. Instead, he entered the room from another door -- the one that leads to the Heat's training facility.
"I felt like I needed some more work," Curry said after a 20-minute cardio workout that followed his six-minute playing stint against the Lakers. "Just trying to put my body through what a normal game situation would have felt like."
If you're searching for the most meaningful difference between the underachieving and vastly overweight Eddy Curry you thought you knew from his days with the Chicago Bulls and New York Knicks, and the version of him you saw in his Heat debut, it requires looking beyond the Jennifer Hudson-style physical makeover.
As much as Curry has impressed the Heat's players, coaches and front office by dropping somewhere between 60 and 75 pounds in the past 18 months, it was the initiative he took after crossing the finish line Thursday to run another lap that has instilled confidence within the Heat that this project might actually work out.
Having last played an NBA game on Dec. 17, 2009, Curry received a standing ovation from many fans in the arena when he checked into the game with 2 minutes, 20 seconds left in the first quarter against the Lakers. He promptly scored his first basket on his first touch and finished with six points and three rebounds in just more than six minutes.
Coach Erik Spoelstra's plan was to limit Curry to three-minute playing intervals in his first game back until he adjusts to the adrenaline and conditioning demands needed to play longer stretches in his role off the bench. But Curry's build-up leading into the game and the work ethic he showed afterward appear to count more than anything he contributed to the box score Thursday night.
"None of us know what he has been through these past few years," James said of Curry, who has battled weight problems, injuries, legal issues and family tragedies since 2009. "To see him come all the way back, to put on a uniform and get out there and make some plays ... it is a testament to him."
Moving forward, this process will continue to be a series of small steps. Even as a team with one of the smallest frontlines in the league and essentially no experienced depth at center, the Heat aren't asking much of Curry.
If Spoelstra eventually gets a handful of points off post-up relief baskets, along with a few rebounds and two or three aggressive fouls from Curry over 10-to-12 minutes a night, it'll be considered a bonus.
"He has a long way to go," Spoelstra said, before acknowledging the strides Curry has already made. "He has put in a lot of work, the majority of it on his own. During the lockout, he worked in solitude to get into condition. Since then, we have put him into our full conditioning, weight and running program. He has passed every test and he's come a long way."
If team president Pat Riley gets Curry to avoid the off-court distractions and personal demons that once derailed the career of the No. 4 overall pick from the 2001 draft, the investment of a non-guaranteed, veteran's minimum contract Miami offered will be money well spent.
"All this is," Riley has said of the gamble Miami has taken with Curry, "is an opportunity. What he does with it is up to him. We know what kind of (impact) player he can be."
If Curry, 29, can get himself to comprehend that this might be his best -- and last -- shot to resurrect a potentially promising career that's been more painful than productive through his first 11 seasons, then his future might eventually overshadow his past.
But those remain three big, Curry-sized "ifs" for now.
Part of his past caught up with Curry in a positive way after Thursday's game, when he finished his workout and reached for his cell phone. It was flooded with texts and voicemail messages from former teammates and coaches who had just watched him on national television.
Some even joked that they saw a player in Curry they didn't recognize. Now that the weight is off, the wait is over for Curry to rescue his career.
"I know I've been working hard for this moment," Curry said. "This is only the beginning. I was extremely nervous. I don't remember feeling like that in a long, long time. I've been away from it for a little bit for one reason or another. But now I'm back and I'm going to have some fun."