Miami Heat Index:

Tyson Chandler
May, 9, 2012
5/09/12
8:45
AM ET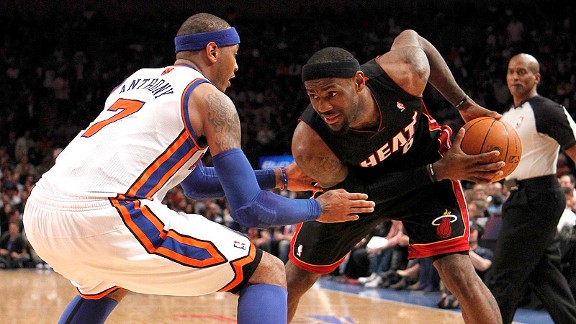 Jeff Zelevansky/Getty Images
Is this the look the Heat should have if Game 5 is on the line?
In another postseason installment of the Heat Index's 5-on-5 series, our writers give their takes on the storylines before the Heat host the Knicks in Game 5 Wednesday night.
1. Fact or Fiction: The Knicks were smart to hold Jeremy Lin out.
Jim Cavan, KnickerBlogger:
Fact. Look, we get the whole Willis Reed resurrection narrative thing. But Lin ain't no Reed, and these ain't no 1970 Knicks. Besides, I'm not totally convinced that a 60 percent Lin is any better than whatever 100 percent point platoon the Knicks end up going with. Better to wait until next year. We Knicks faithful are used to that anyway.

Tom Haberstroh:
Fact. This was fascinating to watch because the organization needed to weigh the short-term payoff versus the long-term risks. Play him now and try to fight your way back into the series at the risk of another knee injury? Sit him and ensure that you have a healthy point guard on the roster for next season? They chose the latter, and that was the smart decision; the realistic upside in playing him just isn't there.
Michael Wallace:
Fact. If Lin isn't ready to return from that knee injury, then he simply isn't ready. No need to rush it, especially after seeing two of his backcourt teammates blow out their knees already in this series. It just doesn't make sense to risk setting yourself back for the start of next season in order to play in a series that seems all but over at this point.
Brian Windhorst:
Fact. This is a complete no-brainer, to be honest. Let's assume you're Lin. Your knee doesn't feel right, probably more than you're even letting on to the media. Then you see Iman Shumpert and Baron Davis have to be carried off the court in the same week. Are you going to rush it?
Jared Zwerling, ESPN New York:
Fact. First of all, Lin hasn't had ample court time to prepare for the Heat's swarming pick-and-roll defense, which forced him into eight turnovers on Feb. 23. In addition, playoff games, in general, are a different beast. In recent scrimmages, Lin has moved a bit gingerly and hasn't played with full intensity, so there's no way he'd ready for that level of physicality. After a season with so many injuries, the Knicks would look stupid if Lin suffered a setback for a vain cause. They should invest in his health to make sure he's their long-term solution at point guard.
---
2. Fact or Fiction: Stoudemire's 20-and-10 was a bigger deal than Anthony's 41.
Cavan:
Fact. Carmelo Anthony has been on a rampage for a while now, but Amare Stoudemire's one-handed -- and level-headed -- performance proved how important his high-caliber play is to the success and effectiveness of the orange-and-blue. The optimist in me hopes his run-in with a fire squelcher proves to be a turning point. The realist in me thinks he just recovered really well from punching glass. Either way, the Knicks need a similarly sizzling Stoudemire on Wednesday night.
Haberstroh:
Fact. No one saw this coming. The Heat knew he had no jumper and no ability to comfortably drive left, but still he managed to register his first 20-and-10 game in weeks. You have to, well, hand it to the guy.
Wallace:
Fact. Considering the Knicks' shortage of players who can actually create their own shot, rebound and get to the free throw line, it baffles me that some thought New York was better off in this series without Stoudemire and no adequate replacement. Miami was able to absorb high-scoring games from Melo before and still won. But there's no excuse for allowing Stoudemire to go off for 20-and-10 with one good hand.
Windhorst:
Fact. Anthony won the game for the Knicks, but does everyone appreciate what Stoudemire did? His hand was being kept together by staples and stitches. The palm. The area that touches the ball. You cannot numb this area because you can't play with numb hands. You can't wear too large of a pad because it has the same effect. So you play one-handed. And you go for 20 and 10. Pretty remarkable, no?
Zwerling:
Fact. Just hear it from Anthony: "It was big-time. I was surprised at what he was able to do, due to his hand. But for him to just come back and just prove to us and to prove to everybody that what he did was a mistake ... it was a minor setback, he came back, he bounced back and we respect that out of him." The Knicks had been struggling to find a significant second scorer in Games 1 through 3 to complement Anthony, and Stoudemire provided that "punch," as Heat coach Erik Spoelstra said after the game.
---
3. Fact or Fiction: LeBron should be primary defender on Anthony.
Cavan:
Fiction: The one glimmer of hope the Stoudemire-less Knicks had for stealing Game 3 -- namely playing Anthony at the 4 and forcing the Heat to throw Bosh on him in stretches -- might've flickered out. If I were Erik Spoelstra, I'd start a hot-shooting Shane Battier at the 3 and put James on Anthony as much as possible. Derp.
Haberstroh:
Fact. Call me crazy, but I'd want James, the best isolation defender in the league, to guard the guy who lives on isolations. Battier isn't a poor defender against Anthony, far from it. He's just not the best option for the Heat. Udonis Haslem should take care of Tyson Chandler in normal circumstances; Sunday was the first time Haslem fouled out since Ricky Davis started for the Heat four years ago. Fluke situation.
Wallace:
Fiction. For three games, I gave credit to Battier for doing his job and making Anthony work extremely hard to make difficult shots. Battier didn't stop doing his job in Game 4. Anthony just proved why he's an elite scorer in this league. Besides, James has been in foul trouble the past two games -- and Anthony has had calls go his way recently. Asking James to carry such a burden on both ends for extended periods in the playoffs is a bit much to ask.
Windhorst:
Fact. At least in the clutch. The numbers speak for themselves. These teams have played five times over the past three weeks. It has been rather obvious with the eye test that Anthony doesn't drive on James as much and isn't able to create as much space against him.
Zwerling:
Fact. While Mike Woodson and Spoelstra have given Battier credit for his defense on Anthony, the numbers don't lie. Anthony has been shooting 52.6 percent against Battier in the series, but only 29.3 percent against James. There aren't many players in the NBA who can match up physically and athletically with the Knicks' star, but James can, and he has made Anthony's catches and drives difficult. In Game 5, Anthony better hope his jump shot is on, like in Game 2. The emphasis on closing out the series should be enough motivation for James to guard Anthony down the stretch.
---
4. Fact or Fiction: James should be ball handler on next do-or-die play.
Cavan:
Faction. As with most crunch-time calls, it's purely situational. If James is riding a Game 3-like fourth quarter, then sure, let him bring his boys home. He's been getting to the rim pretty much at will, after all. But if Spoelstra sees an exploitable matchup or scheme better suited for Wade or even Bosh, there's no reason the coach shouldn't roll those dice.
Haberstroh:
Fact. Not only is James the better option to run a pick-and-roll, but Wade is the better option as the basket cutter. Also, not enough people have mentioned this, but Bosh? He was open on the roll to the rim. Regardless, the most important thing is that all three of the Heat's stars are involved. That didn't happen in Game 4.
Wallace:
Fiction. Perhaps he should. But I wouldn't define it as a flat-out fact. It depends on what kind of game James is having to that point. It depends on potential matchup issues. There's no one-answer-fits-all equation to this scenario. The luxury Miami has that few other teams (if any) have is that either Wade or James can make game-winning plays in that situation. Both have had failures in those moments, as well.
Windhorst:
Fiction. Or Fact. Either way is fine from my point of view. There was nothing wrong with the idea of that play; it just wasn't executed. It would be interesting if James demanded the ball in that situation. But that hasn't been his position all season. Wade has three game winners this year.
Zwerling:
Fiction. During the series, James and Wade have both been effective in the all-important fourth quarter. James has been getting to the line (7-for-8), averaging 8.7 points in the period on 44.4 percent shooting, while Wade has been doing it from midrange, shooting 10-for-18 (55.6 percent). They're equally dangerous in a do-or-die situation because they demand double-teams and can get into the lane. And that's where they pose a big threat as passers because of their ability to find one of the Heat's potent 3-point shooters.
---
5. Fact or Fiction: Mike Bibby should be primary PG over Smith/Anthony.
Cavan:
Fiction. Bibby has been somewhat effective off the ball, where he is better capable of hitting the glass (something he's done well of late) and the occasional open J. If I'm Woodson, making Wade and James work as hard as possible in blanketing the ball-handling J.R. Smith or Anthony might be worth the price of the latter two getting gassed. Which sounds insane, and probably is.
Haberstroh:
Fiction. Big dilemma for the Knicks. Don't know how they can hide Bibby defensively; he won't be able to guard Mike Miller. But I also don't know how the Knicks can get the shots they want with Smith and Anthony initiating from the top of the key. If Smith didn't turn into Toney Douglas all of a sudden, this wouldn't be a huge problem. The Knicks might have to just rely on Anthony at point. Gulp.
Wallace:
Fact. Bibby isn't the player he was 10 minutes ago, let alone 10 years ago. But by process of elimination due to knee injuries, he's the only true hope the Knicks have at point guard. He still knows how to run a team and push the pace in stretches, even though his shot is inconsistent to nonexistent. Smith and Anthony will need to spell Bibby at times, but they shouldn't handle the bulk of the point guard duties. It takes away from their strengths.
Windhorst:
Fact. No one would ever mistake Smith or Anthony for a point guard. They're pretty much the exact opposite.
Zwerling:
Fiction. But it doesn't really matter. Smith and Anthony are going to be handling the ball the majority of the time. What Bibby needs to be able to do is knock down the open 3-point shot off of Smith's and Anthony's penetration, which he did in Game 4. Bibby hit two clutch long bombs at the end of the third quarter and the fourth to keep the Knicks ahead. At this point in his 14-year career, Bibby is really more of a glorified shooting guard because he's not quick enough as a playmaker to put pressure on the Heat's defense.
April, 29, 2012
4/29/12
11:19
AM ET

By Tom Haberstroh
ESPN.com
Archive
After witnessing a beatdown like Game 1, it's hard to imagine that the Heat-Knicks series will be anything but lopsided going forward. But if you've paid attention to playoff basketball over the years, you know that things can change quickly. Playoff teams must have a short memory; game plans are scrapped and teams treat each game like its own animal.
What adjustments will be made? It's impossible to predict how the coaches will react to Game 1, but here are three reasons Game 2 might not look anything like Game 1.
Guarding Carmelo Anthony: To front or not to front?
No one saw it coming. Or at least the Knicks didn't. Erik Spoelstra treated the April 15 regular-season matchup against the Knicks like it was a postseason game, making a key adjustment that we'd normally see reserved for the middle of a playoff series. The big wrinkle?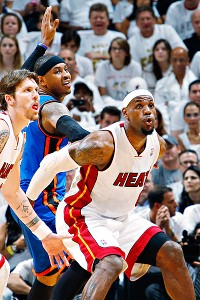 Issac Baldizon/NBAE/Getty Images
We might not see this strategy from LeBron James in Game 2.
They fronted Carmelo Anthony in the post, shielding every entry pass and mapping a detour away from his favorite spots. Everyone knows that the Knicks play predictable one-on-one basketball (iso-ball for short) with Anthony on the elbow and Spoelstra made sure they were never comfortable even getting into that set. Anthony shot 3-for-15 for the game and the Knicks turned the ball over a whopping 27 times.
But don't expect the Heat to stay set in their ways. LeBron James, who served as Anthony's primary defender, told reporters after the game that they're not done throwing curveballs.
"Now that he knows that we fronted him, we might have something different from Game 2," James teased to reporters.
Shane Battier, who was also assigned to fronting duty, echoed James' sentiment that fronting isn't a permanent program.
"They're going to make adjustments in Game 2," Battier said. "We're not going to have as easy of a time in Game 2 playing the same defense. That's what playoffs are about. At least we gave him a different look and we'll try to come up with a counter to their counter. That is the chess match that is the playoffs."
How might the Knicks counter? There's a reason teams don't front post players all the time. It leaves the weak side vulnerable to swing passes. Every time the Heat fronted Anthony in the post, it required a big man to leave his assignment and help defend the lob pass over the top of the shield. If Anthony catches the ball and immediately whips the ball to the newly open man, the Heat's strategy will suffer.
Additionally, the Knicks could run screens to free up Anthony at his favorite spots rather than have him battle for position. A third counter: have Anthony play point forward, which would avoid the front and forced entry passes all together. The Knicks' coaching staff will install an array of counters to decongest the offense. As lopsided as Game 1 was, the Heat are far from declaring "checkmate."
Life without Iman Shumpert
Though it didn't rock the basketball world quite like Derrick Rose's knee injury, Iman Shumpert's torn ACL gave a sizable blow to the Knicks' chances and morale in the series. Shumpert may be a rookie, but he doesn't play like one on the defensive end. He ranks as the Knicks' top perimeter defender. He cuts off all airspace when guarding the ball and rarely gives an inch for the player to move.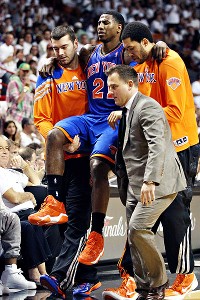 Marc Serota/Getty Images
Iman Shumpert's knee injury will have a significant impact on the series.
Now that Shumpert is sidelined, don't be surprised if Dwyane Wade has a much better outing in Game 2. Though Landry Fields isn't a poor defender, he'll let Wade get far more comfortable out on the perimeter.
"Each defender is different," Wade said in the locker room. "Shumpert is more of a pressure guy, trying to make sure you're not comfortable especially when you have a ball on a live dribble, he'll try to get up in your space. Landry Fields uses his length and size to his advantage."
Wade might be looking forward to going against Fields, but the numbers tell us that he pretty much had his way against the rookie this season. According to NBA.com's stats tool, Wade scored 29.3 points every 36 minutes with Shumpert on the floor, but that scoring output dropped to "just" 22.6 points per 36 minutes with Shumpert sitting on the bench.
But Wade isn't the only player who might be relieved that he won't have to face the pesky Shumpert. When Anthony needed a lift on James, Shumpert occasionally came to the rescue. That backup is no longer there, forcing J.R. Smith to serve as Anthony's lone insurance plan on James.
How does losing Shumpert affect the Knicks' offense? Compared to Fields, Shumpert is like Steve Kerr as a 3-point shooter (or Steve Novak for that matter). Fields has been a miserable shooter from downtown this season, shooting just 25 percent from there in the regular season, which will allow the Heat to be a little more aggressive with their defensive rotations. They won't have to worry too much about Fields as a deep threat.
Tyson Chandler on the mend
As badly as Carmelo Anthony played in Game 1, no one looked and played worse than Tyson Chandler, a likely recipient of the Defensive Player of the Year award. How bad was his outing? Chandler became the first player in more than 25 years to record zero points and seven turnovers in a playoff game.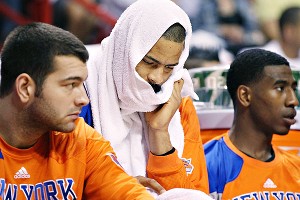 Marc Serota/Getty Images
Tyson Chandler can only go up from here.
Somehow after all these years, Michael Jordan's "flu game" keeps looking even more impressive. Chandler gave it a go after being a game-time decision with the flu, but if he knew it was going to be one of the Knicks' worst playoff defeats in franchise history, he might have stayed in his hotel. Of course, Chandler had a big part in the outcome, getting whistled for charges while literally and figuratively dropping the ball on numerous occasions.
But the old playoff mantra of "it's only one game" rings especially true for Chandler. He was physically weak and mentally unfocused, which is a rare sight from him. The sharp rotations and heady basketball plays that we have normally come to expect from Chandler were swallowed up by the flu.
That fog won't linger long. It should only get better for Chandler and the Knicks as he recovers from the flu in the coming days. He might not be 100 percent for Monday's game, but it'll certainly be an improvement over the 10 percent he was feeling in Game 1.
If the Heat are expecting to get to the rim at will and draw that many whistles in Game 2, they are mistaken. Chandler is too good to let that happen again.
April, 28, 2012
4/28/12
10:35
AM ET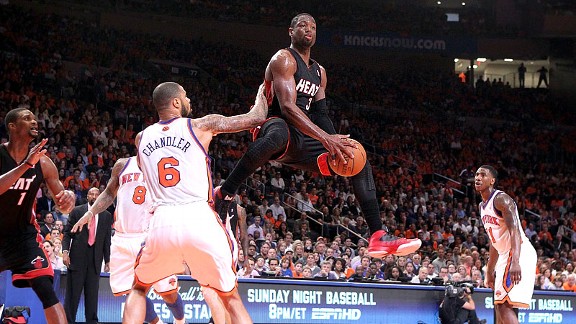 Jim McIsaac/Getty Images
Will Dwyane Wade show some rust in Game 1? Will the Heat win the series? It's time to debate.
In the first postseason installment of the Heat Index's special 5-on-5 series, our writers give their takes on the storylines before the Heat host the Knicks in Game 1.
1. Fact or Fiction: In crunch-time, you'd prefer Carmelo over LeBron.
Jim Cavan, Knickerblogger:
Fact. Melo's late-game effectiveness is well documented, and he absolutely could win one of these games down the stretch. That said, sooner or later LeBron's going to uncork a reputation-swinging crunch-time performance – it's just the law of averages. He has the ability to win games clandestinely, through all quarters and with all tools laid bare. I love Melo, but I'll take the latter.

Tom Haberstroh:
Fiction. For a last-second shot? Yeah, I'd probably take Carmelo. For a possession or multiple possessions, I'd probably take LeBron. For what it's worth, LeBron is shooting better than Carmelo in crunchtime this season (game within five points inside final five minutes), converting shots at 45.3 percent clip versus Carmelo's 37.8 percent. Put it this way: As a coach, I'm picking LeBron; he'll make the smart basketball play. As a fan, I'm picking Carmelo; he'll take the dramatic shot that I'll always remember.
Michael Wallace:
Fiction. I need more information than that. My choice would depend on the team I was playing against, the supporting cast on the court and other variables. Do I need a 3? Am I down 1? If I need a jumper, I'm going with Melo. If I need a general play to be made based on versatility, it's LeBron.
Brian Windhorst:
Fact. When they first came to the league most thought Melo and LeBron would be relative equals. This has not turned out to be the case, LeBron is the superior player. But Anthony's resume is unquestionably better in executing clutch shots. In this area, Anthony's really had no peer during his career.
Jared Zwerling, ESPNNewYork:
Fact. Among players who have taken at least 20 field goal attempts in game-tying or game-winning situations in the last 15 seconds of the fourth quarter or overtime in the past 10 years, Anthony ranks first in field goal percentage (46.2; 24-for-52), according to the Elias. His 24 field goals are second only to Kobe Bryant (26), but he's shooting only 30.2 percent in clutch situations (26-for-86). Melo's also shooting 46.7 percent on game-tying or go-ahead shots in the final 24 seconds of regulation or overtime -- the second-best mark in the last 16 seasons after the Mavericks' Shawn Marion (47.4 percent). As for LeBron? Not even close to the top of the list.
---
2. Fact or Fiction: Chandler is the most important player in this series.
Cavan:
Fact. For the Knicks, anyway. But – laugh all you want – J.R. Smith ain't far behind.As one of the few semi-reliable wing defenders the Knicks have, Smith's ability to slow down Wade and LeBron will be crucial. Ditto his shooting, where Earl's stellar April (16ppg on 42% from distance) has to continue if the Knicks have any hope of making this a series.
Haberstroh:
Fact. Let's frame it in hypotheticals. If the Knicks lose Carmelo Anthony for the series, I think they can still win a game based on sheer 3-point shooting and defense. If they lose Tyson Chandler, they get swept, in my opinion. He's that important to their defense and pick-and-roll attack, which will come in handy once the Heat stymie the isolation ball. As for LeBron, if the two teams were closer in talent level, I'd give the nod to LeBron here. But for the Knicks to have a chance, they need Chandler on the court.
Wallace:
Fiction. LeBron James is the most important player in this series. This is as close to a Finals feel for LeBron since, well, since he melted down late in the Finals against Dallas. Tyson certainly had a big series for the Mavs, but the Heat could have overcome all those issues if LeBron resembled anything close to himself late.
Windhorst:
Fiction. Chandler's ability to defend the rim is vital for the Knicks to have a chance. But the most important players in this series are the stars. Most of the time it's the stars who decide playoff series.
Zwerling:
Fiction. LeBron James. After disappearing in the NBA Finals last year, succumbing to rookie mistakes by fumbling the ball, making poor passes and looking rattled on his drives far too often, the likely MVP has a lot to prove heading into this postseason. And it starts with the first round. He's the most important player in this series because he's the best overall offensive and defensive player. If he can play efficiently as the point-forward and especially out of the post, where he's been excelling more this season, as well as make it difficult for Carmelo Anthony -- easier said than done, of course -- the Heat will have the clear advantage.
---
3. Fact or Fiction: The Knicks should start Amare Stoudemire.
Cavan:
Fiction. With Melo on a tear and the two's chemistry still in question, bringing Stat off the pine makes a lot of sense. At the very least the Knicks should consider giving him the bulk of his minutes with the second unit. No one says it has to be permanent; they'll have ample time to sort out the glitches this summer. But now's no time for basketball alchemy.
Haberstroh:
Fiction. He's weighed them down all season long. Take a strong whiff of these numbers: the Knicks are +8.4 points every 48 minutes when Carmelo plays without Stoudemire, but -2.4 when the two stars share the floor. Enough forcing the issue. It's the playoffs. Better to bring Stoudemire off the bench with the second unit and isolate the problem. I get that Stoudemire's making $18.2 million this season, but that's Jim Dolan's problem, not the Mike Woodson's.
Wallace:
Fact. He's a starting player in this league. This isn't like a Ray Allen situation in Boston. Amare is still capable of having a major impact on this team. I know Carmelo has flourished while Stoudemire has been out. But this team can't reach it's full potential if Melo and 'Mar'e can't coexist.
Windhorst:
Fact. In general, I don't really care who starts games. I'm much more interested in who finishes. In this case, I think having Stoudemire out there adds some challenge to the Heat defense. It forces James to defend Anthony more regularly, which the Heat would prefer to save until late in games.
Zwerling:
Fact. Well, first of all, if Tyson Chandler misses Game 1 with the flu, Stoudemire will have to start no matter what. But overall, STAT should be in the starting five. The first reason has to do with defensive matchups. With the Heat's Big Three, the Knicks wouldn't want to start Anthony at the four because that would mean Landry Fields would be on James. And that's a major mismatch. While STAT's not a consistently effective defender, he can make some stops against Bosh with his length and athleticism. Offensively, while Anthony and Stoudemire still don't play great together -- that's because Melo is much more heavy in isolation -- Stoudemire's midrange jumper should come in handy from Anthony's penetration. And Stoudemire is getting that pop back since his back injury.
---
4. Fact or Fiction: The Heat should be concerned about rust.
Cavan:
Factish. To the extent that stealing Game 1 would prove a potentially major coup for the surging Knicks, the Heat can't afford to lay an egg today. Then again, we're talking about a team buttressed by two players whose space age makeup is pretty much immune to earthly things like "rust." Considering the condensed season, rest > rust.
Haberstroh:
Fiction. They might be rusty, but I don't think a missed shot here and there is worth being concerned about in the big picture. Looking at the forest instead of the trees, the Heat needed LeBron, Wade and Bosh to be fully rested going into the playoffs. They'll be riding them more than ever.
Wallace:
Fact. I don't care how much talent you have, you just can't expect to roll out onto the court and pick up where you left off after two weeks of not playing together. There will be rust early. And if Miami is vulnerable in this series, it's in Game 1. But the Heat have shown they come get on track quickly.
Windhorst:
Fiction. Maybe it's a factor in Game 1. But they get to play that one at home, where they were 28-5 this season. Getting rest was vital.
Zwerling, ESPNNewYork:
Fiction. Maybe a bit in the first quarter of Game 1, but a few days won't derail the Heat throughout the course of a playoff environment. They will be fired up, especially playing at home to open the series. Now, heading into the playoffs, James is healthy, Dwyane Wade and Chris Bosh's trainer, Ed Downs, said they'll both be ready to go. Wade dislocated his left index finger earlier in the week and Bosh had been dealing with a left hamstring strain. By the way, let's not forget something here: The Knicks will have some rust, too.
---
5. Fact or Fiction: The Heat will win in six.
Cavan:
Fact. The Knicks could steal a pair, but their point guard and wing defense issues can only be masked so long. Sooner or later, the Heat's lane-hawking and point-bunch runs will turn tides, and the Flying Death Machine will reign victorious. But if the Knicks can somehow go up 3-2 and force a game 6 in the Garden, buckle your coaster belts.
Haberstroh:
Fact. But if Chandler isn't right for the beginning of this series, that'll shave off a game or two. As long as the Knicks understand that Steve Novak and J.R. Smith are their best options next to Chandler and Carmelo, they should steal at least a game. It's bound to happen. But the Heat's strong one-on-one defense will give them the edge in this series against the most iso-heavy team in the league.
Wallace:
Fact. That's exactly my prediction. Would I be stunned if the Knicks prove me wrong? Not really.
Windhorst:
Fiction. I'll say five. Though the Knicks have the shooters to steal an extra game if they get red hot.
Zwerling:
Fact. The Knicks will make things interesting by stealing one game on the road and winning one at home through a combination of their defense, Anthony's scoring exploits and J.R. Smith and Steve Novak's 3-point shooting. During the regular season, the Heat were one of the worst teams at defending threes because they try to utilize their perimeter athleticism to over-trap and over-play passing lanes, leaving guys like Smith and Novak wide open. But in the end, the Heat have too much firepower that will overwhelm the Knicks down the stretch (just like what happened on April 15) -- no matter how clutch Melo is.
February, 23, 2012
2/23/12
9:42
AM ET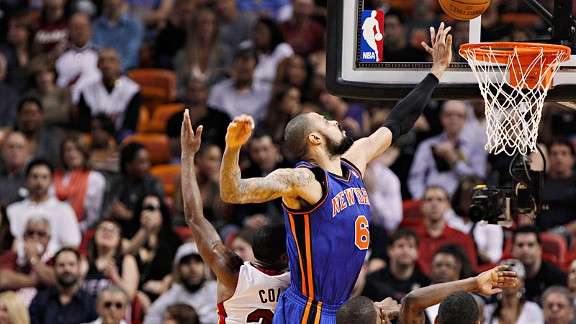 AP Photo/Lynne Sladky
All eyes are on Jeremy Lin, but Miami won't overlook Tyson Chandler and New York's formidable front.
MIAMI - Dwyane Wade insists the Miami Heat have paced -- and braced -- themselves for Linsanity.
"We're going to answer it today, we'll have to answer it tomorrow, and then we'll move on," Wade said Wednesday when asked if his team had already grown weary of facing relentless questions about the overnight sensation that is New York Knicks point guard Jeremy Lin. "Well, nah. All-Star weekend, we'll be asked about him, too. But after that, we'll move on."
Wade, whose Heat team is familiar with being a major topic throughout league circles, actually seemed to embrace the reversal of roles.
"The biggest thing is he's winning," Wade said of Lin. "They're winning. He's the leading catalyst of that. I'm sure guys have had to answer questions about us, and they were like, 'Oh Jesus, not this again.' But that's what this league is about. Once we get done with this game and All-Star Weekend, we can move on and answer other questions."
Considering the run the Knicks have been on recently since inserting the now-popular point guard into the lineup, there's no doubt that all eyes will be on Lin when New York visits Miami on Thursday for one of the most anticipated matchups in the league this season.
Despite all of the hype, the Heat's focus extends well beyond finding a way to contain Lin, who has led the Knicks to nine victories in the 11 games since he emerged as the starter. Miami, which enters the game with the league's best record at 26-7, has the star power to account for New York's potentially prolific scorers in Lin, Carmelo Anthony and J.R. Smith.
But a bigger problem for the Heat could be figuring out a way to match-up with the Knicks' inside tandem of Amare Stoudemire and Tyson Chandler. Miami has gotten away with playing smaller lineups, finishing games almost exclusively with Chris Bosh and Udonis Haslem rotating at center.
Not even the Orlando Magic, who have the league's most dominant center in Dwight Howard, could effectively exploit the matchup advantage they had inside during last Sunday's 90-78 loss to the Heat. But few teams have the kind of length and athleticism at the power forward and center spots as the Knicks, with both Stoudemire and Chandler becoming bigger factors since Lin took over control of the offense.
Chandler, who had essentially been a forgotten man in the offense, has regained his finishing touch around the rim and is averaging 13.3 points and 10 rebounds on 75.3 percent shooting in road games this season.
Stoudemire is trying to shake off a rusty start to the season and is again showing flashes of brilliance in the pick-and-roll game, specifically with Lin facilitating the initial set. Stoudemire has averaged 19.1 points and shot an improved 48.5 percent this month. The Knicks also have grabbed at least 14 offensive rebounds in three of their past four games.
When the Heat and Knicks met a month ago, Lin hadn't yet cracked the rotation and neither Stoudemire nor Chandler were significant factors in a game that saw New York attempt 43 shots from 3-point range in a 99-89 Miami victory at AmericanAirlines Arena.
But the Heat are preparing for a more balanced approach from the Knicks, who are equally capable of jacking up 43 shots from beyond the arc one game as well as scoring 54 points in the paint like they did in Wednesday's home blowout against the Atlanta Hawks.
"If you don't have (defensive) habits built up, it can be an absolute nightmare trying to defend them," Heat coach Erik Spoelstra said. "To defend a system like that, you have to do it team-wise. If one guy breaks down, it will invariably lead to a wide-open 3. You can't prepare for them in one day. This has to be weeks and months of (defensive) habits."
Those habits for the Heat, a top-five defensive team in the league, start with an all-hands-on-deck commitment to protect the paint and compensate for their lack of significant bulk in the middle.
"With the way they shoot the ball, we can't give them 3s and give them paint points," Haslem said of the Knicks. "So we've got to try to take care of the paint first. No easy baskets, then close out on the 3s. Our defensive principles don't change. Protect the paint. Make them spray the ball. It's not an easy style to play defensively, but it's been working for us. We understand our recipe for success."
For the Heat, that recipe involves keeping a close eye on Lin but also putting a body or three on Stoudemire and Chandler.
"That's huge for us," center Joel Anthony said. "Everyone talks about Jeremy Lin. But Stoudemire, on any given night, can explode and you don't want to be in a position where he's affecting a game like that. And we know Chandler can have a huge impact with those lobs and his activity around the basket. So we definitely have to find a way to neutralize that or it doesn't matter what happens on the perimeter. We've put ourselves in a tough situation if we can't handle what goes on inside."
The Heat have had success mixing defensive coverages, which, at times, has even included gimmicks such as LeBron James defending the center to combat size with quickness. During its seven-game winning streak, Miami has won the rebounding battle six times and has not allowed a team to score 50 points in the paint.
Maintaining those benchmarks remain a priority against the Knicks.
"We don't really care about size much here," Bosh said. "It's just really some numbers on paper. Our goal is to outrebound every team we play. It never really changes. We just look at what our job is, and we plan to do our job again (Thursday)."
February, 22, 2012
2/22/12
12:36
AM ET
MIAMI - Credit the Sacramento Kings for at least making the Miami Heat work hard into the fourth quarter on Tuesday. Still, the Heat got 30 points and 10 assists from Dwyane Wade and six 3-pointers from Mario Chalmers to pull away for a 120-108 victory that extended their winning streak to seven.

Next up: Jeremy Lin and the New York Knicks on Thursday night. Check out our latest Heat 'Temp Check' show for a recap of Tuesday's win and a look ahead to the most anticipated game of the season as Linsanity looms.


January, 27, 2012
1/27/12
10:48
AM ET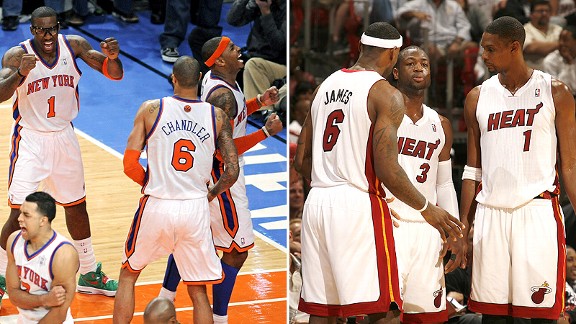 Getty Images
The struggles of the Heat last season simply don't compare to the Knicks' struggles this season.
MIAMI -- Frankly, I don't fault Erik Spoelstra for essentially wanting little part in the discussion.
"I have enough on my plate," Spoelstra dismissively shot back at reporters in Detroit the other night as he looked ahead to Friday's matchup with the New York Knicks. "Thankfully, I don't have to wonder about what other teams go through. But there's no question about it, and nobody wants to hear this in this league, but it takes time."
Yes, time.
When it comes to comparing the frustrating false starts Spoelstra's Miami Heat team got off to last year with the one the Knicks are enduring this season, time is about the only legitimate commodity the two teams have in common.
Time to fix the mess. But even that can be deceiving for the Knicks, who stumble into Miami with their own Big Three project having sputtered to seven losses in the past eight games. When considering how relentless and oppressive this lockout-induced, truncated 66-game schedule is capable of being on teams, the Knicks enter AmericanAirlines Arena standing somewhere between rock bottom and the height of their hysteria.
In either case, it doesn't come close to comparing to what the Heat endured last season. Make no mistake: This Knicks situation is much worse. You could throw Michael Jordan and Reggie Miller on the same team, move the calendar to May, travel back two decades and still not see the Knicks get hit with as many shots as the self-inflicted wounds they've absorbed through the first month of this season.
New York is 7-11 through 18 games as Carmelo Anthony, Amare Stoudemire and Tyson Chandler sort through the damage in their first season together under embattled coach Mike D'Antoni.
Through 17 games last season, LeBron James, Dwyane Wade and Chris Bosh were 9-8 as they toiled through those early growing pains while Spoelstra strained to hold things together. Who doesn't think the Knicks would trade places right now and take the Heat's heartache of nine and eight?
For comparison's sake, that Heat team was going through what was probably a well-deserved humbling; these Knicks are going through hell. By this point in the Heat's schedule last season, Spoelstra had already survived his star players' leaks to the media about their discomfort with the offense and a Nov. 27 "Bumpgate" episode in Dallas, where a demoralizing loss was followed by a players-only meeting that proved to be a turning point.
Even amid the chaos and media frenzy in Miami at that time, it was obvious that the lines of communication between Wade, James and Bosh were open and it would only be a matter of time before they would figure it out. And the Heat moved from early-season friction to the NBA Finals.
There have been times already in New York when it appeared Stoudemire and Anthony weren't just on different pages, but working in different boroughs. I credit Anthony for trying to be a bit more of a playmaker, and he's averaging a career-high 4.3 assists this season. But you have to question why he's shooting a career-low 39.4 percent from the field. A Hummer can be parallel parked more efficiently in midtown Manhattan than Anthony has shown he can operate in D'Antoni's uptempo run-and-shoot offense.
And Stoudemire, who anchored the Knicks' modest revival when he arrived in 2010 free agency, has seen his impact and opportunities diminish as New York added what were supposed to be complementary pieces, first Anthony at the trade deadline last season and Chandler as the major addition after the lockout.
Those upgrades have Stoudemire on course to average the lowest numbers he's had over a full season in points, field goal percentage and blocks. Only in New York does it sort of make sense that the one guy putting up banner numbers -- Chandler is shooting a career-high 69.5 percent on 4.5 attempts per game -- gets the fewest touches among the key rotation players.
This time a year ago in Miami, the pressing question was, 'When will the Heat figure this out?'" Meanwhile, the significant chatter in New York is focused on determining whether the Knicks should bail on this project and break it up.
In these kinds of pressure cookers, amid this level of big-market media scrutiny, perspective is about as common as an oasis. Under the current circumstances, Miami these days seem about as tame as Cleveland when gauging the temperature in New York.
"It's never going to work just right overnight," a sympathetic James told reporters after Miami's victory Wednesday at Detroit. "We were the prime example of that. It took us time. We were 9-8 at one point. But it took us even more, long after that, to become a good team, to know each other, to learn each other, to learn what works for each other, what doesn't work."
You get that luxury of ample development time when you sign up in relatively anonymous Atlanta, mundane Milwaukee or perfunctory-yet-passionate Portland. But when the players' salaries are set to pile well into luxury-tax territory and patience runs razor-thin like in New York or Miami, it's basically a win-now or it-won't-work situation.
"People want results now," said James, who believes the Heat are operating in a championship-or-bust mode themselves this season. "Eventually, it just clicks, and you know what's best for the team and how we're going to work together to be successful. We were like, 'OK, let's just play our game and see what happens,' and we took off from there."
The Knicks could easily be at a crossroads coming into Friday's game against the Heat -- much like they were when they arrived in Miami last spring soon after they acquired Anthony and Chauncey Billups from Denver. Those Knicks were in an adjustment process following that Feb. 22 trade. They came to Miami a week later on the heels of a stunning loss to the rebuilding Cavaliers, beat the Heat and went 5-2 over a seven-game stretch.
Where do the Knicks come in from after their latest stinging loss? You guessed it: Cleveland. You can't make this stuff up. But you can't overlook the fact that New York lacks the direction it had during that rough patch last season. And I'm not even referring to the obvious issues with D'Antoni and the philosophical clashes between his preferred style and his isolationist roster.
The Knicks don't have guards or ball-handlers capable of steering this team out of being in its own way. Yes, Billups made that much of a difference in this equation. And they paid him to go away. The Heat had willing passers and facilitators in Wade and James. Miami's problem last season was that it was too unselfish at times. That's at least one diagnosis the Knicks haven't had to treat, ranking 24th in the league in assists and 27th in field goal shooting percentage. In other words, taking shots certainly isn't medicating the problem.
Even in many of their losses, the Heat were competitive. Five of the first eight setbacks were on the road, and four of them were by five or fewer points. But six of New York's 11 losses have been by double figures, and the Knicks have dropped six of nine at home.
The Heat, with all their early problems out of the gate, were still a team you clamored to see. If you've watched the Knicks play recently, there have been occasions when you've fought the urge to cover your eyes.
You can call the Knicks a lot of things right now. Delusional isn't one of them. They know they're a work in progress -- just like the Heat were last season. I guess that's another thing they have in common.
"Once we figure [it] out, we'll become a great team," Stoudemire told reporters in Cleveland on Wednesday. "Until then, we are who we are."
What Stoudemire's Knicks turn out to be remains to be seen.
But there's no doubt about where they are now. And that's is in a much deeper hole than the Heat ever were at this point in the season a year ago.
December, 2, 2011
12/02/11
2:09
PM ET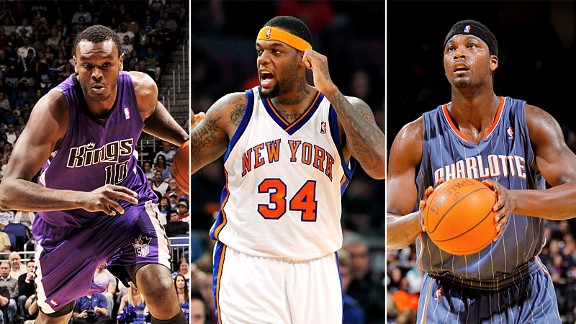 Getty Images
The Heat will have little money to burn, but a big hole to replace at center. Who will they sign?
Let's just get this out of the way up front:
Heat fans want Nene and Tyson Chandler, but there's almost zero chance they take their talents to South Beach (or Miami, the actual location of arena).
The Heat could entice the two biggest fish on the free agent market, but they'd have to leave dozens of millions on the table to do it. Yes, the Big Three sacrificed money to play for Pat Riley, but don't count on a one-in-a-lifetime event repeating itself. No, we shouldn't count out Riley's magic in free agency, but the chances are about as close to zero as it gets. Consider it a pipe dream.
But Samuel Dalembert? Kwame Brown? That's a different story. In this edition of The Heat Market, we take a look at the crop of centers in the Heat's price-range.
Be warned: it's not pretty.
Miami Heat's center targets
---
Samuel Dalembert
| #NBArank: 112th
AGE
: 26 |
STATUS
: Unrestricted |
2010-11 SALARY
: Sac Kings - $13.3M
STATS
: 24.2 mins, 8.1 pts, 8.2 reb, 1.5 blk, 2.8 PF | 47.3 FG%, 73.0 FT%
ADVANCED
: 14.1 PER, 17.1 USG%, 50.9 TS%, 91100 ORtg, 3.4 Est. Wins Added
Hollinger's 2011-12 projection

: 12.3 pts, 13.6 reb, 48.2 FG%, 13.8 PER (per 40 minutes)

TH
: Among the starter-worthy available centers, Samuel Dalembert remains the most realistic option for the Heat. Nene, Tyson Chandler, and Marc Gasol? Dream on. Dalembert doesn't scream "championship-caliber center" but then again, the Heat were two wins away from attaching that label to Joel Anthony. He'll likely receive more compensation elsewhere, but there's reasons he could eventually land in Miami. What would it take for that to happen?

MW
: It would take sacrificing about $15-20 million over the life of his next contract and a willingness to set aside any demands for the number of offensive touches he wanted so badly in Philadelphia and Sacramento. That's a bit much to ask of an athletic and defensively gifted big man who still believes he's in the midst of his prime playing years. That said, Dalembert makes an awful lot of sense in Miami, from his family background, connections to nearby Haiti and - last but certainly not least - the Heat's need for an upgrade at center. But I'm just not so sure if the Heat would be willing to strangle their cap room to pay for him.

BW
: Last February the Kings came into Miami and rolled over, looking like the classic case of a visiting team that had enjoyed South Beach too much. Except for one player. Dalembert played like it was a playoff game, scoring 18 points with 13 rebounds off the bench and standing out from his teammates. Then he attended several Heat playoff games because he lives in South Florida. This is a slow dance that has been going on for awhile. Dalembert is not a perfect center but the Heat are in terrible need and he appears to be willing to come even if it is for below market value.
---
Kwame Brown
| #NBArank: 304th
AGE
: 29 |
STATUS
: Unrestricted |
2010-11 SALARY
: Charlotte Hornets - $1.2M
STATS
: 26.0 mins, 7.9 pts, 6.8 reb, 0.6 blk, 2.6 PF | 51.7 FG%, 58.9 FT%
ADVANCED
: 12.8 PER, 14.9 USG%, 55.0 TS%, 110 ORtg, 1.9 Est. Wins Added
Hollinger's 2011-12 projection

: 10.0 pts, 10.4 reb, 49.6 FG%, 10.8 PER (per 40 minutes)

Tom Haberstroh
: Kwame Brown stinks. And by that, I mean he still carries that rancid "bust" smell that tends to undervalue players late in their career. People look at Kwame and see a tragic figure; he was the No. 1 draft pick out of high school and has averaged double-figures just once in his 10-year career. But at this juncture in his NBA lifetime, he could be a real bargain. I'll say this: NBArank slotted him as the 304th-best player in the game, 100 spots behind Joel Przybilla and I think I'd rather have Kwame next season. Stink and all. And yes, this is what it has come to.

Michael Wallace
: Kwame might feel he owes it to Michael Jordan to remain in Charlotte and continue his late-career surge after the Bobcats took him in last season on a minimum deal. When I asked him about this very subject late last season, Brown said he was happy in Charlotte and didn't plan on leaving. But if he has any desire to matter nationally again and pursue a championship to sort of reestablish himself, he's gotta look at Miami and Boston in free agency.

Brian Windhorst
: Quietly Brown is coming off his best season in eight years, really blossoming once Paul Silas took over in Charlotte and gave him an injection of confidence. In his career, Brown has not handled pressure situations all that well and it caused him to be beaten down. Playing for the Heat would be a nightly pressure situation. But he's not a teenager anymore, maybe he's turned the corner. But at best, he's down the list for the Heat.
---
Jeff Foster
| #NBArank: 232nd
AGE
: 34 |
STATUS
: Unrestricted |
2010-11 SALARY
: Indiana Pacers - $6.7M
STATS
: 20.7 mins, 3.3 pts, 6.3 reb, 0.6 blk, 2.3 PF | 47.9 FG%, 56.3 FT%
ADVANCED
: 14.3 PER, 10.1 USG%, 49.7 TS%, 122 ORtg, 1.8 Est. Wins Added
Hollinger's 2011-12 projection

: 8.0 pts, 14.9 reb, 47.9 FG%, 13.3 PER (per 40 minutes)

TH
: Foster might be the best kept secret in the league. And that's probably because he can't stay seem to stay on the floor. He's a rebounding monster, something the Heat could use with Ilgauskas and Dampier gone. Among 59 qualified centers, Foster's rebounding rate last season was second only to Dwight Howard. Yes, better than Tyson Chandler. Better than Dalembert. Foster's offensive board rate was tops for the league, making him the league's greatest put-back artist. But he can't really be counted on, right?

MW
: Foster has always been a solid rebounder and a tough presence who is capable of hitting scoring in the post when needed. Again, as is with most free agents on the Heat's potential radar, this comes down to how much he's willing to sacrifice in salary for the chance to make up for lost time on a team that contends for a championship. But I like Foster alongside in a rotation with Haslem, Chris Bosh and Joel Anthony down low. It's certainly an upgrade from last season.

BW
: Foster has forged a reputation for being one of the toughest and most rugged big men in the league. He's spent all 12 years of his career in Indiana and the Pacers have hung onto him for a reason, because he's got value. Most think he's going to re-sign there. But a series of injuries, especially severe back problems, have really limited him over the last two years. He's on his last legs and could help a team in a limited role, but it would be just that.
---
Joel Przybilla
| #NBArank: 198th
AGE
: 32 |
STATUS
: Unrestricted |
2010-11 SALARY
: Charlotte Bobcats -$7.6M
STATS
: 14.4 mins, 1.8 pts, 4.0 reb, 0.4 blk, 2.2 PF | 56.8 FG%, 51.9 FT%
ADVANCED
: 6.2 PER, 7.7 USG%, 57.3 TS%, 94 ORtg, -1.1 Est. Wins Added
Hollinger's 2011-12 projection

: 4.6 pts, 11.2 reb, 54.3 FG%, 6.4 PER (per 40 minutes)

TH
: If the Heat need to fill their newly-formed hole of centers with "Z" in their last name, Przybilla is their guy. The long-time Blazers backup was traded to Charlotte last season as salary filler, but if he can get back on the court and overcome his knee problems, I see him as a Jamaal Magloire-type for the Heat. As the NBArank suggests, the 32-year-old maintains a strong reputation, despite only playing 36 games last season. Michael, you think Przybilla's size can help the Heat underneath?

MW
: Who? Dang, I almost forgot he was still in the league. But there's something to be said for that size, no matter how fragile he's been in recent years. I don't get a strong sense that he would be a good fit for the Heat on either side of the ball. But stranger matches have been made.

BW
: Career was completely derailed by two knee surgeries to the same knee two years ago, the second coming when he fell in the shower. He was a strong role player at one time, now he can't jump and his career might be over.
---
Eddy Curry
| #NBArank: N/A
AGE
: 28 |
STATUS
: Unrestricted |
2010-11 SALARY
: Minnesota T'Wolves, $11.5M
STATS
: Did not play in 2010-11
ADVANCED
: Did not play in 2010-11
Hollinger's 2011-12 projection

: N/A

TH
: The Heat have kept Eddy Curry on their radar for some time now, but haven't pulled the trigger. It's not hard to see why. It's worth remembering that in his prime (yes, he did have one), he was not a good rebounder. One of the worst in the league in fact. So even if he drops the weight and gets serious about playing, the Heat would get another Joel Anthony in the paint when it comes to boards. But I would not be surprised in the slightest if he came to the Heat. I would call him a flier, but I can't bring myself to associate "flying" with Curry.

MW
: If it wasn't for the connections Curry has with Dwyane Wade's offseason trainer or the agency that represents LeBron James, I'm not sure we'd be hearing this much about Curry. He hasn't been relevant - or anywhere near basketball shape - for three seasons. But for some reason, the Heat and Curry have mutual, conditional interest. Where the Heat might see a low-risk opportunity, I see the second coming of Jerome James. Still Miami won't have much to lose in this gamble. After all, Curry just might be serviceable. He certainly won't cost much.

BW
: Have I mentioned how hard it is to get a center on the free agent market? We've just talked about a guy who is one misplaced shove to the back from retirement and another guy who cannot jump and Curry is farther down on the list. Mothers, hope your sons grow up to be left-handed pitchers or 7-footers, they always are in demand. Curry has supposedly been preparing for the Heat's training camp for months. If the Heat even give him a nonguaranteed contract at least it's a sign he's passed the tryout, which he's already failed with the team at least once. The guy has been in mothballs for three years. It would be a remarkable story but, wow, is it a longshot.
---
Other potential targets
:
Tyson Chandler
(unrestricted),
Nene
(unrestricted),
Kurt Thomas
(unrestricted).
---
Monday's edition of The Heat Market: Miami's free agent wing options.
---
November, 27, 2011
11/27/11
2:42
PM ET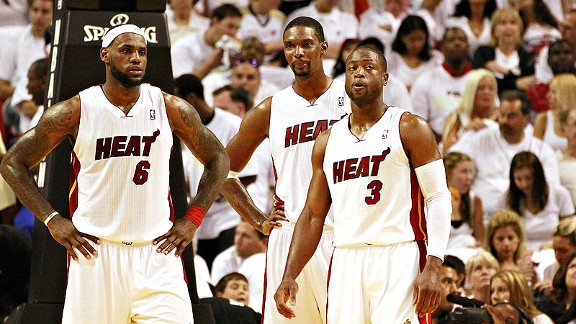 Marc Serota/Getty ImagesHow does the new tentative deal affect the Big Three and the rest of the Heat? Our experts discuss.
The NBA and its players have tentatively come to an agreement, which means a nation can resume hating the Heat instead of enduring a nuclear winter. And there's early indications that those boos will get louder, since some last minute changes to the proposed CBA
look to be very Heat-friendly
.
The complicated CBA language has the potential to induce migraines, but our Heat Index staff has peered under the
hood of the tentative deal
so you don't have to. And it has some interesting contents that will alter the Heat's plans going forward.

Looking at the CBA's structure, which part puts a smile on Heat president Pat Riley's face? Which part makes him uneasy? Who will be the Heat's biggest signing during the lightning-fast free agency sweepstakes?
In another installment of Heat Index's 3-on-3 series, our writers debate about how the new tentative deal reshapes the Heat now and in the future.
1. What are the Heat most happy to see in the new tentative deal?
Tom Haberstroh:
No hard cap. There were only two realistic scenarios that would break up the Big Three: LeBron grew to hate the Miami lifestyle and a league-imposed hard cap. OK, maybe the former wasn't realistic, but a restrictive hard cap was on the table at one point. Hard-line owners softened and so did Micky Arison's hard feelings towards them.
Michael Wallace:
First and foremost, the fact that there essentially is a two-year grace period in the proposed new CBA that would phase in majority of the rule tweaks that might have most affected the Heat. Beyond that, adjusting the mid-level exception to give minimum tax-paying teams use of the full $5 million per season mid-level is huge for the Heat, who can now more competitively shop for that much-needed free agent center.
Brian Windhorst:
The $4 million so-called "apron" that will allow teams barely into the luxury tax to use the full mid-level exception was a huge boon. If they manage their payroll and their amnesty clause properly, they will likely be able to add significant free agents this year and next year. That is a vital development because the team is thin in several areas.
---
2. What are the Heat most disappointed to see in the new tentative deal?
Haberstroh:
The salary floor rule. This isn't going to affect the Heat directly – the Big Three's salaries will satisfy the requirement alone – but teams like the Kings and the Nets may have no choice but to overpay for Sam Dalembert and Kris Humphries, respectively. Not only would it keep two big men off the market, it would artificially inflate the going rate for others too.
Wallace:
Honestly, there's not much there in terms of issues that would adversely affect the Heat. They're not a team that ventures too deep into the luxury tax anyway, so the end-of-the-year tax bill or revenue sharing issues would be manageable. If I'm forced to pick something, it's that Miami could face a bit more competition than expected from teams now forced to spend up to at least 85 percent of the salary cap in bids for late career veterans.
Windhorst:
The new increased luxury tax system plus the quite penal so-called "repeater tax" that will bite teams who are in the luxury tax four out of any five year. The Heat likely are going to be the tax payer for the rest of the Big Three era. But this won't affect fans and is anyone feeling sorry for multi -billionaire Micky Arison? Anyone?
---
3. Early prediction: Who is the biggest free agent the Heat will sign?
Haberstroh:
Sam Dalembert. As much as I'd like to look like a genius in the event that the Heat miraculously nab Nene or Tyson Chandler, I can't answer them with a straight face. But Dalembert? He's more like it, if you think he's a bigger signing than Mario Chalmers.
Wallace:
My crystal ball isn't working right now. So I'm going to wing it and predict that the Heat pull off the shocker and gets Nene to take the full mid-level to come to Miami. Beyond that, knowing Pat Riley's logic when it comes to the mid-level, expect the Heat to split it and try to get two for one - something along the lines of a Sammy Dalembert/Grant Hill combination. It might be expecting too much to ask those players to sacrifice that much.
Windhorst:
The largest probably will be Eddy Curry. The most important might be Sam Dalembert. The Heat's center situation is pretty dicey right now. They have a project (Dexter Pittman), a long shot (Curry) and a stop gap (Joel Anthony, who isn't a true center). They badly need a starter and Dalembert is best, most realistic option.
May, 30, 2011
5/30/11
10:55
PM ET
By Kevin Arnovitz and Tom Haberstroh
ESPN.com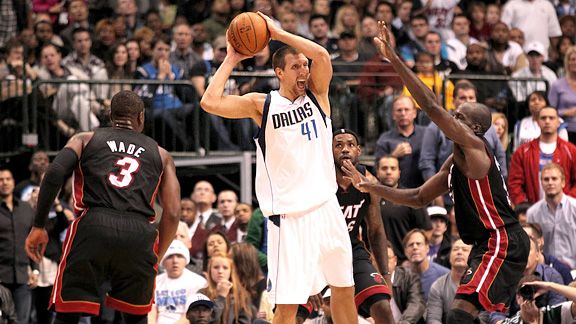 Matthew Emmons/US Presswire
Getting Dirk Nowitzki out of his comfort zone is agenda item No. 1 for the Heat.
Will the Dallas Mavericks have an answer for the Heat's "Big Five"?
The training wheels are off. It's time for Heat coach Erik Spoelstra to ride his best lineup, the one featuring Udonis Haslem and Mike Miller alongside the Big Three.
Due to serious injuries to Haslem and Miller this season, we've seen less than two quarters worth of ball with that lineup on the court thus far, but the early results have been staggering: Heat 51, Opponents 32.
Spoelstra has exhibited patience with this lineup, saving it for the final stretches of Games 4 and 5 against Chicago. But it's safe to say the Heat have looked their best recently with Haslem and Miller on the court, which may cause Spoelstra to bust it out earlier in the game.
Why is this lineup so effective?
In Miller and Haslem, the Heat have two floor-stretchers who don't compromise their defense. Despite Miller's 3-point struggles from downtown in the playoffs, the veteran still poses as a threat beyond the arc, which effectively pins his defender to the perimeter. Haslem, too, will make the defense pay if they leave him open in the midrange.
But defense was where this five-man unit shined in the Chicago series. It suffocated the Bulls with quickness and lateral length as LeBron James and Dwyane Wade locked down Derrick Rose, forcing other Bulls to pick up the slack. But the Mavericks don't go all-in with their point guard like Chicago did, which means that James and Wade's defensive effect won't be so profound on the ball.
The five-man unit posed the perfect antidote to Chicago's imbalanced attack, but Dallas has enough weapons to counter. But will the Mavs be able to consistently?
Can anyone in a Heat uniform stop Dirk Nowitzki?
Before they started to verse their big men in the scouting report on Nowitzki, the Heat coaching staff emphasized one thing above all else:
Dirk is going to hit his fair share of jumpers -- some of them unconscionable.
"You just have to make [Nowitzki] work for everything," Haslem said. "You have to play the percentages. Every shot has to be a tough shot."
In other words, don't get frustrated by the results so long as the process of defending Nowitzki is executed with precision. What's the process like? The Heat have a list of objectives to defend Nowitzki, and
a list of candidates for the job
that includes Chris Bosh, Haslem, Joel Anthony and James.
First, Dirk wants to release over his right shoulder with a series of shot fakes. Heat defenders will try to push Dirk to his right hand and stay down on those fakes.
Second, the Heat will redefine what it means to front Dirk in "the post," which will extend all the way to the 3-point line! By playing on top of Nowitzki, the Heat hope to force him to the rim. Why? Because so much of the Heat's defensive success lies in the quickness and instincts of their weakside help defenders -- guys like Wade, James and Anthony who, in a split second, can converge in the paint. As a result, watch for the Heat big men to show hard and force Dirk downhill.
Above all, the Heat will apply their physicality in combating Dirk -- one reason they might very well call on James to guard Dirk for the game's final dozen or so possessions.
As strong and intuitive as LeBron is, it might not even matter -- but it won't be for a lack of effort.
Does Dallas have the wing defenders to slow James and Wade?
There was a point in Shawn Marion's career when he was arguably the best 1-through-4 defender in basketball. In case we'd all forgotten, Marion effectively unleashed his unusual combination of length, deceptiveness, physicality and quick feet against Kevin Durant in the Western Conference finals.
Now Marion will be asked to contend with James, who is a far more aggressive offensive player than Durant. Marion has been a tough nut for LeBron to crack. Over the past two seasons, James is shooting just 5-for-20 against The Matrix, with three turnovers.
Wade, meanwhile, presents a more interesting series of choices for Dallas. DeShawn Stevenson is the Mavericks' designated defender on the wing and he'll open each game on Wade. The NBA's Stats Cube tells us that
Wade scored only a single field goal
during the 30 minutes he shared the floor with Stevenson this season. When Stevenson took a seat, Wade exploded for 42 points in 50 minutes.
But the Mavericks' most potent lineups feature Jason Terry alongside Jason Kidd, which means Dallas has some difficult choices to make with regard to Wade. The Mavs will often cross-match Kidd on an opponent's shooting guard, but what happens when the Heat insert Mike Miller in lieu of a point guard?
Truth be told, the key to Dallas' man-to-man perimeter defense isn't Terry, Kidd, J.J. Barea or even Stevenson -- it's Tyson Chandler. Mop in hand, Chandler will be called upon to clean up any defensive mess left in the wake of a drive by James or Wade. For this, the Mavericks are quite grateful.
Do the Heat have an answer for Dallas' zone?
The NBA Zone Defense: Not just for feeble-minded, quiche-eating, lackadaisical defensive units anymore!
You can thank Rick Carlisle, Dwane Casey and the rest of the Mavericks coaching staff for that. They have implemented a smooth zone that operates with such a mechanical efficiency that the Mavs show zone even after their opponent misses a shot, which is almost unheard of in the NBA.
In their two losses against Dallas this season, the Heat encountered the Mavericks' zone on 56 plays and scored only 40 points. Overall, the Heat shot 13-for-45 against the zone. More than 40 percent of those attempts were 3-pointers and many more were long 2s, as an impatient Heat offense settled for jump shots rather than perform the off-ball movement necessary to upset the zone.
That isn't an easy task against the Mavericks. Their zone is a well-oiled machine, but interestingly, each defender is given a great deal of latitude. Against pick-and-rolls, the Mavs will switch freely, creating mismatches that, in theory, should favor the offense, yet often result in awkward possessions (see James posting up Terry in the Nov. 20 game).
Resourceful offenses will often try to find that soft spot in the middle, only to find that Brendan Haywood (or occasionally Chandler) regards the foul line as an extension of his designated space. Try to go under the zone along the baseline, and Dallas has a contingency plan for that, as well.
To further confound its opponents, Dallas will frequently flow in and out of the zone without obvious warning. All of this is intended to get the offense out of its rhythm and induce jump shots. The early-season Heat obliged the Mavericks to this effect. The Finals model can't afford to.
Is Tyson Chandler finally the center the Heat can't overcome?
Sure, Dirk Nowitzki ranks as the best player the Heat have faced in the playoffs, but there's another Dallas player that warrants his own superlative. Chandler is the best center the Heat have tangled with in the postseason.
En route to the Finals, the Heat have quietly tiptoed around the top centers in the East, Dwight Howard and Al Horford. The Heat have managed to neutralize Joakim Noah, Jermaine O'Neal and Spencer Hawes, but Chandler stands a cut above, as a force on both ends of the floor.
In the first meeting between these two teams, Chandler was largely responsible for sending the Heat home with a loss. He tallied 14 points and 17 rebounds, but what stood out the most was his ability to disrupt James and Wade. He contested every one of their drives and forced them to think twice about entering the paint.
If there ever was a stopper for Wade and James' paint attack, Chandler's the guy to do it. All in all, James and Wade scored 34.3 points per 36 minutes with Chandler on the floor this season, but 67.0 points per 36 minutes with Chandler on the bench.
Offensively, the Heat must treat him like a more powerful Noah, whom the Heat struggled to ground on the boards in the Eastern Conference semifinals. Putbacks are always a concern with Chandler, and Joel Anthony will need all the help he can get to box Chandler out -- and keep him boxed out. Noah shot just 9-for-28 at the rim in the last series, but the Heat won't be so lucky with Chandler, who shot a scorching 65.4 percent from the floor this season.