By Kevin Arnovitz
Professionals in any field pick up new tricks all the time. To a great extent, that's what makes them professionals -- a willingness to sculpt their craft so finely that any remaining flaws are nearly invisible. Kobe Bryant spent a good amount of his offseason developing a more refined post game, even though he was already one of the more dominant post-up guards in the league. Bryant could probably subsist off his current skill set for several more years, especially when you consider his supporting cast and the offensive system in which he works. Did Bryant decide to improve his post moves because he has an insatiable appetite to become better or is it possible that, after 31 years on the planet, Bryant discovered that improvement would no longer come without deliberate pursuit?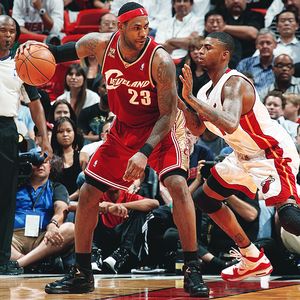 Issac Baldizon/NBAE via Getty Images
The No. 1 item on James' to-do list: Elevating his post game.
LeBron James is considerably younger than Bryant, though already regarded as his equal (and, by some, his superior.) It's not unreasonable to expect that if James did nothing along the lines of creating a specialized summer workout regimen to strategically target some facet of his game, he'd still improve as a basketball player each of the next five or six years. This isn't to say that James doesn't have to work at his game, but so much of his growth as a player will evolve naturally. That's his gift.
John Krolik of Cavs the Blog watches as much LeBron James as anyone this side of the Cavaliers' video coordinators. For Krolik, the part of James' portfolio most in need of improvement is his work in the post. On Cavs the Blog, he offers James a "to-do list" to this effect.
Krolik sees three issues for James in the post: Comfort, Motivation and Power.
Comfort
James feels most settled on the floor as a potential playmaker, either for himself or others. But as he moves deeper into the paint, some of that playmaking potential is complicated:
When LeBron's on the court, at least for the vast majority of the game, he never stops being a passer. And it's clear that he's just not as comfortable making plays from deep in the post as he is making them from further out, where he can see the defense better and there's more room in the paint for cutters. LeBron doesn't score very much in the post, but what he does do all the time is start backing his man down, wait for the double-team, and immediately pass to the open man, either hitting the man up top or skipping it all the way to the corner for a three. It's not terribly effective, honestly, because he tends to hesitate a little too much and get the double 10-15 feet out, where the defense can still recover.
But it's clearly a big reason LeBron doesn't like to get deep in with his back to the basket is that he loses some of his passing angles when he does it, or at least isn't comfortable with the ones he has when he's down there. Any triangle offense enthusiast will be more than glad to tell you that assists rarely come from the low-post; much more often, what comes out of the low post is "the pass that leads to the pass" or a "hockey assist." LeBron's much more comfortable trying to make the home run play on his own than he is giving his team a slight advantage and hoping they work it out. Given the relative dearth of offensive talent LeBron's always had around him, this strategy is somewhat understandable.
Motivation
LeBron is so capable from the perimeter, he often doesn't bother to explore opportunities that might exist closer to the rack:
One of the most frustrating things about LeBron's post game, or lack thereof, is that he allows himself to get pushed off of deep post position way too easily. Either LeBron has some sort of weakness in a muscle group we don't know about, or he's so comfortable catching the ball in the 18-20 foot range and driving from there that he isn't particularly interested in working hard to keep low-post position and risk the pass not getting to him. Again, there is an explanation for this behavior. There's a reason post play has been dying off since the hand-check rules were passed: it's a lot easier to go around defenders than it is to shoot over them nowadays. And LeBron is one of the best ever at going around guys. Even still, if LeBron wants to make his post game into a weapon, and he should, he needs to start by showing a desire to actually get the ball in the low post.
Power
(Or, "Keep it simple, stupid.") Part of James' problem might be that he visualizes his post game as something that needs to be choreographed, when a simple display of brute force might do the trick. Krolik uses the metaphor of a pitcher (baseball, not kitchenware):
LeBron should not be a starting pitcher in the post. LeBron should be a dominant closer. Heat, hellacious breaking ball, change-up to keep the hitter honest. Look at Pau Gasol, the best post-up big man in the NBA today. He doesn't have a huge bag of tricks, but he's got enough moves to keep the defense from sitting on one, and each move is deadly. Hook with either hand, evil spin to the basket when the defender tries to take away his hook, counter-pivot move around the basket when his man beats him to the spot, turnaround to keep his man honest. That's pretty much it. And it works. Very well...
... he's trying way too hard to be pretty. He's trying all these tricky fadeaways and modified hooks from the mid-post, when he should be taking one or two extra power dribbles, getting to where he can go over either shoulder, and draining easy bunnies all day long. He's falling into the Fetish of Skill and trying to impress with the most intricate post moves he can pull off instead of going back to the basics, focusing on his footwork, and creating easy shots. One of my chief arguments for LeBron as basketball's best player over the years is that the most valuable skill in basketball is not the ability to convert difficult shots, but create easy ones. LeBron needs to remember that when he posts up, and use his athleticism and size with some footwork to get layups in the paint instead of trying to use his skill to drain tough shots from 8-14 feet.
In many respects, James' reluctance to be a force on the block stems from his embarrassment of riches. He has an amazing ability to find teammates, so why cut off many of those passing angles by moving low? He can do so much from 19 feet off the dribble to find open areas on the court, so why confine himself to a smaller space down in the block? His athleticism is unparalleled, so why reduce his game to nothing more than a exhibition of power?
The answer, of course, is the same reason why post players need proficient outside shots:
The best way to leverage your most impressive skills is by making your opponents honor your lesser ones.