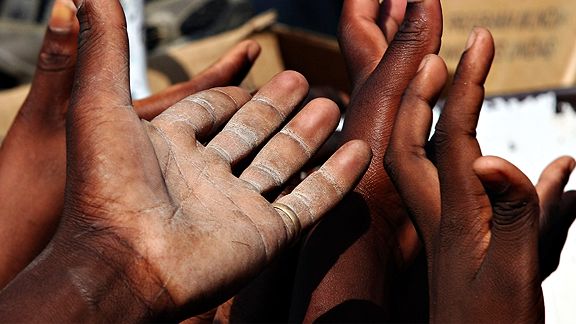 Win McNamee/Getty Images
Haiti, in need.
The NBA, like the rest of the world, is preoccupied with the horrible earthquake and its aftermath in Haiti. Many teams, players and the league are active in the relief effort. But it runs deeper than that.
There's the Sixers' center Samuel Dalembert, Haitian through-and-through has, of course, been active in raising money to help his homeland through his foundation for years.
Mario Elie is from a Haitian-American family in New York, and has long taken an interest in his family's homeland. Quincy Douby (former first-round pick of the Sacramento Kings who is playing overseas) -- from Brooklyn -- has a similar story.
There are several other NBA-Haiti and basketball-Haiti connections. The perils of Haiti's poor infrastructure were made clear in 2003, when power lines collapsed into a basketball game, killing 15 by electrocution.
A different kind of basketball-in-Haiti tale comes from this little video. It's from a year ago, showing nothing but some kids at a basketball camp in Haiti horsing around in a swimming hole in happier tiems.
Like a lot of people, I have spent a lot of the last week trying to make sense of the news from Haiti.
Which is so tough. We have been hearing all these stories that are nearly impossible to wrap one's mind around. For instance, from the BBC's website:
Shaul Schwarz, a photographer for Time magazine, told the BBC he had seen a roadblock formed with bodies of quake victims on a main road, south of the capital.

He said he believed this was an "act of anger" on the part of people who were not getting help.
Jon Lee Andersen of the New Yorker is in Port-au-Prince, and compares the scene to New Orleans after Hurricane Katrina:
The scale of the disaster is much larger in human terms, but very analogous in terms of its devastation to the life and psyche of a unique society. And of course I think the world is-or should be-watching to see how the 'international community,' but particularly the U.S., handles this. There will be a before and after in the global consciousness because of this as yet unnamed great tragedy-just as there was, rightly so, for the world over Katrina. Because, again, what these two special places share is neglect by their governments, and with Haiti, despite everything that has been done, by the rest of the world. Haiti has been out of sight and of of mind for far too long; it is like a Lower Ninth Ward of almost 10 million people.
George Packer, also writing in The New Yorker:
Haitian history is a chronicle of suffering so Job-like that it inevitably inspires arguments with God, and about God. Slavery, revolt, oppression, color caste, despoliation, American occupation alternating with American neglect, extreme poverty, political violence, coups, gangs, hurricanes, floods-and now an earthquake that exploits all the weaknesses created by this legacy to kill tens of thousands of people. "If God exists, he's really got it in for Haiti" Pooja Bhatia, a journalist who lives in Haiti, wrote in the Times.
This blog has some powerful first-hand account of life in Haiti since the earthquake, including a dramatic tale of the moment of the earthquake, and it's aftermath and the reality that it's hard to help in a situation this desperate. Leslie Rollings writes:
I was trying to prepare myself for what we would encounter when we started handing out water. In situations like this there are two types of people. There are those that are grateful for what they can find or are given and are often humble. There are others who in that state of need feel that they have to take more than they need because they might not ever have again. We encountered both today and it was difficult and frustrating. After handing out bread from the truck in a giant, open former sports arena now turned refuge camp the only thing Jean could say as we drove away was, "It's so hard to help." His point was that sometimes the very people you are trying to help make it difficult for themselves and others. Jackson and I looked at our hands that were scratched and bleeding from being mauled and it made me sad. I was sad because I saw the desperation in the eyes of some of the kids that so badly just wanted one piece of bread, but had to fight those that felt they needed to take everything they could. I tried my best to try and connect one piece of bread with one hand at a time to make sure it got spread around, but it was hard. So very hard.
Nevertheless, we have to do what we can to help. The co-author of the above blog has a dramatic tale of trying to dig some girls free of rubble with a hammer, with mixed results.
With all that said, here are some thoughts about what you and I can do to be most helpful. The bottom line is that for most of us, money is probably the most useful gift. One other thing worth contributing might be resolve not to let Haiti fall off the map. Nobody can say much of anything specific to make the images of the last week seem optimistic, but there is value in committing to the idea that the future must be better. The writer W.E.B. Dubois, an American with Haitian roots, wrote the following, which was read at his funeral in 1963:
"Believe in life! Always human beings will progress to greater, broader, and fuller life."