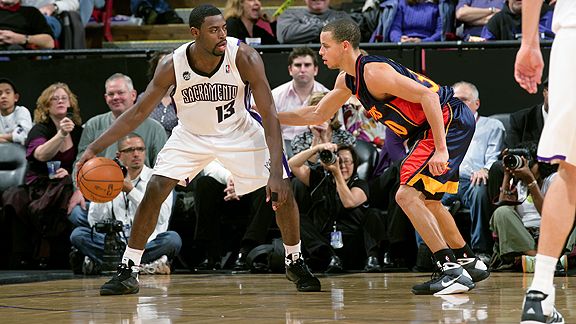 Rocky Widner/NBAE via Getty Images
Stephen Curry hounded Tyreke Evans nicely in a close game oddly devoid of intrigue.
As a basketball fan, more than anything, I hope for close games.
Just looking at the scores, I'd rather watch the Kings win over the Warriors, for instance, instead of, say, the Lakers vs. Wizards game last night -- even though that last game featured the two teams that have been in the news more than any others over the last couple of months.
The reason is that the Lakers won by a boring 12 points, while the Kings hung on by what would seem to have been a pulse-pounding three. A single possession game -- the gold standard of crunch time!
The truth, however, is that taking your high expectations to the end of last night's Kings/Warriors is like ordering your favorite soup in a restaurant, only to have it served with a cigarette butt bobbing up and down in it.
Once you see it, it's the last thing you ever wanted.
This was in fact not a close game at all, but instead a blowout so badly handled that is posed as a close game.
The Kings owned the Warriors. They were up by 21 a few minutes before half-time, and at that point the game was essentially over. But there's a certain art to maintaining a lead, and the Kings muffed it so badly that the Warriors actually managed to crawl within a single possession in the final minute. But, in a cruel twist of fate, they did so without really ever threatening at any point to win, or even tie.
Assuming you turned this one off at half-time, or never even considered watching, here is some of what you missed:
With 3:11 left, the Kings were still up by ten but had become offensively challenged. The best shot they could find was an Ime Udoka 3-point shot. (Kevin Martin was on the bench in a slump -- and remember, it had been a blowout.) At the moment it left Udoka's fingertips, he was 16 of 56 on the season. He missed. Now, you will hear announcers talking about a four-point swing, right? That's when a team misses a shot and one end, and then gives up a made shot at the other end. If the make and miss were switched, it would have been a four point difference. Well, sometimes, you'll hear about a five-point swing -- if one of those buckets was worth three points. Udoka, at that moment (who could have known?) was in the middle of his own personal seven-point swing. That's right. He missed a 3, then he went to the other end and fouled Stephen Curry as Curry was following through on what proved to be a made 3 of his own. And Curry hit the free throw. Instead of Kings by 13, it was Kings by six.

The biggest intrigue of crunch time was: What was Corey Maggette's technical all about? Being deftly guarded by Udoka, Maggette -- who is to drawing fouls as this guy is to drawing pictures -- had an attempt blocked nicely (and cleanly) from behind by Greene with 16 seconds left. The Warriors took a timeout before inbounding. Returning to the court, the Warriors, Maggette, the Kings' broadcasters and everybody else was mystified to learn that first Udrih had a date with the free-throw line at the other end, to shoot a technical free throw. The technical was on Maggette. The replays showed Maggette getting his shot blocked and then looking around not saying anything. Obviously, there was more to the story, but even in today's newspapers nobody seems to have any idea what it was about. A note about Maggette's getting to the line: He only made three buckets in the game, to go with 19 misses. Not a typo. And yet, thanks to his ability to draw fouls, he ended up with a decent 19 points.

From that point forward, the Kings offense was as follows: Beno Udrih miss. Tyreke Evans miss. Udrih miss. Evans miss. A Donte Greene made jumper! And then another Evans miss. Credit Stephen Curry with making things tricky on Evans. And credit the Kings fans with getting very excited every time Evans touched the ball, goading him into ever worse shots. Meanwhile, Corey Maggette and Cartier Martin hit some layups for the Warriors, and made some free throws. But by the time they got within two points, the game clock had descended to 24 seconds -- the time when the Kings could just hold the ball and win. So Golden State resorted to fouling Udrih. Which was sweet relief for the Kings, who had made one field goal in the game's final 4:54. Udrih misses would have been thrilling for hoops fans -- then Golden State could have made things interesting. Instead he made four straight and the game ended with the Warriors chasing around Kings, trying to foul them, but failing.
So, if you are also a crunch time junkie, and were disappointed that Mavericks vs. Bucks ended with a turnover followed by a miss, fear not. You didn't miss anything here.