Eric Gordon and the misses
February, 13, 2010
2/13/10
12:12
AM ET

By Henry Abbott
ESPN.com
Archive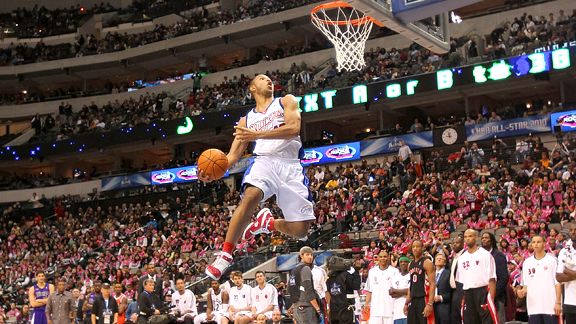 Ronald Martinez/Getty Images)
Eric Gordon made this but missed plenty in his Friday night showdown with DeMar DeRozan.
Just about every year the NBA does some experimentation at All-Star weekend. Last year it was the return of H-O-R-S-E.
This year it's the miniature dunk contest, between two dunkers. The winner, as chosen by fan votes (all those text messages and web votes) graduates to the actual NBA dunk contest on Saturday.
This mini-contest is called a dunk-off.
Or is it dunk-in?
One of those. Whichever one, it was lost by young Clipper Eric Gordon.
His rival, velociraptor DeMar DeRozan, sure didn't create lasting memories, but he did put down two perfectly OK slams. Gordon's made dunks, by my estimation, were slightly better.
However, Gordon committed the single cardinal sin of any dunk contest: He only got to those makes after a whole bunch of misses.
The first of his two dunks was ambitious. He explains: "The toughest thing is to put it off the ground and then off the backboard, then try to get it at the rim. Unluckily, I didn't get it as good as I thought."
There were many attempts, all of them bad. They bounced off the floor, and then off the backboard, but well out of dunking range. Or he fumbled the catch. One attempt to set up that ambitious dunk was so errant, that it hit
nothing but floor
. Missed the backboard entirely, and sailed past several rows of expensive seats.
Had he practiced this move a lot?
"I did!" he says, before adding "kind of."
Gordon abandoned that dunk, and made an easier one instead. "I had to try something else," he says, picking up on what the entire stadium was thinking.
For his second dunk, Gordon enlisted help. Memphis guard O.J. Mayo ran the left side of the floor, while Gordon approached from the right. Mayo, on the run, lofted a pass that Gordon caught in mid-air to slam home. That's a lot of coordination. They had not, Gordon admits, practiced.
On the first couple of attempts, either the passes were high, or Gordon (who was, in fairness, doing all this during halftime of a game he was playing in) was low. Finally they made one, which was actually pretty good.
The NBA says the vast majority of voters -- in the stadium, and at home watching on TV -- used their phones to text their votes. Some, however, logged on to NBA.com.
And that's where there was one final embarrassment for the night. It said "Vote For Your Favorite" in big splashy font. Then there was a picture of each dunker, with a little check box next to their names below. "Eric Gordon," said one. "DeMar DeRozan" said the other.
Only, there was a problem. The name "DeMar DeRozan" was under the picture of Gordon. And vice-versa. This means casual basketball fans who wanted to vote for Gordon may well have voted for DeRozan.
The league says the problem was fixed after about a minute. And the voting was not close.
Gordon laughs at the idea of protesting.
"It is what it is. ... If I would have made it the first time, it would have been a tough decision," he says. "But it was an easy decision."