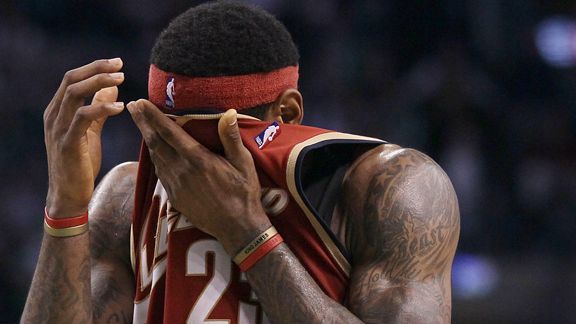 Elsa/NBAE/Getty Images
The summer of 2010 was always about finding the team with the best vision of the future.
Everything about LeBron James' free agency plan changed as the Cavaliers were eliminated by the Celtics: No way he'd head back to Cleveland after that. Right?
Wrong. It's hard to say with certainty that anything changed at all. While it's hard to quantify the stress and disappointment in the bloodstream of the Cavaliers' organization, surely the biggest lesson of the loss is not that Cleveland is cursed. It's not that, in a fit of pique, the best player in the game is set to slam the door and never look back on Northeast Ohio.
"It's all about winning to me," James said after the big loss, and it's believable.
If there's a lesson from losing -- James has been savaged and scrutinized even in his hometown -- it's that winning is more important than ever.
That's the analysis that matters. That's dependent on things like ownership, cap space, roster fit, big men, point guards, coaching and everything else. Those are the pieces of the puzzle that need to be in place to win championships, and unless I missed something, the Knicks didn't sign an all-star point guard just as the Celtics knocked the Cavaliers out of the playoffs.
Remember when Team U.S.A. was torn to shreds in the media and everywhere else for losing in the Olympics and World Championships? The sting was so sharp that they resolved to assemble a "superteam." To leave nothing to chance. To prove everybody wrong every possible way. It was a strategic long-term plan: Better scouting. More practices. Better command of international rules and traditions. A special coach.
And it worked. They overwhelmed the competition and restored their dignity.
Now, imagine you're James, a man who has been careful to preserve an array of options in free agency. Surely, you'd want to follow that blueprint. Where can you be part of the best possible team? Which franchise can best eliminate what James calls the "nightmare" of elimination and maximize the dream of winning a title? Cleveland, Chicago, New Jersey, New York, Miami ... they will all make their cases. They may also make trades and picks -- between now and free agency stands the draft and one of the busiest trade weeks of the year.
When the dust settles, James, his team and their game plan will have targeted one team that is most ready to take James on the ride to his first title. Why would he go anywhere else?