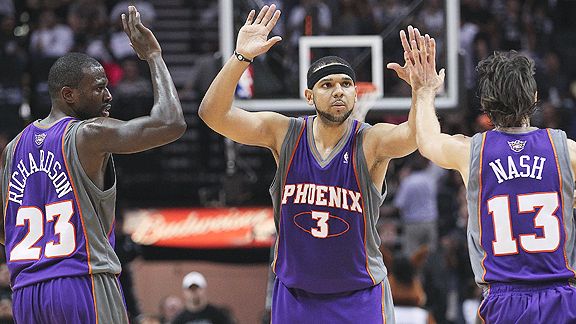 Ronald Martinez/Getty Images
Jared Dudley: A Sun worth talking about because of his amazing playoff plus/minus numbers.
At this year's highly entertaining Western Conference finals between the Los Angeles Lakers and the Phoenix Suns unfolds, here are some things to talk about to make yourself look smart.
They have just about the best offense in the history of the game, and it's all built around Steve Nash and Amare Stoudemire running the pick-and-roll. It may sound boring, but it's not, and Kevin Arnovitz can show you with video how it all works. You should also watch Kevin's video about how Tim Duncan struggled to defend that play, and then pat injured Andrew Bynum on the back, because he's going to have to try to do the same thing.

It's not just rhetoric that the Suns have amazing chemistry. It's palpable. Steve Nash, Grant Hill, Jared Dudley ... all are candidates to be among the NBA's best teammates. Nash even took a pay cut to remain a part of it, saying that he wasn't certain it was the most talented team, but he liked the mix of people and the potential and they'd see if they developed the toughness they'd need to go far.

In the playoffs, the Suns have been amazing whenever Dudley has been on the floor. It could be "small sample size theater" but even though he doesn't score a ton, isn't bigger or faster than people, the 22nd pick in the 2007 draft has been putting up insane plus/minus numbers in these playoffs. Plus/minus can mislead when you just look at a few games, but it can also be a nice way to notice good defenders and teammates who are ignored by the box score. In addition to tenacious defense, and constant effort, Dudley also helps his team by threatening to shoot 3-pointers -- he was fourth in the NBA, making 46 percent of his 3s this season. He's also an excellent podcast guest.

John Hollinger will tell you many reasons these Suns can beat the Lakers. But spare him the talk that they have gone from awful at defense to excellent. This season they were 19th in how many points they gave up per possession. Under Mike D'Antoni, the Suns were as good as 13th.

Neil Paine of Basketball-Reference wants to address the idea that the Lakers are just too big for the Suns, pointing out that in fact the Suns are bigger. "Much has been made of the Lakers' size advantage," he writes, "but their minute-weighted average height in these playoffs (79.13 in) is actually less than Phoenix's (79.22)!"

A fair question is: Which Sun will guard Kobe Bryant? My guess would have been primarily their defensive ace, Grant Hill. But I just watched 50 or so possessions from when these two teams played in the regular season, and in those games Jason Richardson guarded Bryant the vast majority of the time. Against Richardson, Bryant seemed eager to get into the post. Jared Dudley was the next most likely defender. Hill came up only now and again -- and against the veteran, Bryant showed a strong desire to beat him off the dribble. Another approach the Suns used was a pure zone, whereby Bryant was guarded by whichever defender's zone he chose to stand in.

Fun point: According to Jack McCallum's "Seven Seconds or Less," when the Lakers and Suns faced each other in 2006, the Suns benefited from a part of the Lakers' playoff scouting report. One of the Los Angeles players had left it in their Ritz Carlton hotel room, where "a friend of the Suns" found it and gave it to the team. They swear it wasn't very helpful, however.