Who has outcoached Doc Rivers?
June, 14, 2010
6/14/10
5:50
PM ET

By Henry Abbott
ESPN.com
Archive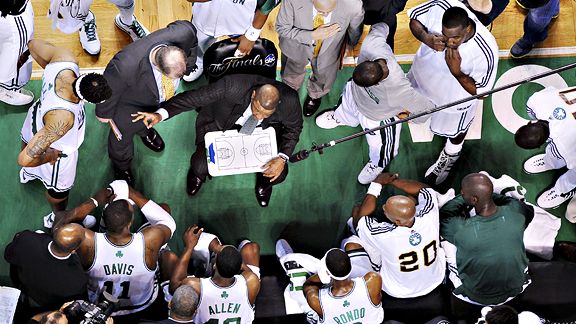 Noah Graham/NBAE/Getty Images
If the coach of the year vote were held in June, Doc Rivers would do very well.
One win from a title, overseeing a team many called too old and too emotional to make it past the first round, Doc Rivers might be doing a coaching job for the ages.
But because his team had a weak finish to the regular season, he has no shot of being considered the NBA's best coach of this season.
I remember being a guest on a radio show just before the playoffs. We were talking about who should win coach of the year. Scott Brooks made a lot of sense to me -- can you remember seeing one of the league's youngest teams also its most defensively disciplined? That has to be good coaching.
There was a case to be made for Nate McMillan, in my mind, too. 50 wins does not set the world on fire, but it's outstanding coming from the team with by far the most injuries in the league. The Blazers are a young team that played much of the season without any centers at all, and was forced to devote long minutes to players like Juwan Howard and Jeff Pendergraph who were never expected to be part of the rotation.
The host made a strong case for Alvin Gentry. The Suns play beautiful basketball with a nice, harmonious locker room. The Phoenix coaching staff skillfully teased tremendous production players other teams didn't value all that much, including Jared Dudley, Channing Frye, Goran Dragic and Robin Lopez.
We were assessing coaching accomplishments with the assumption that the regular season was enough to judge on. That's how the coach of the year award works -- the voting was almost done by the time we were talking. It's a regular season award.
But of course, kicking some regular season butt is child's play compared to what the "big boy" coaches do. People like Gregg Popovich, Phil Jackson, Stan Van Gundy and Doc Rivers coach all season with the playoffs in mind. That may even mean giving up regular season wins, for instance by sitting a key player, to make sure the team is ready for the playoffs.
The best coaching of the year happens in the playoffs, which is why it's strange that the best coach is picked before they begin.
Rivers didn't even come up in that radio conversation. The Celtics were a 50-win team just like Portland, but they had not had Portland's string of injuries. Instead, they had a title-winning roster from two years ago that apparently just wasn't as good anymore. There were whispers they'd lose to the Heat in the first round.
But in reality, Rivers was pulling off an amazing act of long-term strategy.
He had seen his team early in the season. They leapt out to an incredibly hot start. 23-5 at Christmas,
he liked what he saw
, and resolved they were going to make noise.
Then he set about managing them with the Finals in mind.
There were plenty of obstacles to maneuver around. Kevin Garnett's knee was a concern. Paul Pierce and Ray Allen could use as much rest as he could get them, and Rajon Rondo (a bit injury prone himself) was blossoming into a bigger role -- the kind of thing that can stress teammates who would have to accommodate him.
Meanwhile, the team has long had to cope with the reality that the vast majority of their cap space is tied up by the big names, which means the roster would be filled out with an oddball collection of role players who would work cheaply, by NBA standards.
It is a roster of aging stars, Rajon Rondo, Kendrick Perkins and compromises.
As his name suggests, Glen "Big Baby" Davis was at once both too little and too big, and for much of this season -- too injured. Mike D'Antoni had concluded that Nate Robinson was essentially uncoachable, and had benched him for most of December, even though the Knicks were desperate for inspired guard play. Athletic, but recovering from injury, Tony Allen had not been a model citizen off the court and lacked polish on it.
One of the more stable personalities on the team is the poster child for uncoachable NBA players: Rasheed Wallace, who is notorious for tossing towels at teammates, screaming at anyone and everyone and working himself into a frenzy when confronted by referees.
This is the team Rivers was managing. With peaking for the playoffs as the main priority, regular season wins became tough to find. The Celtics limped home winning just half of their last 54 games regular-season games, finishing as a 50-win team. Fans were calling for Rivers' head. But in retrospect that was a poor time of year to judge the Celtics, who proved to be a far better team that had been strategic in taking something of a break through much of the spring.
Doc Rivers has great credibility. He's a former player with a tremendous baritone voice and more than a few war stories to tell with it. He's got a mind curious enough to implement Tom Thibodeau's adventurous defensive rotations, and his Celtics embrace many aspects of the stat geek revolution. He has plenty of alpha dog presence -- you wouldn't want to let him down, nor piss him off -- but at the same time he's always ready to make a self-deprecating joke, and he does not sweat the small stuff.
Wallace and Robinson have brought other coaches to their knees, but they both speak in relaxed and positive terms about Rivers. Players and coaches -- like old married couples – often carry some resentments. But that's not evident in this case.
His simple message, which he repeats in nearly every timeout, is that the Celtics know they are the better team, so long as they play together. He is attempting to extinguish players' thoughts of breaking the offense to go on heroic scoring binges, or of losing focus in the complex defensive scheme.
Is his the right approach?
Given the challenges surrounding this team, it's hard to say any other NBA coach has been better this season, and it's abundantly clear the coach of the year voting comes too early to be meaningful.