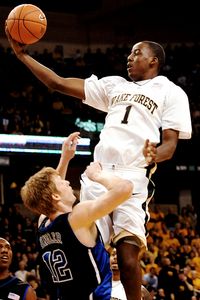 Steve Dykes/Getty Images Sport
Al-Farouq Aminu: The Chief Has Arrived
Al-Farouq Aminu has been tagged with the "potential" label for most of his basketball life. He came to Wake Forest as one of the school's most heralded recruits of all time, putting him in elite company with former stars Tim Duncan and Chris Paul. There were incredible expectations placed on Aminu right off the bat, but they came with good reason. Although he's still raw, Aminu possesses an almost surreal blend of size, athleticism, and general freakishness that's rarely seen on any level. It seems as though Aminu, who is a descendant of Nigerian kings, was always destined for greatness; his first name translates out to "the chief has arrived."
When "the chief" arrived at the pre-draft combine a few months back, Aminu elicited those familiar calls of potential from scouts everywhere. Although he stands at 6-foot-8, Aminu measured out with a ridiculous 7-foot-3 wingspan. To provide some prespective, Kevin Durant, nicknamed Durantula for his freakishly long limbs, is 6-foot-10 with a 7-foot-4 wingspan.
Aminu's combination of incredible length and quickness had him terrorizing the glass in the notoriously tough ACC for two straight years. He ranked top 10 in the nation in nearly every single rebounding category in his sophomore season, averaging 13.7 boards per 40 minutes and an incredible 5.5 offensive rebounds per 40 minutes a game. Although rebounding and defense look to be Aminu's main talents on the next level, he can still throw up a highlight dunk every now and then as well:
Although he dominated most of his competition during his two seasons at Wake Forest, there was a certain Georgia Tech player that always seemed to get the best of him. Yes, Aminu held his own against Derrick Favors and former high school teammate Gani Lawal, but his older brother Alade, a four year player for the Yellow Jackets, was an entirely different story.
As Dan Collins of the Winston-Salem Journal reports, Alade and Al-Farouq engaged in some classic backyard battles:
"The brothers say they always loved each other, but it didn't always show during the basketball battles in the driveway of their Stone Mountain, Ga., home. Alade is three years older than Al-Farouq, and he reminded him of that every time they played.

Their mother would ask Alade why he didn't let Al-Farouq win just every once in a while. Nothing doing, Alade responded.

"It's a big-brother competitiveness," Alade said. "You've got to beat him up. He wouldn't be as good as he is today if I didn't just straight beat him up.

"If I let him win every game, he probably wouldn't be as competitive, and he wouldn't be tough as a player."

Al-Farouq, by all accounts, abhors losing. He didn't take it well. Anjirlic said that the code of a mother prevents her from describing Al-Farouq's reaction in detail.

"Of course I would never publicly say he had any type of display of emotion," she said. "That would just eat him alive."

But along the way, the younger brother began to learn more and more of the older brother's tricks. And this older brother apparently wouldn't have it any other way."
Al-Farouq's constant beatdowns and lessons from his big brother, who had a cup of coffee with the Miami Heat last season, kept him humble as he was harnessing his physical tools into actual on court ability. Although Al-Farouq has won his fair share of recent one-on-one battles, the rivalry remains as heated as ever, as seen when Alade interviewed Al-Farouq for DraftExpress.com:
At just 19 years old, it's more about the future with Aminu than what he can offer a team right away. Even though he's a hound defensively with his high-energy level, Aminu is still extremely raw on the offensive side of the floor. Because he's not a polished jump shooter and relies mostly on his athleticism to get his buckets at the rim, Aminu still has a long ways to go before he can become a complete player. To his credit, Aminu knows he's been given incredible physical tools to work with, and he's not about to throw them away.
"I wish I was six feet sometimes so I would be normal for a day," Aminu recently tweeted. "But not on June 24th."