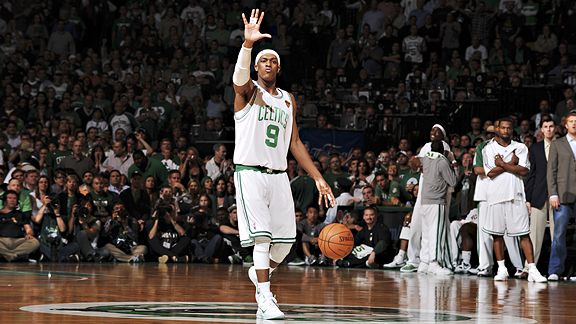 Garrett Ellwood/NBAE/Getty Images
The Lakers left Rondo open in last year's Finals, but that doesn't mean others should.
Rajon Rondo is blatantly one of the best point guards in the NBA, but this great warrior has one massive flaw. He can't shoot.
I don't know why he can't learn that. He'd be an MVP candidate if he could, but as it is, he is merely fantastic.
Opponents are thrilled to see that the super fast, feisty, athletic guy has a flaw, and so in guarding the Celtics they take full advantage. They basically leave him wide open.
There are various rationales for this:
If you guard him conventionally, he's scary, because he's faster, more active and maybe longer than your guy.

He'd rather put the ball on the floor than shoot a jumper, so encourage the jumper.

The Lakers did it in the Finals and won.

It frees up a defender to roam around and disrupt the many other great Celtic players.
But there's a problem. All that space doesn't just make it easy for him to shoot. It makes it easy for him to do whatever he wants.
Beckley Mason of HoopSpeak has dug deep into this, in the wake of Rondo's 24-assist game against New York, and marvels at how easy things are for the Celtics when Rondo is left open. No, the little Celtic's not raining jumpers, but he is getting the ball to Ray Allen in perfect rhythm, and setting up Kevin Garnett and Glen Davis exactly where they want the ball:
Allowing Rondo to handle with impunity 20 feet from the cup also creates optimal spacing for the Celtics' jump-shooting big men. Against the Knicks -- not the pinnacle of pick and roll D, but still an NBA team -- Rondo dropped nine dimes on pick and pop looks (compared to two pick and roll buckets) to Baby Davis, Garnett, and Paul Pierce. Paul Pierce can shoot the 3, but Davis and Garnett, who set dozens of high picks for Rondo throughout each game, thrive on 18-20 footers.

By allowing the screen to be set at or near the free throw line, both big men naturally roll backwards into their shooting comfort zone, creating even more space for a hedging defender to make up. Playing of him also takes the option of trapping Rondo out of the equation. Rondo is undoubtedly one of the most difficult players to trap in the league with his exceptional pace and ability to find angles -- but he is only 6-0, and by mixing in a hard, athletic trap or stunt it's possible to at least disrupt the primary pick and roll action. In addition to trapping on ball screens, with the right personnel denying him a catch and forcing the Celtics to run the offense through other players could also disrupt their offense.

I'd also be curious to see an adventurous team attempt to force Rondo to score 40+ a la the Mavericks' strategy for Steve Nash in the 2005 playoffs. Keep in mind that Rondo is essentially souped up Nash without a jumper, and for all his finishing wizardry, Rondo actually converts at the rim at a lower percentage than Nash. In fact, Rondo has never in his career attempted more than 20 shots or scored more than 30 points times in a game—why not attempt to make him and the Celtics beat you by playing in a way to which they are unaccustomed?
David Thorpe is emphatic that if he were coaching against the Celtics, he would not give Rondo room. He says people are enamored with his weakness.
You know the story of Achilles? He was an amazing warrior. Almost nobody could defeat him. If you went into a battle against him determined to attack him, you'd probably lose. If you did him the favor of focusing exclusively on his one known weakness, the heel, you'd make it even easier.
"Rondo can't shoot," says Thorpe. "Who cares? It doesn't bother him. He's a world champion and an All-Star. Obviously, what he's doing is working."
Mason points out that Rondo may not be able to shoot, but thanks to his careful shot selection he is a more efficient scorer than Carmelo Anthony. In other words, his being so open is not causing problems for his team, because he's not shooting.
Thorpe says that the Lakers may have had some luck leaving him open, but thanks to their three seven-footers -- 21-feet of defense at the rim -- they can get away with things many other teams can't.
"I'd get in his face," says Thorpe. "You can go with size, or you can go with speed. But either, way, I'd try to hunt like lions do. One lioness goes out there and chases the prey right into the trap, where the other lions are waiting. I wouldn't need my one defender to keep him on the perimeter, that's impossible, but you can at least push him to places on the floor where things might be tougher for him.
"For instance, almost every team knows almost every other team's play calls. So you know which direction he wants to go as he crosses midcourt. I'd look at the data and see, of the different way he approaches the hoop, which areas of the floor, or approaches to the rim, give him the most trouble. Then I'd steer him there, with my best help defenders and shot-blockers ready to meet him.
"Then I'd mix it up. Keep him from getting comfortable. Out of timeouts, you might try someone else on him. If he brings the ball up the left side of the floor, maybe have the defense ready to force him to a different spot. Keep him from getting comfortable. It might not work, but sagging off him all night, that's clearly not working. At least you give yourself a shot. Maybe you can force a few more turnovers, and inspire a few more tough shots. That can turn a game."
Thorpe is adamant about one thing, whether you're talking about Rondo or anybody else: The room that makes jumpers easy to shoot does not necessarily, as is often assumed, make driving more difficult.
"The biggest myth in basketball," says Thorpe, "is that backing off someone makes it harder for them to drive. You give them so many more angles to attack, and you let them get up to full speed before even encountering a defender."