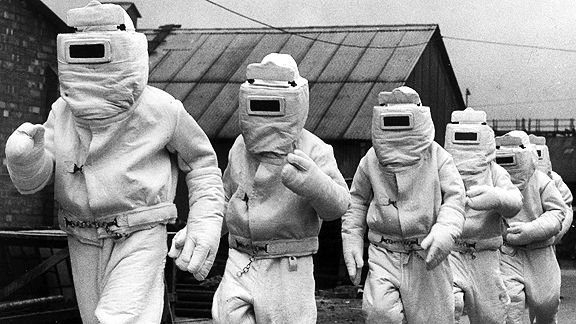 William Vanderson/Hulton Archive/Getty Images
Asbestos suit, anyone?
Oh, Madison Square Garden.
From a Knicks' press release:
Following last night's Rangers game, during overnight maintenance of Madison Square Garden, which included cleaning asbestos-related materials in the attic above the ceiling, some debris fell into the Arena.

Out of an abundance of caution, we are postponing tonight's Knicks v. Magic game. We will be working with the city and independent experts, ATC Associates and GCI Environmental Advisory, to evaluate and determine the most appropriate course of action. As the safety of our customers and employees are our top priority, we will not reopen the Garden until we are absolutely assured the Arena is safe.
From an OSHA fact sheet:
The inhalation of asbestos fibers ... can cause serious diseases of the lungs and other organs that may not appear until years after the exposure has occurred. For instance, asbestosis can cause a buildup of scar-like tissue in the lungs and result in loss of lung function that often progresses to disability and death.
I moved to New York in 1991, as a dirt-freaking-poor college freshman. There were hundreds and thousands of things happening in New York that I did not get to do. There were super beautiful doorman buildings with warm lobbies I didn't enter. I trudged past $8.95 all-you-can-eat buffets hungry as hell. And who knows how many concerts, sporting events and bars were a few blocks away, but wholly off-limits because of the cash barrier.
Of all the things I didn't attend, though, the Garden was surely one of the bigger absences. I was a huge NBA fan, and the Knicks were getting all revved up.
I did not enter the Garden. Not exactly, anyway. I went to the subway station under the Garden. As a gopher for the public TV station, I often ran errands around the Garden. But I didn't ever get to sit there, in the Garden, with a hot dog, a beer, and a game.
All kinds of people, of course, did go, and I'd gently inquire about it. Was it cool? People answer that question as if you're some kind of idiot.
"It's Madison Square freaking Garden! It's the world's most famous arena."
The implication is that it is, of course, amazing. NBA players and all kinds of people talk like that. And it's a no-brainer that a huge stadium in the middle of Manhattan would be home to one miracle after another. Woody Allen, Spike Lee, Denzel Washington ... even the audience is luminous.
But let's be clear: The building itself? It's about as banal as any in the world. Once I got inside -- with a credential as an intern for a radio station as a college junior -- I was overwhelmingly underwhelmed. That was the better part of two decades ago, and even then it was, frankly, ratty. NBA stadiums these days are nice! Wide concourses, windows, ample bathrooms. The Garden has the vibe of an overcrowded 1960s middle school, complete with busted escalators, colors that haven't been cool since the building opened in 1968, and paper towels drifting around in the hallways.
And like a 1960s middle school, it turns out it has asbestos concerns that will keep the place closed with safety concerns.
People are attached to the building because of the history that has been made there. Every great rock performer, all those athletes ... the performances have been legendary. But people who say the magic comes from the building itself should have their heads examined.
And perhaps, now, their lungs too.
All that said, asbestos is an interesting topic. I love that photograph up there, from the 1940s. But here's the irony. The implication is that those suits would protect one from asbestos. But the joke is that they're actually made out of asbestos! Those suits are designed to be worn by those rescuing air force pilots from burning, crashed planes.
How quickly things change. It just wasn't that long ago that we thought asbestos was the coolest thing in the world. But then we got to know it better, and realized the whole thing was not so fantastic, but was in fact in due for replacement.