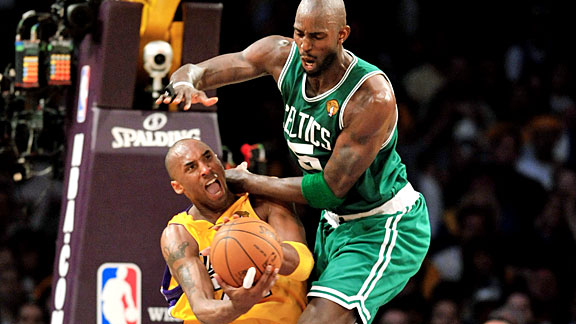 Brian Babineau/NBAE/Getty Images
Active big man. Very active big man.
Like all East Coast League Pass junkies, I watch a lot of NBA basketball in a state of extreme fatigue. Any interrogator worth his salt knows that's a good way to get people to say things they wouldn't normally say.
I take notes, as I watch, and very often, on my bedside table in the cold sobriety of sunlight, I'll find this or that hoops note that is just too weird or conceptual to talk about on ESPN.com.
One theme that's definitely too weird is a little series of notes I've been making about "actives." Every player in the NBA is active, of course, but only some of them make it part of their plan of attack, their competitive advantage, to beat opponents with sheer activity. Every player jumps, dives on the floor, dunks and sprints. But a lot of big men, especially, but also veterans, and those nursing injuries or bad knees do so only when they can see a clear advantage in doing so.
Others can't get enough. They'll do those things every chance they get. These are the players who appear to be too caffeinated to even stand in place through the national anthem.
Rookies are often like this, and so is Kevin Garnett.
Now, all that hyperactivity can be dumb, wasteful and bewildering. It can mean broken defensive schemes and excessive fouls.
But it can also be a thing of beauty. For instance, witness the Boston Celtics' defense the last three years, where bodies are flying all over the court at all times, but in coordination.
A little pet theory I've been cooking up, late at night when I really should be sleeping, is that there is special benefit when you play a lot of active players together. Having a couple of wing players flying all over the court can be wasted if their teammates are watching, standing still.
But get four or five guys really hustling and moving, and it can rattle the other team. It can make them feel, and look, like they're playing against a windstorm.
I'm writing this today, because today's the day it's clearer to me than ever that there has been a little battle going on, within the team I watch the most, Portland.
Basically, this has been a stationary, adult, controlled team. Low on turnovers, slow on pace, and fairly hostile to hyperactivity. You know what TV commentators always say about Brandon Roy? How impressed they are that he plays at his own pace. And it's true. He's as unhyper as they come. He kills slowly. That slow Blazer team is a Brandon Roy team, by design.
But since the arrival of Andre Miller -- a guy who likes to fly around the court, despite his age -- there has been this awareness that they have a lot of players who feast on high activity. Miller, LaMarcus Aldridge, Nicolas Batum, Patty Mills, Rudy Fernandez, Dante Cunningham ... they'd all dive and jump and sprint all night given the chance.
Last night, rested and angry after his one-game league suspension, Miller was as fired up as ever. Against the tired Magic, he led Portland through a new brand of frenzied attack. For a spell, the Blazers really didn't look careful at all. They pressured the ball like crazy, got hands in passing lanes and even, in one case, between the legs of the Magic. They forced five turnovers in a short stretch of the pivotal third quarter and -- miracle of miracles, for the league's slowest-paced team -- they got some easy buckets. For a short while, the Magic had a hard time getting the ball across half court. Portland broke the Magic in the first half of the fourth quarter with a lineup of Miller, Fernandez, Batum, Cunningham and Joel Przybilla.
Roy, sore knees and all, played along in a manner. He swiped a ball here and there, he grabbed some big rebounds and hit some shots. But he's not an "active" in heart or body. He poked a ball free at one point. It was a 50/50 ball, rolling away from him -- an invite to a footrace. First guy to sprint and dive was going to get that ball. It was the exact kind of play Matthews and Miller had been making. It was the cornerstone, and the style, of Portland's best win of the young season. But after a step or two, Roy pulled up, conceding the ball to the Magic rather than indulging the recklessness of pursuit.
It was a good calculation from a wise player. But it was also, to me, a sign of how the style of a team can, and should, evolve over time. Maybe Roy shouldn't define the style of this team anymore -- not while he's playing at three-quarters of a slow speed.