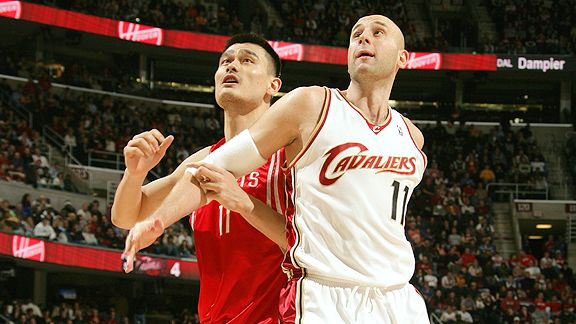 David Liam Kyle/NBAE via Getty Images
Zydrunas Ilgauskas -- here facing Yao in 2008 -- has endured an injury similar to Yao's.
The news of Yao Ming's latest injury hits like a ton of bricks. The Associated Press story about Yao ends like this:
Rockets general manager Daryl Morey says he is hopeful that Yao will recover and play for the Rockets in the future.
Hope is the right emotion. But hope alone is not nearly enough to get one through the better part of the next year of even more rehab and worry. This is one of those NBA stories that (like Greg Oden's) stops being about the NBA -- or basketball at all -- if you think about it enough.
Zydrunas Ilgauskas, however, disagrees.
"It's just basketball," said the Heat center before Friday night's game against the Knicks at Madison Square Garden. Ilgauskas has a good sense of what Yao is going through, having endured a nearly identical injury, and his advice is to keep aware that there are worse things than potentially losing an NBA career.
"What doesn't kill you makes you stronger," he says. "You've just got to keep life in perspective."
Ilgauskas says that he thought about retirement many times. "I'm just thankful," he says, "I was able to pull through."
Ilgauskas and Yao have talked in the past about the long road back to the court. "It's tough," says Ilgauskas. "It's very tough. It can take up to a year to recover. I had it earlier in my career. I was a little younger than he was, so it was a little easier to recover. But every medical case is different. Hopefully he's going to be OK, but it's frustrating. It's a serious injury.
"He has a good support system. Every NBA team has a good medical support system. But still, there is a lot of luck involved."
Perhaps Ilgauskas' most valuable perspective comes not from having had a similar injury, but from having the perspective that comes from having lived through tragedy.
Was that injury the toughest thing Ilgauskas has endured? "Not even close," he says emphatically. "Not even close. It's just basketball."