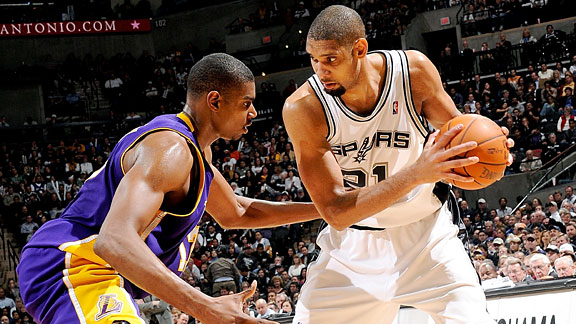 D. Clarke Evans/NBAE/Getty Images
Tim Duncan for Andrew Bynum, anyone? Merry Christmas.
Did you ever see the episode of "The Office" where the boss, Michael Scott, hijacks the office Secret Santa gift exchange by declaring it instead a "Yankee Swap"? Under his rules, almost every gift is denigrated, and nobody gets to keep the thing they most want. More or less everyone goes home unhappy.
(Side note: I just heard that in parts of the South this is instead called "Dirty Santa." Way better name. Many also call it a white elephant.)
As the holidays are upon us, I thought it would be fun to do a similar thing for NBA fans. In a nutshell: Trades that might be kind of fair, but that in fact I'm pretty sure most fans of all teams involved would staunchly oppose. Everyone goes home unhappy! That's the spirit! For the record, with a couple of tweaks here and there (click the links) these all pass the ESPN Trade Machine sniff test.