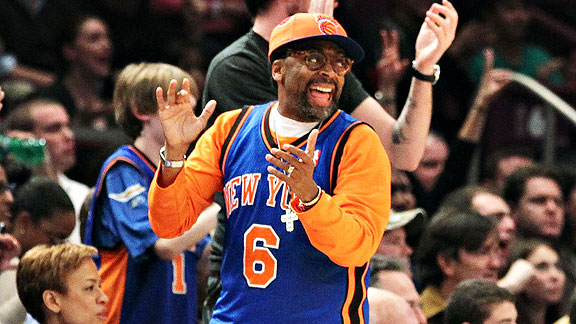 Al Bello/Getty Images Sport
Lee directs Dwyane Wade. And leads cheers against Wade's Heat. "It's never personal," Lee says. "Except with Reggie."
Spike Lee once wrote that early in his career, he was probably better known as a Knick fan, and as Mars Blackmon in those Michael Jordan commercials, than as a filmmaker.
The director of "Do the Right Thing," "Malcolm X" and the chilling Hurricane Katrina documentary "When the Levees Broke" doesn't think that anymore.
But he's still making NBA-themed TV commercials, including two that debut on Christmas Day, starring Dwyane Wade and Charles Barkley.
Lee -- whose student thesis film included a rhyme about Converse, and who had a relationship with Nike dating to the Mars Blackmon character in his first major motion picture "She's Gotta Have It" -- says making commercials with NBA players is a natural. "I know them," he says, "they are friends. We love each other. They know that I respect them. I'm not going to have them on the set forever. They trust my work. So it's all good. It was a great experience. I'm glad I got the call."
Wade says he'll work with Lee anytime: "I had worked with him previously. I kind of knew how he works," says Wade. "So when I found out he was one of the candidates I was like oh yeah, perfect."
One of the spots, for T-Mobile, features Wade locked in a hotel bathroom. Wade makes and shares a video with his phone (something Wade says he actually is tech-savvy enough to do in real life) saying "Get me out of here." In the narrative of the ad, it's widely misconstrued as a trade demand.
"I send this 'get me out of here" video and everyone says oh my god, D-Wade wants a trade. And then Charles Barkley, Spike Lee, Steve Nash, everyone's seeing this ... it's a real fun moment."
It's also just a tiny bit bold -- a coveted player joking in a national campaign about a trade demand. It's something Wade thought about. "Oh yeah," says Wade. "[The Heat] had to approve the ad. They're fine. And when the commercial ends you see I was trying to get out of the bathroom. They know I'm not trying to go anywhere. Being locked in for the next six years kind of helped that."
Knicks fan
Lee says that young players like Wade see no conflict in working with Lee as a director or a friend, and yet having him root vociferously against their teams.
"I got my season tickets the day after the Knicks got Patrick Ewing in the lottery," says Lee. "So a lot of these young cats grew up watching me courtside. So it's not like a new thing. They know the Knicks are my team. And they know that I want the Knicks to win. It has nothing to do with our personal relationship. Reggie Miller -- that was an aberration. But all the other guys ... it's cool. I want them to do well, but I want the Knicks to win. I mean Ray Allen is in my film! With Denzel! Jesus Shuttlesworth. I love Ray to death. Do I want the Celtics to beat the Knicks? Hell no.
"I grew up with Walt Frazier. Dick Barnett. Willis Reed. Bill Bradley. DeBusschere. Nate Bowman. Cazzie Russell. Dave Stallworth. Mike Riordan. Coach Red Holzman. Trainer Danny Whelan. I was blessed to be eight or nine years old when the Knicks had that incredible team."
On Charles Barkley
"When Michael [Jordan] speaks, people still pay attention to what he says," says Lee, asked if Charles Barkley is the most important voice in NBA media. "Magic, too. Charles is not the only one. Charles is the funniest one. Charles doesn't censor himself. Sometimes that's good, sometimes that's bad. It's just the way he is. He's going to say what he thinks. A lot of people find that refreshing, because everything is so inundated with tired old quotes."
On cheering against people he likes
"Most of the guys are nice guys. I still root against them. I didn't want LeBron to kill us Friday night. But it's not personal. The only time it has ever gotten personal was Reggie Miller and even now me and Reggie are cool. LeBron got some boos. Some people get it more than most. That's better than chanting 'MVP' which some people were doing there."
On Carmelo and the Knicks' front office
"I know 'em," says Lee, of Donnie Walsh and James Dolan. "I'm not on the payroll, even though some people might suspect that."
Lee's Rolodex could, in theory, help the Knicks. For instance, in wooing free agents. Not so, he says. "It hasn't happened the last ten years," he says, "so I guess I'd have to disagree with that."
"I want to have Carmelo, but I don't want Donnie Walsh to have to give away everybody," adds Lee. "We'll see what happens. I'm not the G.M., I'm not going to say who should go, who should stay. I just don't think that the whole team should be gutted. Then we'd be back to square one."
On selecting Ray Allen to star in "He Got Game"
"I looked throughout NBA rosters. And I tried to find people who still looked like they could be seniors in high school. I also looked at the players coming into the draft. That's how we did it. You never know 'til you audition them. We're very lucky that Ray sacrificed his offseason to be in 'He Got Game.' He came in auditioning a couple days after the season ended. Once he got the part he had go for vigorous acting training. And the last day of Ray's shooting, he worked up to the next day when he had to report to camp."
No conflict with the Brooklyn Nets
"This question has come up a lot," says Lee, "with the Nets moving to Brooklyn. I'm glad they're going to be moving there. It'll be great for Brooklyn. If you took Brooklyn out of New York City, it'd be the fourth or fifth most populous city in the United States of America. Do I love Brooklyn? Yes. Do I represent Brooklyn? Yes.
"But I'm not going to be a Brooklyn Nets fan.I don't care ... it doesn't matter to me that the Nets are moving to Brooklyn. I'll still be rooting for the Knicks ."