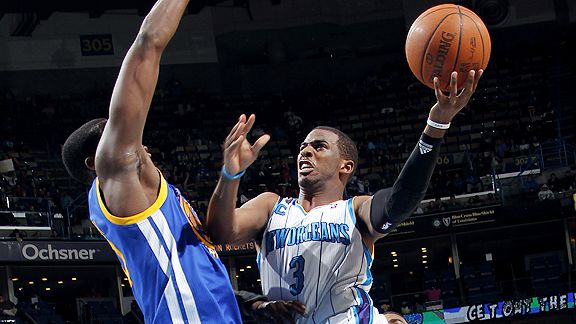 Layne Murdoch/NBAE/Getty Images
Chris Paul is playing as efficiently as any NBA player, but rim assaults are scarce.
Beckley Mason of HoopSpeak has been watching Chris Paul, and marrying two divergent trends. He's the most productive player in the NBA, and yet there's something missing.
Mason explains:
Paul is leading the league in PER, assist/TO ratio (4.15 per game), and steals per game while averaging the highest True Shooting % of his six year career. He's become the league's fifth best three point shooter at 45%, its sixth best free throw shooter at 89.7%, and is third in the league in assists per game.
Two little number-dense sentences that establish a man as a mainstream MVP candidate.
But the picture is more complex. For one thing, the Hornets probably aren't winning enough games for Paul to haul in that award. And his per game scoring and assist numbers are down. But more importantly, he's notably not imposing his will as constantly as he once did. He's playing a cleaner, more efficient game. But is that a better game? Mason again:
This season, despite regaining his stature as the NBA's pick and roll practitioner par excellence, Paul's usage rate has plummeted (usage percentage is an estimate of the percentage of team plays used by a player while he was on the floor). In the season before his injury, CP3 had the second highest usage rate amongst point guards and sixth highest overall at 27.9 (Tony Parker was at 30.1). This year, Paul's 22.7 usage rate is the 22nd highest for his own position. Among point guards with higher usage rates are usual suspects Westbrook, Rose and Williams (who ranked one, two, three in this metric), but also Rodney Stuckey, John Wall and Brandon Jennings.

The only point guard in Paul's class with a lower usage is Rajon Rondo, which isn't at all surprising considering that Rondo hunts shots like a gazelle hunts lions. ...

The real issue is that Paul is disproportionately taking fewer shots at the rim, a hint that despite signs to the contrary, something could still be bothering him physically. Paul is shooting at the rim just 2.1 times per game this season compared with 4.4 times per game in 2009. As a side effect of Paul's inability or unwillingness to drive consistently (he could still be recovering his confidence after his knee injury), he's also shooting about two free throws fewer this year than in his last healthy season.

In the Hornets' most recent game, Paul could not muster his sublime former ability to take over the game when his team needed its best player to do just that. In the fourth quarter, Paul checked back into the game after a brief rest with his team winning by one point and 9:15 left to play. Over the next nine minutes and change, the Warriors outscored the Hornets 26-18 and Chris Paul took two only jump shots (missing both), four free throws and had two assists.

The way he finished, no one would say he played a perfect game. Yet he finished with a near flawless stat line of 24 points, 13 assists (two TOs), and six rebounds on 6-12 shooting.

As a result of games like these, I find myself confused as to whether Paul is really back, even though he may well be the game's best point guard.