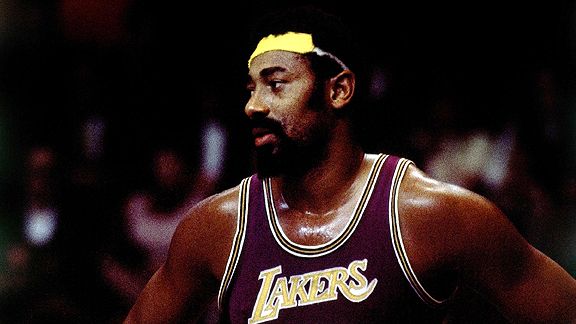 Dick Raphael/NBAE/Getty Images
Chamberlain co-wrote a book fending off labels like "loser" and "underachiever."
Beckley Mason of HoopSpeak digs into Wilt Chamberlain's 1973 book "Wilt: Just like any other 7-foot black millionaire" (co-written with David Shaw). Mason's smart discussion is along these lines, and it strikes me, could just as easily apply to LeBron James:
In his writing, his awareness of the way others perceived him protrudes from the page to petulantly jab the reader in the eye. "No one as sensitive as I am can become impervious to criticism," he writes, "my reaction to unfair criticism has come more as a matter of principle -- to set the record straight -- rather than as an emotional counter-attack."

As a part of this effort, Wilt regularly bemoans "the image of Wilt Chamberlain as Superman, a guy who should never lose." In sports, we judge athletes not just by how well they perform, but how well they perform in relation to how we think they should perform. In reading Wilt's book, I was reminded of something Steve Nash once said about Amar'e Stoudemire. When asked if Stoudemire would ever live up to his potential, Nash noted that Amar'e's physical abilities push his potential to such heights, he could become the best player in the league and never reach them. Such was life for Wilt, on and off the court.
James and Chamberlain -- and to some extent Shaquille O'Neal -- are the players with the unfair physical advantages. When fighting little Davids, Goliath isn't supposed to win most of the time. He's supposed to win every single time.
One mistake, and everyone's consumed by the search for flaws.
Meanwhile Goliath is somewhere, looking for a co-author, saying "hey man, 99-1 ain't bad."