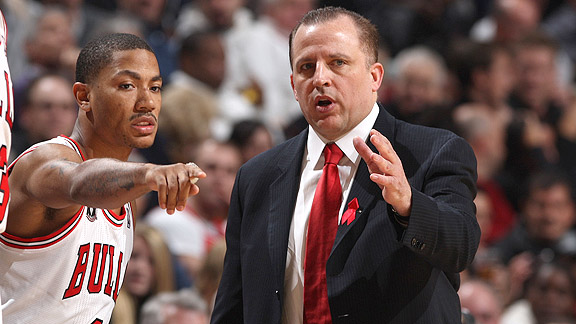 Gary Dineen/NBAE/Getty Images
"Finish off the Pacers," I imagine Coach Thibodeau insisting, "then hit the beach."
As a guy on a path to run his first marathon this year, I've been reading about distance running, and that conversation veers quickly into the science of exercise. The books have graphs and tables and footnotes.
As you'd expect, one of the strongest messages from all those graphs is that you need to do a hell of a lot of training to be a great athlete.
There I am, a hoops blogger in the playoffs, having watched to the bitter end of the West game, nodding along at 1:45 a.m., knowing damn well I'll be getting up to go running at 6.
But there's irony, because do you know what the other big message is?
Rest really helps.
Part of the reason I'm nodding along is because I recently shocked myself with a 10-mile race that I somehow ran, for me, fast as hell. I crossed the finish line, saw the time, and have been wondering "what the hell was that about?" ever since.
Part of it, I'm certain, was all that running gait stuff I have written about before. But still, this race was far faster per mile than any of my training runs, which all featured the new running style.
The only other thing I did differently this time was: nothing at all. As in, because of work and a cold and various other things, I did just about no exercise in the lead up. In the week before the race, I barely donned running shoes.
Now that I'm reading fancy books with footnotes, though, I'm fairly convinced that, after lots of running all winter, a whole lot of nothing was the right thing to do before the race.
One of the most serious running books out there is Tim Noakes' "Lore of Running." Dr. Noakes takes a 944-page stroll through the science, which he then wraps into practical lessons. One of them is about reducing workouts leading up to the big competition: "My advice," he writes, "is that once you decide to taper, do as little training as your mind will allow, but do that little training at a fast pace."
As little training as your mind will allow ... sounds familiar. He has tales of runners having great times after being restrained from exercise by, for instance, hospital staff:
At 37, Carlos Lopes won Olympic gold in the marathon after an accident kept him from training for the 10 days before the 1984 race.

That same year, Joan Benoit had arthroscopic surgery shortly before the Olympic marathon trial, to fix an issue that had kept her from training much. She won, and concluded that the light training leading up to the race had been no small part of why.

A new coach took over the Dutch national swimming team which had always been mediocre. He gave all the swimmers a document outlining the dangers of hard training in the three weeks before a contest. They read, listened, and every single one of them had their best time of the year, all but two had the best swims of their lives to date.

Runner Emil Zatopek trained like a maniac, but in 1950 he got so sick he was hospitalized for two weeks just before the European games. He got out of bed two days before the games, and won the 10k and 5k races by wide margins.
Noakes shares research making a strong case these were no flukes.
All that gets me thinking about the playoffs, and wondering if it might not be smart of teams to get their players more quality rest.
For example: The Bulls are up 3-0 on the feisty Pacers, and on Saturday afternoon they'll have a chance to close the series. Let's say they do that.
Meanwhile, who will the Bulls face next, and when? They'll have to watch the Hawks and Magic on Sunday evening. One of the more likely outcomes is that the two teams will end up deadlocked at two games apiece.
If that happens, and I were Bulls coach Tom Thibodeau, I'd seriously consider having every Bulls player on a Monday morning flight to somewhere with hammocks, beaches and a smallish number of drinks with little umbrellas in them.
From Joakim Noah's ankle to Derrick Rose's ulcers the Bulls have had plenty of stress and overuse health concerns this season. Sleep, family, sun ... human beings need some of these things, and right before the big contest is an especially good time.
Should the Hawks and Magic split the first four games, that series would be certain to make it to Thursday's Game 6. The soonest the Bulls could possibly play again would be Saturday (and Chicago's next game could well end up being Monday or later). You could assemble the troops after two-and-a-half real days off, and still hold a Wednesday evening film session, with the normal preparations to resume Thursday.
I recognize the Bulls have zero chance of doing this. Thibodeau is the high priest of relentless effort and preparation, and more power to him -- he clearly knows what he's doing.
But it's a game of getting the very best performances out of those Bulls between now and, ideally, some day in June. They'll likely have more than a dozen more game days and even more practices. They just wrapped up 100 or so grueling games which leaves just about every NBA player finely tuned mentally, but also banged up, fighting colds, losing weight and basically running on fumes.
Having completed the hard work of getting into top shape, it may well be that with an eye on May and June, the best thing the Bulls could do with extra days in late April is nothing at all.