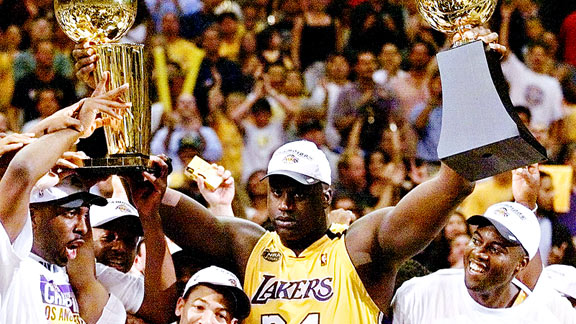 Vince Bucci/AFP/Getty Images
The year: 2000. The king of the basketball world: Shaquille O'Neal.
As usual, I lost a bet. This time the circumstances were cloaked in stat geekery, and maddening. But the end result is: Shaquille O'Neal contributed more to the Celtics this year than Darko Milicic did to the Timberwolves. So, per the terms of the deal, I owe blogger Tom Ziller one flowery ode to O'Neal. It did not come out all that flowery, but at least it kind of rhymes:
The story of Shaquille
"I Dominate Games Always and Forever"
You looked in my eyes and swore it was true,
Explaining the masking tape, with
"I.D.G.A.F." written by you.
Trophies in stacks, 2000 was your year:
MVP, Finals MVP and the Larry O'Brien.
41 and 12 in the clincher,
the Pacers were crying.
They couldn't beat you,
So they talked free throws and girth.
You flexed, dunked and laughed,
Strongest giant on earth.
"Always and forever," though ...
That's a mighty long time.
Especially when you ignore advice
On stretching, weight loss and stepping to the line.
38 in street clothes, The Big Spectator
More years alive, this time, than nights wearing green.
If there's a game you're dominating,
It's not the NBA. Not without a time machine.
So how about that? I just called you a liar.
But not how you think; Of course age would eat glory.
No, you told the Big Whopper 11 years ago
Being cute with the truth, smiling through stories.
"I.D.G.A.F." you called a promise,
As your mother, Lucille, laughed and got antsy.
"I don't give a ..." were the real first four words, she said,
The last one, with the "f," she left silent. She's too fancy.
It's a silly old piece of tape,
Scribbled with childish intentions,
But it's also an attitude, a lifestyle and a warning
To those who'd consider further contract extensions.