NBA owners' bargaining positions
September, 9, 2011
9/09/11
12:36
PM ET

By Henry Abbott
ESPN.com
Archive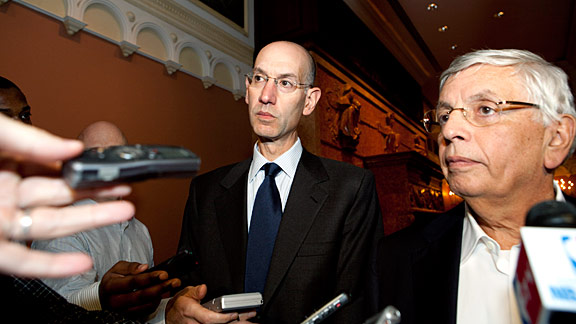 Steven Freeman/NBAE/Getty Images
Adam Silver and David Stern present a united front, but the truth is more complex.
The way the NBA tells it, all 30 owners are perfectly united, on every issue from hard caps to revenue sharing.
Of course, it cannot be so. Human nature dictates some owners are doves -- eager to play the upcoming season -- while others are hawks who would risk ditching a season in the name of a new collective bargaining agreement that strongly favors owners.
Owners have influence over the CBA negotiations by being in the ear of the NBA's representatives in the talks, primarily NBA commissioner David Stern, deputy commissioner Adam Silver and Spurs owner Peter Holt.
They also have to vote to approve the final deal.
How many votes does it take? There is a right answer (see below), but very few people -- we've talked to people directly involved in the talks, owners, players, CBA experts -- knew the answer to that basic question. Guesses ranged from 16 to 20 to "I don't know."
One of the most common responses was that the voting doesn't matter much, because what David Stern wants will be passed anyway.
And in a way, they're right.
Here's what we have learned: Ratifying a CBA requires the approval of 16 owners. But nobody expects anything like a 16-14 vote, for a few reasons. The first is that the league has been talking to owners throughout, and the people in the room know how much support they are likely to have for any position they might take.
The second is that it would be hard for Stern to govern a league with a CBA that nearly half his owners thought was rotten. Moving forward, as a league, requires more cohesion than that. So he is exceedingly unlikely to present owners a proposal that has any chance of struggling to attract broad support.
Our reporting finds that about 17 owners came into the bargaining process feeling hawkish -- hence the league's hard line in talks. David Stern's trick at the moment is to negotiate enough concessions from players as well as robust-enough revenue sharing from wealthy teams to bring some of those hawks into the fold.
Even if the final owner vote may be largely symbolic, the 30 owners still exert tremendous influence. League officials, including David Stern, work for them.
The hawks and the doves
The 30 NBA teams have varying positions on collective bargaining and revenue sharing. Based on insight from more than a dozen well-placed sources, here is our best assessment of where the 30 owners stand at the moment -- although all of this can change quickly. There is a big difference between owners who would like a much better CBA, and owners who would hold up a deal over a much better CBA.
Team/Principal Owner
Hawk Or Dove?
Revenue Sharing
Atlanta Hawks
Alex Meruelo
TBD: The Hawks are transitioning from one of the messiest ownership situations in NBA history (co-owners suing each other) to a business-minded new owner in Alex Meruelo. Hard to know who will cast the Hawks' vote, let alone what that person is thinking.
The Hawks have a big market, but bad revenue. They are very interested in revenue sharing ... if the formula is right.
Boston Celtics
Wyc Grousbeck
HAWK: But it's complicated. The Celtics are due for a fantastic, new media deal, which will be one of the best in the league. Once that's official, revenues will be strong, and then the focus may shift to the reality that this roster has a short window. With short-term TV money and a strong roster, worries are more about years from now -- the owners' long offers are tailor-made to that.
The Celtics would be payers in any revenue sharing, especially when their new local TV deal is complete.
Charlotte Bobcats
Michael Jordan
HAWK: Jordan is in something of a pickle. As a player he was strongly in favor of high player salaries. As an owner in a small market, he needs to pay players very little without being made to look cheap. A hard cap would be great for him.
Together with Herb Kohl of the Bucks, Jordan made a presentation to owners arguing for very strong revenue sharing.
Chicago Bulls
Jerry Reinsdorf
DOVE: Reinsdorf is seen as close to David Stern, and likely to go along with the commissioner when it's time to make a deal. Also, his team makes money, has reasonable salaries, and is on the rise, so playing the season is good for him.
As a high revenue team in a huge market, with plenty to lose, Reinsdorf is said to be tepid on revenue sharing.
Cleveland Cavaliers
Dan Gilbert
HAWK: Gilbert is said to be a very strong hawk, and even willing to miss the season. Missing what is slated to be a rotten season on the court is palatable and getting closer to the end of Baron Davis' deal would be a blessing. Also, keeping LeBron James and the Heat from any chance of winning the 2012 title would be OK.
Aggressively and enthusiastically for it, although it is not thought that Gilbert has influence with many other owners.
Dallas Mavericks
Mark Cuban
HAWK: Cuban's position is that he'll spend as much as the league will allow him to spend, so he would very much like it if spending the max didn't put him so deep in the red.
Cuban is against aggressive revenue sharing. Dallas is a good market, and the Mavericks have good revenue, but the team is not profitable so Cuban may be leery of writing checks to other owners.
Denver Nuggets
Stan Kroenke
HAWK: As owner of the NHL's Colorado Avalanche, Kroenke knows well the powers of missing a season to stick it to the players, and word is he's more than happy to repeat that process in the NBA.
The Nuggets are said to be strongly in favor of aggressive revenue sharing.
Detroit Pistons
Tom Gores
HAWK: The Pistons were once a good business. Gores -- an L.A. based private equity investor -- is intent to run the team like a business and wants all the help he can get from a new CBA.
Tom Gores plays his cards close to his chest, but the armchair analysis is that his team would likely be in a beneficiary in most systems.
Golden State Warriors
Joe Lacob, Peter Guber
DOVE: Lacob and Guber are said to be in a strong financial position in an excellent market. Playing this season is unlikely to hurt them. What's more, they have an overhaul to complete.
Lacob and Guber paid so much for their team so they could reap the rewards of their big, lucrative market. Who in their right mind would want to share the benefits of that investment with the Grizzlies?
Houston Rockets
Leslie Alexander
DOVE: The Rockets have an excellent TV deal and are very well run -- they don't have the same pressure other teams have to change the status quo.
Like the Spurs, the Rockets are doing just fine, thank you very much, and don't need big changes to the status quo.
Indiana Pacers
Herb Simon
DOVE: The Pacers have coped with poor results on the court and on the business side. However, they appear to be turning the corner, have reasonable contracts and are becoming bullish on the future. Simon is said not to want a long lockout, and would go for a reasonable new CBA, so long as it comes with good revenue sharing.
The Pacers are incredibly enthusiastic about aggressive revenue sharing, of which they expect to be major recipients.
Los Angeles Clippers
Donald Sterling
DOVE: Sterling is aggressively in favor of anything that makes him money, and was a critic of the last CBA, which he thinks was a giveaway to the players. Nevertheless, he makes money from his NBA team right now and is more than happy to let the Blake Griffin money machine keep rolling.
Very tricky subject for the Clippers. They have a huge market but a lousy TV deal. Under city-sized formulas they'd be payers.
Los Angeles Lakers
Jerry Buss
DOVE: The Lakers have good revenues that they'd like to keep collecting. Jerry Buss is close to David Stern, and likely to support any deal the league is pushing.
The Lakers stand to lose the most in revenue sharing, by far. Reports are conflicting about whether they have accepted the idea of paying tens of millions per season. This is a huge issue.
Memphis Grizzlies
Michael Heisley
HAWK: The Grizzlies have one of the toughest business challenges in sports. Heisley is eager for big changes, including a team-by-team hard cap to keep costs down.
Revenue sharing could change everything for the Grizzlies' bottom line, as the team is perfectly positioned to benefit in a major way.
Miami Heat
Micky Arison
DOVE: Arison is a respected moderate among owners, and is liable to be influential. This time around, business is looking up as the clock ticks on a team in its championship window, so he'd like to play.
The Heat, likely in line to pay only a little, are moderates on the issue of revenue sharing.
Milwaukee Bucks
Herb Kohl
HAWK: Kohl is "as hardcore as anyone" in agitating for big changes, according to one insider.
Herb Kohl made a presentation to owners in Dallas, with Michael Jordan, that called for very robust revenue sharing.
Minnesota Timberwolves
Glen Taylor
HAWK: Taylor has lost a lot of money on his Timberwolves, and would presumably like to lose less. But he is said to be looking for incremental improvement, not a profound overhaul.
The Timberwolves could be big recipients, and are said to be pounding the pavement hard on this issue.
New Jersey Nets
Mikhail Prokhorov
DOVE: Prokhorov bought a money-losing team and has been resolute about turning a profit, which would suggest "hawk." On the other hand, he's determined to make a big arrival in Brooklyn in 2012, where local TV and sponsorship prospects are bright. That requires a healthy, happy Deron Williams in uniform.
A huge dilemma of revenue sharing is how to handle market size. Clippers and Nets are in huge metro areas, but have nothing like the revenues of the Lakers and Knicks.
New Orleans Hornets
NBA
DOVE: As the NBA owns the team, the good money is that this vote will echo whatever Stern wants. And by the time Stern presents a deal to owners for their votes, it's a sure thing he'll want it to pass.
The Hornets stand to be beneficiaries of aggressive revenue sharing, and therefore for it.
New York Knicks
James Dolan
DOVE: For all the jokes about Dolan's leadership in basketball, his Knicks are a lucrative, fine-tuned business. Not to mention, they have a roster that's generating excitement. On the other hand, they have one year left before potentially having the cap space to bring in another big name -- a 2012 return would be OK.
Stern insists the big market owners are united in favoring more revenue sharing. But how much? The Knicks trail only the Lakers as likely payers.
Oklahoma City Thunder
Clay Bennett
DOVE: It would be a hell of a season for the Thunder to miss -- this is their time. Not to mention, Clay Bennett runs a successful business.
Under some revenue formulas, the moneymaking Thunder would be payers. Given their market size, that's a condemnation of how most of the owners run their teams.
Orlando Magic
Richard DeVos
DOVE: With Dwight Howard in his prime and the best arena in the NBA, they want to win now. One big caveat: They're fighting hard for provisions that would make it hard for Howard to leave, such as limiting free agency or creating a cap that would make it hard for a big salary team like the Lakers to sign the big man.
Not big on it. Should help them but word is they haven't pushed for it.
Philadelphia 76ers
Josh Harris

HAWK: Nobody knows Harris, nor if he'll be approved as an owner in time to vote on this deal. But like Gores, he has a business background, and negotiated a favorable price to buy the team. Signs are he intends to watch the bottom line closely.
The 76ers are unlikely to collect or pay much, which makes this not much of an issue for them.
Phoenix Suns
Robert Sarver
HAWK: When you ask around about Sarver, there is no doubt. He wants a much better CBA for owners.
Sarver is strongly in favor of revenue sharing, although the Suns are unlikely to realize a ton of income.
Portland Trail Blazers
Paul Allen
HAWK: Allen's team regularly sells out games, has tremendous local TV ratings, and now even has largely reasonable salaries, but is a persistent money-loser. Like Cuban in Dallas, Allen would like to spend whatever it takes to win, but would like that amount to keep him from broad financial pain.
The Blazers may benefit from revenue sharing, if nothing else because a lot of the competition -- the Lakers, Rockets, Spurs and Thunder -- would likely be payers.
Sacramento Kings
Joe and Gavin Maloof

HAWK: The Kings need, essentially, a miracle. A radical CBA win for owners is the best chance they've got. Also, they could be among the owners who would profit from a lockout.
The Kings stand to benefit mightily from just about every revenue sharing plan now on the table.
San Antonio Spurs
Peter Holt
HAWK: Holt is aware that his small-market team needed to win the lottery twice to create a profit. He'd like to address that meaningfully, so his team can stay in the black. On the other hand, there are limits to this hawkishness: One of Tim Duncan's few remaining years of high productivity would be a steep price. Also, the Spurs may be the best-run team in the league.
See the Thunder entry above.
Toronto Raptors
Larry Tanenbaum
HAWK: The same owners weathered an NHL lockout, and in Canada hockey is the national religion. This is nothing compared to that.
The Raptors have a very good local revenues, which would make them payers in most systems, so aggressive revenue sharing is not their favorite idea.
Utah Jazz
Greg Miller
HAWK: The Jazz paid through the nose for a competitive team most of the last decade -- money that's tough to make up in a small market without a different CBA. Miller also just lost a star player, Deron Williams, to a threat to move to a bigger market. He'd like changes.
The Jazz are in a small market without much profit, so they would be recipients.
Washington Wizards
Ted Leonsis
HAWK: Leonsis' experience in the NHL is said to have convinced him of the power of hard negotiating. And he recently paid a heck of a lot of money for a team that hasn't been good lately.
Like the Sixers and Hawks, the Wizards have a big market but not a ton of revenue. They are unlikely to pay or receive much.
TrueHoop, NBA
Senior writer for ESPN.com
Founder of TrueHoop blog and network
Began writing about NBA for magazines in 1999
Tags:
Toronto Raptors, Boston Celtics, Philadelphia 76ers, Charlotte Bobcats, Seattle SuperSonics, New York Knicks, Memphis Grizzlies, Golden State Warriors, New Orleans Pelicans, Dallas Mavericks, Phoenix Suns, Sacramento Kings, San Antonio Spurs, League-Wide Issues, Detroit Pistons, Los Angeles Lakers, Denver Nuggets, Miami Heat, Indiana Pacers, Minnesota Timberwolves, Washington Wizards, Cleveland Cavaliers, Chicago Bulls, Atlanta Hawks, Los Angeles Clippers, Oklahoma City Thunder, Houston Rockets, Milwaukee Bucks, Utah Jazz, Portland Trail Blazers, Orlando Magic, Henry Abbott, Collective Bargaining
BLOG ARCHIVE:
CATEGORIES:
THE LATEST FROM THE TRUEHOOP NETWORK