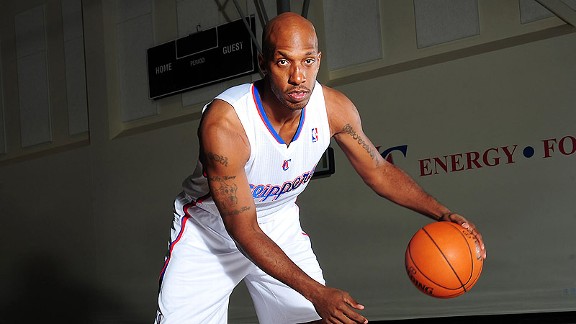 Andrew D. Bernstein/NBAE via Getty Images
Imagine you'd shown this photograph to Chauncey Billups one year ago.
When Chauncey Billups was dealt by Detroit to Denver in November 2008, it was with the expectation that he'd retire with the Nuggets, his home team. Billups was the consummate hometown kid -- a four-year standout at George Washington High School in the Washington Virginia Vale neighborhood on the south end of town. He was honored as Colorado's Mr. Basketball three times, went on to Boulder and stood out as a brawny, brainy combo guard.
Denver was supposed to be a homecoming, an apt closing chapter for a champion whose pedigree and work ethic earned him the right to finish his career in a manner of his choosing.
Only it didn't work out that way. The trade rules in the NBA's collective bargaining agreement are unforgiving and Billups became plankton attached to the Melodrama, ultimately landing in New York last winter against his private wishes. Asked at his introductory press conference at the Clippers' training facility Friday whether it was hard to leave New York, Billups responded, "It really wasn't that difficult to leave the Knicks because, in all actuality, when I went to the Knicks, it was really never about me coming to the Knicks."
It hasn't been about Billups for a while, so it's not difficult to understand why his mood Friday in Playa Vista was more resigned than buoyant. For Billups, this isn't about the Clippers. "It could've been much worse," Billups said about landing with the team.
It's about being denied the privilege that guys like Carmelo Anthony and Chris Paul have claimed over the past year, the same brand of self-determination that drives owners like Dan Gilbert to Comic Sans font.
"I had hoped, like any other hard-working person, that through that process, I would be able to control my own destiny," Billups said. "It didn't happen and I'm disappointed that it didn't happen, but that's life."
For every superstar in his prime who has the temerity to want to play for an organization of his choosing, there are dozens of players who get phone calls telling them to uproot themselves at a moment's notice. Billups, a five-time All-Star, Finals MVP and winner of the NBA Sportsmanship Award, didn't even enjoy the dignity of being traded. He got thrown on the scrap heap along with the likes of Gilbert Arenas, Charlie Bell, Baron Davis and Travis Outlaw -- guys who've never even sniffed a conference finals, who have checkered personal histories or have fallen way short of expectations. For a man of Billups' pride, being waived via the amnesty provision was humiliating.
"Being waived, just the frustrations of being waived," Billups said. "I mean, a player that's accomplished the things I've accomplished, you never think that ... I've been through a lot, but you never think that being waived is going to be one of those things. You get waived because either you're a distraction or you're a bad apple or they think that you can't play. That's the general perception. And neither one of those things have ever been something that's been said about me."
Billups expressed a reserved enthusiasm about the chance to play alongside Paul. "Chris is like a little brother to me," Billups said. "We've been very close throughout the years since he's been in the league. I'm excited for the opportunity to play with him."
Then there's that little matter of position. The Clippers didn't back up the truck for Paul to put him off the ball. The logical scheme would have a gracefully aging Billups slide over to the shooting guard slot, where he could spot up as recipient of Paul-Griffin pick-and-roll largesse. While his numbers weren't anything to write home about in limited opportunities last season, in 2009-10, Billups ranked 15th in the league in points per possession as a spot-up shooter for players with more than 100 attempts -- better than both Ray Allen and Jason Terry -- according to Synergy Sports. In 2008-09, he was fourth.
On Friday, Billups was somewhat defiant about the notion of changing positions. "I'm a point guard and in my eyes, we're going to be starting two point guards -- not a point guard and a shooting guard. I'm a lead guard and a playmaker," Billups said. "So is Chris. And I think we're going to cause a lot of teams a lot of problems. Of course, I'll be the guy who's guarding 2-guards because I'm a little bit bigger than Chris, but I think we're going to find a way to make it work. We've got two guys who want to win, know how to win and know how to control a game and know how to play in pick-and-rolls."
For Billups, this isn't about the Clippers or whether they use him as a 1, a 2, a starter or a reserve. Billups told the media that neither Chris Paul, nor Mo Williams, nor Neil Olshey, nor Vinny Del Negro played a role in helping him come to terms with the events of the past week. "It was about me and talking with my support system and my support group that really got me to where I'm at right now," Billups said.
There's good news for the Clippers, something they were aware of when they claimed Billups in the amnesty bidding process. Billups is a pro and takes the business of competing very seriously.
It's that very fact that's eaten at him for the past week. For all the prattle over the past 18 months about the entitlement of the NBA player, one who personifies all the virtues of honest-to-goodness sportsmanship has been caroming around the league like a pinball. He's been consulted only as a mere courtesy. His only recourse? Retirement.
But it could've been much worse.