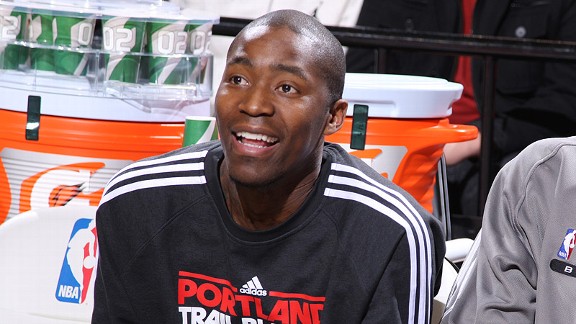 Sam Forencich/NBAE/Getty Images
A new team, family, and real NBA games. Jamal Crawford has the spirit of the season.
Jamal Crawford has always had a thing for the Northwest, and now it's home for him again. We spoke briefly by phone about his plans for the holidays in his new home.
Are you into this? Christmas and then your first game as a Blazer the next day?
I'm so excited, I'm so close to home. All the people here have been great. The organization, my teammates, the coaching staff. They've been great. It sounds so cliche but it's the truth.
I can't wait.
You have had Christmases all over. Seattle, Los Angeles, Michigan, Chicago, New York, Oakland. Which one was the best?
When I was younger, in Seattle, my mom got me my basketball hoop and ball. It was a Dr. J hoop, with the yellow ball. I played in the house and pretended I was in the NBA, even then. It was one of those stand still hoops, that has that yellow Nerf ball. Those were great memories.
Did you break that thing? Doesn't everyone end up breaking that?
Yeah, yeah, we ended up breaking it, of course, once we got too big for it. But she always kept me with a hoop, so that was cool.
How old were you then?
At that time, with the Dr. J, maybe seven or eight.
And you had all those years when you were never home for Christmas. What about the worst Christmas you can remember?
The worst Christmas. Maybe my first year in Chicago. No, no, Michigan. Being away from family and everything ... that was tough. I think I just sat in my dorm room. I didn't do much at all.
I'm sure some of those NBA Christmases weren't so great.
Oh those are some lonely moments for sure. Being around family and stuff like that is priceless.
This year, at least, my family gets a chance to come down. I get a chance to watch all those good games down there and get motivated for our game on the 26th.
So who's coming? Where you going to spend it?
The family's going to come down, we're going to watch games at the apartment, have a meal and just hang out and open gifts.
So are you all set with where you're living?
I'm going to get the keys today. Everything is everything, I'm ready to go.
So did LaMarcus Aldridge recruiting you on Twitter make a difference?
Yeah, definitely. Whenever your top gun of the franchise wants you on their team, everybody else pretty much follows their lead. That's what they did. Everybody, the whole city of Portland, other teammates got involved. That has special meaning for me.
Is there like some rule that LaMarcus has to play with a guard from Seattle?
I know, right?
We've heard the offense is going to be faster this year?
Oh definitely. Coach wants to get up and down, get some easy baskets if possible. He wants to take advantage of our athleticism, as well as go inside to L.A. and use that pick-and-roll. We'll give teams different looks.
Aren't coaches in 30 cities saying, right now, that they're going to play fast this year?
Yeah! Everybody, for sure. But it's the team that can stick with it.
Portland they said it a couple times then ended up being the slowest team in the NBA.
I know.
Well good luck this year, and Merry Christmas.
I appreciate it.