As fortune would have it, the New York Knicks will headline Sunday's national television schedule when they square off against the reigning NBA champion Dallas Mavericks at 1 p.m. ET on ABC.
Basketball fans wrapped up in the Linsanity will tune in to watch Knicks point guard Jeremy Lin. Meanwhile, those who track viewership will be paying close attention to the strength and reach of Lin over that very same audience. Stephen Master, Vice President of Sports for Nielsen, is one of those people. He's been charting the impact Lin has already made on television audiences in New York. He'll be looking at his own box score after the game to see how Lin plays nationally. We had a chance to visit with Master by phone on Wednesday.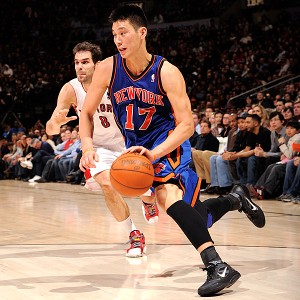 Ron Turenne/NBAE/Getty Images
Knicks' ratings rose 207 percent in New York from February 4 to Tuesday night's thriller in Toronto.
How unprecedented is this Linsanity? What are you seeing?
Let's just look at the numbers from the last week and a half. His first 20-point game was February 4 against New Jersey. February 14th is Valentine's Day --
-- That means people are busy with plans and dates?
Yes. Also keep in mind that Time Warner Cable, which is one of the bigger cable operators in New York, currently does not have MSG [which airs the Knicks], because they're in a fight. Millions of New York subscribers don't have access to MSG. The Knicks are also playing the Raptors, so this is not an event-type game. But they still had a 4.3 local rating, which is up 207 percent from his game on February 4, which drew a 1.4 rating.
And the game on the 4th pitted the two local teams. I'm assuming that 4.3 rating is pretty impressive unto itself, right?
Let's compare it to the Yankees. The Yankees averaged a 4.2 on YES in 2011.
In a perfect bit of scheduling serendipity on Sunday afternoon, we've got the Knicks and Mavericks on national television. What's the measuring stick? What are the three pieces of information you're most excited to track on Sunday?
It's a national game, so we'll have more data on the viewership. The first thing I'll look at is the overall viewership relative to what an average national game gets.
The second thing is market breaks on ethnicity. We'll be able to identify black, Hispanic, white and Asian viewers. That's something we'll be looking at really closely. As an example, when Yao Ming played, any game the Rockets were involved in typically had a pretty large Asian viewership. So it'll be interesting to see how Sunday's game plays out with the Asian audience.
Third, the general makeup of the audience versus the typical national NBA game. And the other is the gender piece.
A more even gender break often suggests a wider interest on what we call "the casual fan," right?
Yes. Typically for bigger games that have a lot of social media around it, you get a more equal male-female split versus a typical regular-season game in February.
That's interesting. So if we see a sizable female audience on Sunday, that means Jeremy Lin is really capturing that casual fan. Who are some athletes who have, to use the parlance of politics, bridged that gender gap?
Yes, but it's more casual viewer than just a gender gap. Michael Jordan was the biggest at getting the casual viewer to tune in for a non-event type game -- a regular season NBA game in February is pretty much a non-event game. Tiger Woods is another. Even in the tournament this past weekend, which wasn't a very big tournament, he was neck-and-neck with Phil Mickelson. And t he ratings were phenomenal, more than double what they were last year when they weren't in the mix. Tiger is another example of a person who gets the casual viewer.
Do we know anything internationally yet about Lin?
We don't know how many of those games have been available internationally yet, but I'm sure there are plans.
If I'm an advertiser who wants to ride this wave and get my product in front of Lin devotees, what does this mean for me? I'm assuming that task just got a lot more expensive?
I think locally, MSG is going to be able to take advantage of it. Their stock price has already gone up dramatically over the last two weeks, believe it or not.
I believe it.