In case you haven't heard, Shawn Marion wants to be traded.
Paul Coro of the Arizona Republic reports:
"I'm tired of hearing my name in trades," Marion said by phone from his Chicago home Tuesday night. "I love my fans in Phoenix but I think it's time for me to move on."

Marion, the highest paid Suns player, has two years remaining on his maximum-level contract -- $16.4 million for this year and a $17.8 million salary if he did not opt out before the 2008-09 season. He said the Suns' unwillingness to extend his deal is "only a part of why" he wants to leave but would not confirm that he has asked for a three-year, $60 million extension, saying, "The numbers aren't important."

Suns General Manager Steve Kerr declined comment.

There are two known trade suitors in the Utah Jazz (for Andrei Kirilenko, if not others) and the Los Angeles Lakers (for Lamar Odom and a teammate), with Marion showing an interest in the latter because of a friendship with Kobe Bryant.

"Regardless of everything that went on with the extension, I'm tired of hearing my name in trade rumors," Marion said. "It's time for me to move on. I felt like they tried to force my hand to Boston with the (Kevin) Garnett stuff."

In June, there was the possibility of a three-way trade sending Garnett to Phoenix, a Boston pick package going to Minnesota and Marion to Boston with a contract extension but the Marion camp killed it.

"I haven't done anything wrong," said Marion, a four-time All-Star. "I leave it on the floor night in and night out. Sometimes, it's just time, and it's time to go. "It's been like a nightmare. It hurts me making this phone call. It's hurting me in my stomach."
Man, oh man, this is one wild summer of discontent, isn't it? Kobe Bryant wants out. Andrei Kirilenko wants out. Jermaine O'Neal kind of seemed like he wanted out for a while there. And now Shawn Marion wants out.
In the case of Shawn Marion, it's not like nobody saw this coming. After Phoenix was bounced from the playoffs, I was not the only guy writing stuff like this:
My Gut: Shawn Marion has played his last game in purple and orange. The finances would seem to dictate that it's unlikely both Marion and Amare Stoudemire will stay, and Stoudemire is showing contined improvement. On a lot of plays he's a true hombre. And I love how he reacts to craziness from the referees. All playoffs long, he has just walked away. The team has never trusted Marion to bring maximum effort at all times, and trust is the foundation of team.
Of course, since then, the Suns dumped Kurt Thomas and his largish contract on the SuperSonics, and it seemed like the pressure to move Marion might have been lifted.
Or was it? There was a massive looming issue: if Marion was not happy in Phoenix there would be trouble, because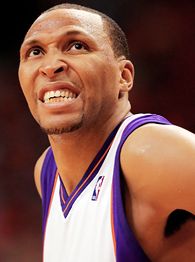 next summer he can opt out of his massive contract. Phoenix is a team that is determined to control costs, even at the expense of giving up first-round draft picks for cash in recent years.
If Marion was about to be a free agent, wanting an even bigger boatload of cash, and he was not all that emotionally attached to the Suns, there was a good chance they'd lose him for nothing, at a time when the team's hoping to win a championship or two before Steve Nash's body breaks down. The Suns need to be peaking this year and the next. Which means there was good reason to consider trading Marion now, and reportedly the Suns did just that. Word of such trade discussions, however, clearly didn't help Marion's fragile psyche.
It is well documented Marion is prone to feeling insecure. A couple of years ago writer Jack McCallum spent the better part of a season on the bench with the Phoenix Suns. McCallum's book about that season, "Seven Seconds or Less," includes this passage:
A graver concern is that Marion has gone into the tank, or at least stuck one foot into it, partly because news has leaked out that Nash has won his second straight Most Valuable Player award. Marion legitimately likes Nash, and, at some level, recognizes his greatness. Marion never openly challenges Nash's primacy within the team and seems to have accepted his own role as a kind of vice president. When he is critical of the ways the Suns are playing, he generally leaves Nash out of it.

"I could be under the basket by myself and don't nobody pass or want to push the ball," Marion complained to Paul Coro of the Arizona Republic late in December. "Steve's the only one pushing it. He can't do it by himself."

Still, Marion sees himself as every bit as valuable to the Suns as Nash, and, further, his people around him, in particular his agent, Dan Fegan, see him the same way. During the regular season, Fegan has lobbied with D'Antoni to include Marion in any MVP conversations with the press.

Over the next couple of weeks, D'Antoni did exactly that. Yet voters, taking note of his limited ball-handling skills and inability to get off his own shot, don't see him that way at all -- only one of the 127 MVP voters had Marion in their top five.

His delicate psyche is never far from the coaching staff's collective mind. On the one hand, Marion is outwardly confident, cocky even, buying into that wonderful nickname, Matrix, given to him by TNT commentator Kenny Smith early in Marion's rookie year. The special-effects-driven movie was hot then, and "Matrix" was perfect for a player with an uncanny ability to suddenly materialize in the middle of a play (Marion seems to come from nowhere when he makes a steal, grabs a rebound or makes a quick cut to the basket) and leap from a standing start as if he's on a trampoline.

Sometimes Marion refers to himself as the Matrix, as if he has bought into the idea that he is a superhero who defies normal physical laws. His teammates call him "Trix."

On the other hand, Marion lives in a perpetual state of fear that he is being overlooked, underrespected, ignored, dissed, persecuted, singled out, patronized, whatever.
Insecurity is a nightmare, and one of the reasons it is especially bothersome is that when you are feeling that people might not like you, you tend to act in an annoying fashion which can eventually make people ... not like you.
Marion seems to be stuck somewhere in that vortex. A recent ESPN The Magazine piece by Chris Palmer noted that Marion "just wants to be noticed."
And for whatever reason, you get the feeling that the Suns appreciate the skill of Shawn Marion. But I can't find a lot of evidence that they like him. And, apparently, as we learn today, Marion does not feel very liked.
Remember when the Suns lost a nail-biting (and Nash nose-smashing) Game 1 of their playoff series against the San Antonio Spurs? In the post-game press conference, Nash said his team needed to play harder, with more fire, with more hunger, needed to make extra effort, etc.
Nash never mentioned Marion specifically, but throughout McCallum's book, however, those are the complaints about Shawn Marion. In video sessions, the coaches see him playing very softly in stretches. At one point, Marion -- a very good defender -- refuses to switch off Lam
ar Odom because he worries that if Odom has a big scoring night, Marion will be blamed in the press (and presumably he'd rather not do what the coaches want then be singled out for criticism). Later in the book, there is a tale of Coach Mike D'Antoni meeting privately with Marion and imploring him to play with greater desire, and to hustle more.
Yesterday I linked to an excellent post on the blog The Rising Suns that discussed Marion's peculiar position on the team as one of the best players, yet one of the least cared about:
Nobody in Phoenix really wants to get rid of him ... yet, if he did go ... would there really be an outcry? There would if Amare were to get traded. If the Suns had indeed sent one of the packages for Garnett up to Wolvesland, most Suns fans would gladly trade Marion instead of Amare. Would you have rather seen Amare and Kurt Thomas head to the Wolves for KG, or Marion and Kurt Thomas? And imagine the fervent cries of "KILL SARVER!" were the Suns to trade Nash this offseason.

Why, then, would the third man in our big three ... the man who was #4 in scoring, #1 in rebounding, #1 in steals, #1 in blocks, #1 in minutes played, #4 in FG%, and missed a grand total of two games this season ... why would the outcry be so much smaller?
All that said, if the Suns really do trade Marion, they will be giving up a ton. It's clear that Shawn Marion can play basketball. In fantasy basketball, Marion vies with LeBron James as the most valuable small forward in the league.
He's also someone who knows precisely how to handle a lob, and Nash excels at throwing those. On many nights, Marion's also a reliable three-point shooter, despite his bizarro shooting form. (And, I should point out, he has a magical, musical toilet.)
But the real reason to play him is for his defense. On the website 82games.com, David Nelson and Damien Walker made an exhaustive case, based on a sophisticated review of the numbers, that Marion should have been last year's defensive player of the year. They conclude:
Marion's D has many detractors, often fueled by one of the most popular misconceptions expressed by the general public (and by most TV and radio analysts): that the Suns are a horrible defensive team. Yes, looking at points per game allowed there are not many worse, but Defensive Efficiency is a far more accurate representation of team defense. Looking at points allowed per-possession, not only is Marion a fantastic defender, he is also a fantastic defender for a better than average defensive ballclub.

While Marion is our choice for the award, a strong case could be made for any one of our finalists. The factor that caused us to choose Marion over the others is his overall versatility. Marion is the next-generation defender.

Long, strong and athletic, Marion can keep up with the fastest point guards, and is disciplined enough to defend the best low-post scorers. His ability to play the passing lanes and pick up steals or deflections is even more valuable because of his ability to run the floor or make the outlet pass. Combine this with the fact that he holds his own against any big man in the league when it comes to blocks and defensive rebounds, and you can understand why Shawn Marion gets our nod for Defensive Player of the Year.

Traditionally, Marion has been viewed as a player without a position, but smart coaches and GMs can tell you that this is not a bad thing, and with the NBA game opening up more each season, players with Marion's defensive skill set will be more coveted than ever.
I can tell you this: he'd sure like to be coveted, you know? And if there's a team out there that's willing to not only trade for him and pay him a king's ransom, but also put his name in lights and deliver a standing ovation every time he walks through the locker room door, he could be one of the happiest and most productive players in the league.
(Photo by Lisa Blumenfeld/Getty Images)