Absent Derrick Rose, Bulls become Pacers
April, 30, 2012
4/30/12
3:16
PM ET

By Beckley Mason
ESPN.com
Archive
Similarities between the Chicago Bulls and the Indiana Pacers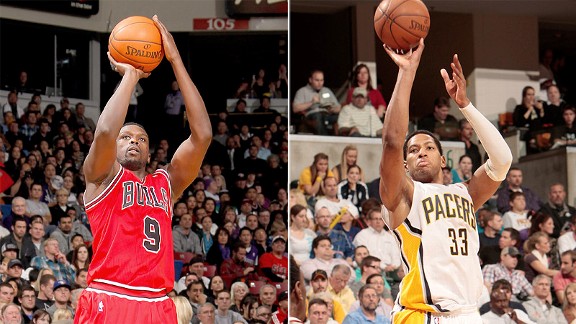 Without their superstar, Derrick Rose, the Chicago Bulls suddenly look a lot like the Indiana Pacers, another gritty team from the Midwest built by drafting well and adding a few key free agent signings. Both teams will have to rely on team defense, ball movement and a deep collection of talented players -- though no superstar -- to make a run in this year's playoffs.

| | Chicago Bulls | Indiana Pacers |
| --- | --- | --- |
| Roster | Defenders via the draft. The Bulls are built around physical, athletic defenders they drafted in the mid-first round (Luol Deng, Joakim Noah, Taj Gibson) and high-profile free-agent signings (Richard Hamilton and Carlos Boozer), along with smart pickups (Kyle Korver and C.J. Watson) who support the offense. | Home grown talent. Danny Granger, Roy Hibbert, Tyler Hansbrough and Paul George are all key players drafted 10th or later. Each has developed nicely as two-way players in Indiana. Scorers like David West, Darren Collison and George Hill were acquired in free agency or trades to supplement the core. |
| Head Coach | Tom Thibodeau. Defense-minded, first-time head coach known for getting the most out of his players emphasizing toughness and togetherness. | Frank Vogel. Defense-minded, first-time head coach known for getting the most out of his players by emphasizing toughness and togetherness. |
| Defensive identity | Intelligence, length and effort. The Bulls, arguably the NBA's best defensive team, are even better at that end without Rose. Intelligent, hyper-mobile big men like Joakim Noah and Taj Gibson are the basis of Thibodeau's strong side pressure defense. | Length and depth. The Pacers are a top-10 defense and were especially devastating in their 12-3 run to finish the season. With 7-2 Roy Hibbert manning the paint, the Pacers swarm the wings with long, athletic defenders like Paul George. |
| Offensive identity | Ball movement and rebounds. The Bulls open the court by running a ton of single and double screens for snipers like Kyle Korver and Richard Hamilton, and nearly every player can be trusted to make the smart read. The Bulls are also the best offensive rebounding team in the league. | Share the wealth and rebound. Eight Pacers average nine points or better, including all five starters. The Pacers supplement good motion and passing in their offense with solid 3-point shooting and a bruising attack on the offensive glass. They are the league's fifth-best offensive rebounding team. |
| Team ceiling | With Rose, the Bulls are one of the favorites to win a title. Without their superstar in Rose, they still won 66 percent of games, and would be no shock to advance. | Still a year or two away from truly contending, the Pacers need both Hibbert and George to keep developing to be considered a part of the East's elite. Nevertheless, even without a superstar they won 64 percent of their regular season games. |
Beckley Mason is an NBA contributor for ESPN.com.
Tags:
Indiana Pacers, Chicago Bulls, Beckley Mason, NBA, 2012 playoffs, Joakim Noah, Carlos Boozer, Taj Gibson, Derrick Rose, George Hill, Danny Granger, Kyle Korver, Paul George, Roy Hibbert
BLOG ARCHIVE:
CATEGORIES:
THE LATEST FROM THE TRUEHOOP NETWORK