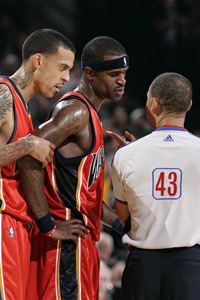 "No, seriously, you don't understand. We're the Golden State Warriors. We can't be losing to the Portland freakin' Trail Blazers."
It's a funny thing that's happening with this Blazer team. Honestly, my expectations have been pretty darned low for this season. But now they're on a win streak of five games -- with wins the last two night in Utah and at home against the Golden State Warriors.
The highlights will give you a little taste.
They're winning games in the strangest fashion. Against Utah, the Jazz opened the game with a layup line. One after another. Add in the absent Greg Oden and LaMarcus Aldridge, and it was clearly going to be a miserable night. But then one guy got hot, and another, and then later another. Everyone seemed to take turns making shots that this team has historically missed.
Last night was much the same. Martell Webster sat out most of the game with flu-like symptoms. And it barely seemed to matter. James Jones, Brandon Roy, Joel Przybilla, and Travis Outlaw did the scoring instead.
Through it all, Joel Przybilla has been the kind of lane patrolling alpha dog that winning teams almost always have.
And now, you're starting to see something that has been missing for a long time: praise for Nate McMillan's Xs and Os. On Tuesday, Portland scooted into and out of a zone defense in a way that clearly kept the Jazz off balance. They have also been scoring out of timeouts, which is usually seen as a crude measure of clipboard chops. The Oregonian's Jason Quick says the team had another couple of tricks at the ready last night:
"I don't know how you give credit to a coach, but he gets an A-plus," said Roy, who had 21 points and seven assists. "Not only his adjustments on the fly, but just putting guys in the right position. He has been really good."

On Wednesday, McMillan fought the temptation to get caught up in Golden State's small lineups, starting the game with an emphasis on attacking the Warriors inside. Przybilla, who entered the game averaging 4.6 points, scored the Blazers' first seven, eventually forcing Nelson to take out undersized center Al Harrington and go with a bigger, yet less skilled center in Andris Biedrins.

Once Nelson went with Biedrins, McMillan countered by substituting Outlaw for Przybilla, and Outlaw took advantage, zig-zagging his way around the court for 12 second-quarter points.
Quick also points out that McMillan is starting to trust the team. He used to yank anyone who made a bad play. But now he's letting them feel their way a bit more, and the trust is paying off.
Now, I have no illusions. I know that in the big picture a five-game winning streak doesn't mean all that much. But when you couple it with low expectations it can really make you feel like singing. Consider very serious blogger Dave, of BlazersEdge:
After a while you get used to watching games. You're sitting there on the couch, Tivo remote in one hand (to rewind and analyze), pen in the other (to make notes for later use). Your eyes dart back and forth, looking for the angle, the story, the trends. I don't want to say it's like a business because it's not. It's very enjoyable. But it's kind of a clinical operation, especially when you know that a few thousand people are going to call you on mistakes you make or things you miss. You watch the moment, but you seldom get to be in the moment.

In the third quarter tonight the Blazers turned me into 100% fan again. Put down the pen, stop rewinding and analyzing, just watch and enjoy. Seeing Trout [Travis Outlaw] and Jones nail shots like they were 10-year pros, Jack and Joel run the pick and roll against a defense that was begging to be exploited, watching that brilliant play as Roy passed to Joel and then back to Roy again for an easy two at the rim ... wow.
(Photo: Sam Forencich/NBAE via Getty Images)