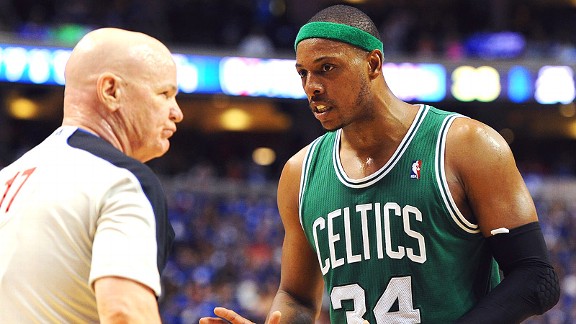 Drew Hallowell/NBAE/Getty Images
Paul Pierce knows how to convince the officials.
HoopIdea wants to #StopTheFlop. To spotlight the biggest fakers, we present Flop of the Night. You can help us separate the pretenders from the defenders -- details below:
Paul Pierce is one of the most expressive players in the NBA. Whether he's yelling as he yanks down a rebound or making this face on a drive to the hoop, Pierce has a way of making it so even the fans in the nosebleeds can feel his pain.
Sometimes, it seems as though Pierce has built ways to embellish contact into the fabric of his game. Here he draws an and-one foul on a jumpshot over Evan Turner (Video). A close-up replay shows Turner isn't even touching him. But from the wide angle view (and the view of the official), thanks to wiggling extremities, it looks like Pierce is taking a punch to the gut as he releases the shot.
Perhaps that herky-jerky style that so flummoxes defenders can have the same effect on the officials.
Twitter also spotted another potential Flop of the Night from Pierce in Game 6, so we might as well show you that one too.
Watch Pierce's legs (Video) go limp during this blocking foul on Lavoy Allen. The bump is there, but it's almost entirely incidental. Still, Pierce's legs buckle like ancient pillars in an catastrophic earthquake.
Also worth noting: Ryan Hollins and Rajon Rondo's smiles as they pick Pierce back up.
Even without the acting, Pierce would likely have gotten this call, so it doesn't win Flop of the Night. But it does merit recognition and the attention of aspiring thespians everywhere.
When you see an egregious flop that deserves proper recognition, send us a link to the video so we can consider it for Flop of the Night. Here's how to make your submission: