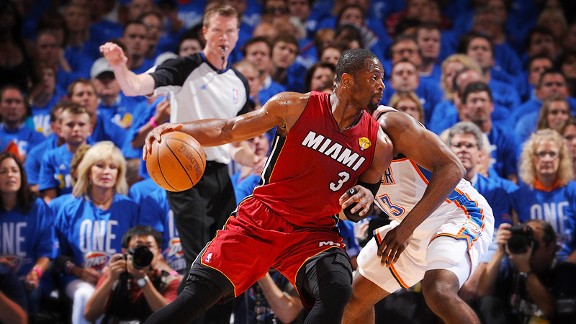 Garrett Ellwood/NBAE/Getty Images
Only two post-ups per game won't cut it for Dwyane Wade and the Miami Heat in their new world.
OKLAHOMA CITY -- Ever since the circus opened in Miami in October 2010, we've heard a zillion reasons the Heat can't win a title with this group:
LeBron James has a congenital defect that prevents him from being a champion. He can't close, passes up big shots to inferior teammates, is a Beta Male, a head case, too preoccupied with his global brand and, more generally, a schnook.

James and Dwyane Wade are redundant offensive players who can't coexist unless you introduce a second basketball onto the court. What we get instead are two guys who alternate possessions rather than play within the kind of coherent offensive system usually adopted by elite teams like the champion Lakers, Spurs and, to some extent, the 2011 Mavericks.

Erik Spoelstra is in over his head. While he's a pretty darn good defensive mind, he's a young coach incapable of managing stubborn personalities like James and Wade, and more sensitive players like Chris Bosh. And all the Rileyisms in the world won't change that.

The front office in Miami piggishly hoarded top-shelf talent, but forgot to stock the roster with anyone who can be remotely classified as a complete ballplayer or even an effective role player.

Supernatural powers don't take kindly to disloyalty and televised displays of self-determination to announce future plans. Although this divine being is busy doing other things like making sure the world stays on its axis, he/she/it also governs professional basketball in North America and, boy, is he/she/it pissed at the Heat -- so much so that he/she/it will never allow the Heat to raise the Larry O'Brien Trophy. Not now, not ever.
Take your pick, but nowhere on that list of demerits have we ever found: "The Heat come to the table with inferior individual talent." But after Game 1, that looks like a plausible response.
How good are the Thunder? They can keep James Harden on the bench, not because he's underperforming or because he's making ill-advised decisions. The Thunder simply didn't need him because their defensive ace, Thabo Sefolosha, changed the defensive tone of the game and couldn't come out. With Derek Fisher fighting through screens like a champ (nine words I never expected to write in 2012 C.E.), Harden sat for all but seven minutes in the second half.
Can you even imagine your team -- any team -- not needing James Harden in an NBA Finals Game 1? It's ludicrous, but that's what the Heat are up against in their second attempt to capture a title.
The scuttlebutt after Game 1 in Oklahoma City was, "What's wrong with Dwyane Wade?"
Truth be told, only those inside the Heat fortress know for certain but, to state the obvious, a combination of advanced age and a gimpy knee might be the culprits. Wade has put together some phenomenal games in this postseason, but there are certain realities that come with being on the other side of 30 -- the primary one being that there are days you feel invincible and days when there are aches and pains you never knew could exist in a human body.
That ache or pain may cost a player only half a step, but that half-step is often the difference between a blow-by and running into a help defender en route to the rim. That loss of a half-step is all it takes to turn a devastating slasher into a guy who has to work really, really hard for shots.
Unlike other older guys who adjusted their games accordingly, Wade hasn't fully accepted this yet. This isn't to say he's unaware of this condition. There was a morning 18 months ago when you could find Wade on the Heat's practice court working one-on-one with Jerry Stackhouse. Stack was one of this generation's best post-up guards and Wade acknowledged that he wouldn't be 29 forever and developing a post game would be essential to his survival as an elite player.
Wade put these lessons into practice during the regular season. In 2010-11, post-ups represented only 5.9 percent of his individual possessions. This season, that number more than doubled to 12.3 percent
With Sefolosha making life miserable for James, now's the time for Wade to apply those lessons against the Thunder. Wade had only two post-ups on Tuesday night, both against Harden. Neither possession produced points, but both amount to quality offense -- far better than leaning, contested jumpers practically falling out of bounds.
The Heat have rarely had to be resourceful over the past two seasons. They haven't been forced to be crafty, to find workarounds, to explore different facets of their games to exploit an elite opponent's rare weakness. For as long as Wade has played basketball, he hasn't had to resort to anything, except passing out of ferocious double-teams. He set the terms and opponents rarely had the power to negotiate.
Thanks to the Thunder, those days are over. Such is the burden of the underdog.