You know the play I'm talking about. In the waning moments of Game 4 against the mighty Celtics last night, you were surprised to find yourself wondering ... wait, is this nailbiter becoming a blowout?
It was a contest that was all about defense, except for one play.
Joe Smith set a pick for LeBron James. And James, for the first time in a long time, showed that he has apparently been listening to ESPN's Mike Moreau and David Thorpe, who have been imploring him to explode past the screen, instead of softly drifting by.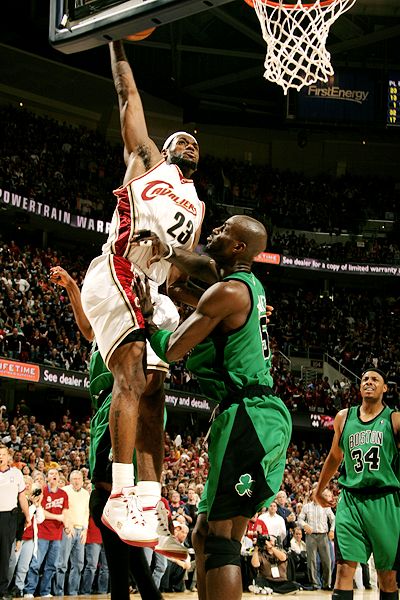 This James did, but it was hardly layup time after that. As much as Paul Pierce may have been a step behind, LeBron was headed into the teeth of the Celtics' vaunted defense.
Between James and the hoop were two of the league's best defenders: James Posey and Kevin Garnett.
Dealing with Posey at high speed is not a great proposition for most players who are 250+ pounds. 250+ with speed really tends to mean moving in straight lines. But watch that video. Watch the little two-step James throws at Posey. He doesn't even lose an ounce of speed, sends Posey leaning in the wrong direction, and manages to stay on track for the rim. That's a small-man move.
Leaving Garnett. But like a little player, James can jump quickly, and was already launching by the time the Defensive Player of the Year could even touch him. Garnett the rim protector came out, and he quickly resolved to lay down a playoff foul. Two solid forearms into an airborne James ought to do it, right?
So wrong. All of a sudden James -- who had just gotten around Posey like a point guard, looked like a power forward. Two Garnett forearms into a lot of airborne players would make them unairborne. But James is 250+ pounds, and barely even seemed to notice. The referees (wonder no more why players exaggerate, or flop, when they are lightly fouled) didn't even bother calling the foul.
But it didn't matter. A player had gone from small to big on one play, and so had a lead. Cavaliers' ballgame.
(Photo: David Liam Kyle/NBAE/Getty Images)