Regular TrueHoop readers are likely familiar with the writing of Todd Gallagher, the author of "Andy Roddick Beat Me With a Frying Pan." (I excerpted a fair chunk of it here on the site.)
A few days ago, we got some draft insight from Jay Williams, who profiled Derrick Rose. Today, we continue that tradition with the words of Gallagher, formerly the youngest coach in USBL history, who writes about West Virginia's Joe Alexander:
A disclaimer: 10 years ago when I was working in the USBL I would have been able to tell you everything about every one of the players in this draft. At this point, my hardcore knowledge is limited to the Big East where my fantasy team and love for Pitt has it so I know more about Providence's 8th man than guys on the All-American team. So, while my knowledge of the Big East and its players is in the unhealthy category, my limited overall knowledge makes it hard to put a scouting reference into a larger context of where someone "should" be drafted.
With that said, there are a few players I have followed closely, and one of them is Joe Alexander.
Joe Alexander
Four years ago, my father decided, at the age of 53, to go to Medical School at West Virginia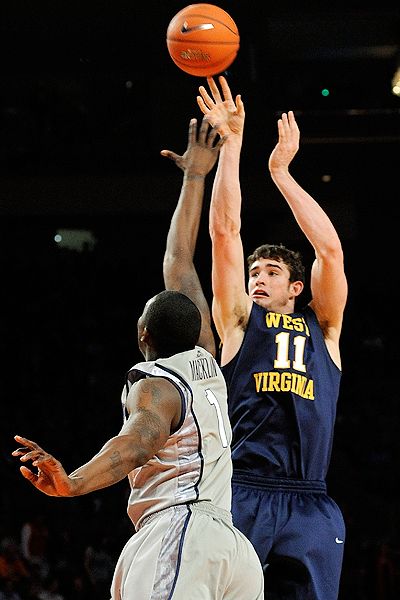 University.
During his time there Joe Alexander started playing for the school's basketball team.
There are very few people who have seen as much of Alexander as my dad has. And each step of the way, his assessment was dead on. Starting with the calls I would get saying that Alexander was a raw, unrefined, yet remarkable talent, to when he said in at the beginning of his junior year that he was really growing under Bob Huggins tutelage and was about to have a breakout season, he was always ahead of the curve.
The ultimate conclusion is the only place we split and ended in an ongoing argument that started at the Big East Tournament and has yet to be resolved. I'll give the old man the floor first.
He's a definite lottery pick. But, is that a good decision at this stage of his evolution? I think Alexander can become a 15 and 5 NBA player but he needs another year of maturity. Keep in mind that this is a guy who grew up playing in China and couldn't even get a D-II school to take him coming out of high school. Even in college, he only turned the corner in the second half of last year and before that he'd never even been a particularly good Big East player, let alone a "go to" star. Yeshe has all of the skills and perhaps more than most NBA players, but he needs a full season of high level competition that challenges him to perform consistently, not just 10 games at the end of the season. With the wrong NBA team, he could languish on the bench, erode his confidence and skills and, ultimately, end up using his considerable talent to interpret the food selections for his teammates at the local Cantonese restaurant.
Ok, dawg, thanks for your take.*
As most know by now, Alexander is a freak athletically but it's not the windmills and foul line dunks that interest me. We've seen any number of players from Melvin Leavett to James White to Harold Minor who can do these things. It's the way he's learned to harness that athleticism into a simple yet advanced series of moves that all are based on taking advantage of improved strength and amazing vertical.
Because of Hasheem Thabeet and UConn's massive frontline, which congested the lane and led the NCAA in blocks once again, Alexander broke out a series of latter year MJ moves. Jab step, one dribble, jump shot. Post up, square up, elevate.
This is a very mature way of playing the game and there aren't many college players who have the physical ability and are refined enough to do it. It's certainly a departure from when Alexander was a stringbean newbie who had no concept of how he was being defended and wanted to beat everyone off of the dribble through a series of hideous And-1 moves.
And he's a killer. When he talked trash about Duke after beating them in the NCAA tournament, that was the Joe Alexander WVU fans saw the entire second half of last year. Maybe that's from Huggins, maybe that's inborn, but the guy is not going to be intimidated.
That's not to say he doesn't have his weaknesses. Like many players who elevate that high on their jump shots, Alexander's shot is flat and therefore he has trouble shooting from deep. He doesn't move beautifully without the ball. He's still a pretty shaky ball handler and can't pass.
But it's my belief that these things will come. No matter where he's drafted or by whom, if he doesn't get 15 and 5 (or close to it) right away and 20 and 8 at some point, I'd be shocked.
Of course, my dad just finished med school and in writing this I've made the spell-check on my computer explode, so ya never know ...
*A special thanks goes to Lang Whitaker and the good folks at SLAM magazine for contributing that line.
(Photo by Michael Heiman/Getty Images)