Adam Stanco of NaismithLives.com weighs in to sing the praises of a player who could make some noise in the second round: Jamont Gordon. ESPN's Chad Ford projects Gordon to be the 35th pick, while Jonathan Givony of DraftExpress expects him to be 40th.
Jamont Gordon is, a bulldog.
He is officially listed at 6-foot-4 and 230 pounds, yet he's undoubtedly a pinch shorter and a little heavier.
But Gordon is also, literally, a Bulldog. A Mississippi State University Bulldog.
It's a fair enough title. He's aggressive and ferocious in attacking the rim. But Gordon is also more basketball brainiac than junkyard dog. He understands angles. He consistently sees plays develop before the defense does. His vision is tremendous and he penetrates to find a cutting teammate just as often as he tries to finish himself.
But when the soft touch isn't enough, it helps that he's a combo guard in a fullback's body. A southpaw comfortable going to his right or left, Gordon readily drives by anyone bigger and through anyone quicker.
Mississippi State's most famous hoops alum is either Jeff Malone or Erick Dampier.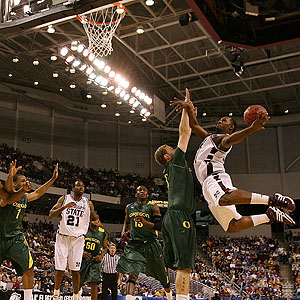 Not exactly household names.
So Gordon didn't get the praise poured upon Blue Devils, the pub showered on Jayhawks, or the exposure that is practically handed to Tar Heels.
Gordon wasn't even the most newsworthy name on this largely irrelevant team. Ben Hansbrough -- Tyler Hansbrough's brother -- got that attention.
If you don't know Gordon's name yet, however, you should soon. His game is perfect for the NBA. He can play the point and defend shooting guards. He can score, distribute, and rebound from the perimeter.
Gordon averaged over 17.2 points and 6.6 rebounds a game. He was third in the SEC in assists. And, in two NCAA Tournament games, he racked up 22 rebounds, 14 assists, and one near-upset of Memphis.
However, Gordon still might not get an opportunity to play in the League. Teams will pick apart his build and his unusual style. They'll say his skill-set is unorthodox. They'll point out that he sometimes suffers from poor shooting stretches and his intensity can get the best of him.
But he's a competitor at heart and no one will out-hustle him. At worst, he's a rich man's Greg Buckner, yet left-handed and heftier.
This draft has freakish freshmen. This draft has big names from big basketball schools. This draft also has a handful of future stars. One of them should be this bulldog.
(Photo by Andy Lyons/Getty Images)