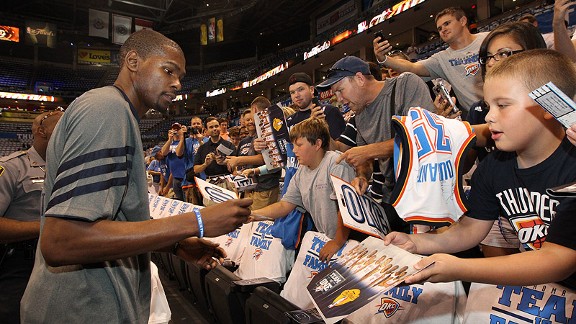 Layne Murdoch/NBAE/Getty Images
Sharpees and t-shirts? That's so retro.
Personalization has been a buzzword in digital media for a few years. Consumers don't want any old generic news, information or entertainment. They want it tailored for them.
When you tune in to cutting-edge broadcasts of NBA games, you now have a choice of camera angles. Want to focus exclusively on Kobe Bryant? Watch this feed. Want these specific stats at your fingertips, open this window.
So it goes with the fan-athlete connection. It used to be that if you were a kid and wanted to share a moment with your favorite athlete, you'd perch over the rail to the arena tunnel with a pen, or go to a card show or some other team-sanctioned public appearance -- an experience with all the personalization of a shopping mall Santa visit. If you were lucky, you'd leave with a generic autograph.
Social media platforms like Twitter have started to change that. Interactions between athlete and fan have become less filtered. The folks behind egraphs, including former Major Leaguer Gabe Kapler, understood this and developed a startup to digitize the age-old celebrity autograph.
A fan goes to the egraphs website, selects the player whose "autograph" they want, then gives the athlete explicit information or instructions for both a written autograph and personalized audio recording.
Want the ballplayer to wish your nephew a speedy recovery from a broken leg? Thoughts for your college buddy who's stationed overseas in Afghanistan? Or a Mazel Tov for Cousin Deborah on the occasion of her Bat Mitzvah? Easy peasy.
As a licensee, egraphs compensates the leagues for the use of their intellectual property in the egraphs themselves. And in a world where demand for a superstar's egraph is higher than one from a journeyman, the pricing will fluctuate.
Right now, egraphs' primary business is with Major League Baseball, but a partnership with the NBA appears just over the horizon.
We spoke with Kapler by phone about this brave new world where fans and players literally speak to one another on digital platforms, how that makes the experience better for both sides and which NBA egraph his 15-year-old self would've wanted most:
First off, why do this, apart from the fact that it's very cool from a conceptual standpoint?
Toward the end of my career as I sort of started to engage with people outside of sports, I had folks coming to me with some different opportunities -- creative ones, interesting ones -- but none I felt creative enough to leverage contacts, or put my name behind, or to go to close friends in different industries with.
But I just found the idea of improving the autograph or connection experience between fan and athlete or celebrity and making that a real, authentic, warm personality-driven experience -- and that it was scalable to technology -- I thought it was cool enough to get behind completely.
I took some time to think about it, about whether this was really good for people. Was this really good for fans? Not just about the celebrity, who it's remarkable for, but fans want an opportunity to get closer to their favorite star.
The experience of standing at the rail at Wrigley Field or courtside at Staples Center, trying to get the attention of a celebrity -- if you're lucky enough to get that attention, it's generally a cold experience for you because they're running from Point A to Point B. They're busy. They're at the arena. They're working.
But as an athlete, when you're in your own space and time, I can get to know you, can get to know your personality. It's not just scribbling on a piece of paper.
It seems like this a natural progression of a more "personalized" interaction, as we say in media. Generic interaction isn't enough anymore. J.A. Adande joked last season that "Gimme a retweet" is the modern-day equivalent to, "Gimme an autograph."
That's a great point. There's a reason a retweet is awesome. There's a high associated connecting with someone who is bigger than life to you. The retweet is the endorsement by the celebrity that you've been heard and that you've been understood. That's a very human desire.
And from the athlete's perspective, a personalized, voice autograph has to be a little more affirming, right? I mean, these guys don't spend hours on Twitter for no reason. It's a place where they're comfortable.
Right. We're taking the celebrity or athlete out of the space and time where they're less comfortable and putting them in a format where they are comfortable, so their best comes out -- their best energy, their best warmth, their best personality. So the fan gets to experience that from an athlete who might otherwise not like the autograph-by-the-rail experience that ultimately turns out to be cold or disappointing. Let's put athletes in their best space and time. Let an athlete be comfortable on his couch while he connects with a fan, recording a voice message, and we'll get a more genuine moment and interaction.
Have you had instances with athletes where you were like, "Dude, you can't put that in an egraph!"
Yes. A fan had asked an athlete for some wedding advice and in his recording to the fan he said, and let me be careful about how to put this, "Don't do it, bro, because she'll take half your ****!"
This was a bigger-than-life personality and remarkable baseball player, but we had to reject the message for obvious reasons.
Will we see NBA players partnering with eGraphs soon?
We want every celebrity that has a fan so, yes, we're pursuing deals like the one we have with Major League Baseball and we are very close to a deal with the NBA and it's looking like it's going to be a wonderful partnership.
The NBA player pool was made for you.
We are so excited about what happens when we deliver egraphs from NBA players. Fans are going to eat it up. Can you imagine? I go back to some of the personalities when I was a kid. The egraph I would've wanted most in the world when I was 15 years old was Charles Barkley. I could only imagine what Charles might've said if I sent him a request saying, "When the Clippers played the Sixers, I was at that game and I saw you the most monstrous dunk," then the egraph he might deliver back.
The Kaplers of Southern California didn't spring for Lakers-Sixers tickets?
I couldn't afford the Lakers tickets.
You can see a world where fans end up trading Barkley egraphs like basketball cards.
It's really intriguing to see what a guy like Barkley might say. There are personalities like that on every team, maybe not as big and boisterous as Charles but I'd be curious to see what Kevin Love might say. Going back, Allen Iverson, Magic Johnson -- I'd pay for those.