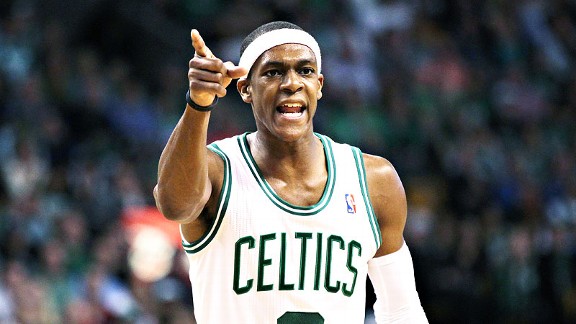 Jim Rogash/Getty Images
Rajon Rondo is on a short list of players whose improvement could shape the season.
Better coaching and schemes are one way for a team to improve. Of course, a big free agent haul or the right draft pick can radically alter a franchise's fortunes.
But one of the most subtle paths to greatness can also be incredibly effective: the improvement of players already on the team.
We've seen Oklahoma City and San Antonio ride waves of player development deep into the playoffs in recent years, as players like James Harden and even Tony Parker -- at age 28 -- did things they had not done before.
Such individual advances are vital for teams looking to make the leap from the draft lottery to the playoffs or from solid playoff team to contender.
Looking around the league on the brink of the 2012-2013, who are some players who are poised to play better than ever? With a tip of the cap to honorable mentions Brandon Jennings, Nicolas Batum, Serge Ibaka and Blake Griffin, here are seven leading candidates:
Rajon Rondo, Celtics
Rondo's preseason media blitz assures us he's ready to be the public face of the team, but will that translate to taking and making more jumpshots? With a reliable stroke to complement his brilliant drives and uncanny vision, Rondo is a legitimate MVP candidate and the Celtics true contenders. The Celtics added some nice pieces, but Jeff Green and Courtney Lee can't replace the what Kevin Garnett and Paul Pierce brought during Boston's 2008 championship run. The Celtics need a top ten player to topple Miami, and Rondo is not just their best option, but their only one.
Paul George, Pacers
Indiana is a team full of very good players and no real stars -- a reality that may keep them from the contender discussion. That is, unless George can break out and become one of the East's best two-way players. George, who reportedly grew two inches since draft day and is now 6-10, started all of last season at shooting guard. Despite his length, he has the feet to hang with the likes of Dwyane Wade on defense and a sweet stroke (.385 on 3's in 2011-12). But he has rarely shown the offensive spark Indiana needs and it's yet to be seen whether he's a creative, or just a skilled, offensive player. At just 22 and entering his third year, he's the capped-out Pacers' best chance at a top-flight talent to put them over the top.
Stephen Curry, Warriors
It wasn't so long ago that most people considered Curry to have a brighter NBA future than James Harden. Now healthy for the first time in nearly two seasons, Curry is surrounded by talent for the first time since arriving in the league. With shooters on the wings and two great pick-and-roll partners in Andrew Bogut and David Lee, it's on Curry -- who has a shot at Steve Nash-like 50/40/90 shooting numbers (FG/3FG/FT)-- to lead what should be a top-10 offense and Golden State's first playoff team since 2007.
Danilo Gallinari, Nuggets
Before injuring his wrist and thumb last season, Gallinari was getting some real All-Star buzz. But for a guy who is supposed to be a great shooter, Gallinari has struggled to find his stroke since his rookie season. It will be vital that he offer consistent outside shooting this season, as Denver's only offensive weakness is a relative lack of 3-point shooters. The Nuggets will run many teams right out of the building, but even teams as explosive as Denver need reliable half court options at the end of games. If teams fear Gallinari's shot, a pick-and-pop featuring him and super-speedy Ty Lawson could become a deadly half court weapon.
Ty Lawson, Nuggets
Speaking of Ty Lawson ... after looking spooked in Game 1 of his first playoff appearance, Lawson showed star potential during the Nuggets' first round playoff slugfest against the Lakers. Lawson's Tony Parkerish open court pace and explosiveness to the rim fueled Denver's elite offense. And like a younger Parker, Lawson struggles with traditional point guard duties at times, over-penetrating and making poor decisions off the dribble in the more congested half court. If, however, he starts draining spot-up 3-pointers with regularity, he'll force defenders to close out hard and create more space for his bursts into the paint -- a vital component of Denver's dribble drive motion offense.
Jeff Teague, Hawks
Joe Johnson was the hero of Atlanta's isolation-based offense not just because he could score, but because he was also the team's best playmaker. With Johnson in Brooklyn, that responsibility falls to Teague, who will lead a personnel tailor-made for the explosive point guard: plenty of shooters and athletic pick-and-roll big men. If Teague can consistently make good decisions in pick-and-rolls and his front line stays healthy, Atlanta could have a crackerjack offense and perhaps, come playoff time, homecourt advantage.
Brook Lopez, Nets
It may not carry over to games that matter, but Brook Lopez has been the focal point of the Nets' offense in the preseason. I appears Brooklyn's offense will be one of the most post-focused in the league, with big guards Deron Williams and Joe Johnson also receiving touches on the block. Lopez has real value when he can get good position, and he'll need to capitalize on his chances because he's not very useful anywhere else on the court. If he can command space near the rim, something that he has struggled with at times in his career, the Nets' offense could really hum.